'One of the Most Brutal Races in the Country' Has Just Begun in Florida
The general election for governor will feature two candidates—a black progressive and a Trump-loving conservative—who could not be more different.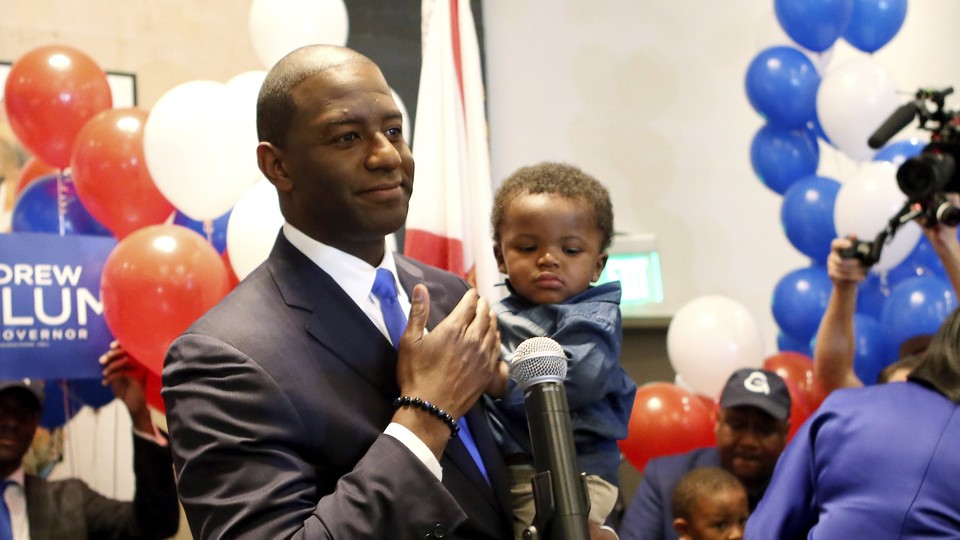 Let no one say that the voters of Florida, like their neighbors to the north in Georgia, won't have a stark choice for governor in November.
Florida Republicans on Tuesday chose Representative Ron DeSantis, a young conservative who ran unapologetically as the candidate of President Donald Trump, while Democrats surprised pollsters and prognosticators by picking Andrew Gillum, the progressive Tallahassee mayor who drew support from Senator Bernie Sanders and is vying to be the state's first black governor. In doing so, voters set up, in the country's largest swing state, a gubernatorial race befitting the hyperpolarized national political climate.
"Everybody got their wish," observed Mac Stipanovich, a longtime GOP strategist. "Both parties got the opponents they wanted to run against."

He added: "We'll see this fall which side has reason to rue their wish."
Floridians snubbed the so-called establishment candidates in both parties. Democratic voters turned aside the more moderate Gwen Graham, an ex-congresswoman and the daughter of Bob Graham, the former governor and longtime senator. Gillum will face DeSantis—a 39-year-old conservative who came out of nowhere to win the president's backing and, ultimately, his voters—instead of Adam Putnam, the Florida agriculture commissioner and a one-time GOP prodigy who was first elected to the state legislature at 22. Like Graham, Putnam was the early front-runner for the nomination.
The general-election campaign in Florida is likely to mirror that of Georgia, where the progressive Democrat Stacey Abrams is bidding to be the nation's first African American woman to serve as governor, and is going up against Brian Kemp, a gun-toting Trump-style conservative who championed his disdain for "political correctness."
"There is no clearer differentiation than a race between Andrew Gillum running to be the first African American elected statewide in Florida versus someone from the Trump wing of the Republican Party," said Quentin James, the founder of the Collective PAC, a group supporting progressive black candidates that spent nearly $2 million on Gillum's behalf during the primary.
Rather than swing back toward the middle, both Gillum and DeSantis will be trying to turn out their party's base, much like Abrams and Kemp. The Florida-based GOP strategist Rick Wilson predicted the contest will be "one of the most brutal races in the country."
"This is a battle of the edge cases," Wilson said.
As if on cue, DeSantis launched his general-election campaign with an appearance Wednesday morning on Fox News, in which he labeled Gillum "articulate" and then warned Florida voters not to "monkey this up"—using a word that has historically been deployed as a racist slur against African Americans.
"This went off the rails fast!" Wilson told me a few minutes after the remark had flown around Twitter.
Gillum, 39, had been mired in third or fourth place in public polls, but he closed the gap in the race's final weeks with help from a visit from Sanders and infusions of money from the liberal billionaires Tom Steyer and George Soros. Seeking to excite the Democratic base, he ran on an ambitious liberal platform of expanding Medicaid, investing heavily in public education, raising the minimum wage to $15 an hour, and, though the governor of Florida has no power to do so, abolishing Immigration and Customs Enforcement and impeaching Trump.
Though Trump's endorsement had made DeSantis the clear favorite by Tuesday's primary, his rapid rise in the GOP was once even more unlikely than Gillum's among Democrats. A backbencher in just his third House term, DeSantis made an aborted run for Senate in 2016 when Senator Marco Rubio was running for president. He got Trump's attention by defending him frequently on Fox News and surged in the polls once the president formally endorsed him. DeSantis went all in with Trump, running a tongue-in-cheek ad in which he teaches his young daughter to "build the wall" with toy blocks.
Gillum's come-from-behind, three-point victory over Graham and two wealthy Democrats from South Florida, Philip Levine and Jeff Greene, surprised even some of his allies. James told me that while internal polls showed Gillum winning by the end of the race, he didn't necessarily believe them because independent public polls showed him so far behind. "For us, it was a surprise," James said. "But we definitely thought he could eke it out."
James told me the outcome shows "the unpredictability of engaging the base" and that it was likely many of Gillum's core voters—young people, African Americans, and those who do not regularly go to the polls—were not being reached by public pollsters. And engaging the base is exactly what Gillum will have to do this fall to have a chance against DeSantis. While Florida voted twice for Barack Obama and has had at least one Democratic U.S. senator since 1987, Republicans have long dominated its state government. "Republican hegemony in the last 20 years has been almost unbroken," said Stipanovich, the longtime GOP strategist, pointing to the party's large majority in the state legislature as well as its hold on the governor's mansion.
Like many Democratic officials, Wilson and Stipanovich said that had Graham won the nomination, she would have begun the race as a slight favorite over DeSantis. Gillum's chances are tougher to predict, and he will test the Florida electorate's appetite for an outspoken progressive in the mold of Bernie Sanders. His allies counter the Sanders label by pointing out that he endorsed Hillary Clinton in the 2016 Democratic presidential primary. Yet his willingness to federalize the race by running on contentious national issues, rather than the nuts and bolts of state governance, may be the only way to energize Democratic base voters, who seem to only show up in Florida when the presidency is on the line. Democratic turnout on Tuesday was nearly twice what it was for the primary in 2014 and previous non-presidential years, although more Republicans still voted overall.
The biggest benefactor of Gillum's win might be Senator Bill Nelson, who has struggled to attract exactly the kind of base Democratic voters who fueled Gillum's win. In his bid for reelection, Nelson has been trailing outgoing GOP Governor Rick Scott. "I think Gillum will help Bill Nelson," Stipanovich said. "When Democrats fall short in non-presidential elections, it's because Democrats didn't turn out."
Aside from Gillum's liberal views, which might not play well in the northern part of the state, his most serious liability is likely to be an ongoing FBI corruption investigation into Tallahassee, the capital city he's led for four years. Gillum hasn't been accused of wrongdoing, and his Democratic rivals didn't make an issue of the probe. But Republicans plan to harp on it. "On top of the cloud of corruption surrounding his campaign, Gillum supports radical far-left policies like single-payer health care and massive tax hikes that would kill jobs and decimate Florida's economic progress," read a statement on Wednesday from the Republican Governors Association.
Gillum has said the investigation hurt his ability to raise money early in the campaign. Though he had significant help from the Collective PAC and organizations run by Steyer and Soros, he often referred to himself as the only "non-millionaire" in the race. "Is there a legitimate concern regarding the investigation? Yes. Does it have anything to do with Andrew Gillum? No," James said. "We can't allow the Republican Party to continue to criminalize black candidates."
Trump welcomed Gillum to the race on Wednesday by calling him "a socialist who has allowed crime and many other problems to flourish in his city." Democrats, however, seemed equally thrilled to be going up against DeSantis, a relatively inexperienced conservative whom they quickly labeled "a Trump yes-man."
Whether Florida voters are ready or not, the early volleys and rhetoric seemed to set the tone for the fall campaign. "This one," Wilson predicted, "is absolutely going to drive the extremes on both sides."