Every Day Is August 12 in Charlottesville
One year ago, Corey Long was photographed wielding an improvised flamethrower in a standoff with a man brandishing a Confederate flag. His life hasn't been the same since.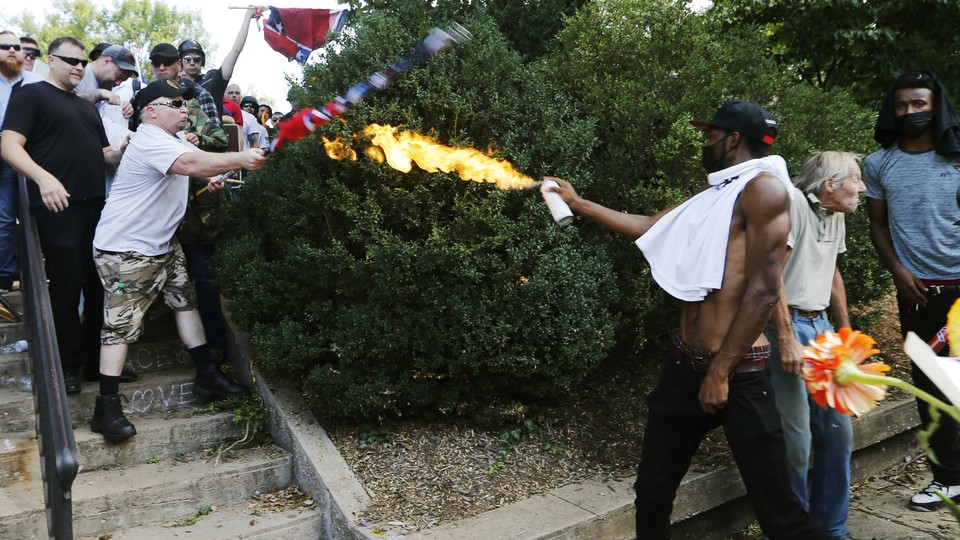 Corey Long remembers reaching quickly for the aerosol can thrown forcefully in his direction. A man carrying a Confederate flag was yelling, and moving uncomfortably close to him. He began spraying the can, and used a lighter to turn it into a improvised flamethrower.
"I was just pretty much trying to back them up, but they just kept coming," he said. The moment was immortalized in a photograph, which quickly spread across the internet and the world.
Nearly one year later, Long is reflecting on the altercation as he's preparing steak, asparagus, and salad for a recent Thursday dinner at his Virginia home. He is still healing. Cooking keeps him distracted while talking about the events that unexpectedly turned him into a symbol against white supremacy.
"I didn't want to do anything, for real," Long said of his intentions in that moment, dismissing the idea that he went to Charlottesville to confront anyone that day. "I just wanted to see what was going on." His voice drifts off as he finishes his thought: "Then, it turned chaotic."
The United States has not been the same since August 12, 2017. That day, a "Unite the Right" rally in Charlottesville followed a night in which white nationalists stormed through the University of Virginia's campus wielding tiki torches and chanting hateful slogans. The day's ugliness remains horrific: the death of Heather Heyer; a car maliciously plowing into dozens of people protesting against white supremacy; DeAndre Harris getting brutally beaten seemingly within an inch of his life. What took place in Charlottesville was not just the bloodiest battle in the fight over the future of Confederate monuments in America, but also a historically disheartening day in the nation's long struggle to overcome hatred and racism. And Charlottesville, even after almost every official in power during "Unite the Right" has resigned or retired, continues to process the fallout.
"Every day has been August 12 in some ways," says the longtime Charlottesville resident and local clergy leader Reverend Seth Wispelwey of United Church of Christ. "Things are still pretty raw."
But through the awfulness came a different story, one captured in a single photograph that portrays either violence or revolution—and maybe both—depending whom you ask.
On one side is a white man in a white shirt and camouflage shorts, appearing to use a Confederate flag as a spear. On the other is Long, 23 years old, shirtless, and wearing an all-black Chicago Bulls hat, igniting the spray from the aerosol can into flame—either protection from, or provocation against, his adversary. This action, as well as an alleged tussle he had with a white nationalist nearby, thrust Long into the spotlight. The attention only intensified when he received the most jail time of any counterprotester at the rally. Soon, demonstrations would be held to protest the charges and convictions against Long, with people singing, "Corey Long is a freedom fighter and he taught us how to fight," and "Corey Long did nothing wrong."
"Corey is a modern-day Malcolm X," said a musician who uses the stage name Nay Nichelle, a local activist and one of Long's friends. "He put his life on the line to protect his friends that day, because he didn't want anyone to be harmed." She added: "This is who he's always been."
Though Long, a former caregiver for the elderly and former electric-company worker, has publicly embraced the role as the face of Charlottesville counterprotesters, he's still figuring out the best way to address hatred and racism, all the while dealing with the threats he's still getting from people who say they want to see him dead. Screenshots of messages he posted to his Facebook account show how one man cursed at him, called him racial epithets, and sent him photos of black men being lynched. "I have people telling me, 'We're going to catch you this year,'" he said. "Some random dude hit me up and said to me, 'If you come to the rally this year, we're going to hang you.'"
He gives a quick laugh before sharing his strategy in responding to the hate: kindness. "I said, 'Thank you, sir. Have a good day,'" Long said. "If they show me hate, I'll show them love."
On that Saturday morning in Charlottesville one year ago, Long and his friends arrived at Lee Park—twice renamed since that fateful day—to see what all the fuss was about. He had seen news coverage of the previous night and said he was still hoping for a peaceful protest. But from the start, he said, the white nationalists in attendance spit at him, repeatedly calling him a racial slur. Long remembers how he and his friends, including Harris, were told they were going to be killed. "That whole day was just nasty, but I didn't want to leave, if that makes sense," Long said. "I had some friends down there and I was worried about their safety."
Nichelle, who was also in Charlottesville that day, remembers the hate. "White people made me feel like this is their world and that I don't belong," she said.
Long stuck around in the park—the initial focal point of the protests—to help support his friends. At noon, law enforcement declared the rally an unlawful assembly. Shortly after that, Long and a group of counterprotesters found themselves trading barbs with white nationalists, many of whom were in white polo shirts and were exiting the park. In what he described as a reflex, Long pulled out a lighter and turned the aerosol can that had been thrown at him into a flamethrower, pushing back a man wielding a Confederate flag.
"It was all so quick," Long said. "I was trying to protect myself and others from these neo-Nazis."
Frank Buck was there, too. The attorney and former mayor was curious about the disconcerting images from the night prior, when men with torches marched across the University of Virginia's campus. With his office two blocks away from the Robert E. Lee statue that was at the center of the initial dispute, Buck, who served as mayor from 1980 to 1988, found himself with counterprotesters at one of the exits where people were filing out of the park. About 10 feet away from him was Richard Preston, an alleged Ku Klux Klan leader from Baltimore, who came charging in with a pistol after seeing Long's flames. In a video of the incident, Preston, wearing a blue cutoff underneath a tactical vest, can be heard yelling, "Hey, nigger!" Buck said he clearly heard someone in the crowd, just a couple of seconds earlier, say "Kill the nigger," in reference to Long.
"Preston pulled his gun out and aimed it across from where I was, which caused me to look at where he was pointing his gun—and that's when I first saw Corey Long," Buck said. "I thought Corey Long was going to be killed. I was a little bit in shock."
Preston spit out a five-word question before pulling the trigger on a gun that, Buck said, was originally pointed at Long's chest: "You wanna be that way?"
Preston ripped his shot, and the bullet landed close to Long's feet, causing a puff of mulch and leaves to pop up. In May, Preston was found guilty of firing a gun near a school. Preston is currently at Albemarle-Charlottesville Regional Jail and is next scheduled in court on October 12.
"I've thought about how he really tried to kill me," Long told me. "It was unreal. He really tried to take my life." He later added: "I want to live a normal life."
Steve Helber, a photographer for the Associated Press, was standing in the park around noon, a few feet away from Long. When he saw the flames, Helber pulled out his camera and took three or four frames, hoping to capture something. There was no time to think. What came from it was an imperfect photo—too wide of a frame, not exposed properly—that captured an extraordinary moment. "People can take all sorts of different meanings from it, and I have no control over that," said Helber, who has worked in the AP's bureau in Richmond, Virginia, for 37 years. "I was surprised how much attention it did get and how it was used."
In the immediate aftermath of Charlottesville, Long was made out to be both a hero and a villain. "The attention is overwhelming," he said. "I just want it to be over."
The legal ramifications have also lingered for Long. In October, he was charged with assault, battery, and disorderly conduct, stemming from a skirmish that happened shortly after the flamethrower confrontation. On June 8, Long was found guilty of disorderly conduct and sentenced to 360 days in prison—340 of which were suspended—and 100 hours of community service. (Judge Robert Downer, who presided over the case, declined to comment.) That night, activists were arrested for marching through Charlottesville in protest of Long's conviction. "Corey burned hate. That's all I saw that day," Nichelle said. "To me, he's my hero."
The question of whether Long was in the wrong for what he did is still debated among community members, like Buck, who are trying to find a way forward. "I think what Corey Long did was wrong and a violation of the law, but after hearing his testimony in court, I came away with much more sympathy for him," Buck said. "If all of those things that happened to him were done to me, I don't think I would have used a flamethrower, but I think I would have struck at someone who called me the offensive things those people called him."
Since Charlottesville, Long has been a prime target of criticism among white nationalists and leaders associated with their movement. Among the most vocal is Jason Kessler, the organizer of the "Unite the Right" rally. "That son of a bitch fired a flamethrower into a crowd of people and got off with a slap on the wrist," Kessler wrote in an email. He added: "If I fired a flamethrower at a crowd of liberals, I would be in prison for the rest of my life. Corey Long is making a living out of it."
I told Long about the exchange and he brushed it off. "I don't like Jason Kessler and I don't respect him," Long said. "He believes in something and I believe in something. But hey, fuck him."
While Charlottesville may be reliving August 12, 2017, again and again, some things have changed. The new mayor is Nikuyah Walker, a former activist and the city's first black woman to serve in the role. Locals in Charlottesville say the change in leadership is meaningful. Still, Long has doubts that anything done on the legislative level will leave a lasting influence.
"Ain't nothing going to improve in Charlottesville, because they're still allowing this stuff to happen," Long said. "If you're a racist, you're just speaking freely about it now. That's the only thing that's changed in Charlottesville."
For those who want Charlottesville to return to the way it was before the events of August 12, 2017, "Unite the Right" was a black eye, an aberration. For people like Walker, who want significant changes in how the city addresses its long-standing racial and economic issues, "Unite the Right" put everything out in the open. It's a back-and-forth that's been collectively exhausting and frustrating.
"I'm not gonna lie, hope has been hard to come by this year," says Reverend Wispelwey. "But there is grace and space always to achieve collective liberation, and we do that in specific ways to make sure white supremacy doesn't have the final word and victory."
Long isn't sure what comes next for him. He said he has appealed the ruling in his case and that he's due back in court later this month. He said the conviction has caused him to lose his jobs. "I don't like how things have played out," he said. He's since opened a PayPal account, asking people on social media to donate whatever money they can give until he can find a new job. Long continues to go to counseling to help sort through the events that he's dealing with almost a year later. He's moved several times to help protect himself and loved ones.
And yet he's not sure what, if anything, he'd change about that day. "I stood up to them," Long said. "Would I do it all over again? I definitely would."