Environmentalists' Unlikely Republican Ally in Florida
During a months-long environmental crisis that's left the state's beaches covered in green slime, a Trump-backed candidate for governor blames Big Sugar subsidies for causing the pollution.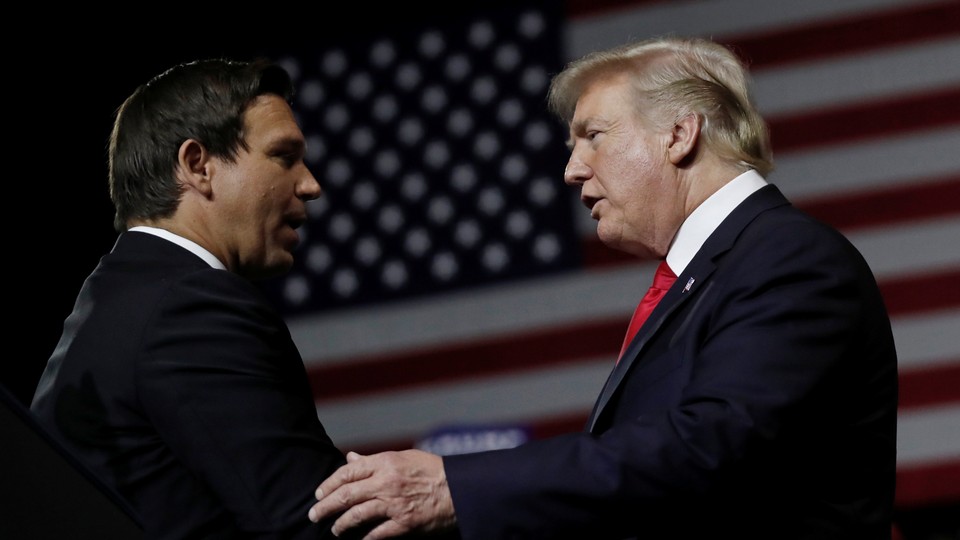 When early voting started in Florida two weeks ago, voters in many parts of the state walked into polling stations seeing green sludge and smelling dead fish. A state of emergency has been declared statewide as Florida experiences a months-long algae bloom that has killed thousands of fish, shut down beaches, and sickened locals. It's not the first algae bloom to hit the state, but its proximity to Tuesday's primary—and the fact that nearly all of Florida's state-level elected positions are open—means this environmental crisis is playing an outsize role in voting.
In the state's marquee race, Republican Governor Rick Scott is challenging Democratic Senator Bill Nelson in his bid for reelection, with control of the U.S. Senate in play. The two candidates blame each other for the algae blooms wreaking havoc along Florida's southwest coastline. Scott claims that solving the problem requires federal action, and he argues that Nelson has not done enough in his three-term tenure in the Senate to support affected communities. Nelson, meanwhile, says it's largely a state matter—making Scott, who is term limited after eight years as governor, the one at fault.
The issue has taken on even more importance in the race to replace Scott, in which Democrats and Republicans alike admit that whoever moves into the governor's mansion in January will have a leading role in solving the problem. Five main candidates are vying for the Democratic Party's nomination: The frontrunner, Gwen Graham, a one-term member of Congress; former Miami Beach Mayor Philip Levine; Tallahassee Mayor Andrew Gillum; the billionaire real-estate developer Jeff Greene, and the Orlando businessman Chris King. On the Republican side, Trump-backed Congressman Ron DeSantis and state Agriculture Commissioner Adam Putnam face off in a tight race.
Most surprisingly, DeSantis has adopted an environmental position nearly identical to that of the Democrats, relentlessly attacking Putnam for being the darling of one of the state's largest and most controversial industries—sugar. For Florida Republicans, sugar companies are a longtime ally. But in the eyes of Democrats and environmental groups, it's the sugar companies that are to blame for the current crisis. Their history of releasing fertilizer into Lake Okeechobee—and opposing a reservoir that would hold that polluted water—earns Big Sugar the ire of environmentalists. It's nutrient-rich water—heavy with fertilizer—that fuels the green slime and the red tides that have closed many Florida beaches.
"You've gotta be willing to stand up to all the power brokers and do what's right for the state of Florida," DeSantis, who's served in Congress since 2013, said at his final debate against Putnam. In this race alone, Putnam has accepted more than $800,000 in direct contributions from the sugar industry and millions more from associated political-action committees, a fact DeSantis won't let him forget. He sounds almost like a Democrat attacking an opponent for accepting super PAC money from Wall Street.
But DeSantis's hostility toward Florida's sugar giants isn't just a sudden acceptance of environmentalists' demands. Central to the issue are giant subsidies that sugar companies receive from the federal government, which DeSantis, and prominent conservative think tanks, oppose. DeSantis is one of just three Florida representatives—Democrat or Republican—who voted against the subsidies, which keep sugar prices high and limit imports, in the 2018 Farm Bill. America's support for the sugar industry is the "very antithesis of a free market," according to the American Enterprise Institute, and the Heritage Foundation called the subsidies "central planning." As a result, DeSantis's opposition to what The Wall Street Journal deemed "corporate welfare" has curiously manifested as support for clean water at the rare moment voters arrive to the polls with the environment in mind.
Putnam has accused DeSantis of caring about Florida's water only now that he is running for statewide office. Touting his eight years as state agriculture commissioner, Putnam told a TV anchor that, in contrast, clean water "has been a longtime commitment of mine." Putnam's spokesperson pointed me to DeSantis's scant 2 percent rating from the League of Conservation Voters, a national environmental-advocacy group. (Putnam, for his part, scored just 9 percent during his five terms in Congress.) The candidates, running neck and neck in the last preelection poll, are trying to outdo each other in their commitment to protecting the state's water—its "golden goose," as Putnam called it.
As polls open in Tuesday's much watched primary, tables sit empty at beachside restaurants, and hotel rooms are vacant after last-minute cancellations. "Clearly, the lens of the day now is the water issue," said Jonathan Martin, the chair of the Republican Party in Lee County. Martin lives in Fort Myers, which has been particularly hard hit by the algae bloom. It hasn't ruined all the beaches—in some places "you can enjoy a walk on the beach and a nice sunset and not be overwhelmed" with the scent or the sight—but people's lives have been markedly affected, Martin told me. It's hit service workers most acutely: The downturn in business at restaurants and hotels means that they are making less money.
Where the problem is at its worst, beachgoers can look into the ocean and see, depending on where they are, either a bright-green slime—that's the algae bloom—or a dull-red substance, which is called red tide. The nutrient-rich water causing both gets to the ocean from waterways connected to Lake Okeechobee, the lake in the center of the state that is surrounded on all sides by the sugarcane fields farmed by the sugar companies DeSantis has come to despise.
In recent weeks, DeSantis has started to speak up about his support for a reservoir to hold the lake's excess water—so that when rain raises water levels in the lake and threatens the people who live on its shores, excess water would go there instead of west and east to Florida's coasts. DeSantis's press secretary told me he would "fight to fully fund and expedite" the reservoir "in order to clean the water." All five Democratic candidates for governor hold that same position.
DeSantis's position on the water crisis has garnered him some unusual supporters. Bull Sugar, a Florida advocacy organization, endorsed DeSantis in the Republican primary. Peter Girard, a spokesperson for the group, praised DeSantis's support for the reservoir. "It puts him, in terms of water policy, well ahead of Putnam," Girard told me. Yet Girard doesn't have much hope that anyone will fix the problems. "The water issue in particular is bipartisan, and in a dark way—nobody's good on it," he explained. But he thinks things could be different this year. "It's become clear to people that it is making residents sick," Girard said, and politicians can't avoid speaking out against a health crisis.
It doesn't matter to Bull Sugar if DeSantis only supports its position because of conservative free-market ideals. But the group's endorsements present a challenge going into the general election: the Democrat they endorsed, Chris King, is almost certain to lose in the primary. Bull Sugar did indicate approval of three of the four other Democrats, but would it be impossible to imagine an aggressive environmental group supporting a Republican against a Democrat? Probably, but DeSantis has made clear that he wants to be viewed independently of the state's other Republican politicians.
A Republican activist from southwest Florida, Ron Kezeske, told me that he'll be watching for this issue in the general. "We have Commissioner Putnam, who has been heavily financed by a lot of the sugar industries," said Kezeske, the chairman of the Republican Party of Collier County, on the state's southwest coast. "But on the flip side," he pointed out, Gwen Graham, the leading Democratic candidate, has previously taken money from the sugar industry. (In her campaign for governor, Graham pledged not to take money from sugar companies, and donated the money she'd received from them to environmental groups.) Kezeske said he'll look for how DeSantis leverages that weakness going into November, if they both win.
Jonathan Martin, the Republican Party chair from Lee County, told me that things could be shaken up this year. "I think from the national level, it's easy to look and say, 'This is what this party does, this is what that party does,'" he said. But conservatives, he said, care about the environment, too; their lives and their livelihoods are at stake. "We all live here," Martin said. "All politics is local."
Right now, Floridians don't know when things will get better. The water crisis is stretching into the middle of hurricane season, and it seems likely that last year's Category 4 storm Hurricane Irma contributed to the current algae bloom by stirring up pollution in the water. Another big storm this fall could make things even worse for coastal communities.
Florida, a perpetual swing state, has a knack for keeping things interesting. State politics are no exception. "We will find candidates," Martin told me, "who represent our conservative values, and also want to respect our environment and be good stewards of our local communities." With the blessing of conservative mainstays like the Heritage Foundation and AEI, DeSantis is betting that the state's Republicans will buy his argument that protecting the environment is a conservative issue. And in this worst-case environmental scenario, his odds are better than ever.