Donald Trump's Unprecedented Assault on the Media
The First Amendment lawyer Floyd Abrams says Trump easily surpasses Richard Nixon as the greatest threat the news media in America has ever faced.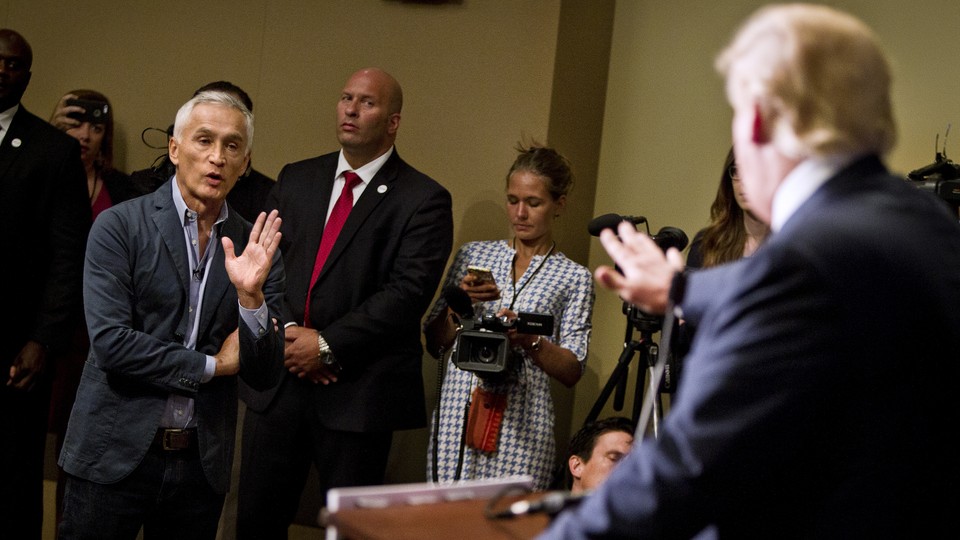 Floyd Abrams well remembers the era when Richard Nixon battled the free and independent press. As a young First Amendment lawyer, Abrams was co-counsel for the defense, representing The New York Times in 1971 when Nixon unsuccessfully sought to block publication of the Pentagon Papers. Nixon wiretapped journalists, put some of them on his enemies list, and dispatched his vice president, Spiro Agnew, to threaten broadcast licenses and deride media members as "nattering nabobs of negativism."
And how benign those actions now seem in retrospect. Abrams, still practicing constitutional law at age 82, says the current president easily trumps Nixon as the most dire threat the press has ever faced. Nixon never borrowed from Stalin to assail "enemies of the people." Nixon never wrote the way Donald Trump tweets that journalists "can also cause War! They are very dangerous & sick!" Nixon at his rallies didn't goad his followers into hurling abuse at nearby journalists on the scene—and threatening worse.
"No president in our history has been as unremittingly hostile," Abrams told me earlier this week. "We live in a violent country awash in weapons, and there is good reason to be concerned about the people he attacks so regularly. That is especially true since he has now moved from exclamations about 'fake news' to assertions that the lives of Americans are threatened by his journalistic critics."
Far more insidious is Trump's unprecedented war on objective reality, a classic tyrant's tactic. In Abrams's words, "If news is 'fake' not because it is untrue but because it is insufficiently supportive of him, the very relevance of truth-telling becomes at risk … Cynical or repeatedly false criticism [of the free press] ultimately leads to an ill-informed and ultimately ill-led people. And when the criticism is often, very often, rooted in a sort of ignorant rage, it too easily can lead to an ignorant public led by a repressive regime."
And, on Thursday, it was precisely those burgeoning concerns that prompted more than 300 newspapers and media outlets to stand in solidarity—an unprecedented moment because notoriously independent journalists rarely collaborate on anything. The so-called elite papers wrote editorials defending their constitutionally empowered mission to hold power accountable, but, most importantly, they were joined by smaller newsrooms in virtually every state, red as well as blue—from Boise, Idaho, and Kenosha, Wisconsin, to Topeka, Kansas, and Kokomo, Indiana.
It's debatable that these editorials will sway many minds and reduce the ambient toxicity. Some media commentators even denounced the project as further grist for Trump's claim that the so-called Fake News Media is conspiring against him. (Indeed, Trump tweeted twice on Thursday about media "collusion.") Jack Shafer, who covers the press for Politico, writes that the "self-stroking" editorials give Trump "fresh material." And Carl Cannon at RealClearPolitics contends that the editorials make the press "look overtly partisan, while underscoring Trump's basic point, which is that the media hates him so much we don't follow our normal rules of behavior. When is the last time the Fourth Estate ran what amounts to a coordinated campaign?"
The answer: Never. But perhaps unprecedented assaults require unprecedented pushback—especially now, when 51 percent of Republicans reportedly side with Trump that the free press is the enemy of the people (a nine-point spike since June); especially at a historic moment when serial lies are being weaponized as credible counternarratives, a moment when empiricism itself is under assault, prompting the literary critic Michiko Kakutani to write in her new book, The Death of Truth, that "Trump's unhinged presidency represents some sort of climax in the warping of reality."
The real question is: What's the most effective pushback strategy? Abrams told me, "Most of the people who read the editorials are likely to have already been persuaded about the danger of Trump's rhetoric. But it's important for the press to speak up for itself. The press has to defend its role. If some people are offended by hundreds of papers defending themselves, so be it. If they don't speak up, others won't. The editorials were a useful, modest step."
There's no consensus, nor much discussion, on what would constitute the next step—or whether it would even be wise. Dan Gillmor, a former journalist who is co-founder, News Co/Lab and professor of
practice at Arizona State University's Walter Cronkite School of
Journalism and Mass Communication, is arguing for even more collaboration—"broad and deep, across organizations and platforms." He wrote earlier this week, "Don't just leave it to the editorial writers." He argues that journalists need to pool their limited resources "across organizations and platforms," to deepen their contextual reporting on the Trump administration's policies and behavior. Some media outlets, like ProPublica, already partner with other outlets to do deep reporting; Gillmor believes that shared endeavors should be the journalistic norm. His advice to brethren: "You need to fight, not against Trump, but for a free press and freedom of expression."
But that level of collaboration makes Abrams nervous: "The press ought to take care not to vindicate critiques from the right that they are engaged in an anti-Trump crusade … in a perceived effort to bring down the Trump administration." That's similar to what Shafer and Cannon warned about the editorials, and it frames the press's current dilemma: With America's democratic traditions arguably at stake, can it more assertively perform its constitutional role of holding power accountable without risking an ever greater public backlash?
"It's a completely legitimate question," Gillmor told me. "The enemies of press freedom who run our government have the upper hand, for sure … So what does journalism have to lose by trying something new?" He said that big outlets should partner with small outlets to report with context on how Trump administration decisions in Washington are affecting local communities—and collaborate more with readers as well. Granted, "none of this would mollify a significant portion of [Trump's] hard-core base, but we shouldn't be saying, 'What's the point of doing good journalism if they're going to hate us anyway?' It will take time for the press to get out of this, to build more trust, but we've got to work on it. I have an abiding belief in our value."
And Abrams said that, in some ways, things could be worse. Trump, for all his bluster, has not moved to jail journalists—as John Adams did with the Sedition Act of 1798, and as Abraham Lincoln did (albeit in wartime) with repeated suspensions of the writ of habeas corpus. "And Teddy Roosevelt did his best to jail Joseph Pulitzer. This president hasn't done anything like that."
But his words alone—sowing discord and more threats of violence— prompted a rare, if symbolic, rebuke Thursday from the U.S. Senate, which unanimously "affirms that the press is not the enemy of the people; reaffirms the vital and indispensable role that the free press serves to inform the electorate … and views efforts to systematically undermine the credibility of the press as an attack on the democratic institutions of the United States." It was a welcome gesture, tempered by the sobering realization that the chamber deemed it necessary to state the obvious.
The press badly needs expressions of support, and, ironically, it could benefit from the broader backlash against Trump's autocratic impulses. His decision this week to strip former CIA Director John Brennan's security clearance—and to map similar actions against others who criticize him—has triggered bipartisan anger, most notably a stinging statement from the now-retired Navy admiral who oversaw the raid that killed Osama bin Laden. In a Thursday letter addressed to Trump, William H. McRaven wrote: "Through your actions, you have embarrassed us in the eyes of our children, humiliated us on the world stage and, worst of all, divided us as a nation. If you think for a moment that your McCarthy-era tactics will suppress the voices of criticism, you are sadly mistaken."
McRaven's dissent should not be underestimated. Regardless of whether, or to what extent, the press collaborates to push back against the greatest domestic threat it has ever faced, it will likely find allies who are fighting parallel battles in defense of free expression.