How the Democratic Party Can Turn the Sun Belt Blue
From Florida to Texas, November's elections provide an opening for Democrats to shift the balance of power—and make up for lost ground in the heartland.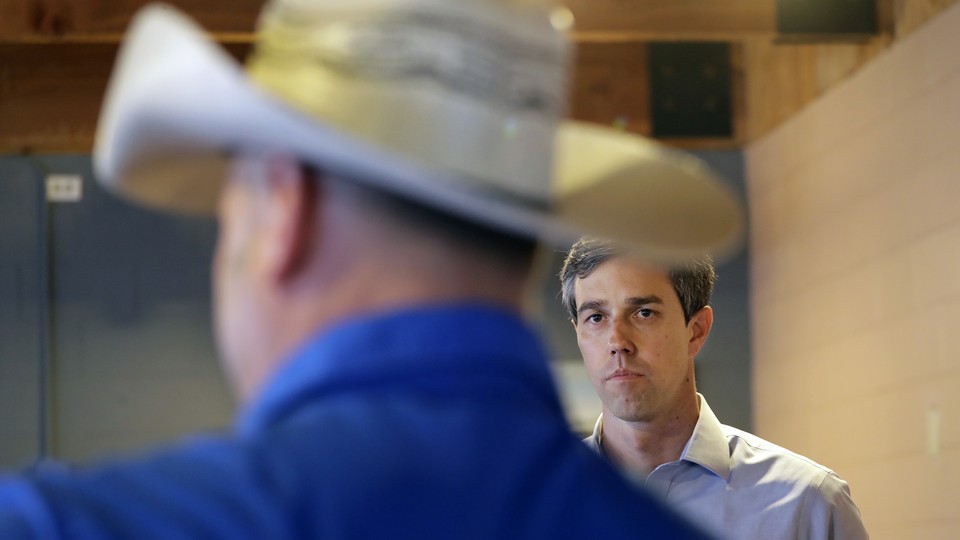 This week's competitive primaries in Arizona and Florida suggest the midterm elections could provide revealing signals on one of the most important questions facing the two parties over the next decade: Can Democrats overturn the Republican advantage in the rapidly growing Sun Belt?
In the coming years, Democrats will likely face a growing need to expand their inroads in the Sun Belt states—which tend to be younger, racially diverse, and white-collar—as Republicans strengthen their position in older, predominantly white, and blue-collar states across the Midwest and Great Plains.
This transition won't occur overnight. For the 2020 presidential race, the top priority for most Democratic strategists remains recapturing the three Rust Belt states Donald Trump dislodged from the party's "blue wall" by a combined margin of only about 80,000 votes: Michigan, Wisconsin, and Pennsylvania.
But many of those same strategists agree that as support for each party divides more sharply along racial, generational, and class lines, it will be difficult for Democrats to rely on predominantly white heartland states as much as they do today in presidential, congressional, and state races alike. And, through the next several elections, that will increase the pressure on Democrats to post deeper gains in Sun Belt states—such as Florida, North Carolina, Georgia, Arizona, Nevada, and perhaps even Texas—that more reflect their modern coalition.
"In 2020, the Electoral College vote forces us to win in both places," says Robby Mook, the 2016 campaign manager for Hillary Clinton. "But over time, because of population shifts, I think we are going to spend a lot more time in the Sun Belt."
This long-term geographic reconfiguration reflects the shifting demographics in each party's coalition—a transformation that Trump's tumultuous presidency is accelerating. Trump is intensifying the GOP's strength among older, blue-collar, and rural whites. But his style and agenda are simultaneously alienating younger and nonwhite voters, and straining the GOP's grip on college-educated whites, especially women.
The shift toward the GOP among older whites threatens the long-term position of Democrats in a wide array of states across the country's heartland, where those adults constitute a critical mass.
In this year's Senate contests, Democrats appear to have stabilized their position in several of the industrial states, with incumbents generally considered strong favorites for reelection in Michigan (Debbie Stabenow), Ohio (Sherrod Brown), and Pennsylvania (Bob Casey), along with a more equivocal favorite in Wisconsin (Tammy Baldwin). But the GOP's strength among older and blue-collar whites has still placed Republican challengers in a strong position to oust Democratic Senators Heidi Heitkamp in North Dakota, Joe Donnelly in Indiana, Claire McCaskill in Missouri, and—to a somewhat lesser extent—Joe Manchin in West Virginia and Jon Tester in Montana. All of those are preponderantly white and heavily blue-collar states where Trump remains much more popular than he is nationally.
The resilience of industrial-state incumbents such as Brown, Stabenow, and Casey makes clear that Democrats aren't facing imminent extinction in the heartland; they are even well positioned to potentially recapture several governorships there this year. But the potential losses among the second group of senators, who are defending more rural states, underscore the likelihood that the Democratic position in the heartland will continue to erode over time, particularly as the GOP appeals more overtly to white anxiety over demographic and cultural change.
As that occurs, Democrats through the 2020s will need greater gains in the Sun Belt to fill the gap at every level—in contests for the House, the Senate, and the Electoral College. Since 2008, Democrats have already brought into their camp two Sun Belt states that reliably leaned Republican through the early-21st century: Virginia and Colorado. New Mexico, a longtime swing state, has also tilted blue, with Clinton carrying it comfortably, Democrats holding both Senate seats, and Representative Michelle Lujan Grisham, the party's nominee, in a close contest to recapture the governorship.
But the Democrats' status has been much more tenuous in six other pivotal states across the Sun Belt: Florida, North Carolina, and Georgia in the Southeast; and Nevada, Arizona, and, more distantly, Texas in the Southwest. Except for Nevada, Trump won all of those states in 2016. Republicans control the governorship in each except North Carolina, and hold all 12 Senate seats except for the lone Democrats in Florida and Nevada.
November offers Democrats an important opening to begin shifting that balance. Their best two opportunities nationwide to win Republican-held Senate seats are in Nevada, where Democratic Representative Jacky Rosen is challenging the incumbent Dean Heller, and Arizona, where voters on Tuesday nominated the Democratic congresswoman Kyrsten Sinema to face her Republican colleague Martha McSally. In Texas, Democratic Representative Beto O'Rourke has mounted an unexpectedly strong challenge to the GOP incumbent Ted Cruz. On the other side of the ledger, Democratic Senator Bill Nelson of Florida is facing a formidable threat from outgoing GOP Governor Rick Scott.
All of these states, except for North Carolina, are also picking governors this year. The Republican Greg Abbott appears to be cruising to reelection in Texas, but the other four contests look highly competitive. Especially revealing may be the races in Florida and Georgia, where Democrats picked African American nominees (Andrew Gillum, who beat a more centrist alternative, and Stacey Abrams, respectively), and Arizona, where they chose the Hispanic educator David Garcia.
Two dynamics will likely determine Democratic prospects in the Sun Belt. One is whether they can replicate their improvement in other regions among college-educated whites; in the Sun Belt, those voters have leaned more to the right, especially on social issues, than elsewhere. But there are signs that some, especially women, are recoiling from Trump's definition of the GOP.
Even more important over the long term may be whether Democrats can energize the region's huge population of young minorities. All of the Sun Belt states are defined by the same stark demographic divergence. Their youth populations are heavily nonwhite: According to projections by the Brookings Institution demographer Bill Frey, by 2020 minorities will constitute a clear majority of the under-30 population in Florida, Georgia, Arizona, Nevada, and Texas, and more than two-fifths of that population in North Carolina. Meanwhile, older generations in the same states remain preponderantly white: In 2020, the population aged 65 to 69 in each of these states (save for Texas) will be roughly two-thirds white. In Texas, whites will represent about three-fifths. The white share of the 70-plus population in all six states is even higher.
This "cultural generation gap," as Frey calls it, stands as a defining pillar of Sun Belt politics, particularly as Trump aims so much of his agenda toward the cultural and racial anxieties of many older and blue-collar whites. For Democrats across the Sun Belt, the diverse younger generations resemble a cavalry that always remains just over the hill: Despite their big numbers, their turnout has consistently disappointed, especially in midterm elections.
Will that change this year? "At this point, I don't see [young people] any more or less engaged than I have in past midterm elections," says the Texas-based Republican pollster Mike Baselice. That's an ominous forecast for Democrats, particularly in the Sun Belt, given that turnout among young people has sagged badly in the past two midterms.
Some Democrats are more optimistic. Yvanna Cancela, a Millennial Democratic state senator in Nevada and the former political director of the powerful Culinary Workers Union there, is one of them. "The Trump administration has forced younger voters to pay attention to politics," she says. But she acknowledges the headwinds. "Often the challenge with younger voters is they don't recognize just how powerful they are," she adds. "Part of the campaigning that's happening is letting young people know there are a lot of them—a lot of us—and if we just banded together and do this one simple thing, which is voting, we could change the landscape of this country."
Across the Sun Belt, Democrats this year have bet heavily on diversity (the African American nominees Gillum and Abrams, the Hispanic nominees Garcia and Lujan Grisham, and Sinema, who is openly bisexual) and youth (Gillum is 39, and Sinema, Abrams, and O'Rourke are in their 40s). These candidates have provided a jolt of energy for state Democratic parties in the Sun Belt that have sometimes slumbered through recent elections. But unless these fresh faces can mobilize more young people of color to vote, many of them may fall just short in November. That need may be especially acute for Gillum, whose Bernie Sanders–style agenda could limit his opportunities in white-collar suburbs. In Texas, O'Rourke faces the challenge that a substantial minority of Hispanics there—perhaps as many as two-fifths—have consistently voted Republican in recent years.
Democrats can now see a clear path to greater inroads in the Sun Belt, centered on persuading more white-collar whites and mobilizing predominantly nonwhite younger generations. From Florida to Nevada, this November will measure how much ground they have gained—and how much they still must cover—on each of those critical fronts.