The Democratic Effort to Keep Jeff Sessions in Office
Most in the party opposed his confirmation and view him as "a disaster" on policy. But to protect the Mueller investigation, they're now trying to shield him from President Trump.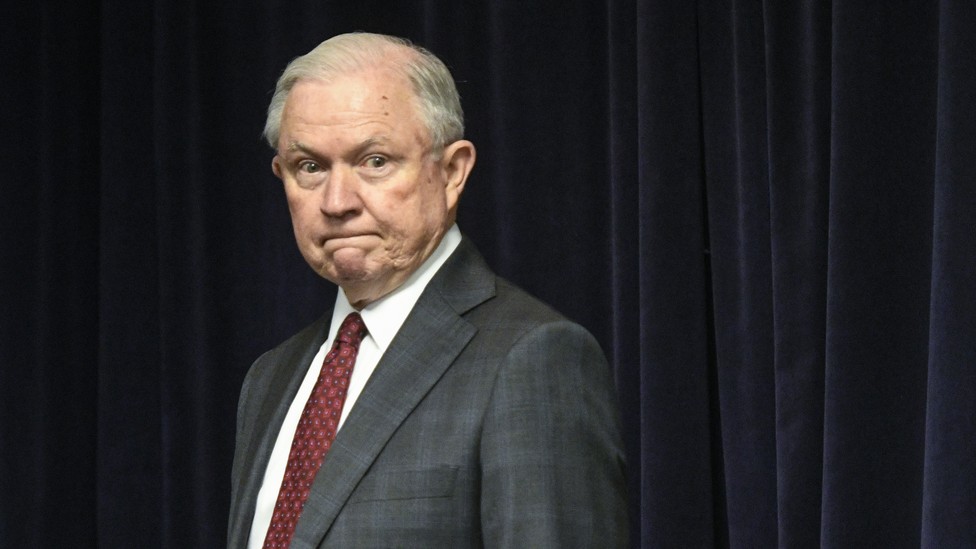 In the long history of strange bedfellows in politics, there may be no more awkward alliance than the one that's developed over the past year between congressional Democrats and Attorney General Jeff Sessions.
Senate Democrats were aghast when Donald Trump, then the president-elect, named one of his staunchest campaign supporters to lead the Justice Department a few weeks after his surprise election victory. They viewed Sessions as a virulently anti-immigrant legislator with a racist past, and as a Trump loyalist who would do the president's bidding as attorney general while blocking criminal-justice reform and taking a buzz saw to civil and voting rights. All but one Democrat—Senator Joe Manchin of West Virginia—voted against Sessions's confirmation. And Senator Elizabeth Warren of Massachusetts fought so strenuously to defeat him that Senate Republicans used an obscure parliamentary rule to silence her.
As attorney general, Sessions has confirmed many of Democrats' worst fears when it comes to policy, and in the early months of the Trump administration, a number of them called on him to resign over one controversy or another. But after the president's latest round of attacks on his attorney general, and new comments from Republicans suggesting that he might be fired, Democrats now find themselves in the uncomfortable position of wanting Sessions to stay for one simple reason: He's one of the only people standing between Trump and an abrupt end to Special Counsel Robert Mueller's investigation into Russian collusion and obstruction of justice.
"While I have opposed many of the actions taken by Attorney General Sessions, it would be unacceptable for the president to fire him now in order to install someone willing to subvert the Mueller investigation," Senator Dianne Feinstein of California, the top Democrat on the Judiciary Committee, said in a statement Thursday. "I, for one, believe Congress must do all it can to stop such an act." Senator Chris Murphy of Connecticut, another Sessions critic, urged Democrats to go to the polls in November in part to protect a man he voted against last year. "If Democrats don't win, Trump is emboldened, Sessions and Mueller are gone," Murphy tweeted Friday. "We slide closer to a banana republic."
Under pressure from Democrats after his previously undisclosed meetings with the Russian ambassador became public last year, Sessions announced in March 2017—just six weeks after taking over the Justice Department—that he was recusing himself from the federal investigation into Russian interference in the 2016 election and whether the Trump campaign was involved. That move paved the way for Deputy Attorney General Rod Rosenstein to appoint Mueller as special counsel after Trump fired FBI Director James Comey later that spring.
Because Rosenstein is now overseeing the Mueller probe, replacing Sessions would mean the new attorney general would have the authority to restrict or end the investigation.
Sessions's recusal infuriated Trump, and their relationship has never been the same. Several times over the past year, the president has lashed out at the attorney general in interviews or over Twitter, accusing him of disloyalty and saying he never would have appointed him if he knew he was planning to recuse himself. The latest volley occurred this week, in the aftermath of the conviction of Paul Manafort, Trump's former campaign manager, and the guilty plea by Michael Cohen, his longtime personal attorney.
"He never took control of the Justice Department," Trump said in a Fox News interview broadcast Thursday. He again faulted Sessions for stepping aside and challenged him to investigate Democrats and other Trump critics for "collusion," the same allegations dogging the president and his associates.
Sessions has mostly laid low in the face of the president's taunts, but on Thursday he issued a rare statement defending himself. "I took control of the Department of Justice the day I was sworn in," he said, listing areas, like immigration enforcement, where he has clearly advanced Trump's agenda. "While I am attorney general, the actions of the Department of Justice will not be improperly influenced by political considerations. I demand the highest standards, and where they are not met, I take action."
Senate Republicans have generally tried to protect their former colleague , warning Trump that it would be all but impossible to confirm a successor if Sessions was fired. Senate Judiciary Chairman Chuck Grassley even said at one point in 2017 that he would have no time to hold confirmation hearings on a replacement. But in recent days, that wall of support appears to have weakened a bit.
Grassley said he would be able to find time for hearings, and Senator Lindsey Graham of South Carolina, who has become a key Trump ally, floated the possibility that the president would replace Sessions after the midterm elections. "The president's entitled to an attorney general he has faith in, somebody that's qualified for the job, and I think there will come a time, sooner rather than later, where it will be time to have a new face and a fresh voice at the Department of Justice," Graham told reporters.
Despite Graham's invitation, other Senate Republicans pushed back. The party's second-highest-ranking senator, John Cornyn of Texas, said it "would be bad for the country, it would be bad for the president, it would be bad for the Department of Justice for him to be forced out under these circumstances." And Senator Ben Sasse of Nebraska, a member of the Judiciary Committee, warned in a floor speech: "I find it really difficult to envision any circumstance where I would vote to confirm a successor to Jeff Sessions if he is fired because he is executing his job rather than choosing to act like a partisan hack."
With the GOP's narrow 51–49 majority, the loss of even one or two Republican votes could make it impossible for a new attorney general to win confirmation. Trump's only other option would be to temporarily move another Senate-confirmed member of the Cabinet to the Justice Department, but that action, too, would likely be met with outrage from Democrats and some Republicans.
Trump's firing of Sessions, warned Democratic Representative Hakeem Jeffries of New York, "would likely spark a constitutional crisis and further unravel any shred of legitimacy that the president has remaining."
That is not to say, however, that Jeffries—a member of the House Judiciary Committee and a close ally of the party leadership—is a fan of the attorney general. "He has been a disaster as attorney general on almost every single issue," he told me Friday, "with the exception of taking a hands-off approach regarding the Mueller investigation."
Jeffries acknowledged that the calculus might change if Democrats win at least the House majority in November, giving them more power to protect Mueller on their own and making Sessions expendable. Winning the Senate would mean they could block confirmation of a new attorney general without help from Republicans.
But for the moment, in a choice between a "disaster" and a constitutional crisis, Jeffries is siding with disaster. And so, it seems, is almost every other member of his party.