The End of the David Clarke Era
The successor to the controversial former Milwaukee County sheriff lost his primary on Tuesday, the latest law-enforcement officer to lose to a reformist this year.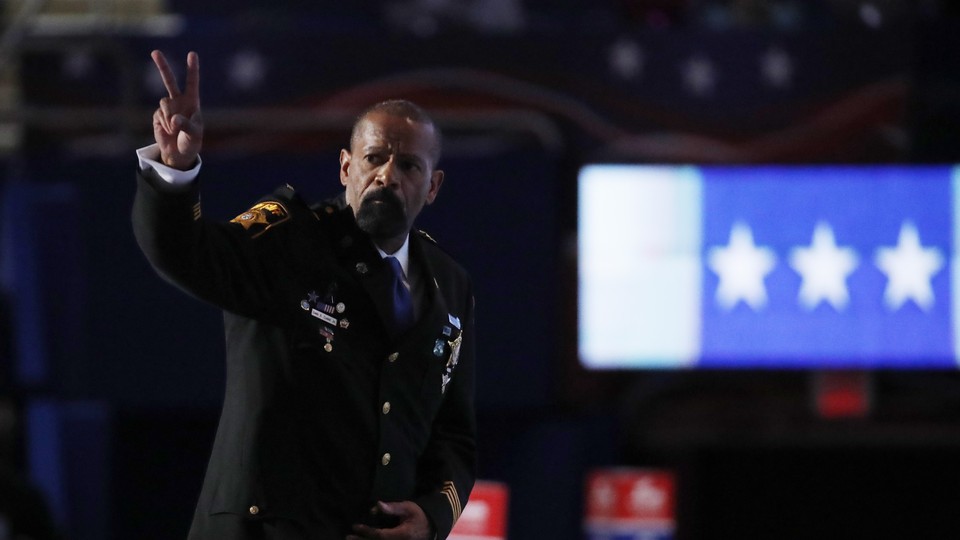 Remember David Clarke? He became a national celebrity for his support of Donald Trump during the 2016 election, speaking at the Republican National Convention and delivering often inflammatory remarks on the campaign trail.
But as Clarke's large array of badges and oversize hat were intended to remind, he was first and foremost a lawman—the sheriff of Milwaukee County, in office since 2002. In that position, Clarke was a prominent advocate for giving law enforcement wide latitude, and he fiercely criticized criminal-justice reform and scrutiny of the police. These stands were notable because he is African American and a registered Democrat. It was a partly self-interested stand: Clarke was himself under scrutiny for his management of the sheriff's department, and especially for the multiple deaths in the county jails he ran.
Clarke left office in 2017 with the promise of a job in the Trump administration that never actually materialized. (He later joined a pro-Trump political-action committee.) On Tuesday, however, the police-reform movement won a victory over Clarke's legacy in the county, turning out his successor and former deputy in the Democratic primary for sheriff. Earnell Lucas won roughly 57 percent of the vote, handily defeating Acting Sheriff Richard Schmidt, who took 34 percent. (A third candidate finished far back.)
Schmidt is a career officer in the sheriff's department, rising through the ranks to become Clarke's No. 2 in 2010; he became acting sheriff upon Clarke's resignation. And it was Clarke that dragged him down in the race. All three candidates said they wanted to move beyond the Clarke era, but Schmidt was unable to effectively separate himself from his former boss.
As the Milwaukee Journal Sentinel reported, "In his campaign, Schmidt emphasized the dozen or more changes he made at the agency since Clarke's departure, from balancing the budget and going after reckless drivers on freeways to reforming jail operations after several custody deaths during Clarke's tenure."
But activist groups hammered Schmidt for his role in the Clarke administration, during which he had oversight of jails, and for his cooperation with federal Immigration and Customs Enforcement.
Lucas, a former Milwaukee police officer who is a top security officer for Major League Baseball, won endorsements from Senator Tammy Baldwin and Mayor Tom Barrett, both Democrats, and progressive groups including the Working Families Party. Schmidt had the backing—and substantial financial support—of Democratic County Executive Chris Abele. Although Tuesday's election was a primary, Lucas is almost certain to win the general election.
Schmidt is the latest sitting sheriff to lose his reelection bid this year, which is unusual because the average U.S. sheriff serves 24 years in office. These elections seem to be part of a grassroots push for criminal-justice reform at the local ballot box. In two big North Carolina counties, Mecklenburg (home to Charlotte) and Durham, voters in May decided to toss sitting sheriffs in favor of challengers. In these cases, as in Milwaukee, jail conditions and cooperation with federal immigration authorities became central weaknesses for the incumbents.
Voters have also kicked out sitting prosecutors in favor of reformists. Earlier this month, Robert McCulloch, the prosecutor in St. Louis County, Missouri, lost a primary to Wesley Bell. McCulloch attracted national notoriety for his approach to prosecuting Officer Darren Wilson, who shot and killed Michael Brown in Ferguson, Missouri, in 2014. In May, in Durham County, an incumbent district attorney lost to the progressive challenger Satana Deberry. In 2017, in the most high-profile illustration of the trend, Philadelphia voters elected Larry Krasner, a longtime reformist gadfly, to be the city's chief prosecutor.
Lucas's victory Tuesday is important because it's a repudiation of Clarke's particularly bleak record as Milwaukee County sheriff. But taken together, these victories by challengers show how the theater for criminal-justice reform has shifted from the federal level to local races. Since the appointment of police-friendly Attorney General Jeff Sessions, federal criminal-justice reform has slowed substantially, despite some efforts by the White House senior aide Jared Kushner, the president's son-in-law. Filling that void, activist groups are working for piecemeal reform in cities and counties.
As for Clarke, his profile has been lower since leaving office, but he hasn't totally disappeared. On Sunday, an episode of the prankster Sacha Baron Cohen's show aired in which Cohen, in disguise, asked Clarke about how he would have dispersed anti-fascist protesters in 1930s Germany.