The Bias in Fresno's Justice System
An investigation of policing in Fresno shows a lasting legacy of discrimination, and its consequences.
Editor's Note:
This article is part of a series reported by master's students at the University of California at Berkeley's Graduate School of Journalism. The stories explore the impact of the vast racial and economic inequality in Fresno, the poorest major city in California.
A jacket with a police badge sewn onto its shoulder hangs in the the office of Fresno City Councilman Oliver Baines III. He had served on the city's police force for about a decade before he was elected to public office. In an interview in his City Hall office, Baines, the only black member of the council, paused before answering a question about the police department's treatment of black drivers.
"I got pulled over last night," he said. He recounted the previous night's incident, which occurred as he drove to his home in southwest Fresno. The officer who stopped him told him he was speeding, but Baines knew he wasn't and said so. The officer told him that it seemed like he was speeding, before adding that Baines's license plate was similar to the plate of a recently stolen vehicle. After looking over his driver's license, the officer let Baines go.
"So, just like that. No real reason whatsoever," Baines said. "The justice system is not set up to treat people equally. That's true across the country."
In Fresno's justice system, from its police department, to its schools, to its jail, unequal treatment is the norm. Data obtained from the city's police department shows that routine interactions with the police take a much heavier toll on black Fresnans than white. An analysis of more than 40,000 traffic stops in 2016 shows that black drivers accounted for 15 percent of officers' stops—twice the share of the black population in the city that's of driving-age, and nearly triple the rate that white drivers were stopped. And traffic stops can escalate more severely for black motorists. The analysis of Fresno police traffic stop data reveals that officers search black drivers at a rate two-and-a-half times that of white drivers and arrest black drivers twice as often. Of the 4,800 cars that Fresno police searched in 2016, a quarter belonged to black drivers, yet black drivers make up just 8 percent of the city's driving age population. This highlights a troubling trend: as police interactions get more serious, the disparities become more profound.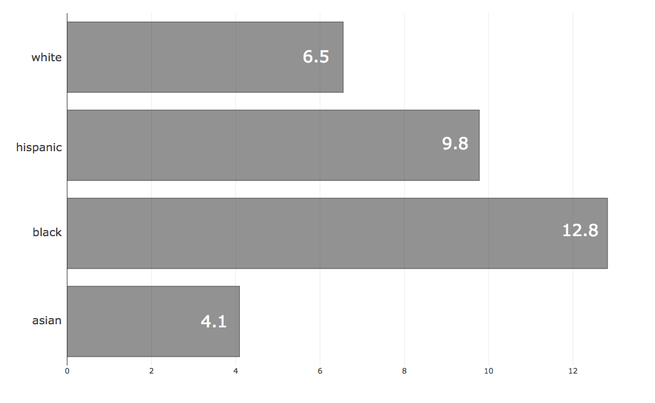 Comprehensive national data on traffic stops doesn't yet exist, but a survey of seven states indicates that the racial disparity found in Fresno persists at similar rates in cities and states across the country. In Fresno, it's a powerful pattern that doesn't spare even the city's most prominent black residents—like Baines.
Baines's run in with police was unsurprising in another important way. When he was pulled over, Baines was headed to his home in southwest Fresno, a neighborhood that's home to the city's highest concentration of black residents, and where Fresno police made a disproportionate number of their traffic stops in 2016. "We know that certain parts of town are policed more than others," said Matthew Jendian, a sociology professor at Fresno State. Criminologists have noted that police patrol poor communities of color looking to suppress crime, whereas, in wealthy white neighborhoods, they're mostly responding to crime.
Police in Fresno and nationally say the reason for this is simple: They patrol, stop, search, and arrest more people in neighborhoods where there's more criminal activity. Baines, as a former Fresno police officer, is sympathetic to this explanation, but said it cannot account for the massive disparity. "That doesn't fly with me," he said.
This assertion isn't supported by the department's own numbers either. Crime data that spans the last five years shows that three of Fresno's five policing districts have similar numbers of violent and drug crimes: 25 percent of these crimes happen in the Southeast district and 22 percent in the Central and Southwest districts, respectively. The Southwest didn't have the most crime, but it did see the most traffic stops.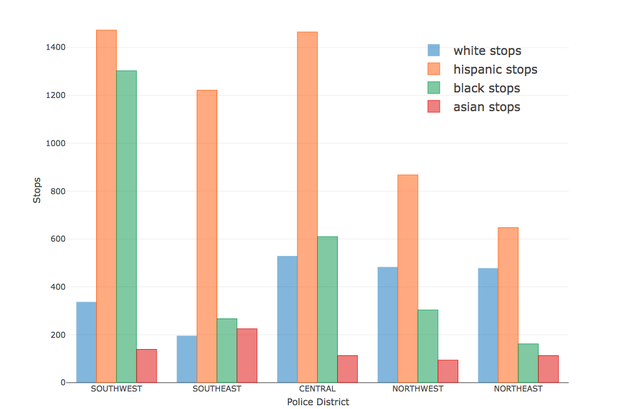 Police Chief Jerry Dyer acknowledged his officers may have biases, but said the real reason for the disproportionate numbers is gang violence in southwest Fresno. Whenever there's a gang-related shooting, the department expects retaliation and floods the streets in order to discourage additional shootings, he said. "What we literally try to do is stop the bleeding and get into those neighborhoods and make a lot of traffic stops," he said.
Dyer said he sometimes worries about the message this policing practice sends, especially during a time of increased public scrutiny of departments' treatment of people of color. He said he has decided to deploy fewer officers after shootings, "so as to not have those numbers look so dramatic." Instead of focusing on the demographics of people stopped, Dyer said, people should look at data on crime victims. In 2017, 32 percent of shooting victims were black, he said: "That is why we're there." The increased police presence after shootings is simply a response to those communities' calls for more protection, Dyer said.
But even if an area like Fresno's southwest had crime rates that were much higher, some law enforcement professionals say heavy traffic enforcement will not help, and may instead lead to more conflict. In recent years, high-profile police shootings caught on video—like the killings of Samuel DuBose in Cincinnati and Philando Castile in a St. Paul suburb—have shown that routine traffic stops can quickly become deadly, especially when a driver feels targeted.
The Northern California chapter of the American Civil Liberties Union found a similar pattern in officer-involved shootings. In a recent report, the ACLU found that, between 2011 and 2016, 22 percent of the people Fresno police officers shot or shot at were black—nearly triple the black share of the population.
When the ACLU report came out in 2017, Dyer told the Fresno Bee the findings of racial disparities were "without merit" but also said that the disproportionate use of force corresponds with high crime populations. At the end of our conversation, Dyer pointed to a printout he brought with him, a list of the department's "most wanted" people. "We can't plug in a bunch of white guys," he said. "You know who's shooting black people? Black people. It's black-on-black crime."
But so-called "black-on-black crime" as an explanation for heightened policing of black communities has been widely debunked. A recent study by the U.S. Department of Justice found that, overwhelmingly, violent crimes are committed by people who are the same race as their victims. "Black-on-black" crime rates, the study found, are comparable to "white-on-white" crime rates.
During Dyer's 17-year tenure as police chief, the department has faced several scandals and accusations of discrimination. In 2015, an internal report found nearly a fifth of sworn Fresno police officers believed the department's racial and gender bias affecting the public was a "severe or serious problem." (Dyer disputed these findings, but also said those results led the department to implement "implicit bias" training that continues today.)
Four years before that report, two of the department's highest ranking officers, deputy chiefs Robert Nevarez and Sharon Shaffer, filed a lawsuit against Dyer and the city, alleging "continual and repeated" harassment and discrimination. The deputies accused Dyer of making derogatory and racist comments, such as singing the "antebellum slave song 'Mammy's little baby loves short'nin bread'" when referring to African Americans, saying "You know brothers can't resist watermelons," and referring to a Japanese coworker as his "little Geisha Girl."
The lawsuit also alleges that, at one meeting, when the subject of charging Fresno County an administrative fee came up, Dyer said with a laugh, "Good, rape them … and make them feel like they liked it." At the time, Dyer said the comments were fabricated, embellished, or taken out of context. The Fresno Bee reported that the city paid Nevarez and Shaffer $300,000 to settle the case. Shaffer retired in 2015, but Nevarez still worked at the department until this July, when he became the chief of Delano Police Department.
"I'm not here to rehash any of those things, but I'm man enough to say that in those areas that I felt that I was wrong, I took steps to correct that," Dyer said. "For anyone that can say that they've lived a perfect life, they've been a perfect leader, they have a perfect department, they're not being truthful with themselves or others."
Despite the controversies, the city council, a series of mayors and many Fresnans have steadfastly supported Dyer and the department. A measure of this support lies in the city's budget. Fresno spends 50 percent of its general fund on the police department, about $160 million, a share significantly higher than Baltimore, Chicago, or Houston. With that money Dyer has gained increased power and influence. He maintains a public profile unlike any other local official, appearing in TV commercials and on billboards across Fresno. One religious leader, the Rev. Floyd Harris, said, "He's like God in this city."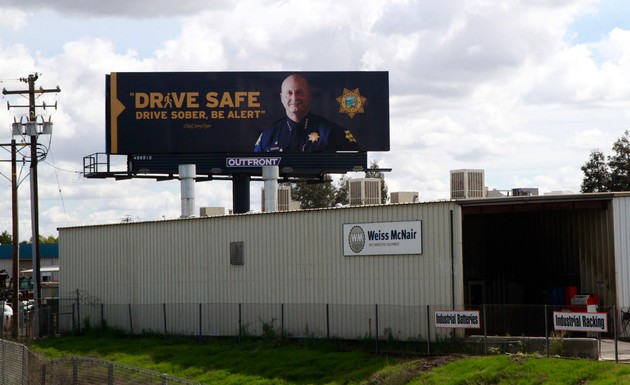 Dyer's influence extends to the city's schools, where black students are punished at a much higher rate than their peers. An analysis of student resource officers' arrests and citations during the 2015-16 school year shows that even though black students made up just 10 percent of the schools' population that year, they accounted for nearly 30 percent of resource officers' arrests and citations. Black and brown students were suspended and expelled at higher rates than white students—a statewide trend that is particularly profound in Fresno.
In the 2016-17 school year at Fresno Unified, one of the state's largest school districts with over 70,000 students, showed modest declines in suspension rates, but there was still a stark discrepancy: 33 suspensions for every 100 black students, compared to 13 suspensions per 100 white students. This is a disparity twice the state average.
Fresno Unified suspended and expelled more black students last year than any other large school district — even Los Angeles Unified, which has more than 8 times the number of black students enrolled in its schools. "We've made gains but we have so far to go," said Ambra Dorsey, the district's executive director of prevention and intervention. The school district's leadership is quick to acknowledge the injustice in its uneven discipline numbers. Teachers and administrators are rethinking the way they mete out suspensions and expulsions and now treat moments of conflict as teaching opportunities, said school board president Elizabeth Jonasson Rosas. Schools in the district have implemented restorative-justice practices and focus on social and emotional learning.
Elected to the post in December, Jonasson Rosas replaced a divisive board president whose homophobic comments spurred calls for his resignation. (The former board president said of inclusive sex education lessons, "if you start telling them that LGBT is okay and that it's a way of life, well maybe you just swayed the kid to go that way.") The conservative school district has a history of punitive, disproportionate discipline, and it may take years for the numbers to reflect the recent culture change."We're working on addressing the root causes as opposed to strictly discipline," Jonasson Rosas said.
This year, in an attempt to reduce the number of students charged with crimes on campus, the district began a partnership with the police and the county district attorney. Now, Dorsey said, when students commit misdemeanor crimes at school, the three agencies work together to reduce the number of criminal charges filed.
Jonasson Rosas is acutely aware of the well-worn path from schools to prisons and she stressed that her district is moving away from the zero tolerance policies of the past. Historically, Fresno Unified's disproportionate discipline has been part of the problem, she said, a piece of a system that criminalizes black and brown students at a young age. Now, she wants her schools to be a solution.
Yet there are many locked up who were never offered solutions like restorative justice, and vast inequalities are unsurprisingly stark in Fresno County Jail, an analysis of over a year's worth of jail booking and release data shows. Black inmates comprise about 15 percent of the jail population—triple the proportion of black county residents. What happens after an individual is booked can vary based on race: White inmates are ticketed and released (as opposed to being held until trial) at a higher rate than black inmates—12 in every 100 white inmates, compared to 7 in every 100 black inmates. And when controlling for a defendant's crimes, age, and gender, a statistical analysis found that black and Hispanic defendants received bail amounts higher than their white counterparts.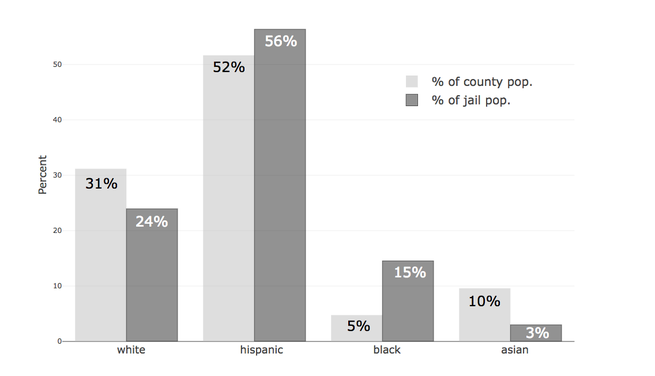 There is also a familiar geographic pattern: since the beginning of 2017, more people have been booked into the county jail from the city ZIP code 93706—one of the poorest areas with one of the largest black populations in the county—than from any other ZIP.
"I don't have an answer as to why the numbers don't match up with the population," said Steve Wright, a Fresno County assistant district attorney. Wright said that his office tells its staff "that race or sex or gender is not something to be considered" in prosecuting a case. Fresno County Sheriff Margaret Mims also said she didn't know why the jail has a higher percentage of black inmates than the county population, but that she would support research that tries to answer that question.
Though county officials don't seem to have the answers, many criminal justice reform advocates believe money bail contributes to the disproportionate number of black Fresno residents sitting in its jail. "It is very hard for people who are justice system-involved to get out and move on with their lives and be productive citizens," said Lisa Foster, a retired California Superior Court judge. "The impact on the community is enormous. It exacerbates poverty. It is keeping places like Fresno poor."
Here's roughly how it works: after being arrested and charged, a judge sets bail during an arraignment hearing. Those with cash on hand can pay, leave and wait for their court date at home. For others the options are less favorable: They can sign a contract with a bail bond agency, which allows them to be released but saddles them with debt. They can also sit in jail and await their trial date, which could take more than a month, and cause them to lose their job. The accused could also plead guilty, and deal with the consequences. These options, and the bail system that mandates them, are illustrative of larger, structural imbalances in California's justice system.
It's a system that politicians, community leaders, law enforcement officials, and residents might all describe differently. Depending on their race, depending on their income, depending on their neighborhood. Depending on which Fresno they live in.