When Having a Progressive Record Isn't Enough
Ayanna Pressley's challenge to the Democrat Mike Capuano in Massachusetts shows how the left is looking for candidates with "lived experience."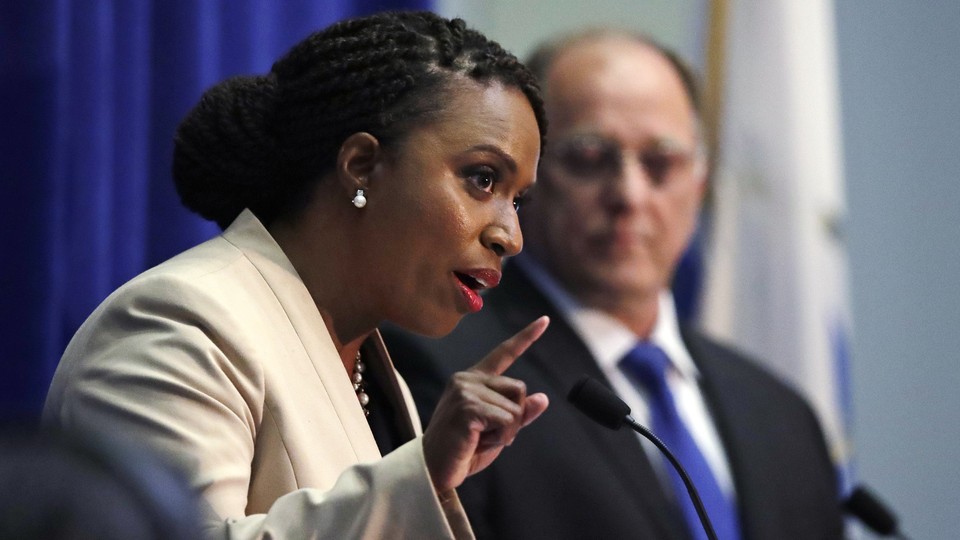 Updated at 2:16 p.m. ET
Mike Capuano has been a progressive force for decades. The Massachusetts congressman backed "Medicare for All" well before it was fashionable, and he led the effort to make Somerville a so-called "sanctuary city" more than 30 years ago. His speech berating bank CEOs for their role in the last recession was immortalized in a 2010 documentary. And Trump? He's supported an impeachment vote.
Nevertheless, progressives want more.
Ayanna Pressley, a 44-year-old African American woman and a Boston City Council member, is running against Capuano from the left. Perhaps because there's not much daylight between them policy-wise, Pressley and her backers insist the primary race is about much more than policy: "This was the seat held by John F. Kennedy, so having a progressive voting record is baseline," she told WBUR in July. "That is not necessarily a profile in courage." Instead, they say, the race is about perspective and representation.
Pressley's challenge to Capuano offers another data point in mapping the story of 2018: Progressive voters aren't satisfied with lawmakers who simply share their values. They want incumbents out, and they want them replaced with specific kinds of candidates—ones who emphasize grassroots activism and minority outreach, who are able to discuss the nuances of racism and intersectionality, and who, perhaps most importantly, have what they call the "lived experience" of being a nonwhite or non-male person in America. Put simply, progressives want new blood—and activists say they'll fight for it in every district, not just where it's safe to do so.
Massachusetts's liberal Seventh Congressional District, which includes roughly half of Boston, is the only majority-minority district in the state, and it's always been represented by white men. Pressley's race against Capuano, which culminates in Tuesday's primary election, sets up a familiar dynamic: a nonwhite woman taking on a white, male longtime incumbent with progressive street cred in a deep-blue district. That's what happened in New York's Fourteenth District, where Alexandria Ocasio-Cortez challenged—and defeated—Joe Crowley in June.
But there are key differences between the two races: Crowley didn't appear well prepared for a contested primary, and even skipped a debate against Ocasio-Cortez. Capuano, by contrast, has said he's taking the challenge "seriously," and has participated in several public debates against Pressley. Crowley is also more of an establishment figure than Capuano; he's been chair of the House Democratic Caucus since 2017, and was widely viewed as a potential next House speaker. And Pressley, unlike Ocasio-Cortez, isn't a democratic socialist.
Both Pressley and Capuano have had long careers as progressive activists and lawmakers: Capuano as the mayor of Somerville and a representative in Congress, and Pressley as a staffer for Representative Joseph Kennedy II and Senator John Kerry, and as a member of the city council. The two would likely vote the same on most policy matters, though they diverge on a few more symbolic issues. First, unlike Pressley, Capuano doesn't support recent calls to abolish Immigration and Customs Enforcement; instead he wants to reform it. He accepts funds from corporate PACs, whereas Pressley has joined the throng of Democrats rejecting them. And Capuano voted for a "Blue Lives Matter" bill to strengthen the punishment for assaulting a police officer, while Pressley said legislators should focus on "getting justice for the black men in this country who are being murdered every day."
For Pressley and her supporters, the race is about emphasis, not votes. Pressley was the first African American woman ever elected to the Boston City Council, and is a survivor of sexual assault. Her father was incarcerated and struggled with drug addiction. All of this adds up to the kind of "lived experience" progressive activists want, and it supersedes any policy agreement they have with Capuano.
"There's a really clear expression of the kind of political leadership that people are interested in in this particular moment," says Adrianne Shropshire, the executive director of BlackPAC, a liberal super PAC that supports progressive candidates. "[Voters are] looking for diversity. They're looking for folks … speaking directly to how they are experiencing this political moment." Shropshire says that means candidates who support progressive issues, but who are also "willing to stand up and speak to the challenges we have with racism in this country."
And Pressley does: Her main priorities, she tells interviewers, are "economic inequality, the wealth and wage gap, structural racism, and gun violence." She describes her campaign platform as an "equity agenda" that promises to address, among other things, "systemic racism." (Pressley's campaign did not respond to interview requests for this story.)
For the Pressley volunteer Jocelyn Antonio, that outspokenness is exciting. "She knows what it is to go through those instances where you are a minority," said Antonio, who recently moved to Boston and whose parents immigrated from Mexico. Pressley, she says, also "seems to understand intersectionality more." She offered an example. During an interview in February after the high-school shooting in Parkland, Florida, Capuano said he once placed a police officer in a school as a means of reducing gun violence. Pressley has subsequently accused him of supporting "the militarization of schools." "She seem[s] to understand what having a police officer in schools might do … when it comes to race," Antonio said.
Pressley's supporters praise her ability to speak fluently and with nuance on everything from transgender rights to Black Lives Matter, while they feel Capuano's understanding of those issues is limited. "It seems like he was not engaging his constituents, especially his constituents of color, so he could understand them and advocate for them as effectively as possible," said Solomon Steen, a local Democratic activist. "When Ayanna start[ed] running, it [was] immediately apparent she has a deeper understanding of engagement in the community, a more sophisticated grasp of what underrepresented populations need."
Audrey Coulter, a spokeswoman for Capuano's campaign, said the congressman has "deep, strong roots" in the Seventh District. "Mike has built a record of listening to people, working with them on the toughest challenges and never backing down," Coulter said in a statement. "He's a tireless progressive champion for working families, immigrants, communities of color, seniors and kids, in the fights critical to protecting our most fundamental values."
Capuano's supporters argue that record matters most of all. "Why am I gonna give up all that institutional knowledge, seniority, and work that he's done for the district for someone who's gonna basically vote the same way?" said the Chelsea city councillor Roy Avellaneda. "Boston loses in changing face right now when it's not about ideology." He added, for context: "I'm Latino, so I'm a minority, and I'm backing Mike Capuano."
The congressman himself has suggested the campaign should focus on policy differences. "If you're going to have a difference of opinion, I think the difference of opinion should be on a matter of substance. So someone should be able to come in and say, 'Well, I'm for this and my opponent is not.' That has not happened in this case—virtually at all," he told WBUR in a recent interview. In an earlier talk with the radio station, he said he believes most constituents "will look way beyond" his identity as a white male. "Look, I cannot be a woman of color. And if that's what people care about, that's fine. I accept that, I understand that," Capuano said. "I just don't think there are that many people who will vote for me because I'm a white male or vote against me because I'm a white male."
Conservatives, and some Democrats, have warned that talking too much about race and identity will discourage white moderates, among others, from voting Democrat. But most progressives scoff at this. "If you, as a candidate, talk about how your life experiences brought you to be a person committed to public service, that's considered a valid part of your mission in office," Steen said, "unless you're a woman or a person of color, then that understanding is something to be denigrated."
Progressives running in 2018 "are not afraid to talk about their lives," Shropshire says. Wanting representation is "a desire to have a table where the range of ideas and experiences are present," she says, and "the approach to grappling with really difficult issues in our communities takes into consideration everyone's ideas."
Activists point to other progressives who have run successfully in purple or red states by touting their backgrounds. The gubernatorial candidate Stacey Abrams's primary win in Georgia is a vivid illustration of the push for representation: The 44-year-old African American woman defeated her white primary opponent Stacey Evans in May by structuring her campaign around minority empowerment and outreach. Evans, who's also a progressive, had positioned herself as the perfect candidate to unite urban, suburban, and rural whites.
Andrew Gillum's win this week in Florida is another. Gwen Graham, the centrist, more establishment candidate, was thought to be the favorite in the Democratic gubernatorial primary, but Gillum, whose mission has been to turn out "black voters, brown voters, younger voters, and poor voters," emerged victorious. There were other progressives in the race, but Gillum, a black man and the father of two sons, stressed his own personal stake in key issues, like stricter gun-control legislation and repealing the state's controversial "stand your ground" law.
All of which is to say that progressives' targeted push for new blood is working out for them—at least for now. Win or lose, Pressley's campaign against Capuano provides a template for moving the party to the left—and inspiration for future progressives to challenge one of their own. "Democrats," Shropshire says, "should not be afraid of primaries."