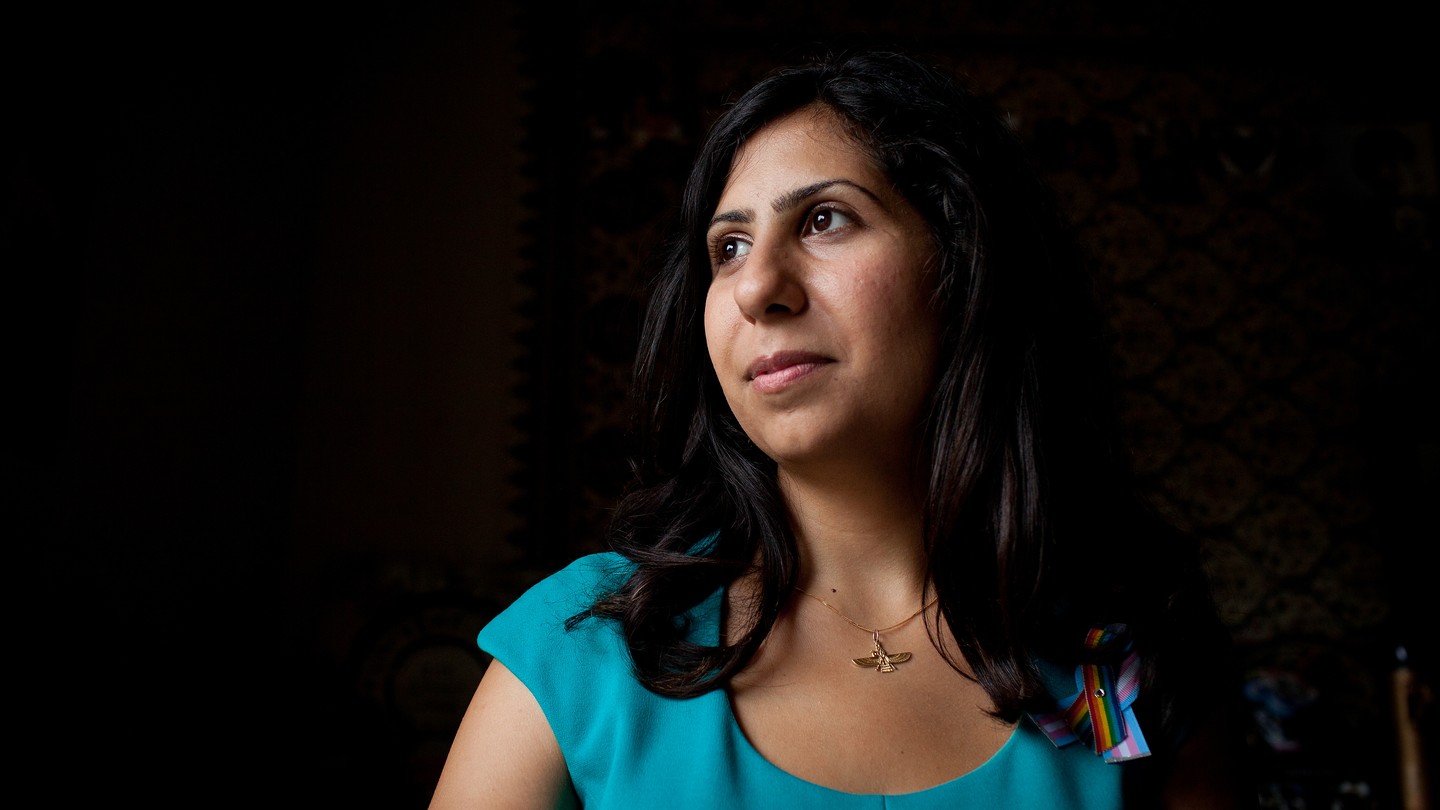 How a Blue Wave Could Crash Far Beyond Washington
Hundreds of progressive, state-level candidates running in 2018 could pull the Democratic Party leftward for years to come.
One of the first things that Anna Eskamani did when she decided to run for the Florida state House of Representatives was write her concession speech.
It was a way of grappling with her own hesitation about becoming a candidate. Upset by the results of the 2016 election, Eskamani was convinced that more women needed to run for office, but she didn't think that was her calling: She was an organizer and operative, not a politician.
"I did what a lot of women do and I encouraged all my friends to run," Eskamani says. "I literally went to girlfriends, and I was like, 'You need to run, what can I do? I'll help you.' They would look back at me and say, 'Why don't you do it?'"
But she hesitated. Although she had a long background in politics, from campaign work to her job at Planned Parenthood, she was wary of making the jump from activism to candidacy, because she was afraid of losing. So she decided to get the losing speech out of the way off the bat.
"I don't really know what winning feels like these days, but I know what losing feels like," she says. Eskamani lost her mother to cancer at 13. Planned Parenthood has lost plenty of battles while she's worked there. Even her first foray into politics—a petition to prevent a friend's transfer to another class when she was 10—ended in failure.
Eskamani has the concession text saved as a Google doc, but she's optimistic she won't have to use it. She's running for Florida's 47th state House district, in the Orlando area. The seat is open—the incumbent Republican, Mike Miller, is trying for a promotion to the U.S. House—and it's closely divided. Miller won the seat from a Democratic incumbent by about 2,000 votes in 2014, but Hillary Clinton won the district in 2016.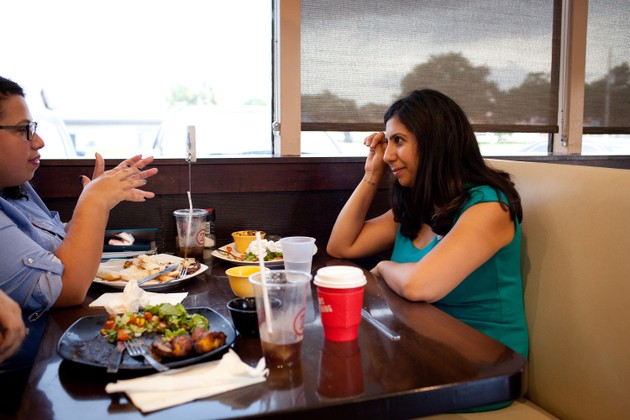 If Eskamani beats her Republican opponent in November, she'll join a class of progressive candidates whose elections will reshape the Democratic Party. While the size and effect of a "blue wave" for Democratic control of the U.S. House has been extensively discussed, a less appreciated effect of wave elections comes down the ballot. There are more Democrats running than ever before, and many of them are first-time candidates to the left of the party's mainstream. Once in office, they will pull the Democratic Party leftward for years to come, in a mirror of the 2010 Tea Party revolution in the GOP. Like the Tea Partiers, they will also reshape state and local policy discussions, championing progressive policies and tactics that have been relegated to the fringes in state capitols.
Eskamani is 28, the same age as the newly minted progressive star Alexandria Ocasio-Cortez. Like Ocasio-Cortez, who cut her teeth as an organizer for the Bernie Sanders campaign, Eskamani is not a political newcomer. At Planned Parenthood, she's done everything from organizing to fund-raising to marketing, all skills that are helpful in running for office. When she decided to run, she spent months drawing up lists of donors, considering logo designs, and lining up support behind closed doors before she filed, most of it outside the auspices of the party.
"At the end of the day, the Democratic Party was not providing mentorship or development," she says. "The dynamic about finding the next generation of leaders was not happening in our party."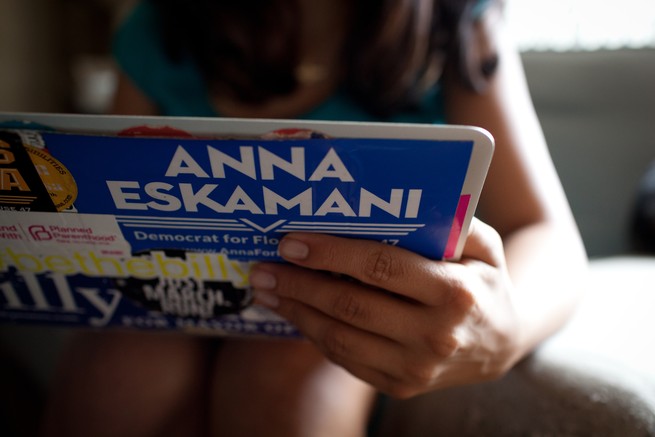 Eskamani's complaint about inattention to the bench resonates nationwide. Years of neglect from the Democratic National Committee during the Obama administration mean Democrats at the state level have been hammered. Republicans now control 31 state legislatures in full, and have partial control in another four. Into that void has stepped a group of candidates who identify as Democrats but aren't as connected to the party's traditional structure, its platform, or its recruitment process.
"I do think a candidate like me helps to redefine what it means to be a Democrat," Eskamani said. "You don't have to come from wealth to run for office. It will inspire candidates like me who grew up in working-class environments to see themselves in representation."
What makes a candidate like her? There are a few characteristics that stick out among some of this year's newcomers. Many were inspired to run in the wake of Donald Trump's election. Many are women, people of color, or children of immigrants. They are running for the first time, and many are young. Some of them have had to run against candidates backed by the Democratic Party establishment, or they complain of tepid support from the party.
It's hard to know quite how many of them there are. Thousands of people run for state legislatures each year, and many of them don't make it past the primary. There's no consensus definition for what constitutes a progressive Democrat, nor who is an activist. The Working Families Party, or WFP, a national group that pushes for more progressive policies and boosts left-leaning candidates, has endorsed more than 350 candidates in legislative races around the country this year. They include people like Julie Gonzales, an immigrant-rights activist who is favored to take over a seat from the retiring Democratic leader in the Colorado state Senate. Or Julie Kushner, a longtime union organizer who, in her retirement, decided to run for Connecticut's state Senate—and, if she wins, could tip the chamber's control to Democrats. Or Nickie Antonio, a current state representative in Northeast Ohio who had to defeat the party leadership's chosen candidate to snag a nomination for state Senate.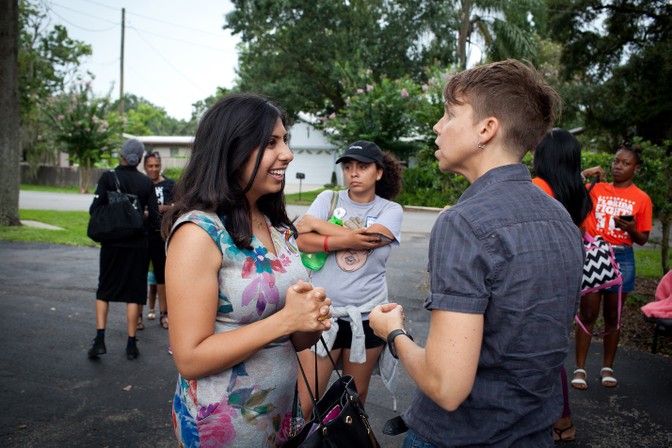 "The silver lining of the Trump administration is this renewal of civil engagement and renewal of democracy," says Joe Dinkin, WFP's communications director. "What we're seeing is a whole new generation of leaders who come out of community organizations or social movements or out of progressive groups stepping up and running for office."
These candidates could pull the Democratic Party leftward for years to come. To see how this works, one need look any further than the 2010 midterms. In a backlash to Barack Obama, Republicans captured the U.S. House and hamstrung Obama for the remainder of his presidency. But at the state level, Republicans also added control of 20 legislative chambers. Many of the Republicans who were elected were mirror images of these Democratic candidates. Contrary to popular myth, many of the Tea Party candidates who ran were not political naïfs but experienced activists.
Once elected, these Tea Partiers pulled more establishment Republicans to the right. The most dramatic cases came in places such as Wisconsin and North Carolina, where moderate and progressive traditions were quickly and efficiently dispatched and the state's governance was remade in a strongly conservative mold. But many states pursued newly conservative policies, from the substantive (enacting right-to-work laws) to the silly (Sharia bans). Meanwhile, candidates elected or empowered at the state level in 2010 have gone on to national positions.
Newly elected progressive Democrats could push their own slate of policies starting next year. The details would likely vary from state to state, but possibilities include increases in the minimum wage, requiring paid family leave and paid sick leave, bills to encourage affordable housing, and new gun controls. Recent decades have seen the Democratic and Republican parties sort from politically heterogeneous coalitions into consistent liberal and conservative blocs. The far edge of the Democratic Party is, for perhaps the first time ever, genuinely leftist. Some of this year's left-leaning candidates identify as progressives. Others, like Ocasio-Cortez, adopt the "democratic socialist" label that Sanders popularized.
Yet despite their left-wing orientation and the national currents that are driving new candidates to jump in, the issues that have become central in their campaigns are not necessarily national or especially far left. Antonio recalled speaking to a firefighter who said he was voting for her because men had screwed up enough in politics. Even though the 2016 election pushed her to run, Eskamani has decided to highlight issues—public education, health-care access, infrastructure—that she believes are locally important and can connect with voters across the political spectrum.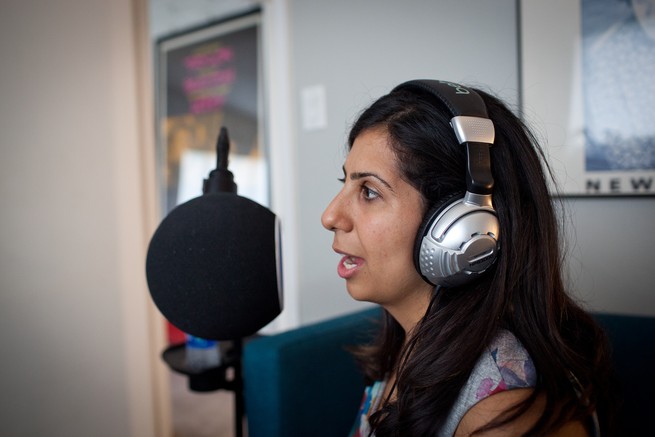 "I barely talk about Trump on the trail," she says. "It's not because I don't care. I see all the tweets. I am watching. But for my campaign, we're focused on homelessness and jobs and access to health care."
Gonzales entered the race expecting that her progressive stances would be a central issue. But an establishment heir apparent opted not to run, and the rest of the field has ended up sliding leftward.
"This race played out very differently from how I thought it would. I thought I would be the outsider left candidate, super progressive," she said. "My intention was to run a good race and talk about the issues that matter to me and my community and my life and my family, and just do that."
If they win, these candidates will face the difficulty of adjusting their orientation from activism to office holding.
"You can hold your megaphone and advocate, and you can also be in the dome and push for effective policy," Eskamani said. But while organizing skills translate well to the campaign trail, they are less directly applicable to the slow, grinding work of legislation. Politics is full of people who ran effective campaigns but have struggled to adjust to working within a system—most prominently, the president.
Then again, having that challenge is the goal. First, they will have to get through the gauntlet of voters.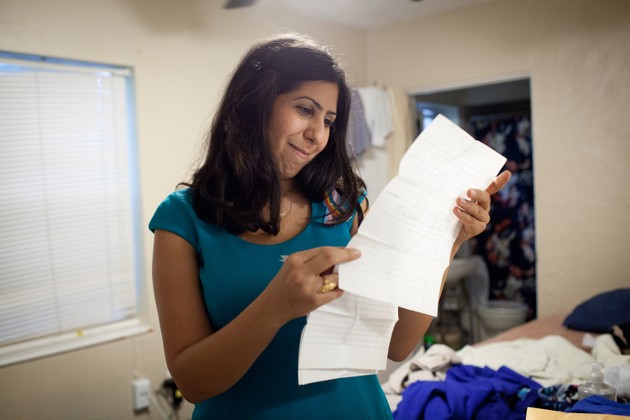 "This whole process has been terrifying, just to be honest. I've worked so many campaigns, either issue campaigns or different candidate campaigns," Gonzales said. "It's different when it's you."
For one thing, candidates are getting their first taste of attacks. Young, Millennial candidates face a danger their older predecessors don't: a lengthy digital record that can be mined for opposition research. That's especially true of someone like Eskamani, who has years of experience in public. Opponents recently released two critical videos. One, titled "Immature Anna Eskamani," features 30 seconds of the candidate speaking at various rallies and public events and delivering a series of swear words, mostly shit and damn. Another, "Extreme Anna Eskamani," includes her proclaiming, "Fuck the patriarchy, and fuck misogyny." (She gleefully directed me to both.)
But Eskamani is confident about her chances. She has a large war chest—she says she's raised more than $200,000—and a sense of mission about her candidacy. She told me about knocking on doors and meeting a mother and her tween daughter. The mother explained that she was concerned about protections for people with preexisting conditions—her daughter had undergone several brain surgeries, and had another one coming soon. After they chatted, Eskamani left, and the girl came running after her and asked whether she could volunteer for the campaign.
"I said, 'Of course you can, but let's get though your surgery first and then let's talk,'" Eskamani says. The girl started following her on Snapchat and they sometimes exchange snaps. "Those moments matter so much to me. That's who I'm fighting for: the next generation." After all, that little girl will be a voter in just a few years—and maybe even a candidate for office.