A Popular Military Website Is Attacked From the Right
Task & Purpose's top editor resigned last week after alleging newsroom interference by its CEO to mollify conservative critics.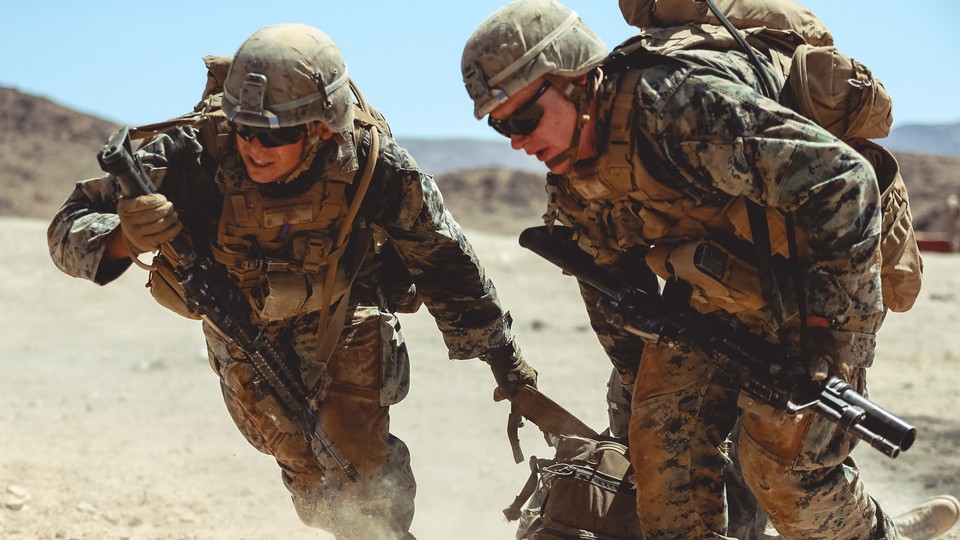 Since its launch four years ago, the website Task & Purpose has built an ardent following among veterans, military personnel, and defense intellectuals with smart, unvarnished coverage of military issues and veterans' affairs. This week, the site analyzed President Donald Trump's proposed Space Force, described security careers for veterans, and led with a follow-up to one of its own scoops on the wounding of a Marine: "The Pentagon Is Trying To Spin The Truth Of How A Marine Got Shot in Syria."
Given this brand of journalism and its 2.5 million monthly readers, the news a week ago that its top editor had resigned over alleged interference by the site's CEO was jarring and troubling. Adam Weinstein, the acting managing editor, announced in a tweet that he had resigned after the CEO and founder, Zach Iscol, had asked to change a headline on a ProPublica investigation into Trump's influence over the Department of Veterans Affairs that referenced "three non-vet Mar-a-Lago members" running the agency. In the tweet, Weinstein said the attempted headline change was "the latest in a series of such demands over our editorial content."
While Iscol denied ever attempting to "censor or change Task & Purpose reporting," he acknowledged having asked Weinstein to change the headline, before backing off, and said he had now established clearer lines of authority to ensure newsroom independence. The broader issue at play, according to Weinstein and numerous contributors and staff members, involves Iscol's sensitivity to attacks from conservatives in or close to the military who see the site as too crusading and focused on social issues affecting a diverse defense community.
"We would be having a very different conversation right now if the approach of Task & Purpose was to hire a conservative columnist or cover more stories or produce more op-eds from a conservative perspective," said Alexander McCoy, a Marine Corps veteran and progressive activist who formerly contributed to the site. "Instead, what [Iscol] did was try to censor content, bury stories that were unflattering to the Trump administration, and avoid criticism from some of these right-wing figures."
Weinstein claims the row over changing the ProPublica headline wasn't what caused him to quit—it was the straw that broke the camel's back. He asserts that Iscol also asked him to limit coverage of the Trump administration to once a week and "to be more conservative in the next couple months," claims that Iscol denies, saying he simply asked Weinstein to be unbiased on social media. But as the dust settles after Weinstein's departure and Iscol promises to respect the newsroom's independence, the nation's hyper-partisan political divide—encouraged by a president who calls the media "the enemy of the people"—is creating tensions that can be as challenging for news start-ups as they are for more established newsrooms. And for a small publication covering the military, the stresses seem magnified.
Task & Purpose was founded in 2014 as an offshoot of Iscol's business Hirepurpose, a hiring platform for veterans. What makes the ideological fracas at Task & Purpose especially noteworthy is that Iscol, a decorated former Marine Corps officer and combat veteran who served two tours in Iraq, is himself a well-known Democrat. He grew up close family friends with the Clintons, particularly Chelsea Clinton, who, according to a profile of the former first daughter in New York, referred to Iscol as "one of my closest friends" in stump speeches when campaigning for her mother, Hillary Clinton, in her 2008 presidential bid.
"Task & Purpose was started to give a voice for post-9/11 veterans," Iscol told The Atlantic in a phone interview. "When I went off to war, the government, the intelligence community, and media got it wrong," concluding there were weapons of mass destruction in Iraq. Iscol co-founded the website with the founding editor in chief Brian Adam Jones, a Marine Corps veteran currently still contributing as the site's editor at large, and Lauren Katzenberg, who left in February to edit The New York Times' "At War" channel. Over a few short years, Task & Purpose attracted an impressive cadre of some of the country's foremost military reporters—a significant feat for a small news start-up. A press release from its parent company, Grid North Group, describes Task & Purpose as providing "authentic and unfiltered perspectives on military and veterans issues in the post-9/11 era."
Many Task & Purpose employees and contributors, like Iscol and Weinstein, are also veterans. Weinstein, who served in the Navy and was an Army contractor in Iraq from 2008 to 2009, made a name for himself in journalism reporting on national-security matters for Mother Jones and Gawker before coming to Task & Purpose.
In the six months since Katzenberg left to join the Times, Task & Purpose has yet to find a stable pick for the top editor position. Katzenberg's replacement, Sam Fellman, lasted just five months before leaving to join Business Insider, and now his replacement, Weinstein, is gone in just two months.
While some readers say they have sensed a subtle change in Task & Purpose as Iscol wrestled with criticism from conservatives, numerous staff members and contributors say they were taken aback by learning that interference in the newsroom had precipitated Weinstein's resignation.
"I was shocked," Andrea Goldstein, a longtime Task & Purpose contributor, a Navy veteran, and the CEO of Service to School, a nonprofit that helps veterans go to college and graduate school, said in a phone interview. "I did not see it coming."
"I was surprised and I was disheartened by it," said McCoy, the Marine veteran and former contributor. "In recent months there's been a great deal of targeted right-wing smear campaigns against Task & Purpose generally—people like myself and also Zach Iscol." He said his "instinct" is that Iscol let bogus liberal-bias allegations affect his judgement.
SOFREP, a more overtly conservative veterans' site, published a podcast in June that Goldstein called a "hit piece" against many at Task & Purpose, including Iscol, McCoy, and others, accusing the website of having a liberal bias and calling its personnel "social-justice warriors." Goldstein said she only listened because she was personally named.
"There's such a fear of being accused of having a particular bias," Goldstein said, that newsroom independence can be comprised to influence coverage and mollify critics. "I'm not saying it's necessarily my opinion, but this is the conversation that's going on," she said. "The perspective is that Task & Purpose tried to overcorrect because [it] has been accused as being a more liberal voice in the space."
Weinstein said Iscol's perceptions of the site were often skewed. "In my discussions with our [editorial] staff there was often a lot of concern over whether Zach actually read the site from day to day or whether he got his information about the site from vets who didn't like us on Twitter," Weinstein said.
He also said Iscol essentially saw himself both as the publisher and the editor of the site. "Zach told me and other people on the editorial staff more than once that he considered himself the editor in chief," said Weinstein. "That was the reason that every top editor on the site before me was called the managing editor, because he wanted to reserve that title for himself."
At some level, Weinstein said Iscol doesn't understand that editorial independence is critical to any news organization. "Zach loves America. Zach loves the Marine Corps. Zach loves veterans. And I love those things about him," Weinstein said. "He has always wanted to be a full-fledged, participating member of that community to the extent that it is a community. I think he is very passionate about having a website that can be a destination for veterans. I think he'd be better off not having a journalistic web site."
Iscol denies that he has pushed the site to the right, dictated content, or limited coverage in one way or another. He says Weinstein's claims are "unfounded," and asserts he has a lot of respect for the former editor. But he admits there have been gray areas between himself and the editorial staff. "I was not involved in day-to-day editing, but I was certainly involved in editorial," Iscol said. "I've been proud of that. Now it's clear I need to remove myself and find a fully independent editor in chief."
Iscol denies that he specifically told Weinstein to limit Trump coverage to once a week, but continues to express concern that with limited resources, his newsroom should shy away from the "overabundance of administration coverage."
"We have what? Five full-time writers?" Iscol said. "I want to make sure we're covering the stories that other people aren't covering. If Trump does something that hurts veterans, we absolutely should be covering that."
In a private Facebook group for Task & Purpose contributors, Iscol offered a valid critique of the media, addressing the incident that caused Weinstein to resign:
The headline I requested to change, "Meet 'The Shadow Rulers Of The VA': Three Nonvet Mar-a-Lago Members" remains in place. For a minute, ask what the headline would have been had this been about President Obama. It probably would have been a celebration of him having the foresight to involve private sector experts in fixing a broken VA.

We as a community need to start giving each other the benefit of the doubt, especially those on the other side of the aisle we disagree with. It is uncomfortable and challenging to do so, but the alternative is far too dangerous a course. If we as a community cannot do that, we are truly f-cked as a Country.
All involved—including Weinstein and Iscol—are hopeful that Task & Purpose can move on and find its independence. Jared Keller, the new acting editor in chief (and a former Atlantic social-media editor), said he is confident that nothing like this will fall through the cracks at Task & Purpose moving forward.
"Sunlight is the best disinfectant," Keller said in a phone interview. "And if there is a problem the future, Task & Purpose readers will know about it immediately."
He's hoping this is a growing pain.
"Task & Purpose, despite being 4 years old, is still growing and evolving and trying exactly to figure out its place. We make plenty of mistakes and we own them," Keller added. "I love Adam to death. I've known him for almost a decade ever since I was the social-media editor at The Atlantic and he was the social-media editor at Mother Jones. I hate to see him leave and I'm going to try to continue on the editorial principles of independence that we established."
Shortly after becoming acting editor, Keller put out a statement of principle on social media: "Our core values are simple: we tell true stories, we serve the public, and we operate beholden to no party or power beyond our own convictions. Since I've been here, we've covered the Forever Wars with a critical eye; published incredible stories on the death of Lance Cpl. Brian Easley, insider attacks in Syria, the heroism of TSgt. John Chapman, and the plight of deported veterans pressed into service by Mexican drug cartels, among others we're proud of; and approached the insanity of the news cycle with a critical eye towards holding leadership accountable."
Goldstein and McCoy, both veterans and contributors, have faith in the site moving forward, but are closely watching what comes next.
"I'm a firm believer if an individual or an organization decides to do something, decides to be something, and is committed to it, then that's something that's achievable," Goldstein agreed.
"I'm optimistic and I have a lot of faith in the staff in the newsroom at Task & Purpose in their integrity and professionalism," said McCoy, who was heartened by Keller's statement and feels strongly about helping build Task & Purpose's diverse network of contributors. "But it's going to take some rebuilding of trust."
In Florida, where Weinstein is based (he worked remotely), he is moving forward. Last Thursday, he wrote about President Trump's Space Force in Rolling Stone and published an op-ed in The Washington Post on Rick Gates and Robert Mueller's investigation. On Tuesday, he launched a paid newsletter called National Insecurity. He's not looking back. He knows the website is in good hands with Keller at the helm.
In New York, at Task & Purpose, Weinstein's departure has already had a palpable effect. Iscol, as promised, has relinquished full editorial control to Keller. It seems clear to staff members that Iscol deeply cares about the integrity of the site. Perhaps this was a wake-up call.
There's a search for a new, fully independent editor in chief. It's unclear whether Keller will remain in the role. If the site does not mature, more departures may soon follow.
"If there's any sort of overstep from the publisher will you leave?" I asked Keller before our phone call ended.
"I don't really think I can comment on that right now," he told me. "I'll just say that all options are on the table."