What 'Abolish ICE' Actually Means
Calls from Democrats to dismantle the agency have grown louder in recent weeks. But the movement's goals are still murky.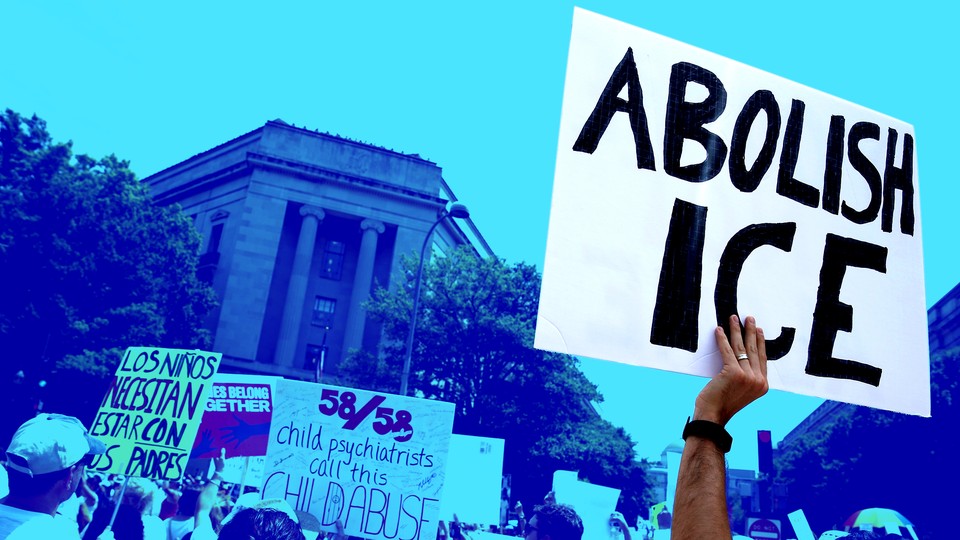 Updated July 11 at 12:32 p.m. ET
While it began as little more than a hashtag on the fringe left, "Abolish ICE" has unfurled, almost overnight, into a small movement. A growing number of Democratic candidates and lawmakers have come to view U.S. Immigration and Customs Enforcement as representative of all that's wrong with the Trump administration's immigration practices, but it's not at all clear that every politician embracing the slogan is on the same page—or what the alternative to ICE might be. And absent that clarity, President Donald Trump is using the movement to paint Democrats as weak on border security.
"Abolishing ICE has suddenly become a touchstone in our politics and our larger body politic," said Muzaffar Chishti, the director of the Migration Policy Institute at NYU School of Law, "and in the absence of having any sort of thoughtful, reasoned policies on what enforcement we should have, people have focused their anger on ICE, as if ICE disappeared from the face of this Earth all our problems would be solved."
The calls to abolish the agency began in earnest in early summer, at the peak of the public outcry against the Trump administration's "zero tolerance" immigration policy that resulted in the separation of families at the United States–Mexico border. Those calls grew louder after the 28-year-old Alexandria Ocasio-Cortez ran and won on the issue in her primary victory in New York. "It's time to abolish ICE, clear the path to citizenship, and protect the rights of families to remain together," Ocasio-Cortez wrote on her campaign website. Senator Kirsten Gillibrand of New York—a potential 2020 presidential contender—hopped on the bandwagon shortly after, telling CNN, "I believe that ICE has become a deportation force … and that's why I believe you should get rid of it, start over, reimagine it, and build something that actually works."
Whether Democratic lawmakers are pushing to eliminate the agency completely or simply restructure it still appears to be up for debate. But the big thing, activists told me, is that people are talking about it. Saikat Chakrabarti, president of Justice Democrats and an adviser to Ocasio-Cortez's campaign, summed up the young movement this way: "Usually in America when there's some system or something inflicting great amounts of damage and pain, I think the reasonable thing to do is say, 'Okay, hold it, let's stop what we're doing,'" he said. "Everyone has a different idea of what happens after [the agency is abolished] but at least we've got everybody on the same page [that] this is wrong."
Immigration and Customs Enforcement, which was set up in 2003 in response to the 9/11 terror attacks, is the largest investigative arm of the Department of Homeland Security. One of the agency's most important divisions is Homeland Security Investigations, responsible for investigating the illegal movement of people and goods within the country, with a hand in everything from cybersecurity to human trafficking. But ICE's most well-known division is Enforcement and Removal Operations, which detains and deports undocumented immigrants. ICE deportations reached a record high under former President Barack Obama—an achievement that earned him the nickname "Deporter in Chief" from immigration groups—but in his last term, his administration had prioritized the removal of undocumented immigrants who had committed serious crimes. That changed in February 2017 when Trump signed an executive order expanding ICE's focus to include most undocumented immigrants living in the country, regardless of their criminal records. The agency made 37,734 "noncriminal" arrests in the government's 2017 fiscal year, more than twice the number in 2016. Between October and March of this year, ICE said it arrested roughly 80,000 people, 33 percent of whom were considered noncriminal, compared with 21 percent of the 63,000 people arrested in the same period the year before.
Last month alone, ICE had conducted some of its largest raids. Agents in Salem, Ohio, arrested 146 employees at a meat-processing plant on June 20. In the same state, two weeks earlier, ICE had detained 114 workers at a nursery, leaving at least 100 local children without one or both of their parents. Reports of smaller-scale ICE arrests have been met with public outcry: In March, the arrest of a San Diego mother in front of her children prompted an ACLU class-action lawsuit. On May 9, the arrest of 32 men at a concrete plant in Mount Pleasant, Iowa, triggered an existential crisis for the small town's religious community. Families in five towns across northern Kentucky are reportedly still reeling after an ICE operation swept up 22 men and women a few weeks before Christmas.
Much of the energy behind the current "Abolish ICE" movement was generated by a different kind of family separation, thousands of miles away from Kentucky at the border between the U.S. and Mexico, where 2,300 migrant children have been taken from their parents after they entered the country illegally. It's important to note that Customs and Border Protection, not ICE, is the body responsible for implementing the administration's zero-tolerance immigration policy that has led to this separation. However, ICE is tasked with housing adult detainees while they go through deportation proceedings, and is expected to help parents locate their children after they've been separated, according to a fact sheet from CBP.
The advocates and lawmakers calling to abolish ICE have framed the issue as a moral one: The agency's widespread use of deportations for undocumented immigrants without criminal records is inhumane, and detracts from its more important function of investigating drug smuggling and human-rights abuses. "They're not doing the job they were hired to do," said Randy Bryce, the Democratic candidate running for Speaker of the House Paul Ryan's seat in Wisconsin's 1st district, in an interview with The Atlantic. "It's more along the lines of a personal deportation force for Donald Trump right now." A spokesman for the Michigan gubernatorial candidate Abdul El-Sayed, told me that, as governor, El-Sayed would support ICE being "defunded and dismantled," and would not allow state resources to be used in federal immigration enforcement.
Sean McElwee, a co-founder of Data for Progress and abolishice.org, has been a leader in the charge to eliminate ICE for several years. Abolish ICE "is fundamentally an anti-deportation movement," he told me, and after the agency is gone, "the central aim has to be ensuring that mass deportation is not housed somewhere else in the government." The question, then, is whether calling to abolish ICE means ending all or most internal immigration enforcement—or simply restructuring or replacing the agency itself. This is the area where Democratic lawmakers' positions are less clear, and where conservatives see a political opportunity.
Some politicians have stopped short of demanding the complete elimination of the agency. Senator Bernie Sanders, who had been reluctant to comment on the growing movement, released a vague statement on the issue on July 3: "Now, it is time to do what Americans overwhelmingly want: abolish the cruel, dysfunctional immigration system we have today and pass comprehensive immigration reform," the statement said. "That will mean restructuring the agencies that enforce our immigration laws, including ICE." Senator Kamala Harris of California, in a recent interview on MSNBC, said it would be necessary to "reexamine" the agency and perhaps consider "starting from scratch." A spokesman for Harris told me that the senator hopes ICE funds can be directed more appropriately, and agents can be retrained "against targeting vulnerable populations such as victims of sexual assault or domestic violence, crime witnesses, pregnant women, and children."
Others, though, have suggested that ICE, as an agency, should be totally scrapped, which would require identifying and transferring its more urgent functions—such as combating human-rights abuses and rooting out criminals—to another agency. Democratic Representative Pramila Jayapal of Washington, one of the most outspoken lawmakers on the issue, said in an email that she wants "to eliminate the agency as it stands and restructure its functions, starting from scratch." Jayapal, along with Representative Mark Pocan of Wisconsin, will soon be introducing legislation to dismantle the agency. "There will still be enforcement of immigration laws, but it must be without cruelty and abuse," she said. Pocan told me the legislation would dissolve ICE within 12 months, and create a commission to recommend a new immigration enforcement system to Congress.
When asked whether broader changes to internal immigration enforcement were necessary—if authorities should stop pursuing undocumented immigrants altogether—most of the lawmakers I spoke with brought the conversation back to what they viewed as ICE's current flaws. "It's the indiscriminate, random use of deportations" that has to stop, said Pocan. "We know there are millions of people here who are technically not here legally, and yet many have been here for a very long time. I don't think many people think that's an effective use of ICE." Most American adults, according to polling from Gallup, generally oppose deporting all undocumented immigrants, regardless of criminal background, living in the United States. But a recent HuffPost/YouGov poll found that public opinion on eliminating ICE altogether is mixed. Roughly 21 percent of respondents said they support abolishing ICE, while 44 percent said they oppose it and 35 percent were undecided.
This is where the Republican argument has found traction, explained Chishti, from the Migration Policy Institute. "In the abstract it's okay to say that, yes, [Democrats] believe deportations should still happen, but when you dig deeper, then the choices become very difficult." In other words, there hasn't been a broader conversation about which undocumented immigrants could acceptably be removed by ICE and which shouldn't be—and Republicans are taking advantage of that cloudiness to paint Democrats as weak on law enforcement.
"Just when you thought the Democrats couldn't move farther to the left, leading members of the Democratic Party—including candidates for higher office—are actually openly advocating the abolition of ICE, an agency that protects the American people and our communities every single day," Vice President Mike Pence said during a visit to the ICE headquarters in Washington, D.C., last week." The official White House Twitter account came after Harris for "supporting the animals of MS-13" after she suggested reexamining ICE. And at a recent campaign rally in Great Falls, Montana, Trump told rally-goers that "a vote for the Democrats in November is a vote to let MS-13 run wild in our community … We will not stand for these vile Democrat smears against our law enforcement."
The Democrats and activists I spoke with said that's clearly not their mission. "That's one of the big lies," Pocan told me, pointing out that for one, it's CBP, not ICE, that patrols the border. "The president does all this because he's desperate to drive up [approval] numbers to somehow prove a need for a wall."
Some Democrats, though, find Pocan's legislation, and the entire "Abolish ICE" movement, a harmful distraction—especially at a time when some 2,000 children still haven't been reunited with their families. Recent polling shows that two-thirds of Americans oppose the Trump administration's separation of families, and voters already view Democrats as the party better equipped to handle immigration, according to Pew. "Moving the public discussion toward an abstract bureaucratic body and the need for government reorganization could easily dampen the fervor" on the left, wrote the CNN analyst and Atlantic contributor Julian Zelizer on July 2. One Democratic Senate staffer, who requested anonymity to speak candidly, called the movement "a waste of time": "It seems like a lot of the 2020 Democrats are trying to position themselves for [the presidential] race," he said. "Realistically, ICE is not going to be abolished … I think Dems would find a lot more success if they focused on how the Trump administration is tearing families apart." Senators Tammy Duckworth of Illinois and Richard Blumenthal of Connecticut have made similar points. "If you abolish ICE now, you still have the same president with the same failed policies," Duckworth told CNN's Jake Tapper.
In any event, it appears that a commitment to immigrants' rights—in whatever form that might take—will become a litmus test for Democratic candidates ahead of 2018. Democrats "think the important thing in the next election is turnout, and this is an energizing calling card," said Chishti. That alone, for activists like McElwee, is a huge victory. "People … hate ICE," he said. "Now there is some idea of a world in which we don't deport people. There's finally beginning to be a left vision for immigration policy."