Unanswered Questions Trail a Trump DOJ Official With a Russia Tie
Brian Benczkowski, Trump's appointee to run the Justice Department's criminal division, represented Russia's Alfa Bank. Senate Democrats have questions about recusal.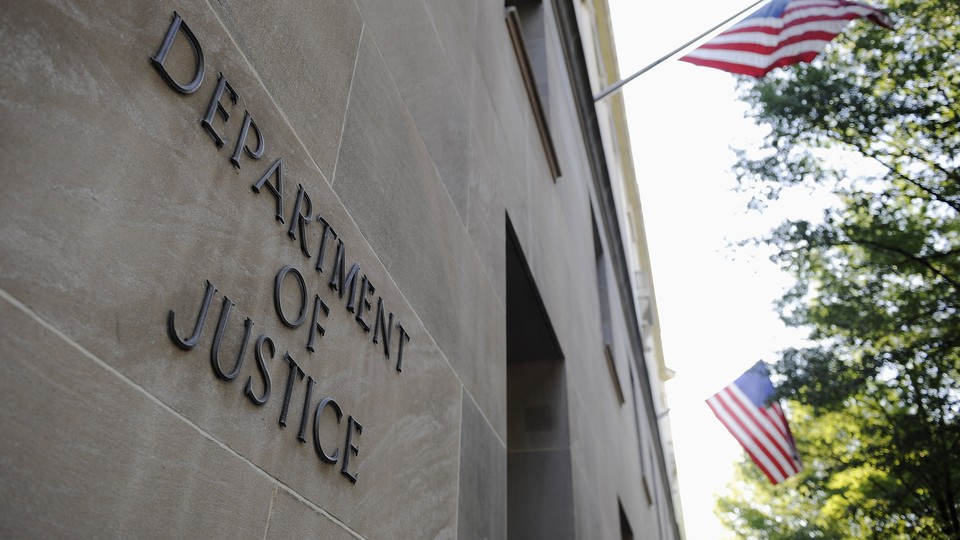 On October 31, 2016, just eight days before the presidential election, my colleague Franklin Foer reported that computer servers for Russia's biggest private bank appeared to have been pinging servers registered to the Trump Organization during the election, raising questions about potential collusion. The Trump campaign, the Trump Organization, and Alfa Bank all issued denials in response, and Alfa, in March 2017, hired the attorney Brian Benczkowski, a partner at Kirkland & Ellis who just months earlier had headed the Trump administration's transition team at the Justice Department. Questions about the pinging servers have never been fully resolved, and Foer has subsequently written about the various competing theories.
Two weeks ago, as all eyes were on Donald Trump's European tour and his impending meeting with Vladimir Putin, Benczkowski was narrowly confirmed by the Senate to lead the Justice Department's criminal division, even though the Senate Judiciary Committee lacked key information both about Alfa Bank and about Benczkowski before it decided to move ahead with a vote, according to a letter Democratic Senator Dick Durbin of Illinois previously sent to the Justice Department and a forthcoming letter to Justice written by Democratic Senator Sheldon Whitehouse of Rhode Island and signed by 13 other Senate Democrats.
Benczkowski served as Jeff Sessions's lead staffer while he was the ranking member of the Senate Judiciary Committee, and worked in previous administrations as chief of staff for the attorney general and deputy attorney general. Just prior to his nomination to head the criminal division, Benczkowski worked on white-collar criminal-defense cases at Kirkland & Ellis. But the fact that he has never been a prosecutor has raised questions about his qualifications to oversee the government's criminal investigations, including the probe by Special Counsel Robert Mueller.
Benczkowski's confirmation at the height of Mueller's investigation into Russia's election interference—and potential coordination between the Trump campaign and Moscow—has exacerbated fears among Democrats that the probe will be inappropriately influenced, and that Benczkowski could funnel information about the Russia probe to Attorney General Sessions, who is recused from that investigation. The biggest outstanding issues raised by the Democrats: whether Alfa Bank is, or has ever been, the subject of a federal criminal investigation into which Benczkowski would have visibility; whether he will pledge to recuse himself from all matters related to Alfa Bank's parent company, Alfa Group; and whether he will recuse himself from all matters related to the special counsel's investigation.
Durbin, who sits on the Senate Judiciary Committee, sent Deputy Attorney General Rod Rosenstein a letter in September 2017 raising concerns over Benczkowski's nomination and asking whether Alfa Bank is currently under investigation. The Justice Department wouldn't tell him.
"For weeks, I have been seeking answers to two critical questions so that the committee can fairly assess Mr. Benczkowski's representation of Alfa Bank," Durbin wrote. "First, is Alfa Bank currently, or has Alfa Bank ever been, the subject of a federal criminal investigation? And second, what is the intelligence community's assessment of the reported computer server contacts between Alfa Bank and the Trump Organization during the 2016 campaign?"
In a written response two weeks later, Rosenstein declined to confirm or deny whether Alfa is currently under investigation, citing DOJ policy and Benczkowski's "inescapable recusal" from any investigation of Alfa Bank. He had been nominated by Trump in June 2017 to head the criminal division and had himself made that recusal commitment during his confirmation hearing the following month. He said he had been courted to represent Alfa Bank in late 2016 not because of his work for the Trump transition team, but because of his "expertise in conducting internal investigations for corporate clients utilizing the services of a third-party expert."
"To be clear," he said, "I did not learn anything during my time on the Trump transition regarding Alfa Bank." As Alfa's attorney, he brought in a digital firm, Stroz Friedberg, to examine the computer traffic between the bank and the Trump Organization. He ultimately said the review found no link.
It is still not clear whether Benczkowski plans to recuse himself from all other matters related to Alfa Group, whose founders—Mikhail Fridman, Pyotr Aven, and German Khan—were named on a Treasury Department list of "senior foreign officials and oligarchs in the Russian Federation, as determined by their closeness to the Russian regime and their net worth." Khan's son-in-law, Alex Van der Zwaan, pleaded guilty to lying to the FBI earlier this year about his interactions with associates of Paul Manafort, the former Trump-campaign chairman who is now awaiting trial on charges related to his work for pro-Russian former Ukrainian President Viktor Yanukovych.
Whether Benczkowski recuses himself from Alfa Group–related matters is significant because the company has come under scrutiny in the United States before: Three years ago, a telecommunications company majority-owned by Fridman and listed in New York, VimpelCom, was fined more than $400 million by the Justice Department and the Securities and Exchange Commission after it admitted to bribing a government official in Uzbekistan, in violation of the Foreign Corrupt Practices Act. "VimpelCom also agreed to … cooperate fully with the department's ongoing investigation, including its investigation of individuals," the Justice Department wrote in a 2016 press release. A spokesman for Fridman and Alfa Group said he was not aware of any "ongoing investigations of Alfa Group or Mr. Fridman in relation to the Uzbek matter concerning VimpelCom."
The Senate Democrats Durbin, Sheldon Whitehouse, Dianne Feinstein, Patrick Leahy, Amy Klobuchar, Chris Coons, Richard Blumenthal, Mazie Hirono, Cory Booker, Kamala Harris, Mark Warner, Ron Wyden, Martin Heinrich, and Jack Reed will send a letter to Rosenstein and Assistant Attorney General Lee Lofthus on Tuesday, specifically raising concerns over Benczkowski and Alfa Group, according to a copy of the letter I obtained. "Before his confirmation, Mr. Benczkowski committed to recuse himself … from all matters related to Alfa Bank," the lawmakers write. "He did not, however, commit to recuse himself from all matters related to the Alfa Group Consortium, the parent company of Alfa Bank, or individuals related to that entity."
A Justice Department spokeswoman declined to discuss the possibility of recusals from specific probes, "because to do so could confirm the existence or scope of an investigation," she told me. "Like all DOJ attorneys, Mr. Benczkowski has testified that he would consult with our career ethics advisers to determine what, if any, ongoing matters he would need to recuse from."
Alfa Group is one of the few remaining private companies in Russia, and Fridman is arguably Russia's most successful private banker. A dossier compiled by a former British intelligence officer, Christopher Steele, said that Alfa is "on very good terms with" Putin, and that they have done each other "significant favors." Fridman and others named in the dossier sued BuzzFeed in May 2017 for publishing the document, which they claim contains false and defamatory accusations.
Benczkowski dealt with the Steele dossier directly while he advised Alfa's founders on the defamation suit filed against BuzzFeed. Benczkowski told the Senate Judiciary Committee last year that his work on the dossier "was very, very limited" and that he "spent fewer than five hours on that matter while I was working for Alfa Bank." But the document is part of the special counsel's probe—Mueller's team met with Steele in 2016—and Benczkowski has not pledged to recuse himself from matters related to that investigation either, according to the Democrats.
"In prior correspondence with the Senate, the Department has confirmed that the Special Counsel's Office may need to 'seek approvals from the Criminal Division,'" the lawmakers wrote in their most recent letter to Rosenstein. "Given Mr. Benczkowski's prior relationship with the Attorney General and his representation of Alfa Bank—particularly in connection to the Steele Dossier—we believe Mr. Benczkowski should be recused from all aspects of the Special Counsel investigation, as well as all matters related to the Alfa Group Consortium and its principals."
Alfa's founders, for their part, have embarked on a wide-ranging public-relations campaign in recent months in an attempt to shore up the company's image with prominent think tanks, industry leaders, and journalists in the U.S. and the U.K., according to multiple people familiar with the company's efforts.
Last month, Fridman hosted a number of influencers—including prominent British bankers and media heavyweights—at a retreat at the Glyndebourne opera house, in the English countryside. And in May, the influential Washington, D.C.–based Atlantic Council hosted an "off-the-record roundtable dinner" with Alfa's co-founders, Fridman and Aven, "to discuss the outlook for the Russian economy in an era of escalating sanctions." I asked if I could attend, but Anders Åslund, a resident senior fellow in the Eurasia Center at the Atlantic Council, told me the event was "fully booked." "Obviously Fridman and Aven are most interesting interlocutors about Russia," Åslund said. "That is what we are expecting."