American Farmers Are Still Worried About Trump's Trade War
The administration hoped a $12 billion aid package and a new deal with the European Union would allay their concerns. But farm country wants free trade.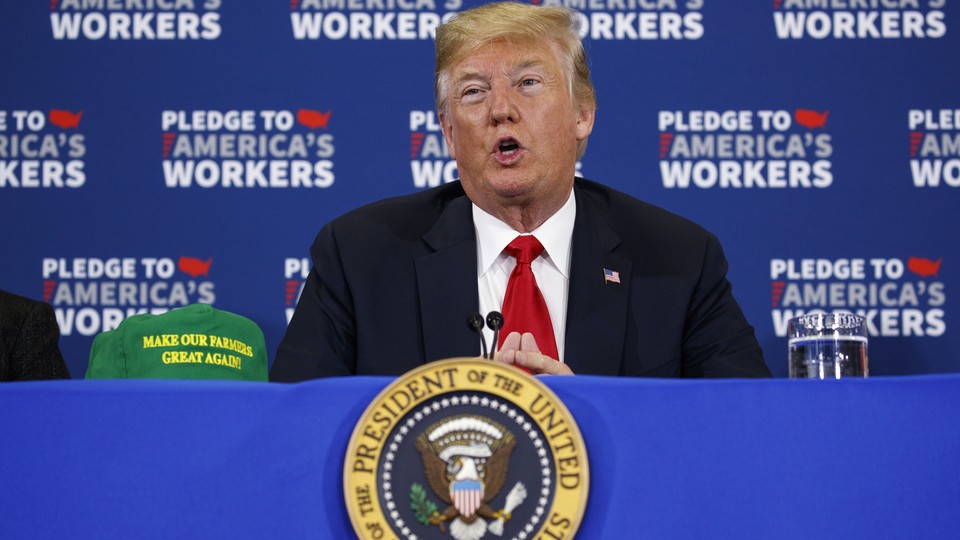 When the Trump administration announced on Tuesday that it's setting aside $12 billion in aid for farmers affected by the international trade war, the underlying political motivation seemed obvious: It was a move aimed at shoring up support in the white farming towns that had overwhelmingly voted for Donald Trump. The president was scheduled to speak in Iowa two days after the announcement, and reports suggested that Department of Agriculture officials were scrambling to announce details of the aid package weeks earlier than planned.
But the play doesn't seem to be working as well as the administration might like. So far, both the aid package and Wednesday's announcement that the European Union will increase imports of American soybeans have been met with lukewarm responses from farming communities across the country, including in key swing states.
"The general consensus that my producers have is that it's a Band-Aid," said David Hemesath, the general manager at Farmers Union Cooperative in Ossian, Iowa, an hour and a half away from the site of the president's Thursday visit. "They'd just prefer to have their markets back and not have to get handouts from the government. They had spent years developing those overseas markets and it seems like they collapsed in 30 days."
The Sidney Daily News in Shelby County, Ohio, where 78 percent of voters went for Trump, reported "mixed reactions" from local farmers to the proposed aid. An op-ed by Christopher Gibbs, a local farmer, called the package "hush money."
"Let me tell you a riddle," Gibbs wrote. "I slept with a billionaire because he said he loved me. I expected to make love, but in the morning I realized I was getting screwed. When I went to tell the world, I was offered cash to keep my mouth shut. Who am I? No, I'm not a model or someone named Stormy. I'm the American farmer."
Local news outlets across the South also reported simmering discontent with the administration's approach to ameliorating the effects of international tariffs. The Arkansas television station THV11 reported that the tariffs could cost 24,000 jobs in the state. "Trade not aid," a rice farmer told the station. "Nobody wants aid. I don't. We would just like to have free-market access around the world."
Similar sentiments were expressed in Tennessee and eastern North Carolina, where farmers told local news outlets that they preferred open and free markets over government aid. "I think what farmers need is strong trade agreements and not trade wars," one farmer told WITN in North Carolina.
Hemesath and Gibbs both cultivate soybeans, which are the United States' top agricultural export. They're also arguably the crop most negatively affected by the trade war. China imposed 25 percent retaliatory tariffs on U.S. soybeans—along with several other of America's biggest agricultural exports—at the beginning of the month after the White House announced steep tariffs on Chinese imports. Soybeans are planted in late spring—June at the latest—so when the trade war began, this year's crop was already in the ground. Farmers had no opportunity to adjust the amount they'd plant to compensate for the sudden decline in demand.
Trump made an overture to soybean farmers on Wednesday when he announced the new trade agreement with the EU. But just two days later, the tentative deal hit a road bump: Commerce Secretary Wilbur Ross claimed that "all agricultural products" would be included in the ongoing trade negotiations, something the EU quickly denied. It's still unclear whether the announced deal will result in any significant amount of increased exports.
"Any deal they can reach is a good thing," Hemesath said, "but on the other hand, I'm not sure Europe had much choice anyways." After China imposed its steep tariffs on American soybeans, Chinese importers began turning to other markets, especially in South America. That has two major consequences, Hemesath said. First, the sheer volume of soybeans China imports would make it difficult for the EU to find any beans left to buy in South America, forcing them to turn to the next cheapest source, the United States. And Chinese importers are quickly building international markets, making it more likely they will abandon American soybean farmers in the long term, even after the trade war is over.
"Once China finds markets in South America, then they won't come back and buy all the beans they bought before, all the corn they bought before, the pork, because they have other markets in place," he said. "They're already investing in infrastructure in Brazil, they announced this year, so it looks like they're digging in for the long run down there."
John Boyd, a Virginia farmer who's also the founder and president of the National Black Farmers Association, foresees dire effects for small local farmers. Black-owned farms are almost entirely small-scale, with nearly 50 percent of black-operated farms under 50 acres, according to a 2012 census report. Only 1 percent of black-operated farms are over 1,000 acres. "The tariffs will certainly run small-scale soybean farmers out of business," Boyd said. "It reduces local markets. If there's nowhere for local markets to unload their grain elevators, then there's going to be nowhere to sell your local commodities." And the USDA, he says, has historically not been favorable to black farmers—something he's worried will keep the $12 billion aid package out of their reach. "Generally, the big boys, the good old boys, they get in there and they know how to work the system and they make the system work for them, and they survive," he said. "This is a system that hasn't been user-friendly to black farmers. They deter them, and it just hasn't been a friendly process."
Boyd's cash crop is soybeans. He's already seen his projected profits take a hit, and he's nervous that if the trade war continues, the hits will just keep coming. "I don't want a handout, I want a hand-up, which is a free-market price for my commodity," he said. "I'm very nervous about what the outcome is going to be."
Not everyone is so concerned about the long-term effects of the trade war. Lynn Condreay is the general manager at a relatively small farmer's co-op in Lindsay, Nebraska, which handles about 2.5 million bushels of corn and soybeans. Lindsay's farmers weren't as affected by the soybean tariffs as other farmers, he said, because 80 percent to 90 percent of their beans had already been marketed to soybean-meal-processing plants in the state. And he's not worried about losing the Chinese export market for soybeans.
"They ain't got no place else to get them but us anyway, so they're gonna have to buy them from us eventually," Condreay said. China tends to go to South American markets first before coming to American farmers, he said, and the tariffs haven't changed the market pattern enough to be a cause for concern.
Above all else, though, Condreay isn't worried about the tariffs or the aid, because he's confident that the trade war will have a long-term positive effect on agriculture. "Before it's all said and done, I think it'll be a good thing. It's something we should have done years ago, but evidently everybody else just dropped the ball on it," he said. Trump "might not get everything he wants, but if he gets part of what he wants, should work out pretty good. That's the way our customers all look at it, too."
So will the tariffs have a measurable impact on the midterms, or on President Trump's reelection bid? Historically, as Michael Wolraich wrote Thursday in The Atlantic, tariffs have been political poison for the president who imposes them. But, as the Iowa radio producer Robert Leonard noted recently in The New York Times, "most rural Republicans aren't farmers, and many are Fox News devotees. So when they turn on Tucker Carlson or Sean Hannity, the hosts will likely extol the 'virtues' of Mr. Trump's farm policies and tariffs rather than the reality of their failures."
Still, if the trade deal with the EU falls through or isn't as comprehensive as the administration has promised, it wouldn't bode well for party unity because it would gut the economic fortunes of so much of the Republican base. "The president is hurting his base—white male farmers," Boyd said. "They helped raise money for him, helped campaign for him, put big poster boards outside their farms, and really helped to elect Donald Trump." And the $12 billion USDA package wouldn't even come close to covering their losses.