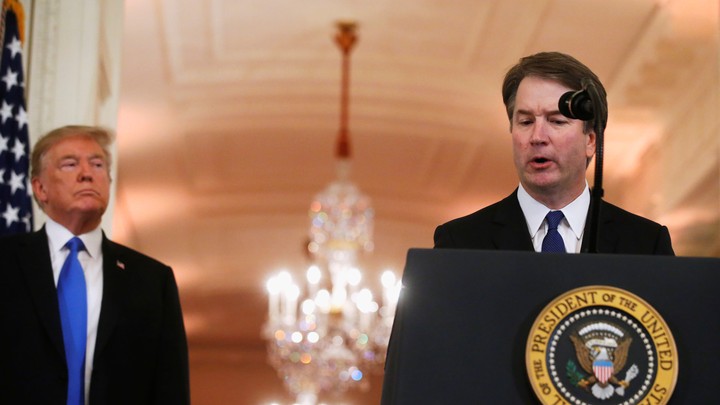 It's been a summer of anticlimax on the courts.
In June, after riveting, hard-fought playoffs, the Golden State Warriors rolled over the Cleveland Cavaliers on the basketball court, in a snoozer of an NBA Finals. Monday night, something analogous happened for the highest court in the land. After a lengthy lead-up, into which Donald Trump injected as much drama as he possibly could, the president landed on the most conventional pick possible.
In nominating Brett Kavanaugh to replace Justice Anthony Kennedy on the Supreme Court, Trump landed on a man who practically any Republican president, and especially any establishment Republican president, would likely have picked. His resume is impeccable and blue-blooded: The tony Washington-area private school Georgetown Prep, Yale University, Yale Law School, a stint as staff secretary to President George W. Bush, and finally a seat on the D.C. Circuit Court of Appeals, a prestigious feeder court for the Supreme Court. (Kavanaugh's time as a Bush aide was expected to be his biggest negative in Trump's eyes.)
Everything up until the president selected Kavanaugh had been optimized for drama. Trump treated the process like a reality show, ostentatiously weighing candidates. As he huddled at his golf club in Bedminster, New Jersey, throughout the weekend, ahead of the planned Monday announcement, leaks emanated about how many people were on the shortlist (three, then four) and who was supposedly up and down (first Judge Amy Coney Barrett of the Seventh Circuit Court of Appeals, then Kavanaugh, then Judge Raymond Kethledge of the Sixth Circuit, then a late charge from Judge Thomas Hardiman of the Third Circuit).
As late as Monday afternoon, the word was that Trump still hadn't made a final pick. That seems plausible, since no word leaked until shortly before the formal announcement—a rarity in Trump's loose-tongued administration—though Reuters reported that the president told Kavanaugh he was the pick on Sunday. In the absence of official word, whispers caromed around the political world. Barrett was flying to D.C. with her family, according to one, thinly sourced rumor. More credibly, Kavanaugh was seen entering a black car, surrounded by what appeared to be Secret Service Agents.
The days of anticipation culminated in the prime-time announcement, which fittingly preempted ABC's The Bachelor, even while aping its form. The ceremony occurred live in the East Room of the White House, with Justice Antonin Scalia's widow, Maureen, and Ronald Reagan's attorney general, Ed Meese, present.
The president kicked things off with a self-aggrandizing preamble. "I have often heard that other than matters of war and peace, this is the most important decision a president will make," he intoned. "The Supreme Court is entrusted with the safeguarding of the crown jewel of our republic—the Constitution of the United States."
But this was low-energy Trump, reading dutifully from his teleprompter. Moreover, his ultimate selection was cautious and conventional. Kavanaugh himself stood beaming next to Trump, then offered his own heartfelt remarks, reading laboredly from a text. The two men presented a clear contrast: the thrice-married, hedonistic showman, and the sober, devout, meticulous jurist and family man. Even Kavanaugh's haircut is sober and nondescript. Anyway, it was clear days ago that Trump's pick would be a steadfastly conservative appeals-court judge, likely educated in the Ivy League. How much drama could that really offer?
Does it cheapen the pick, or trivialize the Court, to make the announcement in prime time? Perhaps, but it's not the first time. Trump announced his nomination of Gorsuch in prime time, too, but George W. Bush did it first, back in 2005, when he nominated Chief Justice John Roberts. It's a peculiarity of the Trump administration that despite the president's flair for drama and fixation on television, he's seldom used the prerogative to speak on live TV in prime time.
Though the pick itself wasn't much of a surprise, there's still a possibility of fireworks in the confirmation process. Democrats are expected to oppose the nomination overwhelmingly, though perhaps not unanimously. Pennsylvania Senator Bob Casey even announced plans to vote against Trump's choice on procedural grounds before the pick had been made. And Senate Majority Leader Mitch McConnell tried to steer Trump away from Kavanaugh and toward Kethledge or Hardiman in the last few days, arguing that Kavanaugh's paper trail—he has the longest record of decisions on the bench of any of the finalists—might make him tougher to confirm.
Kavanaugh will still head into the process as a strong favorite for confirmation. His establishment credentials will disappoint many of Trump's strongest supporters, but they will hearten most Senate Republicans, including moderates like Susan Collins of Maine, and might even win over some precarious and centrist Democrats. Still, McConnell's misgivings point to the chance that there could still be some drama in the Supreme Court process—just not the kind that Trump intended or controls.
We want to hear what you think about this article. Submit a letter to the editor or write to letters@theatlantic.com.