Even Never Trump Evangelicals Might Be Swayed by the Supreme Court
Brett Kavanaugh's nomination is one sign of unity among divided denominations.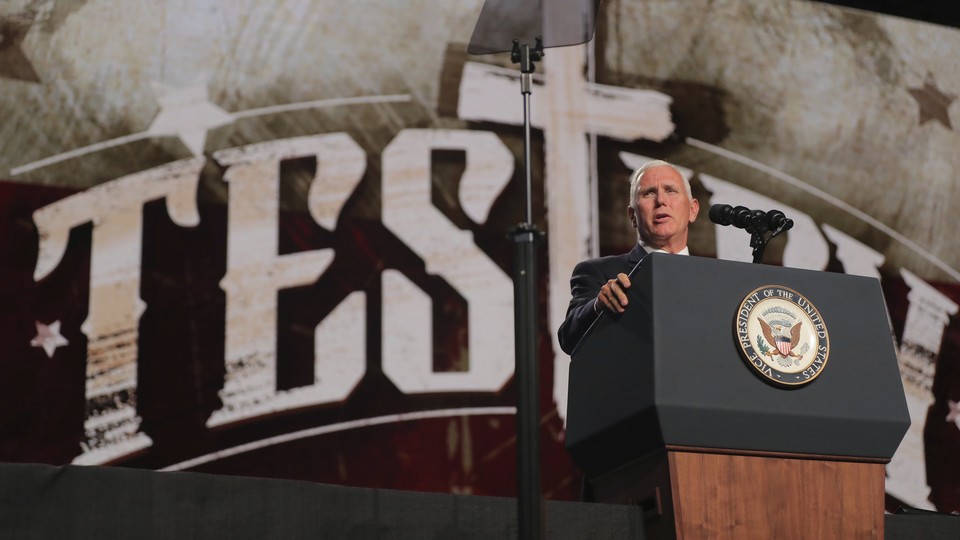 Brett Kavanaugh's Supreme Court nomination is the consummation of one of the big bets behind the 2016 election. Many white Christians voted for Donald Trump because they believed he would appoint conservative justices who would protect religious liberty and advance the pro-life cause. Now, ostensibly, they've been vindicated. With less than two years in office, Trump will very possibly see the confirmation of his second Supreme Court nominee, another handpicked choice of the conservative legal establishment.
At the time, however, it wasn't at all clear how this bet would play out. Particularly in the evangelical world, the divisions over the 2016 election were bitter. A number of prominent leaders stepped out to urge their fellow Christians to consider what their vote would say to the world. Two years later, their largely positive reaction to Kavanaugh's nomination is one sign that the intense political fractures in the evangelical world are fading—at least on the surface, and at least for now.
"I've never seen the SBC this unified," said one of these leaders—Russell Moore, the head of the political arm of the Southern Baptist Convention—in an interview on Wednesday. That unity has emerged in personal relationships and attitudes, he said, but it also seems to be the case in politics. Eighteen months into the Trump era, evangelical leaders are looking for ways to come together under this administration, even if existential questions about the future of the evangelical movement remain.
When Kavanaugh's nomination was announced, Moore's office—the Ethics and Religious Liberty Commission, or ERLC—put out a jubilant statement. "Supreme Court nominations are a crucial aspect of any president's legacy," it read. "With Judge Kavanaugh, President Trump has an opportunity to shape the direction of the Supreme Court for a generation or more." On Wednesday, Moore told me he was "very happy" with the pick: "[Kavanaugh] is a thought leader," Moore said, "not just someone who's parroting slogans."
Around this time three years ago, Moore was not speaking so positively about then-candidate Trump: His "attitude toward women is that of a Bronze Age warlord, not that of a statesman of character," the evangelical leader tweeted. In the months leading up to the election, even Trump took notice of Moore's consistent digs: "Russell Moore is truly a terrible representative of Evangelicals and all of the good they stand for. A nasty guy with no heart!" the presidential candidate wrote in May 2016.
Other Southern Baptist leaders took a different route than Moore. By the time of the election, many had decided to support Trump, whether holding their noses or cheering him all the way. Some resented Moore's public feuding with the presidential candidate and what they perceived as derision toward Trump voters. A few months after Trump's inauguration, this disagreement spilled out into the open: Jack Graham, a prominent Texas megachurch pastor who also serves as one of Trump's advisers, threatened to pull his church's funding for the Southern Baptist Convention because of Moore's actions. His staff, along with other Baptist pastors, criticized Moore in The Wall Street Journal.
Now, that tense stand-off seems like a lifetime ago. Jack Graham was one of the pastors who signed onto the ERLC's "coalition" letter in support of Kavanaugh, along with Ronnie Floyd, another Trump adviser and former Southern Baptist Convention president. "I was glad to do it, because it shows the unity ... around something very important to all of us," Graham told me. "I am really glad that Russell Moore ... circled back on this. He has not been vocally supportive of the president, and I'm hoping this is an indicator that he's going to be more supportive." Over the past 18 months, Graham has visited the White House a number of times, offering prayers during events in the Rose Garden and dining with Trump along with other evangelical leaders. "The president told some of us early on, 'You know, I want to help you get your voice back,'" Graham told me. "As far as I'm concerned, evangelicals' voices are being heard, and this is a great example of it, with this Supreme Court decision."
Moore framed his letter of support for Kavanaugh slightly differently. "I think we need to be the people who, at this point, recognize that we ought to be willing to critique our leaders when they do wrong, and affirm and support our leaders when they do right," Moore told me. The ERLC has certainly been critical at times: Earlier this summer, Moore was one of many evangelical leaders who condemned the Trump administration's policy of family separations. But Moore also seems to be looking for opportunities to celebrate "good developments" like Kavanaugh's nomination—and find unity with other pastors who are fully supportive of Trump.
Moore isn't the only evangelical leader who has traveled along this path conciliatory path. In the lead-up to the election, Ed Stetzer—the director of the Billy Graham Center at Wheaton College and interim pastor at the storied Moody Church in Chicago—was highly critical of Trump. A few days before Trump was elected, Stetzer wrote an article titled, "Evangelicals: This Is What It Looks Like When You Sell Your Soul for a Bowl of Trump."
Yet on Sunday, he tweeted that he was "glad @RealDonaldTrump will be nominating the next Supreme Court Justice, rather than @HillaryClinton." He elaborated in Christianity Today:
I was not a Trump supporter for reasons that have become obvious. However, I also believe a more conservative Supreme Court will be better for America. Many will say, 'It was not worth it!' … I understand the point—and I am actually not saying it was worth it. I am saying that we are where we are now. And, I am glad Trump rather than Clinton is appointing our next justice.
Stetzer declined to elaborate in an interview. But it's clear that Trump's evangelical advisers are taking notice: Jay Strack, a student-ministry leader who serves on the president's informal council, commented on Twitter that Stetzer's sentiments were "a great word from one of the most impressive cultural [influencers]."
In June, Southern Baptist leaders from around the country gathered in Dallas for their annual convention. Their message of unity under Trump was clear: Vice President Pence gave a keynote address during one of the sessions, to great applause. Not all church messengers supported the decision to welcome Pence into that space, though. J.D. Greear, the newly elected president of the SBC, quickly wrote on Twitter that the speech "sent a terribly mixed signal … make no mistake about it, our identity is in the gospel and our unity is in the Great Commission," Jesus's instruction to his disciples to go out and share his teachings.
Moore echoed this message in our conversation Wednesday. "We're just in a time right now where everything in American life has to be directly attached to the political moment in a way that just isn't the case," he said. "For most people in church life, politics is actually a small part of who they are."
In other words, Greear and Moore are arguing for a brand of evangelicalism that's much more focused on the gospel than the ballot box. Ultimately, this is what evangelical disagreements in 2016 election were about: how Christians witness their faith in public life, and the longstanding, outsized role of politics in the evangelical world, largely driven by the old religious right.
The deep fractures among evangelicals haven't gone away, especially on issues like race. Thabiti Anyabwile, a black evangelical pastor in D.C., recently wrote in The Washington Post that he is having difficulty with religious conservatives' excitement over Kavanaugh. "The potential nomination of a potential pro-life judge does not, in my opinion, alleviate the concerns I have about the racial injustices this same administration seems to multiply each day," he said.
These days, however, few evangelical leaders seem to be taking this kind of firm, unrelentingly oppositional stance. For his part, Moore appears to be searching for another way to weather the Trump years. As he and others work to build the evangelical world they wish to see, they may find themselves clapping for the president alongside everyone else in their churches.