The White House Can't Contain the Russia Story
President Trump's communications shop has little control over his message on a normal day, let alone in a news-heavy week like this one.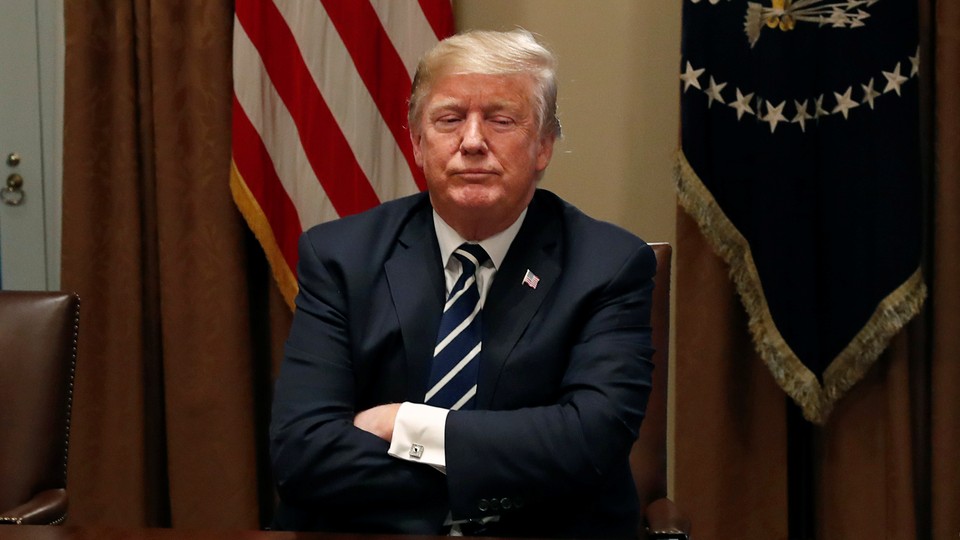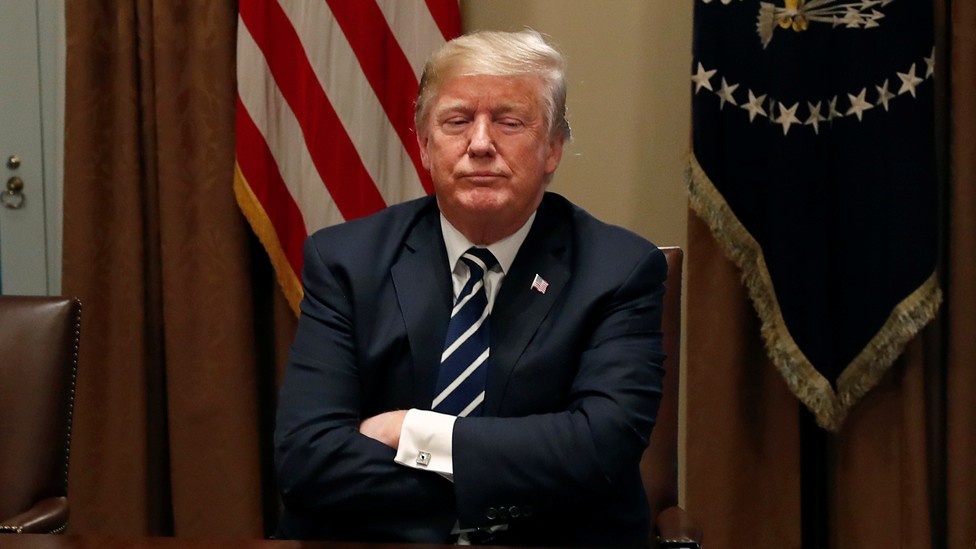 Updated on July 19 at 2:37 p.m. EST
The White House hasn't lost control of the narrative surrounding President Donald Trump and Russia, because it never had control in the first place. The fallout from the past few days following Trump's explosive press conference with Vladimir Putin has further exposed the deficiencies in the administration's messaging capabilities, as the cleanup effort has been badly outmatched by new developments and the president's muddled statements.
The week began with Trump's session with Putin in Helsinki—a two-hour-long meeting with only translators and the two principals in the room. Trump finished the meeting by standing next to Putin at a press conference and rejecting his own intelligence agencies' assessment that the Russians meddled in the 2016 election. After almost 24 hours of backlash, during which administration officials largely went mum, Trump ended up backtracking, reading a prepared statement in which he said that he accepts the intelligence community's findings—though he quickly undercut his own claim.
While his statement seemed designed to quell the public criticism, the story still wasn't over. On Wednesday, Trump was asked by a reporter whether Russia is still targeting U.S. elections, to which he answered, "Thank you very much, no." In the press briefing later that day, White House Press Secretary Sarah Huckabee Sanders claimed the "no" had been Trump saying he didn't want to answer media questions.
Complicating matters further, Sanders then seemed to leave the door open for the Russians to question the former U.S. ambassador to Russia Michael McFaul, as they've long desired to do as part of their campaign against the Putin antagonist Bill Browder. Asked if Trump is open to Russia's request, Sanders said:"The president is going to meet with his team, and we'll let you know when we have an announcement on that." On Thursday, Sanders seemed to backtrack, saying in a statement "It is a proposal that was made in sincerity by President Putin, but President Trump disagrees with it. Hopefully President Putin will have the 12 identified Russians come to the United States to prove their innocence or guilt."
The day finished with a blockbuster story in The New York Times confirming that Trump has known since before his inauguration that Putin was directly involved in Russia's meddling.
The dissonance between what Trump knows and what he says publicly has created an impossible situation for his aides, who have little control over the White House's message on a normal day, let alone in a news-heavy week like this one. (A White House spokesperson didn't respond to a request for comment.)
"I'd say it's bad crisis management, but that's an insult to crisis management," Alex Conant, a Republican strategist and former Marco Rubio aide, told me. "I don't think they know what their own position is. They don't know where they're trying to land in terms of, what is their Russia policy? What does Trump think about Putin?"
The president is no help in answering those questions; for one, he seems unable to confront Russian meddling without bringing up collusion. "The president has been repeatedly briefed" on Russia's actions, said a former National Security Council official who spoke on the condition of anonymity in order to speak freely. "In private, he clearly acknowledges that Russians are a malign actor. But due to his ego, he can't come out publicly. It is a disgrace."
In the absence of a clear message from the president, the White House communications team is "just going to wait it out," predicted Rick Tyler, a Republican strategist and former Ted Cruz adviser. "In their experience with Trump, everything is 'This too shall pass.'"
Already, as my colleague David Graham wrote earlier today, some of the only people who can really pressure Trump—Republicans on Capitol Hill, who control his legislative agenda—have indicated that they accept Trump's half walk-back and are ready to move on. "I can't read his intentions or what he meant to say at the time," Rubio said Tuesday. "Suffice it to say that for me as a policy maker, what really matters is what we do moving forward."
And Trump's shifting story seems to have been enough for his supporters outside of the Beltway, too. Polls out on Thursday, including one from CBS News, showed that Republican voters are mostly in favor of how Trump handled Putin—likely one of the key dynamics keeping Republicans on board. That means that despite days of damaging stories, there's no real incentive for Trump to change his ways—or the way he, and his White House, drives a message.