Trump's Remarkable Attempt to Walk Back His Russia Comments
A day after dismissing Russian interference in the 2016 election, the president said on Tuesday that he accepts the American intelligence community's conclusion.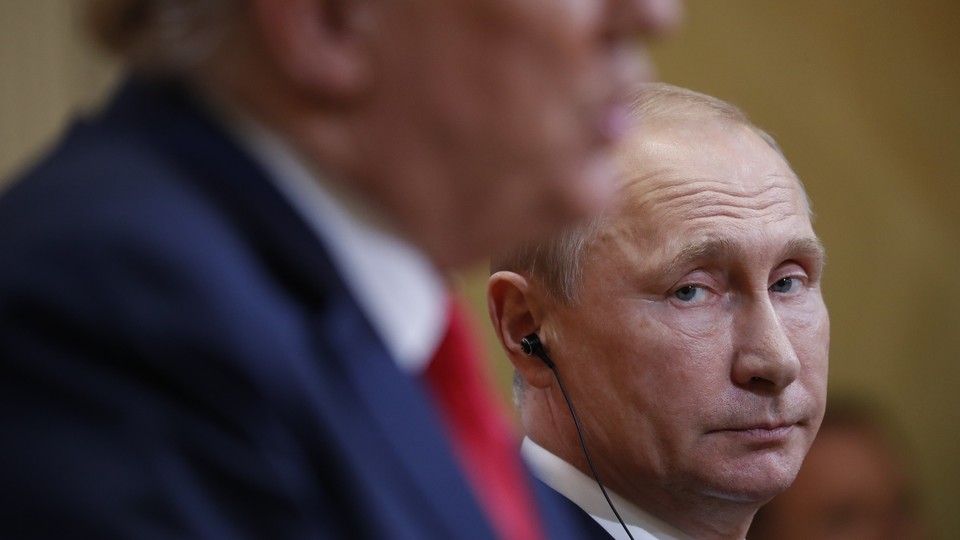 Updated at 4:01 p.m. ET
Facing one of the biggest controversies of his tumultuous presidency, Donald Trump on Tuesday tried to clean up his remarks during a press conference with Russian President Vladimir Putin in Helsinki on Monday.
Contradicting his prior comments, Trump said he accepts, with caveats, the American conclusion that Russia interfered in the 2016 election. After saying in Helsinki that he saw no reason why Russia would have been behind the hacking, he claimed Tuesday afternoon that he intended to say he saw no reason why Russia wouldn't be the culprit. But he also insisted that relations between the United States and Russia are improving, and reiterated his claim that there was no collusion between his campaign and Russians.
Trump's comments Tuesday were so different as to make it seem like they came from two different people. On point after point, Trump contradicted not only his remarks on Monday, but months of previous ones. These are not simple corrections of minor details. Faced with two such different Trumps, voters are left with no idea what the president really thinks or believes.
"I accept our intelligence community's conclusion that meddling took place," Trump told reporters in brief remarks before a meeting with members of Congress. Yet he immediately contradicted both his own statement and that community's findings, saying, "Could have been other people also. There's a lot of people out there."
Trump's addition that there could have been other culprits appeared to be an ad-lib. The president toggled between reading from prepared remarks and speaking off the cuff.
The president claimed he only recognized his error on Russia's involvement when he returned home and read the transcript of his press conference. During the Q&A, he said: "My people came to me, [Director of National Intelligence] Dan Coats came to me and others, and they said, 'I think it is Russia.' I have President Putin, he just said it is not Russia. I will say this—I do not see any reason why it would be."
That was an inadvertent mistake, Trump claimed Tuesday: "In a key sentence in my remarks, I said the word would instead of wouldn't," Trump said. "The sentence should have been, 'I don't see any reason why I wouldn't or why it wouldn't be Russia.'"
But while Trump portrayed this as merely "clarifying"—rather than wholly reversing—what he said on Monday, his new position still stands at odds with that of the U.S. intelligence community, which has offered not just educated guesses but extensive evidence of Russian involvement.
Despite Trump's statements that there was no collusion, there exists a great deal of publicly available evidence of behavior that could constitute collusion. Special Counsel Robert Mueller has not yet reported what he has found on the matter.
Nonetheless, by acknowledging interference while denying collusion, the president made a distinction he has usually refused to make. Apparently fearing that any acknowledgment of Russian meddling would delegitimize his victory, he has mostly declined to speak about the interference. Relatedly, he has not focused on American election security in the present, even as Coats and other officials have warned that the national voting infrastructure is vulnerable. On Tuesday, however, Trump vowed to protect voting systems. He did not revisit Putin's offer, which he complimented on Monday, to have Russian intelligence agents assist in investigating the 2016 election.
"My administration has and will move aggressively to repeal any efforts and repel," he said. "We will stop it. We will repel it. Any efforts to interfere in our elections. We're doing everything in our power to prevent Russian interference in 2018, and we have a lot of power."
While Trump's acknowledgment of Russian interference is a 180-degree reversal from Monday, he has vacillated repeatedly about the issue over the past two years. As I wrote last summer, the president seems to deploy these frequent changes of position to muddy the waters. During the campaign, he disputed attributions of interference to Russia. In his only press conference between the election and his inauguration, he said he blamed Russia, but then backed off. During a summer 2017 trip to Europe, he said it could have been Russia or someone else: "Nobody really knows. Nobody really knows for sure." After meeting with Putin later on the same trip, Trump seemed to take the Russian president at his word, noting that he had denied any Russian role. He made a similar reversal after speaking to Putin in Vietnam in November.
Because Trump says different things to different audiences, and sometimes different things to the same audience, it's impossible to know what he really believes about Russian meddling. This is not the only example where he has offered conflicting statements. Following violence after a white-supremacist march in Charlottesville, Virginia, last summer, Trump reversed himself several times. The result is a president whose true position is often not discernible.
On Tuesday, he defended the concept of diplomatic relations with the Kremlin at length. "I understand there are many disagreements between our countries," Trump said. "I also understand the dialogue with Russia. Dialogue is a very important thing and it's a very good thing. If we get along with them, great." But this is a straw man. There are few voices in American politics saying that the U.S. should simply break ties with Russia. Critics complain that Trump is playing into Putin's hands in his manner of engagement.
And Trump's cleanup effort on Tuesday exemplifies that. It may achieve what he wanted in the short term and domestically. By reversing himself, he offers his Republican allies enough cover to say that the president had recognized his error, quieting the fire coming from his own party. But the damage is already done: Trump handed the Russian president a win simply by appearing beside him in Helsinki. He made that win even bigger by not pressing Putin about Russian interference and by accepting Putin's denials. Trump's reversal on Tuesday only serves to make the president look weak, and to sow more confusion in American politics—just as the Kremlin wants.