What Is the Point of a Trump Rally in 2018?
Beginning about three years ago, the president's tour stops became the most riveting spectacle on earth, but the formula feels increasingly stale.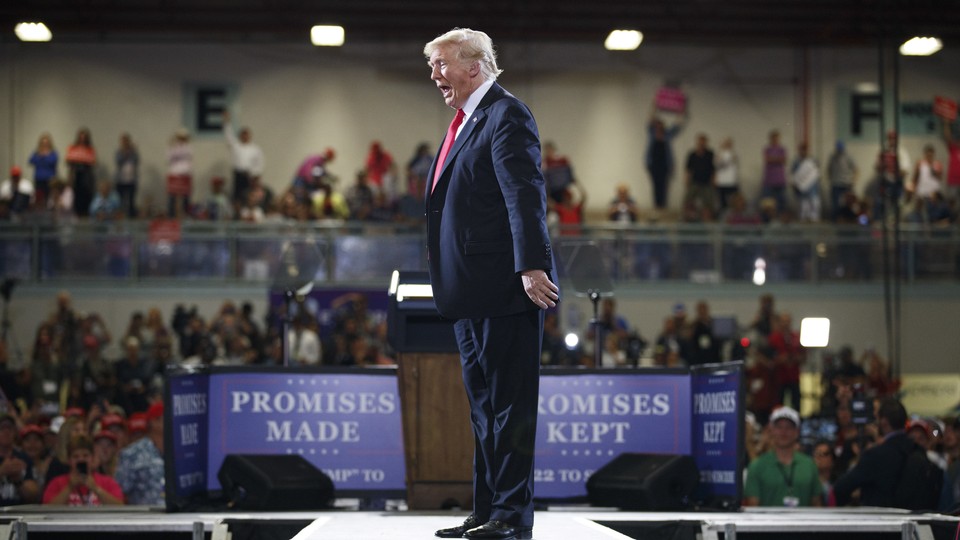 It's hard to maintain any shtick for more than a couple years, especially when the shtick is as innovative as the Donald Trump political rally. It's now been just longer than three years since the president descended the gold escalator at Trump Tower, inaugurating the form. What is the point of a Trump rally in 2018? Can it still work its magic?
As the president's appearance in Great Falls, Montana, Thursday evening demonstrates, it's a mixed bag. The contours are all familiar—you know Trump will walk out to Lee Greenwood, and depart to "You Can't Always Get What You Want." In between there will be a mix of somewhat labored reading from a teleprompter and flights of improvised fancy. Boasts about crowd size and those left outside. Some perfunctory "build the wall" chants.
There was a time when this was riveting spectacle, either enthralling or terrifying or some mix. In person, the Trump rally can still impart a frisson. Viewed remotely, however, it's increasingly pallid. There's a reason the networks don't carry them live in full anymore. During the 2016 presidential campaign, I routinely met attendees at Trump rallies who were agnostic or even against the candidate, but were fascinated to see the experience. As president, he retains the ability to shock or to amaze, but in these Trump-saturated days, who is still curious about him?
At times, Thursday's sortie even threatened to become an ordinary political rally for an ordinary president. The most obvious reasons for Trump to visit the Big Sky State were to stump for Matt Rosendale, the Republican candidate for U.S. Senate in the fall, and to whip up excitement about the economy, which is in its best shape in years. These are the bread and butter of typical politicians.
It might be backwards to say that Trump was there to campaign for Rosendale, and more accurate to say he was there to campaign against Senator Jon Tester, the state's incumbent Democrat. Tester incurred Trump's wrath when he led the public charge against the nomination of Admiral Ronny Jackson, the president's personal physician, to lead the Department of Veterans Affairs. As Tester revealed, there were years of allegations of misconduct against Jackson, and the doctor eventually withdrew his nomination.
The strange thing about Trump blaming Tester for Jackson's fall is that the president acknowledged he himself deserves a great deal of the blame.
"I feel guilty. I said, 'Hey, doc, why don't you run the VA? You're a leader. You're admired,'" Trump recalled. "He said, 'If you ask, I will do it,' but he didn't really want to do it. I sort of feel guilty about this whole thing. Because what happened is, he said, 'Sir, if you would like me to do it, I'll do it.' It wasn't what he had in mind. I put him into the world of politics. How vicious is the world?"
But no matter: "Jon Tester said things about him that were horrible and weren't true," Trump insisted. He railed at Tester for supporting Democratic Party leaders, voting against tax cuts, voting against Justice Neil Gorsuch's nomination, opposing Trump's travel ban, and various other sins, real or imagined. (In an off-key moment, warm-up act Donald Trump Jr., a wealthy New Yorker, warned that Tester's donors were "New York money.")
What role Trump will play in the midterm elections remains to be seen. Typically, a congressional candidate might want a president of his party to stump for him, but this is not an easy calculation for Republicans in 2018. On the one hand, Trump remains extremely popular with members of the GOP; on the other, he remains extremely unpopular with the electorate overall.
Tester, the Democrat, opted to take an aloof approach to the incursion on his home soil. Before the rally, the Tester campaign took out ads in newspapers welcoming Trump and listing 16 bills sponsored by Tester that Trump has signed. When, during the rally, Trump bragged about signing the Tester-sponsored VA Accountability Act (without mentioning Tester's role), the senator's campaign blasted it to reporters. A post-rally statement swiped at Rosendale but didn't mention Trump at all.
Trump also spoke at length about the economy, using a mix of real statistics (unemployment claims are indeed at a 45-year low) and bogus ones (wages are not on the rise for the first time in 18 years). As I've written previously, one would expect any president overseeing an economy doing as well as this one to talk about it constantly, and Trump fitfully does so, but he never manages to stay on message for long.
Sitting alongside these ordinary campaign messages was a heap of strange remarks. First, there were the simple lies. The trade deficit with China is not $507 billion.* Trump was not the first Republican to win Wisconsin since Dwight Eisenhower. His tax cuts are not the largest ever. People aren't flocking to sign up for association health plans for the simple reason that they are not enrolling yet. These lies are no less appalling than they were in the past, but they have become less interesting.
Second, there were the things that don't make sense. Trump claimed, all evidence to the contrary, that he is good at getting legislation passed. Early in the speech, he said that his critics failed to understand the value of getting along well with China and Russia; later on, he railed against China's trade policies at length. ("They have been killing us.​​​​") Trump mocked critics who claim that Russian President Vladimir "Putin is KGB." Putin was in fact a long-serving KGB agent, and later directed the FSB, its successor. Trump complained about journalists using anonymous sources, something he claimed hadn't happened in the past—eliciting chortles from journalists for whom he has been an anonymous source. (Anyone expecting Trump to tone down his rhetorical attacks on journalists after the shooting at a newspaper office in Annapolis was, in addition to being naive, disappointed: "Seventy-five percent of those people are downright dishonest.")
Finally, there was the bizarre. In the midst of criticizing Senator Elizabeth Warren, Trump—who has been caught on tape boasting about sexually assaulting women—paused to mock the #MeToo movement. Apropos of nothing, he puzzled over the meaning of George H.W. Bush's "Thousand Points of Light." He appeared (it was hard to follow the thread) to compare the size of his crowds to Elton John's: "I have broken more Elton John records...and I don't have a musical instrument. I don't have a guitar or an organ. No organ. Elton has an organ."
Trump made no mention of Scott Pruitt, the EPA administrator whom he forced out Thursday afternoon amid a slew of scandals. One reported reason Pruitt held on so long was that despite his bad press, he was effectively implementing Trump's policy of deregulating industry and loosening pollution standards. Yet in the closing moments of the rally, Trump rhapsodized: "I heard so much about your skies, I rode in and looked at those skies. Not seeing pollution is a wonderful thing. Those are beautiful skies."
It was a fittingly dissonant way to close the rally. But was it an interesting one? Any number of Trump's statements on Thursday would have elicited a firestorm three, or two, or maybe even one year ago. Today, they're good for a shrug. Maybe that's a sign that the American people are becoming inured to Trump's falsehoods and distortions. Or maybe it's a sign the magic is wearing off.
---
* This article originally stated that Trump lied when he said military spending is at a record level. We regret the error.