'How Much More Merit Do You Need Than Saving American Lives?'
In the past year, there's been a sudden drop in arrivals under the special-immigrant-visa program for Afghan and Iraqi citizens, many of whom served alongside U.S. soldiers as battlefield translators.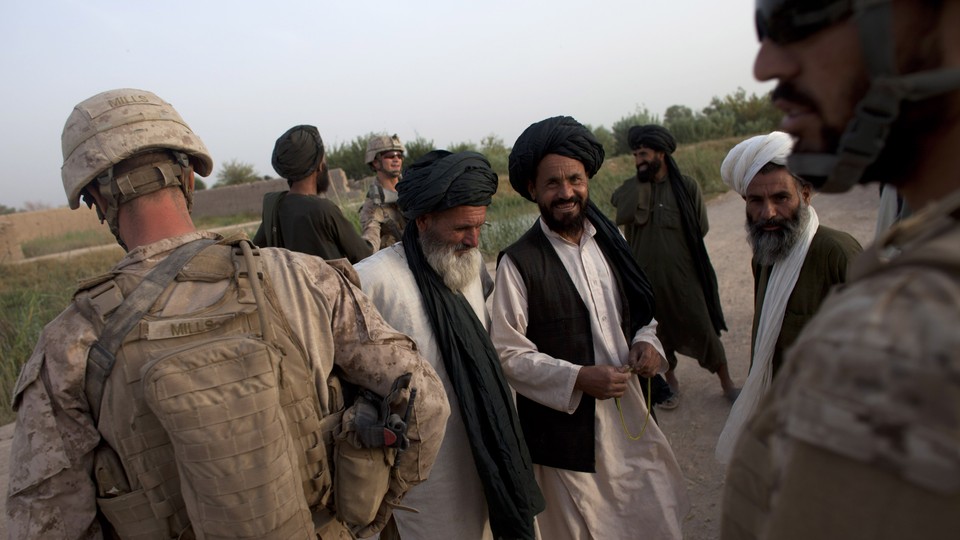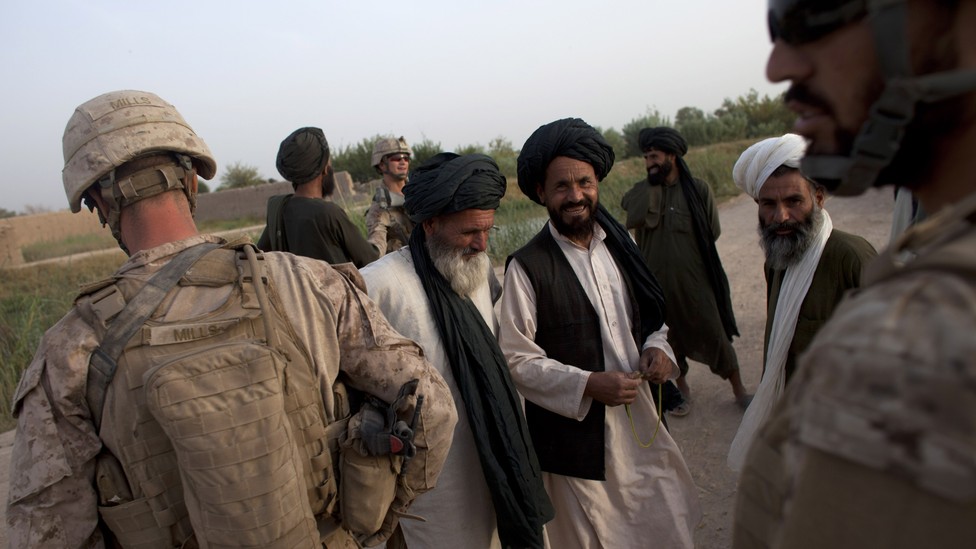 Matt Zeller doesn't remember the moment when a Taliban rocket-propelled grenade knocked him down. He only recalls seeing a cherry-red motorcycle—a Taliban spotter—approaching his unit and suddenly finding himself lying on the desert floor, watching the sand jump as bullets hit the ground around him. It was the start of a 12-hour firefight.
I'm sitting with Zeller at a Starbucks in the suburbs of northern Virginia, outside Washington, D.C. It's a muggy, summer afternoon and he's reflecting on April 28, 2008—the day, he says, he could easily have died. As a first lieutenant in Ghazni, Afghanistan, Zeller and his men had gone to assess an Afghan police outpost, only to find themselves in the kill zone of an ambush on their way back to their base.
Zeller takes a pause, lowering his head into his hand, as he starts to explain what went down on the dusty Afghan plain. It's the first somber moment since we began talking. He's animated in his retelling of events, using my pen and notebook to draw the points where the Taliban were shooting at him, 13 other Americans, and one translator; where the armored trucks were stationed; where he took cover as the Taliban moved in. At one point, caught in crossfire, Zeller looked one way as two Taliban fighters rose up from a different direction, about 75 meters away, and took aim. That's when Janis Shinwari, an Afghan interpreter who had arrived mid-battle with reinforcements, shouldered Zeller to the ground and returned fire, most likely saving his life.
Zeller felt such a debt of gratitude that when Shinwari called three years later, in 2011, to ask if Zeller, back home in suburban northern Virginia, would help him obtain a visa to come to the United States, Zeller didn't hesitate. Over the next two years, Zeller lobbied State Department officials, told journalists his story, and talked to members of Congress to get his interpreter a special immigrant visa (SIV). The visa program was established in 2009 specifically for Afghan citizens, along with their spouses and unmarried children under 21, who work for the U.S. government in Afghanistan, and many of whom later face reprisals, even death, for their allegiance to America. A similar program was set up for Iraqi citizens in 2008.
Shinwari epitomized many of the interpreters serving side by side with Americans on the battlefield: Not only did he put himself in harm's way to aid the U.S. government, he also saved the lives of soldiers—at least five, by Zeller's count. While Donald Trump's crackdown on immigration at the U.S.-Mexico border has sparked outrage across the country, far less attention has been paid to the current controversy surrounding visas allotted for the immigrants who've served the U.S. government.
Two months into the Trump administration, then–Secretary of State Rex Tillerson directed American embassies around the world to double down on visas and "increase scrutiny of visa applicants for potential security and non-security ineligibilities." Since then, there's been a stark decline in SIV arrivals. From January to June of 2017, 10,267 immigrants came to the U.S. on special immigrant visas. Over the same period in 2018, the number had fallen by more than half, to 4,166.
When I asked Zeller how he felt about the decrease in SIV arrivals, he had three words: "angry, betrayed, and concerned."
"I thought we were exempt from the bullshit, quite frankly," Zeller said. "There's no way you can be against this. These are the most heavily vetted immigrants. Republicans talk about merit-based immigration. I'm not going to get involved in the greater immigration debate, but how much more merit do you need than saving American lives?"
The delays have been decried by two congressional committees.
"The current situation is unacceptable as many family members of SIV holders have waited more than five years without any notification from the Departments of State or Homeland Security on the status or timeline of their visa applications," the House Appropriations Committee wrote in a June report. The Senate Armed Services Committee went a step further, also in June, raising the possibility of "a breakdown in interagency coordination" as reason for the "undue delay, needless stress on applicants, and a sizable drop in SIV admissions during the first and second quarters of fiscal year 2018."
Since their inception, the Afghan and Iraqi SIV programs have had their share of problems. By law, SIV applications need to be processed within nine months, but oftentimes it takes years. The lag time is what drove Zeller and Shinwari, finally reunited in the Washington, D.C. suburbs, to start a nonprofit called No One Left Behind in 2013 that helps Afghan and Iraqi citizens obtain special immigrant visas and resettle in the United States. In five years, they've helped 6,000 families, but the sudden slowdown in processing is a worrisome trend that could seriously hamper their efforts as the Trump administration's immigration crackdown gains momentum.
Growing up in Rochester, New York, Zeller, 36, wanted to be a civil-rights attorney. Listening to him talk about his time in Afghanistan, and No One Left Behind, where he now works full-time, it all made sense. Zeller, with his neatly combed brown hair and upright posture, is an energetic speaker. He gestures with his hands and pauses for effect, flourishes that would have worked well in court. But becoming a lawyer wasn't meant to be.
Four months after the terror attacks in New York and Washington, D.C., on September 11, 2001, he joined the New York Army National Guard as a sophomore at Hamilton College. "I felt that this was my generation's Pearl Harbor and I wanted to live up to that, to that legacy of service," he said, recalling the service of his grandfather and the generations before him.
Six years later—after graduating from Hamilton, finishing graduate school at Syracuse University, and briefly working at the CIA—Zeller was deployed to Afghanistan as a newly minted officer.
Shinwari, 40, grew up in Afghanistan, the son of an Afghan military officer. He was inspired at a young age to learn English by the movie Commando, starring Arnold Schwarzenegger. He had witnessed violence as a boy and envisioned a world in which his country was at peace. Becoming a linguist with the U.S. government seemed like the best way to see that through. "To be honest with you, we were tired of al Qaeda and the Taliban," he said. "I knew a translator does a very, very important job in the fights because without translators, the Americans can't communicate with the villages. They don't know how to speak with our people, our police, our army."
In 2005, Shinwari became a combat interpreter for the U.S. military, working alongside troops and traversing Afghanistan in what would become America's longest war, eventually landing in Ghazni. He had only met Zeller briefly before he and about a dozen American soldiers went to help Zeller's men during the 2008 ambush.
When Shinwari spotted Zeller in the line of fire, he had to make a quick decision—lunge toward an American soldier who likely wouldn't recognize him in old Army fatigues and risk getting shot to knock him out of harm's way? Or hold back and let him get shot? He lunged and shouldered Zeller to safety.
I asked Shinwari the same question Zeller had the day after the incident: Why? He gave me the same answer, as if it were a no-brainer: "Because you're a guest in my country, that's my responsibility. I saved your life, now you're going back to your family and I'm happy for it."
Shinwari served for eight years with the U.S. military. He speaks fondly of the soldiers with whom he served and repeatedly reminds me that that they we were all in it together. "There was no difference between us. We were fighting shoulder to shoulder," he said.
Zeller and Shinwari were inseparable during their time serving together; Zeller asked for Shinwari to be assigned to him specifically after Shinwari saved his life. The day they parted was difficult for both of them. It was the "hardest goodbye" of their lives, they told me. For his part, Shinwari had no intention back then of coming to the United States, instead insisting that Zeller would visit him when Afghanistan stabilized. But he was also concerned about his own safety. "I was 80 percent sure I'd get killed one day by the Taliban," he said.
During his service, Shinwari received threats from the Taliban. It began with mysterious phone calls, then threatening strangers came by his house, and eventually he received a total of three death letters pinned to his door in Kabul. To avoid them, Shinwari lived on a military base full-time. Despite sometimes living only miles away from his wife and two small children, a 2-year-old daughter and 4-year-old son, he could only see his family occasionally. When the threats became more persistent, Shinwari sought help from Zeller, who had already returned to the United States. But progress on his visa was maddeningly slow. During his last few weeks in Afghanistan, Shinwari, often with his family, moved every night to evade the Taliban. He would text Zeller in the evening to let him know he'd reached his destination, and in the morning he'd text to tell him he had made it through the night. In 2013, Shinwari and his family's visas were finally approved after Zeller had taken their case to the upper reaches of the State Department. They arrived in the United States that October.
Obtaining a special immigrant visa isn't easy. Applicants are required to provide a slew of documents to the U.S. embassy in their home country, then complete in-person interviews and medical and security screenings. It's an arduous process and one that occurs despite the fact that locals working for the U.S. government have usually already passed background checks. From fiscal years 2007 to 2017, SIVs made up roughly 1 percent of all U.S. immigrant visas granted, according to the Pew Research Center.
The recent decline in SIV arrivals is a sure sign that the process has become even slower. "I haven't seen anyone come through [the special-immigrant-visa program] in the last eight months," said Margaret Stock, an immigration lawyer who has extensive experience in homeland-security and military matters. One of Stock's clients, a man from Iraq who worked for the U.S. government and moved to the U.S. in 2017, is waiting for his wife and son to get approved for visas. Their applications have been in administrative processing for more than a year.
Alarmed by the slowdown, the International Refugee Assistance Project (IRAP), which helps provide legal aid to refugees and displaced persons, and Freshfields, a multinational law firm, filed a lawsuit against the federal government in June challenging the delays experienced by Afghan and Iraqi applicants. In 2015, IRAP and Freshfields had sued the government on behalf of individual Afghan and Iraqi SIV applicants. The government eventually entered a settlement and agreed to adjudicate their applications. Now they are requesting that the new lawsuit, with four Afghans and one Iraqi named as plaintiffs, become a class-action suit on behalf of all current visa applicants. Like the congressional committee reports, the lawsuit alleges that the processing delays are "caused by the failure of the interagency process," and names officials in the State Department and the Department of Homeland Security as defendants. Both agencies are involved in different stages of the visa-eligibility process. The lawsuit claims that the "Defendants have failed to adjudicate Plaintiffs' and proposed class members' SIV applications within a reasonable time, which caused and continues to cause irreparable harm to Plaintiffs and proposed class members."
Past delays have been caused by a lack of visas, which are typically authorized annually in defense-spending bills. But this isn't causing the current slowdown—there are still visas available. The National Defense Authorization Act for fiscal year 2018 authorized 3,500 additional special immigrant visas for Afghan applicants. In a recent letter to the chairmen and the ranking members of the Armed Services Committees, 19 Democratic and Republican congressmen requested that an additional 4,000 visas be authorized for the Afghan SIV program. There are more than 17,000 Afghans in the pipeline, according to a State Department official.
"We've seen instances where there are not visas available and delays imposed because there's a visa shortage," said Betsy Fisher, the policy director for IRAP. "But now there are visas available and we're still seeing delays. The various reasons we might expect don't apply here."
Democratic Representative Earl Blumenauer of Oregon, who signed the letter requesting additional visas and is a longtime supporter of the program, is out of patience. "It continues to be frustrating for me that we go back through this movie again and again," he said. "But now I think it's part of the approach we see with this administration, who really are dramatically discouraging immigration even in the case of these people who put their lives on the line for Americans."
Blumenauer said he had received assurances from the State Department that the pace of issuances would pick up, but he added, "It's possible that they'll get all the way through the year and not fully use the allocated visas they have this fiscal year."
In a statement, the State Department said it's trying to expedite the process. "We have increased the resources dedicated to SIV processing, and have undertaken steps to streamline the process at every application stage," the statement read. "Our goal is to issue every SIV as quickly as we can while maintaining national security as our highest priority. Depending on the facts of a case, we sometimes need additional time to thoroughly evaluate the application." The extended delays, for many of those who apply, could be a matter of life or death.
Back in 2013, upon arrival in the United States, Shinwari and his family spent their first two nights in a hotel outside Washington, D.C. He said it was the first time in a long time that he'd felt safe.
They didn't have much—just four pieces of luggage. They packed clothes—but no winter clothes—and family heirlooms. They were eventually set up in an apartment. Zeller pooled what resources he could to help them get situated and raised $35,000 through a GoFundMe account. But Shinwari wouldn't take the money. "I have you here and I have everything in my house. I don't need anything else," Shinwari recalls telling Zeller. "Why don't we spend this money to create an organization to help others coming to the United States?" So they began No One Left Behind.
With the nonprofit approaching its fifth full year of operation, Shinwari still works for the U.S. government and spends his weekends driving a U-Haul around Virginia, picking up donations for SIV arrivals. Zeller, who runs the nonprofit, occasionally joins him on pick-up drives—they now live minutes from each other in northern Virginia.
A lot has changed since the two fought side by side in Afghanistan, but at least one thing remains true: They're in the visa fight together. They are, as both assured me, brothers. They know the traumas suffered by combat interpreters in Afghanistan and Iraq. And they're driven to help them get visas, however slow, bureaucratic, and confounding the process may be. Zeller has a tattoo on his right arm of the No One Left Behind logo. It's not finished, since, he said, his work isn't finished.
"The most important equipment that I had [for] my survival and, more importantly, the survival of the soldiers under my purview," Zeller said, "was the [interpreter] standing next to me." With special immigrant visas harder than ever for them to get, for reasons still fully unknown, he's more frustrated—and determined—than ever.