Even on Fox, Trump's Helsinki Performance Was 'Ridiculous' and 'Surreal'
The president found no safe harbor on his favorite network after his controversial press conference with Russian President Vladimir Putin.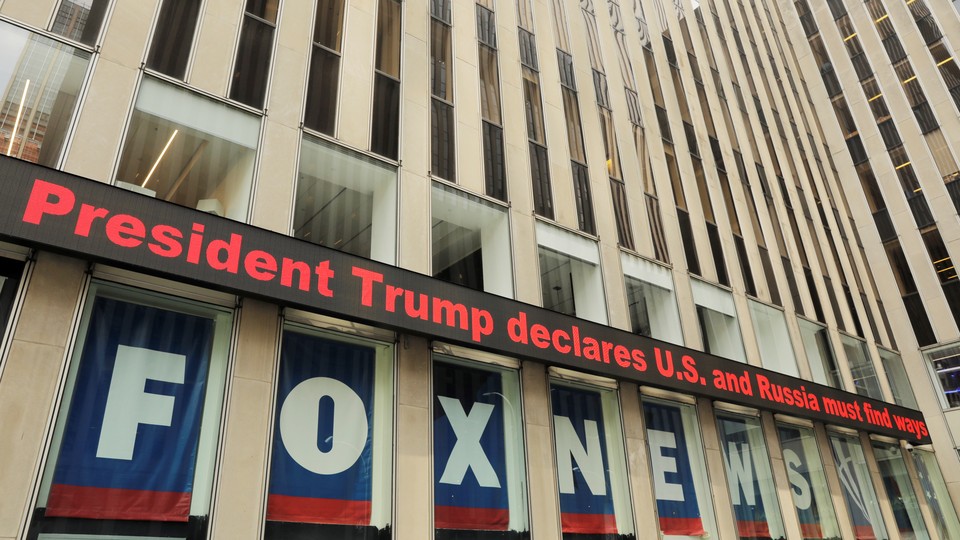 Updated at 10:29 p.m. ET
When Donald Trump stood side by side with Russian President Vladimir Putin and announced that he was taking Putin's word over that of his own intelligence community, talking heads spun on cable news. And rightfully so.
On CNN, Anderson Cooper called Trump's performance "disgraceful." Cooper's face was noticeably cringing and his voice was shaking. John King called the event "the surrender summit." Dana Bash said journalists "asked the questions of Vladimir Putin that the president of the United States failed to do."
All par for the course from CNN. The big surprise was going on over at Fox News, where the consternation and outrage were only slightly more restrained.
The day started with Fox & Friends' Brian Kilmeade taking issue with Trump's pre-meeting tweet, which read: "Our relationship with Russia has NEVER been worse thanks to many years of U.S. foolishness and stupidity and now, the Rigged Witch Hunt!"
"That's by far the most ridiculous tweet of late," Kilmeade said in response. "That is insulting to past administrations—he can't be saying that going into the Russian summit."
Then, after the press conference in Helsinki, the Fox gloves really started to come off on Twitter.
"Trump is unable to see past himself," tweeted Brit Hume, a senior political analyst on the network.
"There is an avalanche of you-know-what rolling downhill at warp speed toward @realDonaldTrump over this summit. Republicans—even the DNI are throwing bucketsful at him," tweeted Fox's chief White House correspondent John Roberts.
The Fox & Friends Weekend host Abby Huntsman, who is the daughter of the U.S. ambassador to Russia, Jon Huntsman, tweeted, "No negotiation is worth throwing your own people and country under the bus."*
On air, things were much more even-keeled, but they were still far from Fox's standard laudatory fare. Most of the personalities on air seemed bewildered, such as the host Bret Baier, who called the performance "surreal."
Over on the Fox Business Network, the pundits might as well have been working for MSNBC.
The host Neil Cavuto called Trump's press conference "disgusting."
Trish Regan, Cavuto's co-host, appeared flustered, similar to Anderson Cooper's appearance. "He should have defended us," Regan said. "He should have defended his own intelligence community."
She tweeted that it was a "horrible performance" and "unpatriotic." The retired Army General Jack Keane, a Fox national-security analyst, told Regan it was "stunning and disappointing."
"I don't think you get a second chance to make a good first impression at a stage and venue like this," Cavuto added. "I just found that Vladimir Putin appeared to run circles around the president and get him to buy … every single sneaky lie and misstatement he has made on this matter."
Fox News, known for the conservative bent of its opinion hosts, has been particularly friendly to the Trump administration. Critics have alleged that Fox's pro-Trump bias has undermined the network's credibility during this administration.
And there was some run-of-the-mill Trump defense from Fox personalities. Some played the both-sides argument, such as the Media Buzz host Howard Kurtz.
"It's troubling that Trump wouldn't embrace his own intel agencies' findings on Russian meddling against the 'strong & powerful' Putin denials," Kurtz tweeted. "Liberal commentators denouncing him as Neville Chamberlain, calling for censure & impeachment, also going over the top against Trump."
Trump, ever obsessed with cable TV, has consistently favored Fox over its rivals. The president rarely does non-Fox interviews, though administration officials regularly appear across networks. Trump has consistently hired cable personalities for his administration, the latest being the addition of former Fox co-president Bill Shine as his communications director. Shine resigned from Fox after allegedly covering up sexual-harassment scandals at the network.
Only Sean Hannity, an unabashed friend and late-night confidant of Trump, played to form Monday on Fox. On his radio show, Hannity railed against conservative critics of Trump.
"I'm watching all of these Republicans and I'm thinking none of them, NONE OF THEM, have the ability to lead anything," Hannity said.
Hannity's unwavering admiration for the president remained on full display Monday night during his exclusive, taped interview with Trump from Helsinki.
After a classic opening in which Hannity derided Russian meddling in the U.S. presidential election as a liberal "witch hunt," insulting Democrats, Republicans and the "mainstream media," Hannity questioned Trump with the utmost deference.
"You were very strong at the end of that press conference," Hannity told President Trump in an interview style that could be most charitably described as gentle.
Despite the criticism, doubt, and genuine concern expressed throughout Fox's lineup earlier Monday, Hannity was having none of it. In response to his polite, even laudatory, queries, Trump allowed as to how he had managed to reset America's horrible relations with Russia in a day, possibly avoiding a much more serious conflict.
"Where would you like to be in a year, both with North Korea and with Russia?" Hannity asked.
"Well, I think we're really doing well with Russia as of today," Trump said. "I thought we were doing horrible before today. Really, I mean horribly. Dangerously."
"It was that big? It was that dramatic today?" Hannity asked.
"Oh, I thought it was great today," Trump said. "But I thought it was really bad five hours ago."
---
* This article originally misstated Jon Huntsman's title. We regret the error.