Hope and Change in an Alabama Coal Mine
Buoyed by President Trump's support for the industry, a veteran miner is putting his cash on the line and reopening his business.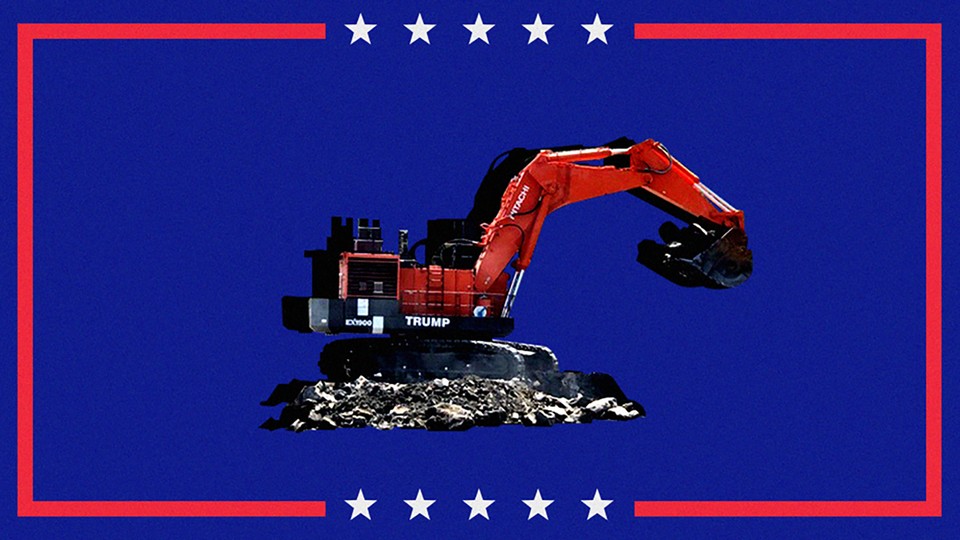 BESSEMER, Ala.—It was hulking, it was orange, and its name was Trump.
Randy Johnson looked on as his new 220-ton excavator carved up the ground, clearing the field of rocks to help unearth the coal underneath. Four weeks earlier, the central Alabama mine's 22 employees had gathered to christen the $2.7 million purchase, painting "TRUMP" in white block letters along the excavator's side. The day I visited, a recent Friday in July, those letters gleamed under the punishing southern sun, the machine's every move—every swivel at the base, every curl of the claw—an implicit tribute to the 45th president.
It's tradition in the mining industry to name the "big machines." Apart from the land itself, they represent the bulk of capital for a new site. For Johnson, though, this excavator was emblematic of much more. The 71-year-old Alabama native and mining veteran had bowed out of the industry in 2014, when he says the Obama administration's "war on coal" pummeled the market. But with Donald Trump's election came a wave of "optimism," he told me: optimism that the crush of regulations would ebb, that the "dirty" caricatures of the industry, aggravated by Barack Obama, would start to soften. So at the turn of the year, when he learned of an idle reserve in Bessemer, Johnson reopened his company, called one of his old foremen, and made the largest investment of his career.
That Friday morning, the mine's 491 acres hummed. Trump (the excavator), two track hoes, and eight dump trucks were at work on the land's first seam—or layer—of largely steam coal. "We're starting small," Johnson told me. He anticipates beginning with 20,000 or so tons a month, which would provide a cash flow that would allow him to break even by fall. It's a modest forecast, and Johnson admitted that he has no long-term contracts yet to anchor the operation, save for existing contracts through the state's coal co-op. But he's confident the market will continue to reflect Trump's favor of the industry. While the majority of the administration's regulatory rollbacks remain steeped in litigation, the expectation that no new rules are likely to come has kept the mood here high.
"I've been doing this a long time, and I have a good feeling," Johnson told me that morning. "I promise you it was Obama's goal, and would have been Hillary Clinton's goal, to dismantle the coal industry in Alabama." He turned to his 56-year-old business partner, Mel Bailey. "Mel, if Hillary Clinton had been elected, would we have done this?"
"No," Bailey said. "It wouldn't have happened."
There are many reasons to be skeptical of Johnson's gamble. Natural gas continues to flow cheaply, meaning Trump may not be ending the war on coal so much as putting it off for the time being. This seemed especially true last month, when the administration proposed keeping struggling coal plants afloat by forcing energy-grid operators to purchase from those plants, citing reasons of "national security." For many conservatives, the proposed move was reminiscent of Obama's massive 2010 loan to Solyndra, the solar-panel start-up whose swift bankruptcy left taxpayers footing the bill—which is to say it signaled the harm that can come with government intervention in a resistant market. It was telling that just as Trump's proposal came to light, Republicans like Senator Shelley Moore Capito of West Virginia were touting the promises of natural gas.
Yet prudent or not, Johnson's reentry into coal mining reflects a Trump-sparked enthusiasm rippling through many small industrial towns. For voters like Johnson, the president's friendly posture toward the industry is a promise from the campaign trail made good—much like his withdrawal from the Paris climate accord, for instance, and his nominations of conservative justices to the Supreme Court. It's the kind of follow-through that enlivens a political base, encouraging voter turnout in midterm elections and beyond. Republicans may privately wince at Trump's proposed interventions in the industry, but if they believe their mining constituencies should temper their optimism, they certainly aren't saying as much.
Johnson's gamble may be rooted largely in faith: faith in regulatory rollbacks to come, faith that the market will only get better under this president's watch. But the Trump administration's support of coal isn't just rhetoric either. Apart from proposing the new coal-buying quotas for energy-grid operators, Trump has eliminated the Stream Protection Rule. The law, intended to protect waterways from coal-mining waste, was considered one of the key environmental measures of the Obama era. The regulation sparked massive backlash across the industry; water treatment is expensive, and the rule promised to slow down an already convoluted approval process for land permits. In February 2017, as one of the first acts of his presidency, Trump signed a bill undoing the law entirely.
It's the elimination of such regulations that has helped turn miners like Johnson more bullish about reentering the industry. "We know you 'get it' and you love America and coal miners," Johnson wrote recently in a letter to the White House. "Keep fighting for us and we will stand with you."
In 1990, Johnson helped found the Alabama Coal Co-op, which allows smaller mines like his to pool their coal reserves and compete against the major ones. In the decades before, the state's mining industry had enjoyed a healthy run, in large part because of the gargantuan presence of U.S. Steel in Birmingham. Even as the local steel industry receded in the mid-1990s, international demand for coal remained high.
Demand fluctuated by the early aughts. And that was normal: Energy markets, especially for the kind of coal used to make steel, have long been unpredictable. But demand for thermal, or steam, coal—used to generate electricity—took a decided hit during the Obama era.
The reason why depends on who you ask. Johnson and others in the coal community argue demand diminished not because mining companies couldn't compete with natural gas, but because, given the onslaught of new regulations—including carbon-emission controls under the Clean Power Plan—they essentially weren't allowed to. Ultimately, the reason for thermal coal's decline is likely a combination of the two. Under the Clean Power Plan's emission standards, power plants were pressured to look to renewable energy sources and natural gas. And with natural gas cheaper than ever, state public-utility commissions were more willing to acquiesce to those standards, rather than challenge them. So plants across the country began taking their coal units offline.
From 2008 to 2017, according to the U.S. Energy Information Administration, the number of coal mines across the country decreased by roughly half. From 2012 to 2017, miner labor hours declined 39 percent.
Hardest hit were people like Barry Chambers: longtime private contractors who relied on mines for income. Chambers, who's based in Fairview, Alabama, told me he enjoyed steady work for three different coal companies before the Obama era. He administered ground control and water control, engineered catch ponds, and even contracted some mining work from the companies looking to open new fields. "The Obama administration just killed me," he said. "It started to where they couldn't afford to use me no more as a private contractor, and then eventually they shut down altogether."
At age 58, Chambers found himself out of work and more than a million dollars in debt. He sold all of his equipment. "My wife got a real good job," he said, which helped pay the bills. When some of their property burned, they remodeled it themselves. Everything was done, he said, in the service of getting out of debt "without filing bankruptcy."
Chambers was giddy, then, when he learned the Bessemer mine, known as Shannon, was reopening. "I knew several of them working here," he said. He started making phone calls. Within days, Johnson hired him as an assistant foreman. The plan is to have him take over some of the operations as the mine reaches its second, third, and fourth seams. "I've been here three weeks now," Chambers told me. "I thank him every day I see him."
Johnson brought back another longtime partner, Eddie House, as a foreman. When Johnson's company cratered in 2014, the now-58-year-old House became self-employed, building farms, leveling pads for chicken houses, and baling hay. It was "pretty steady," said House, the leathered skin on his arms a badge of decades of work in the sun. But like a lot of out-of-work miners, he couldn't afford health insurance on the federal exchange, a precarious reality for a life spent around big machines. The promise of Blue Cross Blue Shield from Johnson was a draw, House told me. "But I guess it was mostly just cause I like mining," he explained. "These are good folks who work hard."
Since Shannon reopened, distributors and manufacturers across Jefferson County have felt the residual boom. Johnson relies on local dealers for everything from tires and explosives to fuel. Even a Coca-Cola or a fresh pack of nicotine gum (which Johnson chews incessantly): With 20-plus new customers swinging by the Marathon gas station near the mine's entrance each morning, store clerks are "tickled to death we're coming through here," Bailey told me.
"Nothing here comes from Amazon," Alabama Coal Association President Patrick Cagle told me when I visited the mine, gesturing at the machines scattered across it.
"Coal mining was our lifeblood," explained Tim Ellis, the manager of GCR Tires near Bessemer, when I reached him by phone. "The day Trump got elected, the mines didn't open the next morning, but the positivity, the optimism that things would get better—it's just grown, and it's really helped us financially. It greatly impacts our autonomy.
"If it had gone the other way with Mrs. Hillary," he added, "I just don't know what would've happened."
In the months that Shannon has been open, Ellis has sold Johnson several rock-truck tires and loader tires that go for over $11,000 a pop. "When [Johnson] started talking about opening up, we knew it was an opportunity," Ellis told me. "So it was exciting when we got the news that they'd opened an account with us. It was a big win."
Ellis said he's seen a 15 to 20 percent increase in sales volume in the last year, and a roughly 10 percent increase in the last month alone. "As this has progressed, I've hired two more people," he said, one of whom had been a mechanic at a local dealership, and the other an entry-level worker just out of school. "I'd love to hire more."
During the Obama years, Ellis said, "we were watching our hours," trying to squeeze more productivity from fewer workers. There were few opportunities for overtime pay: "We want overtime, and in the last year, we've seen more overtime." For Ellis, that means more opportunities for vacation with his two 6-year-old grandchildren: In May, he and his wife took them to Disney World for five days. And the week after we spoke, he and his wife were headed down to Gulf Shores for their own trip. "It's all just allowed for a little extra money," he told me, "and it goes a long way."
Everyone I spoke to for this story, whether at the mine itself or within local businesses, seemed to express sincere excitement about voting in November's midterm elections. That they'll vote for Republicans is largely unsurprising—it's Alabama, after all. But their enthusiasm may signal higher-than-usual turnout for a midterm election in the region.
"For this area, when you see you've elected someone who cares about our industry, it makes you want to get out there in November," Ellis said. "You don't have to encourage people around here to vote right now."
"It was sad, the small percentage that would come out and go to the polls," Chambers added. "But I've tried my best to exercise my right to vote."
Johnson chimed in: "If you don't vote," he said with a chuckle, "you can't bitch."
It's a vote, in their view, for the revival of their industry. Yet not lost on them is the chance that Trump could also seal its demise. Earlier this year, Trump announced a 25 percent tariff on steel imports from countries including China and Japan. In the months since, Japan, among others, has signaled its intention to impose retaliatory tariffs against the United States should Trump fail to exempt them.
This matters for a mine even as relatively small as Johnson's. Shannon's third seam consists of metallurgical coal, for steelmaking. As of now, Johnson plans to mine that seam, wash the coal, and send it to Mobile, where it will be shipped to Japan. For a small, newly reopened company looking to make good on its loans, a retaliatory tariff on steel could be devastating.
"I think steel is gonna stay a global issue," Cagle, the Alabama Coal Association president, told me. "It's kind of a wait-and-see moment right now. It's still not clear what will happen."
But Johnson holds out hope that Trump has the industry's interest at top of mind. In his view, the threat of retaliatory tariffs aside, the president's commitment to "fair trade" is a good thing. "It's not right for us to lose money to foreign countries. At some point in time in the future, it's gonna be over for us," he said. "They're gonna have all the money, they're gonna own everything, and we're gonna be speaking Chinese or Spanish or whatever you wanna call it."
"If we can get some steel companies coming back …" he began. His voice trailed off, as though for all the optimism coursing through this town, the thought of steel companies returning might still be a touch too much.
What matters to him now, and even if it's only just for now, is that he, Bailey, House, and others are back in business. Coal may no longer be king, but at least, under Trump, it's no longer banned from the party.
Before leaving the mine that day, Johnson, wearing a hard hat and reflective vest, stole a last look at the excavator. "I'm planning on getting another machine," he'd later tell me. If all goes well, he'll buy a Hitachi 3600—roughly 395 tons. "If I can get that big one," he said with a grin, "I might name it Melania."