'He'll Never Really Lose the Support and Money of the Party'
The Republican establishment's glowing praise for President Trump's Supreme Court nominee suggests that the GOP apparatus, and its donor network, will stay loyal.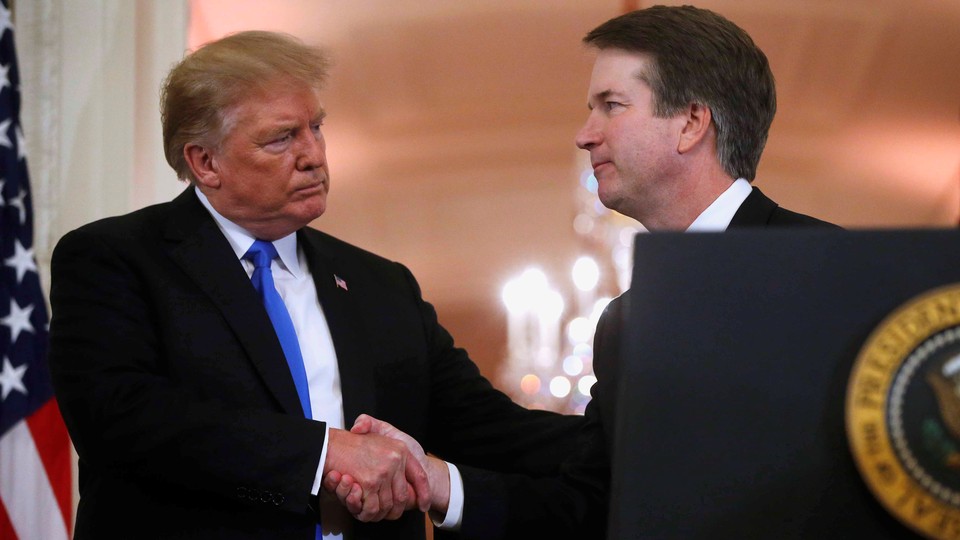 President Trump's nomination of Brett Kavanaugh to the Supreme Court offered a rare moment of unity across the Republican Party, pleasing conservatives and offering a measure of relief to establishment Republicans hoping to maintain their congressional majorities in November.
Assuming Democrats vote en bloc—which may or may not happen—Republicans can afford to lose just two votes on Kavanaugh's confirmation. Accordingly, Senators Lisa Murkowski of Alaska and Susan Collins of Maine, two of the chamber's most moderate lawmakers, have dominated the spotlight in recent days. Securing their votes "has been the whole ballgame," one GOP operative told me on Monday. Whether Trump would play, however, was somewhat of an open question: While the president had similarly pleased the GOP in his selection of Justice Neil Gorsuch last year, his unpredictability had some Republicans nevertheless holding their breath.
But play he did. If establishment Republicans had trembled in their support of Trump in recent weeks—whether because of his imposition of steep tariffs on Chinese goods, or his "zero tolerance" immigration policy—they were firmly back in his camp on Monday. Senate GOP leadership, which wants to install the newest justice by the fall, issued glowing remarks about Kavanaugh, a Yale Law graduate who co-wrote independent counsel Kenneth Starr's report laying out the case for Bill Clinton's impeachment in the 1990s.
"President Trump has made a superb choice," said Senate Majority Leader Mitch McConnell in a statement Monday. "Judge Brett Kavanaugh is an impressive nominee who is extremely well qualified to serve as an Associate Justice of the Supreme Court of the United States. … His judicial record demonstrates a firm understanding of the role of a judge in our Republic: Setting aside personal views and political preferences in order to interpret our laws as they are written."
Collins sent out her own positive statement, too—a welcome sign for White House officials anxious to have Kavanaugh confirmed ahead of the midterm elections. "Judge Kavanaugh has impressive credentials and extensive experience," Collins said. "I look forward to Judge Kavanaugh's public hearing before the Senate Judiciary Committee and to questioning him in a meeting in my office." Murkowski, meanwhile, stayed neutral in her statement: "While I have not met Judge Kavanaugh, I look forward to sitting down for a personal meeting with him," she said. "I intend to review Judge Kavanaugh's decisions on the bench and writings off the bench, and pay careful attention to his responses to questions posed by my colleagues on the Senate Judiciary Committee."
Trump also appeased the likes of Fox News personalities Sean Hannity and Laura Ingraham. On his show Monday evening, after the announcement, Hannity applauded Kavanaugh's credentials and read from the judge's past speeches on federalism. "He really does revere the Constitution," Ingraham echoed on her own program. "This has been such an incredible night."
For Republicans, the consensus marks a gratifying departure from the internecine tensions that have crippled their party in recent years. This presidency has spawned many a think piece on how a pseudo-populist ideology has engulfed the GOP, but when it comes to the Supreme Court, Trump has governed as any traditional Republican, selecting justices that have even George W. Bush raving. "President Trump has made an outstanding decision in nominating Judge Brett Kavanaugh," the 43rd president said in a statement. The Bushes have generally been critical of Trump, but Kavanaugh served in senior roles in the second Bush White House.
The warm statements appear to be another clear sign that the party apparatus—and, perhaps even more significantly, its donor network—will remain loyal to Trump, even as his stances on immigration and trade drift further and further from GOP orthodoxy.
"As long as he sticks to safe picks for scotus, he'll never really lose the support and money of the party," said a GOP operative involved in key Senate campaigns, who spoke on the condition of anonymity because he was not authorized to speak to the press.
Yet "safe picks" have been almost entirely antithetical to this presidency. Resentment toward so-called elites—Republican or Democrat—in many ways fueled Trump's victory. As a result, he staffed his White House with officials outside the traditional roster of GOP policy and administrative heavyweights—officials like Stephen Miller, who, as my colleague McKay Coppins argues, revel in "public outrage and anger." Often, Trump seems to make decisions more with his detractors in mind than his supporters.
So why is it that, when it comes to high-court nominations, Trump has decided to toe the party line?
"I think the President realized you want to get somebody nominated and confirmed by the Senate before the midterms," Trump confidant Chris Ruddy, who was spotted dining with the president at his Mar-a-Lago estate over the weekend, told me in a text message. "Brett was confirmable. Amy [Coney Barrett], for example, could not be certain." (Barrett was viewed as the most conservative judge on Trump's shortlist.)
There may be a simpler answer, too: Trump is doing what he said he would do on the campaign trail. In May 2016, in an effort to ease concerns about future Court appointments, Trump released a list of potential nominees that he promised to consider if elected. Conservative advocacy organizations like the Heritage Foundation and the Federalist Society played key roles in compiling names for the list, ensuring establishment-favored candidates would be well represented. In his nominations of both Gorsuch and Kavanaugh, Trump has pulled from this list.
"I think the precedent he set with this list of now 25, that he campaigned on, will be a great thing to go forward in presidential politics, in American life," Nebraska Senator Ben Sasse, who has been deeply critical of Trump and is a rumored 2020 contender, said on Fox News on Monday night. "One of the fundamental powers the president has is to nominate people who, if confirmed, will serve for a lifetime, and telling voters who you'd pick. It's a really good tradition and the president has stuck to his list."
For now, many Republicans are finding this fact worth the tradeoff—worth any deeper, institutional threats that this administration may pose.
The first GOP operative argued it's a tradeoff for Trump as well: His thinking "is, let them have their judges. He'll make America great again," the source said. "It's an implicit bargain."