FBI Investigator Rejects Accusations of Anti-Trump Bias
Special Agent Peter Strzok weathered hours of testimony that included pointed questions from Republicans accusing him of being hostile to the president.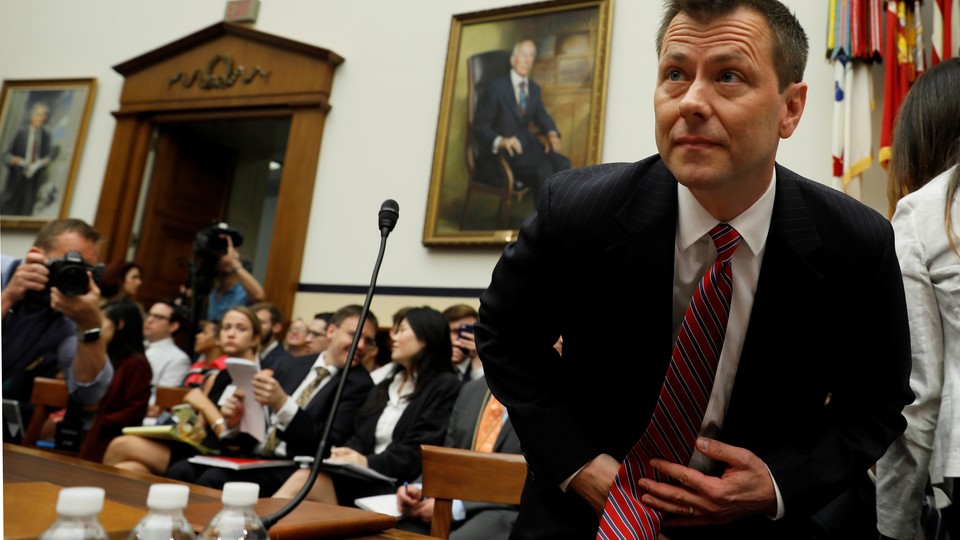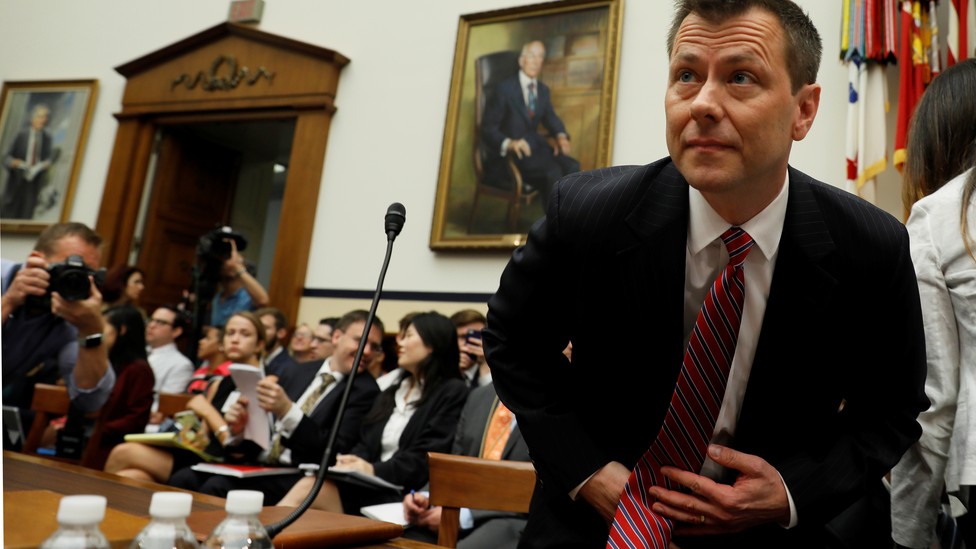 Republicans hammered FBI Agent Peter Strzok over several hours of testimony Thursday, seeking to discredit the long-running federal investigation into Russian interference in the 2016 election, and to portray Strzok as a symbol of an agency hopelessly tainted by bias against President Donald Trump. The hearing quickly descended into a partisan spectacle that Strzok warned would be "another victory notch" in Russian President Vladimir Putin's belt. Through it all, Strzok maintained that he had never compromised his duties, and that the investigation was both justified and being carried out with the highest integrity.
"The fact is, after months of investigations, there is simply no evidence of bias in my professional actions," Strzok said. "There is, however, one extraordinarily important piece of evidence supporting my integrity, the integrity of the FBI, and our lack of bias. In the summer of 2016, I was one of a handful of people who knew the details of Russian election interference and its possible connections with members of the Trump campaign. This information had the potential to derail and quite possibly defeat Mr. Trump. But the thought of expressing that or exposing that information never crossed my mind."
Strzok, who headed the FBI's counterespionage division in 2016, and was one of the top officials overseeing the criminal investigation into whether Hillary Clinton mishandled classified information while she was secretary of state, has become a lightning rod for efforts to undermine the Russia investigation due to text messages he sent to Lisa Page, a former FBI attorney with whom he was having an affair, that were deeply critical of Trump during a period in which the FBI was investigating his campaign.
Over the course of the hearing, Bob Goodlatte, the Republican chairman of the House Judiciary Committee, threatened Strzok with contempt for not revealing details related to the ongoing investigation into Russia's election interference, Republican Congressman Louie Gohmert accused Strzok of lying under oath and disparaged Strzok's relationship with his wife, and Republican Congressman Darrell Issa forced Strzok to read his own text messages aloud—including ones that included vulgarities.
Strzok defended himself, insisting that he was not biased and that his political beliefs never affected his work. He sought to contextualize some of the more controversial text messages he sent during the campaign, including one which said that "we" would "stop" Trump from becoming president—a text he claimed to have written "late at night" in response to Trump's "horrible, disgusting" attacks on Khizr and Ghazala Khan, the parents of the fallen Army Captain Humayun Khan. Trump had attacked the gold-star parents, who are Muslim, after they appeared at the Democratic National Convention and denounced Trump for his call to ban Muslims from the United States.
No matter how many times Strzok insisted that his professional actions were not affected by his negative feelings toward Trump—and that agents are trained to leave their political beliefs at the door—Republicans insisted, without providing evidence, that his work had been tainted.
"I am telling you that I and the other men and women of the FBI every day take our personal beliefs and set those aside in vigorous pursuit of the truth, wherever it lies," Strzok told Representative Ted Poe. "And I don't believe you," Poe replied.
Even as Republicans demanded complete transparency from Strzok—who supervised the Russia probe under former FBI Director James Comey until Special Counsel Robert Mueller was appointed last May, after Trump fired Comey—they declined to release a transcript of Strzok's first appearance before the committee. Democrats described that 11-hour closed-door grilling as "an attempt to obstruct" Mueller's work and act as Trump's "defense counsel," and Democratic Representative David Cicilline threatened to release the transcript unilaterally unless Republicans could name a specific House rule that prevented him from doing so.
Overall, Thursday's public hearing, which Democratic Representative Hakeem Jeffries likened to a "three-ring circus," was reminiscent of the partisan bickering that plagued the House Intelligence Committee over the course of its year-long investigation into Russia's election interference. It similarly reflected how far the Republican-controlled panels have been willing to go to discredit the probe into potential collusion between Trump's campaign and Russia, which U.S intelligence agencies have said carried out an influence operation aimed at helping Trump win the White House. "The information we had which was alleging a Russian offer of assistance to a member of the Trump campaign was of extraordinary significance," Strzok said. "It was credible. It was from an extraordinarily sensitive and credible source."
One former Western intelligence official and a member of British Parliament recently remarked to me separately that while the United Kingdom, too, has had to reckon with Russia's interference in its democracy—U.K. and U.S. officials believe that Russia attempted to influence Britain's 2016 referendum to leave the European Union—efforts to prevent it from happening again have been unifying rather than divisive. Trump was still questioning as recently as two weeks ago whether the Russians really interfered in the 2016 presidential election, despite warnings from his own national-security and intelligence chiefs that the Kremlin intends to interfere again during this year's midterm elections.
Prior to joining Mueller's team, Strzok had worked on highly sensitive investigations involving Russian and Chinese espionage. But those text messages—exchanged on FBI-issued phones with a colleague with whom Strzok was having an affair—prompted Mueller to pull Strzok from his team and send him back to the FBI, where he was relegated to the human-resources department. The demotion didn't attract much attention until December, when the Justice Department released hundreds of Strzok and Page's text messages to reporters—launching material that was the subject of an ongoing Inspector General investigation into the public domain.
Trump and his allies have characterized Strzok's texts as a kind of original sin that has irrevocably damaged the credibility of the Russia probe. "How can the Rigged Witch Hunt proceed when it was started, influenced and worked on, for an extended period of time, by former FBI Agent/Lover Peter Strzok?" Trump tweeted earlier this week. "Read his hate filled and totally biased Emails and the answer is clear!"
But Democrats were quick to note that Strzok did not force George Papadopoulos, a Trump-campaign foreign-policy adviser, to mislead the FBI about his interactions with a Russia-linked foreign national—interactions that reportedly sparked the probe into potential collusion between the campaign and Russia. Nor did Strzok force high-level members of the Trump campaign—including Trump's son-in-law, Jared Kushner; campaign chairman Paul Manafort; and son Donald Trump Jr.— to meet at Trump Tower with Russian agents who were offering dirt on Hillary Clinton in June 2016.
Democrats also raised an issue that Republicans, complaining about FBI agents' political biases, have remained noticeably silent on: concerns expressed by various high-ranking Justice Department and FBI officials in the run-up to the election that employees in the FBI's New York field office, who opposed Hillary Clinton, would leak new information about her emails to the press. These concerns were outlined in the Inspector General report, and confirmed by Strzok on Thursday. "I was aware of some people expressing that concern," Strzok said. One of those people, he said, was Comey, who publicly reopened the Clinton email probe just days before the election, while keeping the counterintelligence investigation into the Trump campaign quiet.
Former FBI agents who knew and worked with Strzok have acknowledged to me that he should have been more circumspect with his comments, even if they were private, given the highly politicized nature of both the Clinton and Russia probes, and the fact that he and Page were using FBI-issued phones, which offer no expectation of privacy. But these agents also broadly characterized Strzok as a professional who never expressed his political opinions when conducting an investigation—and said that he wouldn't have been able to taint it if he tried.
"He was one gear in a big machine," Frank Montoya Jr., a former FBI agent, told me last month. "He could make recommendations. He could advocate for different courses of actions—but he was just one among many in a team that could do that." Montoya raised one of the biggest questions facing those accusing Strzok of letting bias affect his professional judgment: "If he really wanted to 'stop' Trump before the election, why not leak the Russia investigation?"