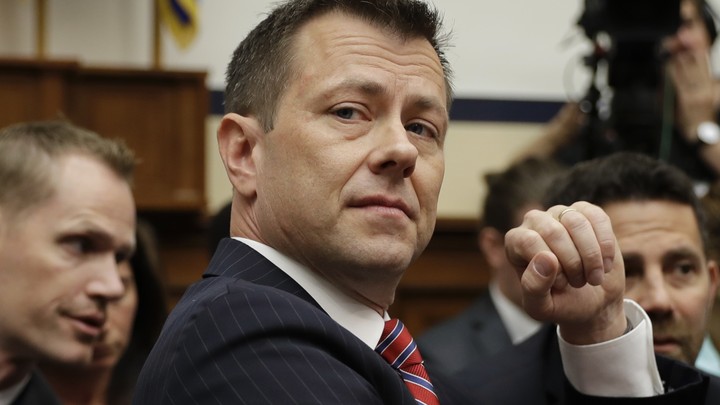 -Written by Elaine Godfrey (@elainejgodfrey)
Today in 5 Lines
During a contentious hearing before the House Judiciary and Oversight Committees, embattled FBI agent Peter Strzok denied accusations that his private political views influenced his official duties overseeing the Russia investigation.

President Trump released a letter he received from North Korean leader Kim Jong Un in which Kim praised Trump's leadership. "Great progress being made!" Trump tweeted.

Trump arrived in the U.K., where he met with Prime Minister Theresa May and attended a black-tie dinner. He's expected to have tea with Queen Elizabeth II on Friday at Windsor Castle.

The Trump administration said that they have reunited 57 of the 103 children under the age of 5 who had been separated from their parents at the U.S. border. The 46 remaining children have been deemed "ineligible" for return.

The federal government reopened the investigation into the death of 14-year-old Emmett Till, 63 years after his murder.
---
Today on The Atlantic

---
Snapshot
---
What We're Reading

Third-Party Quirks: Alexandria Ocasio-Cortez beat longtime Democratic Representative Joe Crowley in New York's primary last month. But thanks to a technicality, Crowley will still appear on the ballot. (Lisa W. Foderaro, The New York Times)
Can the Senate Curb Trump's Trade Powers?: Senate Republicans on Wednesday passed a symbolic rebuke of President Trump's recent tariffs. But several lawmakers said they wouldn't vote for the same bill if it counted. (Haley Byrd, The Weekly Standard)
'If We Don't Have a Vote, Then What Good Are We?': A push to limit the powers of superdelegates has sparked infighting in the Democratic Party. Here's what's going on. (David Siders, Politico)
Differing Visions: Republicans have introduced a federal paid leave policy that Democrats think doesn't go far enough. Ivanka Trump—a self-fashioned champion of the cause—agrees. (Natalie Gontcharova, Refinery29)
---
Visualized

Trade Wars, Explained: Here's how the newly imposed tariffs on Chinese goods will affect the United States. (Sophia Myszkowski and Nicolas Pollock, The Atlantic)
We want to hear what you think about this article. Submit a letter to the editor or write to letters@theatlantic.com.
Elaine Godfrey
is a staff writer at
The Atlantic
, where she covers politics.