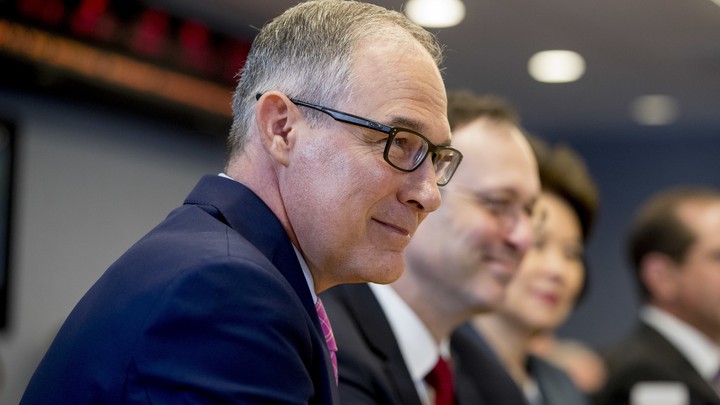 -Written by Elaine Godfrey (@elainejgodfrey)
Programming note: We will not publish on July 4, but we'll be back in your inboxes on Thursday. See you then!
---
Today in 5 Lines
---
Today on The Atlantic
---
Snapshot
---
What We're Reading
In More Scott Pruitt News...: The EPA head reportedly pushed to find a six-figure job for his wife and enlisted staffers to perform personal tasks, according to new details provided to congressional investigators. (Juliet Eilperin, Josh Dawsey, and Brady Dennis, The Washington Post)
A Bad Law: The Supreme Court's decision in Roe v. Wade has no sound constitutional basis, argues Rich Lowry. It must be overturned. (National Review)
There Was No Democratic Golden Age: The election of Donald Trump has certainly led to the erosion of norms in the United States, writes Matthew Yglesias, but focusing on norms means being complacent about what government will be like after Trump. (Vox)
Who's Who?: These are the four Supreme Court contenders President Trump has met with so far in his quest to replace Justice Anthony Kennedy. (Anne Flaherty, Associated Press)
'People of Praise': One of the leading contenders to fill Justice Anthony Kennedy's seat on the Supreme Court is allegedly a member of a group that's been described as a "cult." But is it really a "cult"? (Ruth Graham, Slate)
---
Visualized
More Women Than Men: Here are the nine states where women could soon make up at least half of the legislature. (Audrey Carlsen and Denise Lu, The New York Times)
---
On Monday, in our summary of "His Brother's Keeper," we misstated when T.J. Smith informed Baltimore of his brother's death. We regret the error.
We want to hear what you think about this article. Submit a letter to the editor or write to letters@theatlantic.com.
Elaine Godfrey
is a staff writer at
The Atlantic
, where she covers politics.