What Finally Did In Scott Pruitt?
The EPA administrator's departure Thursday caps a remarkable run of scandals.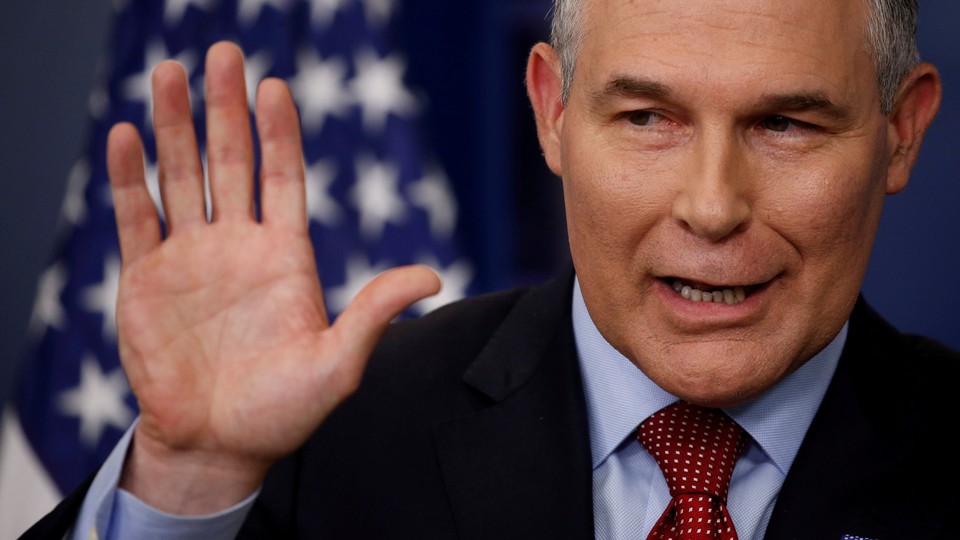 By the beginning of July, EPA Administrator Scott Pruitt was embroiled in so many scandals that even his critics were beginning to wonder if he was invincible.
He was not. On Thursday afternoon, President Trump announced on Twitter that he accepted Pruitt's resignation, ending a tumultuous, troubled tenure atop the agency. The abrupt departure came after months of Trump defending Pruitt, despite many White House aides concluding that Pruitt was a distraction and needed to go, and despite increasingly vocal criticism among Republican members of Congress and even pro-Trump pundits like Laura Ingraham. The mystery is what finally pushed Trump to oust him.
But this week has seen a deluge of damaging stories, notable even by the elevated standards of Pruitt's administration. The Washington Post reported that Pruitt had sought a $200,000 per annum job for his wife, Marlyn, at the Republican Attorneys General Association, asking an aide to make calls on her behalf—a potential violation of ethics law. He also asked aides to put hotel rooms and other expenses on personal credit cards, rather than his own, the Post reported. CNN reported that Pruitt had pleaded with Trump to fire Attorney General Jeff Sessions, then install Pruitt as temporary attorney general. Politico revealed that Pruitt had installed a former political crony as the head of the office dealing with public-information requests at EPA.
Yet perhaps the most damaging stories involved alleged alterations to Pruitt's official schedules and records. CNN reported Tuesday that Pruitt's aides kept two sets of agendas, one public and one private, and often scrubbed politically toxic meetings from public records. For example, the EPA omitted a meeting that Pruitt held in Rome with Cardinal George Pell, a prominent climate-change denier who was recently charged with sexual abuse. On Thursday, The New York Times reported that Pruitt had fired an aide after she refused to alter schedules. The schedule alterations could constitute violations of federal laws against falsifying or hiding public records.
That seems to have been one scandal too many for Pruitt. The Times' Maggie Haberman reports that Trump had grown frustrated in recent weeks with the endless stream of scandals emanating from EPA. However, the administrator appeared jolly at a July 4th event at the White House just one day before his departure.
By the time of his ouster, there were at least a dozen federal inquiries into Pruitt's behavior. Until then, Pruitt had weathered a series of stories likely unparalleled in recent Cabinet history, because any other Cabinet member subject to as many damaging stories as him would likely have resigned or been pushed out long ago. In this way, Pruitt resembles the president, who has also withstood a remarkable number of damaging revelations.
Before he became known as the most scandal-ridden member of a scandal-ridden administration, Pruitt developed a reputation as among Trump's most effective lieutenants. His tenure was characterized by aggressive attempts to roll back regulations and cooperate with industrial lobbies. Upon his confirmation, Pruitt immediately set to rolling back environmental regulations, especially those imposed by the Obama administration. His success was mixed. In some cases, Pruitt achieved rollbacks, and he helped convince Trump that the U.S. should leave the Paris climate accord. In other cases, however, EPA tried to cut corners on regulatory rollbacks, and found itself blocked by federal courts. Never before had an EPA chief been so expressly hostile to the agency's mandate, and he came in for criticism from predecessors in both parties.
Inevitably, Pruitt's agenda at EPA and his corruption became intertwined. Shortly after his confirmation hearings, thousands of emails from Pruitt's time as Oklahoma attorney general were released, showing his close ties to industries he regulated. Critics charged that the Oklahoma state government had slow-walked the emails' release until after a vote on Pruitt's nomination. That was just a tease for what was to come. Over months, an elaborate picture of Pruitt's questionable ties and behaviors emerged.
Upon arriving in Washington, he engaged in an ethically dubious rental arrangement, paying $50 per night in a house owned by the wife of an energy lobbyist, but only paying on nights he used the space. Eventually, the landlord threw him out and changed the locks. The lobbyist said he had not lobbied the EPA during the time Pruitt was renting from his wife, but his firm later said that was not true.
Pruitt met extensively with industry figures and others, seeking to hide the meetings from public scrutiny or awareness. He spent $43,000 on a soundproof booth for his office, exceeding spending regulations. He made an overseas trip arranged by a lobbyist, with unclear government purposes. Reporting revealed cozy and possibly unethical arrangements during his time in Oklahoma politics.
As my colleagues Elaina Plott and Robinson Meyer first reported, Pruitt sought  large raises for aides he had brought with him from Oklahoma. When the White House rejected the raises, Pruitt sought a workaround. He denied he was aware of the raises, but emails obtained by Plott suggest he personally approved them.
More than anything, Pruitt seemed interested in living the good life, using the taxpayer dollar as his bankroll and government employees as his gophers. (Within Trump's Cabinet, this tendency distinguished him by degree, not type.) Pruitt spent almost $10,000 redecorating his office. He traveled frequently on first-class plane tickets. The EPA claimed he did so because of security threats, and said he'd been granted a blanket waiver to buy the pricier tickets. But internal watchdogs said the threats didn't justify the upgrades, and furthermore, there are no legal blanket waivers. Pruitt insisted on a 24/7 security detail, costing around $3.5 million in his first year alone, and upgraded his official car to a newer, heavier, bulletproof model. He was, however, turned down in his request to use the car's sirens so he could more quickly drive around D.C.
Pruitt treated his aides as personal assistants, sending the security detail to pick up his dry cleaning and seek a specific kind of Ritz-Carlton lotion he liked. He assigned other aides to seek Rose Bowl tickets and track down a used mattress from the Trump International Hotel in D.C. that he could sleep on. In addition to asking aides to help get his wife a job at RAGA, Pruitt also arranged a phone call with the CEO of Chick-fil-A, hoping to arrange a franchise for her.
Pruitt's aides brought him down in the end. Former Deputy Chief of Staff Kevin Chmielewski, fired after a disagreement, began speaking to the press and to investigators about Pruitt, unspooling a string of stories. Other aides were compelled to testify. Millan Hupp, one of the Oklahomans, resigned shortly after she testified to the House Oversight Committee. According to The Daily Beast, Pruitt sought to block her from getting a new job after she left.
Pruitt was adept at managing up, and his strong relationship with Trump helped him survive well after the president's top aides, including Chief of Staff John Kelly, had concluded Pruitt needed to go. Though Pruitt had been critical of Trump during the presidential campaign, he energetically jumped on the bandwagon. He hung out at the White House mess so much he was asked to limit his visits. He flattered Trump in person, and enacted the president's agenda aggressively at EPA. His suggestion that he replace Sessions was likely designed to endear him further to the president, who has raged at the attorney general publicly and privately. As I wrote last month, Trump could perhaps see an echo of himself in Pruitt: a public figure accused of corruption and blaming the press for persecuting him. Trump might have seen Pruitt's fate as a bellwether for his own, too.
The obsequiousness in the relationship was on display even in Pruitt's resignation letter. "Mr. President, it has always been an honor to serve you in the Cabinet as Administrator of the EPA. Truly, your confidence in me has blessed me personally and enabled me to advance your agenda," he wrote. "My desire in service to you has always been to bless you as you make important decisions for the American people. I believe you are serving as President today because of God's providence."
The resignation is unlikely to significantly change the direction of the EPA. In the immediate term, Deputy Administrator Andrew Wheeler will serve as acting administrator. Before Wheeler's April confirmation, his empty seat was thought to be one impediment to Pruitt's removal. Wheeler is ideologically in tune with Pruitt, but expected to be less flashy.
The scandal-induced resignation may spell the end of Pruitt's political career. It's difficult to imagine any candidate getting past the log of controversies he has produced, and with investigations ongoing—and allegations of potential federal crimes in play—there may be more to come. Certainly, his cozy ties with industries he regulated should offer Pruitt a chance at a lucrative private-sector career. But Pruitt has long eyed higher office, and his obstinacy amid these scandals suggests he might be unwilling to forgo his ambitions. Could Pruitt really try to mount a run for president in the future? Stranger things have happened.