The Coincidence at the Heart of the Russia Hacking Scandal
A new indictment charges that Russians tried to hack Hillary Clinton's emails on July 27, 2016—the same day that Donald Trump publicly asked them to do so.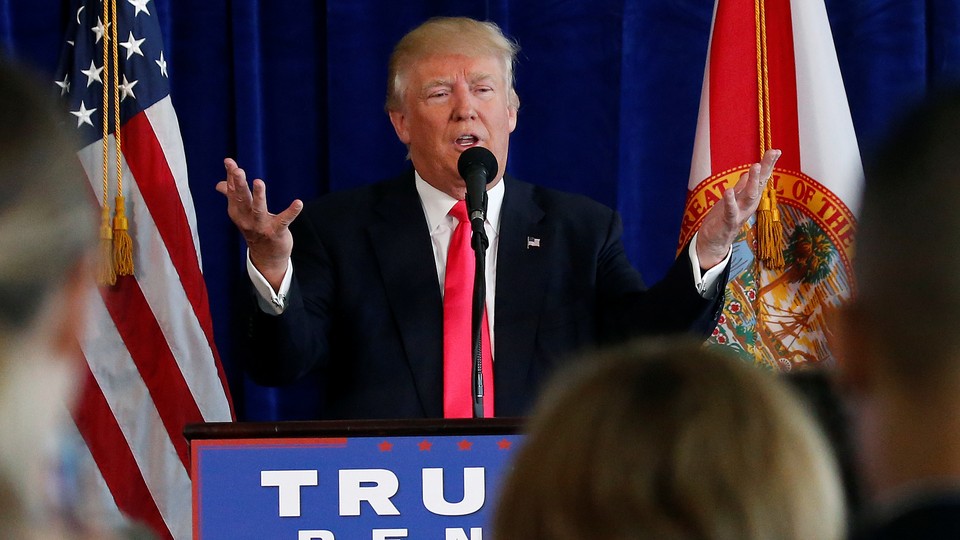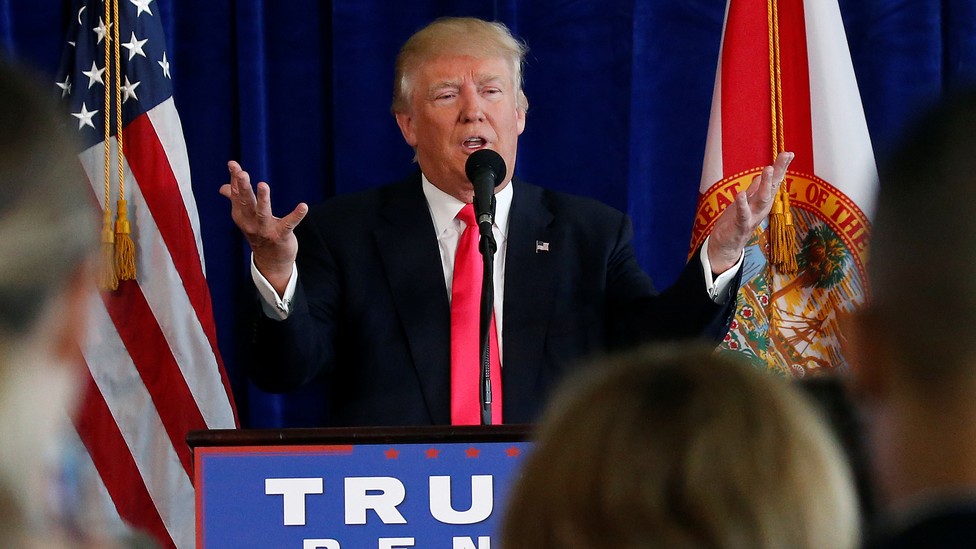 The broad outlines of Friday's indictment by Special Counsel Robert Mueller, charging 12 Russians with conspiracy, identity theft, and money laundering in connection with hacking during the 2016 presidential election, are not surprising. The hacking of the Democratic National Committee has been public knowledge since July 2016, and even then, the authorities publicly stated that the perpetrators were Russian government officials. Other details, such as the apparent involvement of WikiLeaks and Trump adviser Roger Stone, were also known. Some of the details, however, are striking.
On July 27, 2016, at a Trump press conference in Florida, the candidate referred to 33,000 emails that an aide to Hillary Clinton had deleted from the former secretary of state's personal email server. The DNC had recently announced the Russian intrusion, and Trump speculated that if Russia broke into the DNC, it would have accessed Clinton's emails, too.
"By the way, if they hacked, they probably have her 33,000 emails," Trump said. "I hope they do. They probably have her 33,000 emails that she lost and deleted. Because you'd see some beauties there."
That was perhaps irresponsible speculation, but it wasn't crazy. There were widespread questions about Clinton's information security, and whether she might have compromised government secrets. But a few minutes later Trump said something much stranger.
"I will tell you this: Russia, if you're listening, I hope you're able to find the 30,000 emails that are missing," he said. "I think you will probably be rewarded mightily by our press."
The president was encouraging a foreign adversary to illegally hack into messages by a former secretary of state that might contain sensitive information, then release them publicly.
Trump had good reason to believe that Russia was listening. The previous month, his son, Donald Jr.; son-in-law, Jared Kushner; and campaign chairman, Paul Manafort, had a meeting at Trump Tower with Russians who they believed were offering damaging information about Clinton. (The meeting wasn't revealed to the public until 2017, and both the Russians and the Trump campaign officials say no dirt was exchanged.) Prior to the meeting, Trump Jr. had received an email stating that the meeting was " part of Russia and its government's support for Mr. Trump."
Mueller's indictment offers new evidence that Russia was listening—and acting on Trump's request. The indictment charges 12 officers of the GRU, Russia's military-intelligence agency, with hacking intended to interfere with the election. According to the document:
The Conspirators spearphished individuals affiliated with the Clinton Campaign throughout the summer of 2016. For example, on or about July 27, 2016, the Conspirators 7 attempted after hours to spearphish for the first time email accounts at a domain hosted by a third-party provider and used by Clinton's personal office. At or around the same time, they also targeted seventy-six email addresses at the domain for the Clinton Campaign.
In other words, a Russian attempt to penetrate Clinton's server and her campaign came around the same time that Trump was publicly pleading with Russia to do just that. (Mueller alleges that there had been attempts to hack Clinton's campaign since at least March 2016.)
Trump's hacking request was so egregious that it earned immediate pushback from other Republicans. Speaker Paul Ryan's spokesman issued a statement saying, "Russia is a global menace led by a devious thug. Putin should stay out of this election." Even Mike Pence, Trump's own vice-presidential nominee, contradicted his running mate. "If it is Russia [that hacked the DNC] and they are interfering in our elections, I can assure you both parties and the United States government will ensure there are serious consequences," he said.
The indictment notes other examples of Russia releasing documents at times engineered to benefit the Trump campaign, though it doesn't offer any evidence that Trump aides directed, or were aware of, those releases before they happened. The indictment notes that WikiLeaks released a tranche of emails allegedly stolen by Russia on July 22, 2016—just three days before the DNC, a convenient stroke of timing for Trump. Then, on October 7, 2016, WikiLeaks released another batch of hacked emails within hours of the revelation of the Access Hollywood tape, in which Trump is overheard boasting about sexually assaulting women.
In a statement responding to the indictment on Friday, the White House did not condemn Russian interference in the election, instead striking a purely defensive note regarding the president's 2016 victory. "Today's charges include no allegations of knowing involvement by anyone on the campaign and no allegations that the alleged hacking affected the election result," a spokeswoman said. "This is consistent with what we have been saying all along." Trump is scheduled to meet one-on-one with Russian President Vladimir Putin on Monday in Helsinki, Finland.
At the time of Trump's comments in July 2016, it was easy to write them off as the latest sideshow from his circus of a campaign. Though he was at that moment enjoying a brief post-Republican National Convention bounce in the polls, Trump was widely expected to lose the election, so his comments, while dangerous, were of limited relevance.
That was incorrect, of course: Trump defeated Clinton. And since then, the public has learned a great deal about both Russian interference in the election and ties between the Trump campaign and Russia.
Mueller indicted a coterie of Russians on charges of interfering in the election via online trolling. The public learned of the June 2016 Trump Tower meeting, despite multiple attempts by Trump Jr. to mislead about it. Former National-Security Adviser Michael Flynn pleaded guilty to lying to the FBI about contacts with the Russian ambassador. Former Trump campaign foreign-policy adviser George Papadopoulos pleaded guilty to lying to the FBI about contacts with Russians during the election. Another foreign-policy aide, Carter Page, offered confusing and sometimes contradictory evidence about his travels to Russia and elsewhere. Mueller has produced evidence showing Manafort's deep pre-campaign ties to the Kremlin. Kushner reportedly attempted to establish a back-channel to communicate with Russia. And so on.
As I have argued, the question of whether these ties existed ought to be closed. There is extensive evidence to support that they did. Friday's indictment adds an astonishing new wrinkle. Trump campaign officials may or may not have been colluding with a Russian influence operation behind closed doors, but Trump himself was making no attempt to hide his own desires, with cameras and reporters watching. The Russians heeded his call.