Putin's Big Tell?
Putin's decision to reference William Browder at the post-summit press conference provided even more evidence that a 2016 meeting between Trump-campaign officials and a Russian lawyer was blessed by the Kremlin.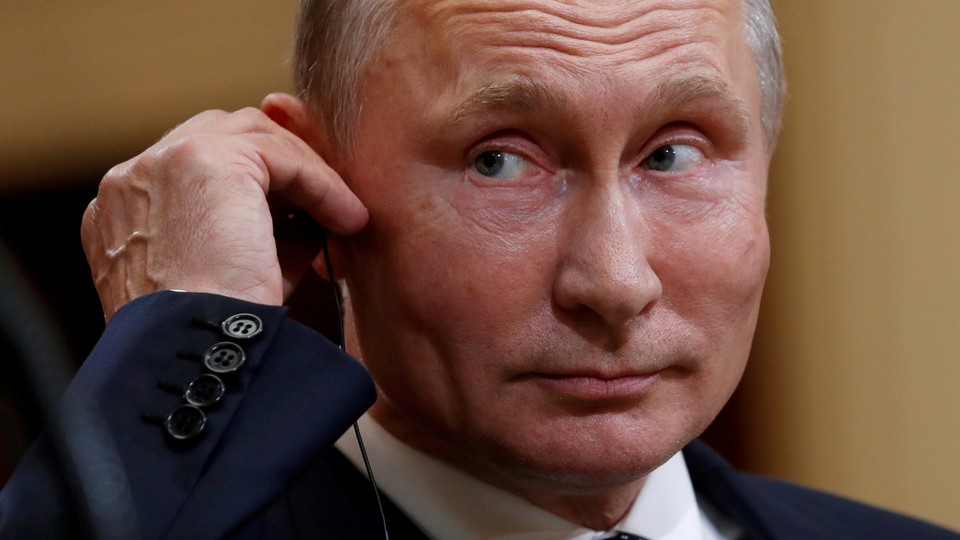 Updated at 4:15 p.m. ET
As Russian President Vladimir Putin stood next to President Donald Trump during a joint press conference in Helsinki on Monday, a wealthy banker turned human-rights activist named William Browder was on the Russian leader's mind.
Asked whether he would consider extraditing the 12 Russian intelligence officers accused by Special Counsel Robert Mueller of hacking into Democratic organizations during the 2016 presidential election, Putin fell back on an old Cold War tactic—whataboutism—and accused U.S. intelligence officials of helping Browder funnel $400 million worth of cash he allegedly stole from Russia in the form of unpaid taxes into Hillary Clinton's campaign. "We have a solid reason to believe that some [U.S.] intelligence officers accompanied and guided these transactions," Putin said.
Browder made his fortune as an investor in Russia beginning in the 1990s, and at one point his company, Hermitage Capital, was the largest investment firm in Russia. But after he became a critic of the country's lack of corporate transparency, Browder was blacklisted in 2005 by the Russian government and deemed a national-security threat. Hermitage was then subjected to corporate raiding, Browder has said, by corrupt Kremlin officials who stole the rebate of $230 million in taxes that Hermitage had paid to the Russian government in 2006.
His attorney, Sergei L. Magnitsky, whom he tasked with investigating that theft, was thrown in jail in 2008 and died after being held for 358 days. An independent human-rights commission found that Magnitsky had been illegally arrested and beaten; the Kremlin maintains that he died of a heart attack. In 2012, as a direct result of a lobbying campaign by Browder, Congress passed the Magnitsky Act, which authorizes the president to deny visas to, and freeze the assets of, Russians believed to have been complicit in Magnitsky's death.
Browder began lobbying for tougher sanctions on Russia nearly a decade ago, following Magnitsky's death. Browder says Magnitsky uncovered the $230 million stolen tax rebate, which implicated high-level Kremlin officials.
Putin's decision to identify Browder on the world stage, standing next to the president of the United States at the end of a high-stakes summit, was either highly strategic or a crack in his ordinarily impenetrable facade. It reinforced Browder's status as one of Putin's top irritants, and it provided more evidence that a meeting at Trump Tower between Trump-campaign officials and a Russian lawyer—a key event in Mueller's Russia probe—was blessed by the Kremlin.
The first sign that the Kremlin played a role in the Trump Tower meeting came last year, when it was revealed that a memo about Browder provided to the Trump campaign by the Russian lawyer Natalia Veselnitskaya mirrored a memo that had been given to Republican Congressman Dana Rohrabacher by Russia's chief federal prosecutor, Yury Chaika, months earlier. Both memos accused Browder of renouncing his U.S. citizenship in 1998 for "tax reasons," and alleged that Browder's "illegal" schemes had cost Russia more than $16 billion in "unpaid taxes."
The Trump Tower meeting itself was originally pitched to Donald Trump Jr. as an opportunity for "the crown prosecutor of Russia," later identified as Chaika, to provide the campaign "with some official documents and information that would incriminate Hillary and her dealings with Russia." The memo Veselnitskaya gave to Trump Jr. accused Browder of funneling money to Clinton via the principals of Ziff Brothers Investments, purportedly Browder's biggest investors.
Fast-forward to Monday's press conference, where Putin brought up all of the above in an apparent attempt to undermine Browder's credibility in the most highly visible forum he could ever hope for. "Business associates of Mr. Browder have earned over $1.5 billion in Russia," Putin said. "They never paid any taxes, neither in Russia nor in the United States, and yet the money escaped the country. They were transferred to the United States. They sent huge amount of money, $400 million, as a contribution to the campaign of Hillary Clinton … We have a solid reason to believe that some intelligence officers accompanied and guided these transactions. So we have an interest of questioning them."
Asked Wednesday whether the president is "open to having U.S. officials questioned by Russia," White House Press Secretary Sarah Sanders said that Trump and Putin had discussed the issue privately. "The president's gonna meet with his team and we'll let you know when we have an announcement on that," Sanders said, noting that Trump had not yet made a commitment on behalf of the United States. (According to Reuters reporter Jonathan Landay, State Department spokeswoman Heather Nauert said Wednesday that Russia's request to question U.S. officials is "absolutely absurd.")
This week's Trump-Putin meeting marks at least the second time that the leaders have discussed issues related to the Magnitsky Act. The first time was during a private dinner at the G20 summit in Germany last summer, when Trump and Putin "talked about adoptions," Trump told The New York Times. The adoption issue is intimately connected to the Magnitsky Act and U.S. sanctions—Putin retaliated in 2012 by banning Americans from adopting Russian children.
The day after that dinner, Trump personally "dictated" a misleading statement about his son's meeting with Veselnitskaya that said they primarily "discussed a program about the adoption of Russian children." The statement failed to mention that the Russians had come offering dirt on Clinton.
Former spies told me last year that the meeting looked like a textbook intelligence operation aimed at gauging the Trump campaign's interest in colluding with Moscow to undermine Clinton in exchange for lifting sanctions—a priority for Russia that former National-Security Adviser Michael Flynn discussed with former Russian Ambassador Sergei Kislyak in December 2016. Flynn told Kislyak that the incoming Trump administration would review the U.S. sanctions policy—a comment that Flynn, who is now cooperating with Mueller, allegedly failed to disclose to the FBI.
Putin's fixation with Browder, which stems from his anger over the global human-rights campaign Browder launched in 2009 following Magnitsky's death, has now reached new levels. Russian media outlets reported after the press conference in Helsinki that Chaika, the prosecutor general, wants to interview U.S. citizens believed to be associated with Browder, including Michael McFaul, the former ambassador to Russia, and David Kramer, the former assistant secretary of state for democracy, human rights, and labor.
"I've been under his skin for a long time," Browder told me, referring to Putin. He pointed to the expansion of the Magnitsky Act across seven countries and counting, and to the money-laundering investigations that have been launched as a result of the discovery of the alleged tax-fraud scheme. "He knows this has the potential to bring down the Russian government at some point in time."