Paul Manafort's Trial Won't Be All About Russia
The first trial of the special counsel's investigation is focused on President Trump's former campaign manager, but don't expect collusion to be a big part of it.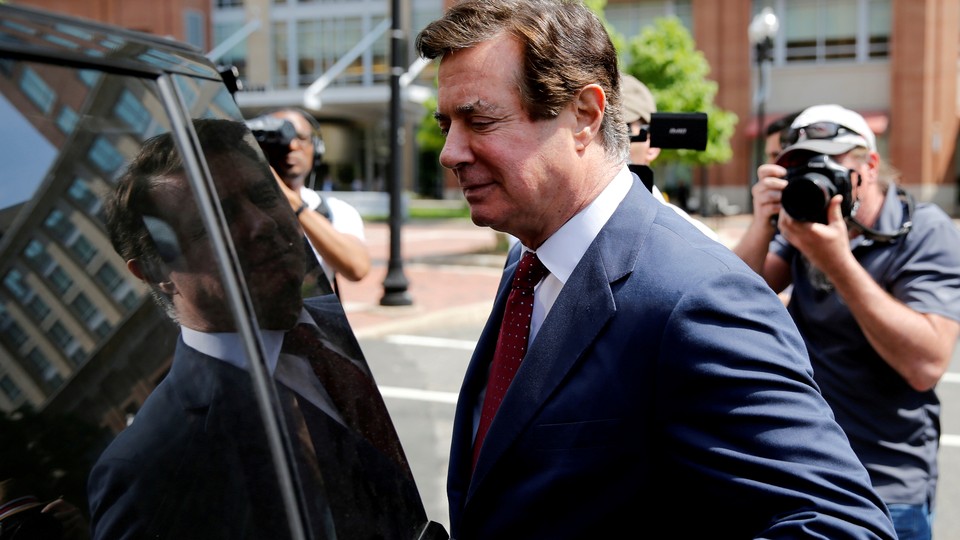 The first trial arising from Special Counsel Robert Mueller's investigation into Russia's election interference is set to begin this week. But the topic won't be a conspiracy between President Donald Trump's campaign and Moscow—and the government says its witnesses may not even utter the word Russia.
Instead, prosecutors will outline the alleged financial crimes committed by Trump's former campaign chairman Paul Manafort while he worked as an adviser to Ukraine's pro-Russian former president Viktor Yanukovych—work that earned Manafort more than $60 million over the course of a decade, according to court documents filed by Mueller on Monday, which he allegedly laundered and concealed from the IRS. Jurors will be presented with evidence of Manafort's lavish lifestyle, including multimillion-dollar homes, expensive cars, Major League Baseball tickets, and antique carpets. The government could call as many as 35 witnesses to testify, including Manafort's longtime business partner Rick Gates.
Additionally, Manafort was reportedly in debt to pro-Russian interests by as much as $17 million by the time he joined the Trump campaign, which he ran at the height of the 2016 presidential election. One of the biggest outstanding questions in the Mueller probe is whether Manafort gave a Kremlin-linked Russian oligarch access to the campaign in exchange for debt relief. But Mueller may also have other ambitions—like flipping Manafort.
"Mueller wants to get a conviction, but I do think this is a trial aimed at cooperation," said Harry Sandick, a former federal prosecutor in the Southern District of New York. Sandick noted that a conviction could be a powerful incentive for Manafort to strike a deal with prosecutors to reduce his prison sentence. "Even after someone has been convicted, they can apply for a sentencing reduction based on cooperation," Sandick said.
Not everyone thinks that's likely. Daniel Goldman, also a former federal prosecutor in the Southern District of New York, said that while it's "possible to do it that way," it is "very rare" that someone goes to trial and then cooperates. "I do not believe that Manafort will cooperate, or that the prosecution is trying to squeeze him in order to cooperate, and once this trial begins, any chance of cooperating all but goes out the window," Goldman said.
Both Sandick and Goldman agreed, however, that Manafort has little chance of acquittal in this case. Manafort's legal team wants to block jurors from seeing the nearly 500 pages of exhibits compiled by prosecutors documenting Manafort's work in Ukraine, but Mueller has argued that the documents "establish the breadth of the work that Manafort performed, including commissioning television ads, writing speeches, and carrying on campaign-related activities. There is nothing prejudicial about documents setting forth how the ads were made, how consultants were paid, and who approved their work." Prosecutors are also expected to delve into the sources of Manafort's income, court filings show, which include "oligarchs who instituted the practice of paying Manafort via foreign accounts."
Trump and his allies have sought to downplay the trial, claiming that it has nothing to do with either the president or a conspiracy with Russia to win the election. Trump's lawyer Rudy Giuliani told CNN on Monday that because Manafort was only with Trump "for four months," he had no special insight that would incriminate the president. Manafort was forced to step down as Trump's campaign chairman in August 2016 after reports surfaced that he was allocated millions in off-the-books payments by Ukraine's pro-Russian Party of Regions, but his work with Trump did not end there: He continued to give Trump "pointers" on how to handle the WikiLeaks dump of the Hillary Clinton campaign chairman John Podesta's emails, according to Politico, and his deputy, Rick Gates, stayed and worked on Trump's transition team. Manafort "insinuated himself" into the transition through Gates, CNN reported at the time.
Manafort and Gates were indicted in October 2017 on charges including conspiracy to launder money and failure to file reports of foreign bank and financial accounts. Gates struck a deal with Mueller earlier this year and is now cooperating with investigators—in a twist worthy of a TV courtroom drama, Gates is expected to testify against Manafort during the Virginia trial. But Manafort, who is the only American charged by Mueller who chose to go to trial rather than cooperate, could face the rest of his life in prison if convicted. Manafort will also stand trial in Washington, D.C., in September—Manafort's team effectively forced Mueller to take the charges to two separate courts earlier this year—on charges including being an unregistered agent of a foreign principal and making false and misleading statements about his work as a foreign agent.
"It makes no sense for a defendant to choose two trials because the prosecution is the only party that benefits from two bites at the apple (since one conviction is all it needs)," Goldman said. "So the only sensible explanation for the course Manafort has chosen is that he is playing the long game and hoping for a pardon, because he can claim that Mueller exceeded his authority in charging him with crimes that preceded the campaign and he was therefore 'treated unfairly,' which has resonated in the past with the President in granting pardons."
The longtime Republican operative is already on thin ice with the judge presiding over the D.C. case. Judge Amy Berman Jackson revoked Manafort's bail last month after prosecutors revealed that he had repeatedly tried to contact two former associates who the prosecution might call to testify against him —interference that the government characterized as witness tampering. One witness flatly told the FBI that Manafort was trying to "suborn perjury," prosecutors said. It wasn't the first time Manafort had played with fire: In December, Mueller abruptly pulled out of a bail agreement he had reached with Manafort's legal team when one of his special agents discovered that Manafort had been helping to write an op-ed portraying Manafort's Ukraine work in a favorable light, in violation of a gag order.
In the Virginia trial, which will begin with jury selection on Tuesday, the government will also lay out a more explicit connection between Manafort's allegedly illicit financial dealings and the Trump campaign, according to court documents filed earlier this month. They plan to show that a banking executive at Chicago's Federal Savings Bank who wanted a position on the Trump campaign agreed to help Manafort obtain approximately $16 million worth of loans, even though other Federal Savings Bank employees "identified serious issues" with Manafort's loan application. At least one Federal Savings Bank employee, Dennis Raico, has been given immunity in exchange for his testimony.
The president and his legal team, meanwhile, may be monitoring the trial more closely than they would like to let on. Trump tweeted about Mueller three times on Sunday, accusing him of running a "Rigged Witch Hunt" and having conflicts of interest. Mueller, as usual, didn't respond.