Here's How the Government Plans to Take Down Paul Manafort
The fraud case against President Trump's former campaign chairman is highly complex. But prosecutors are sending a simple message to jurors: "Manafort lied."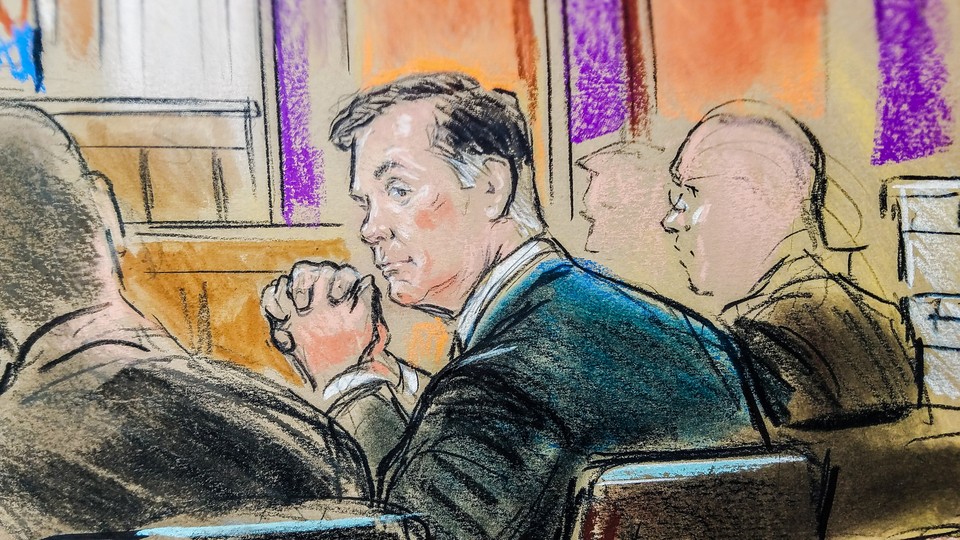 Paul Manafort allegedly laundered millions of dollars through a complex network of offshore shell companies and hid more than $60 million in foreign bank accounts to conceal his income from the IRS. But the government's pitch to jurors on Tuesday, during the first day of his trial, boiled down to a simple, even relatable offense: Manafort is a "shrewd" liar who wouldn't pay his taxes.
The prosecution's opening statement began Tuesday afternoon after a surprisingly quick jury-selection process that lasted mere hours. Assistant U.S. Attorney Uzo Asonye outlined the government's case, before Manafort's lawyers made their own. "Paul Manafort lied," Asonye said. "The evidence will show that Paul Manafort placed himself and his money over the law."
The Manafort case is a convoluted one, involving a web of foreign bank accounts and a presidential election tainted by Russian interference. But the prosecution, as I reported yesterday, is keeping the focus on Manafort's cut-and-dry financial record, while deploying an argument that seems designed to make their case more digestible.
Characterizing Manafort "as a liar who doesn't pay his taxes is good trial work," the former federal prosecutor Renato Mariotti told me in an interview. "You have to make the issue simple for jurors to understand. Fraud is a complex concept. So prosecutors explain it as lying to get money."
The former federal prosecutor Dan Goldman called it a "pretty standard opening statement," one that "distill[ed] complicated transactions to a simple concept of lying and thinking the law that everyone can identify with doesn't apply to him."
Manafort and his longtime business partner Rick Gates were indicted in October 2017 on charges including conspiracy to launder money and failure to file reports of foreign bank and financial accounts. Gates struck a deal with Mueller earlier this year and is now cooperating with investigators; he is expected to testify against Manafort during the Virginia trial. But Manafort—who is the only American charged by Mueller who's chosen to go to trial rather than cooperate—could face the rest of his life in prison if convicted. Manafort will also stand trial in Washington, D.C., in September on charges related to his work for Ukraine. (Manafort was forced to step down from his post on the Trump campaign in August 2016 after reports surfaced that he was given millions in off-the-books payments by Ukraine's pro-Russian Party of Regions.)
Asonye zeroed in on Manafort's millions, saying the evidence would show that he did not do "what Americans do every year—pay the taxes he owed." At the same time, the prosecutor played up Manafort's personal spending, claiming that he used shell companies that were regularly replenished by Ukrainian oligarchs for his own use.
That, too, is a touchstone argument for jurors, Mariotti suggested. The government's homing in on Manafort's "outlandish spending is Prosecution 101," he said. "Jurors hate defendants who live an opulent lifestyle due to fraud."
If court documents filed by the government in recent weeks are any indication, that opulence will be on full display. Jurors will be shown Manafort's multi-million-dollar homes, expensive cars, Major League Baseball tickets, and antique carpets, which the government will argue were the fruit of his "willful" disregard for the law. "All of this was willful," Asonye said on Tuesday. "Paul Manafort knew about the law."
According to Asonye, Manafort hid his money from his accountants and his bookkeeper, and failed to report $15 million in income to the IRS between 2010 and 2014. That year, Asonye said, Manafort's "cash spigot" and "golden goose"—the pro-Russian president of Ukraine, Viktor Yanukovych, whom Manafort advised for more than a decade—was ousted and fled to Russia. Manafort's funds dried up, and that's when he began creating cash "literally out of thin air," Asonye said.
He predicted that the defense would try to undermine Gates, but reminded jurors that Gates was Manafort's deputy and confidant—someone Manafort explicitly decided to associate with. The message jurors should send to Manafort at the end of the trial, Asonye concluded, is that "he is not above the law, that the rules apply to him."
Sure enough, Manafort's defense attorney Thomas Zehnle told jurors in his opening statement that "Manafort placed his trust in the wrong person … Rick Gates." Zehnle told jurors that the evidence would show that Gates, who he described as "the prosecution's star witness," had lied to prosecutors about Manafort in exchange for a plea deal. Gates, he alleged, was the one who handled "income, expenses, loans and the like … Money is coming in fast and it was a lot. Paul Manafort was trusting that Rick Gates was keeping track of it." Zehnle also argued that Manafort didn't intentionally deceive the IRS—he just didn't know which forms to fill out.
Mariotti said that the defense's tactic of placing blame on a government witness is smart, though he predicts it will not work given the evidence in the case. "Attacking the flipper is a classic defense strategy," Mariotti said. "Their defense is likely to fail, but they don't have much to work with. They have to offer up an alternative villain."
Tuesday offered the first glimpse the public has gotten of Manafort's defense strategy. His legal team centered most of their pretrial work around arguments that Mueller's mandate was too broad, and should not have included an examination of Manafort's work prior to joining the Trump campaign. When that strategy didn't work, they apparently threw it out the window. They're now hoping to convince the jury the prosecution's argument doesn't hold—by throwing Gates under the bus.