The Mystery of Brett Kavanaugh's Baseball-Ticket Debt
How did the nominee for the Supreme Court spend $60,000 to $200,000 on Washington Nationals seats—and how did he pay it off so quickly?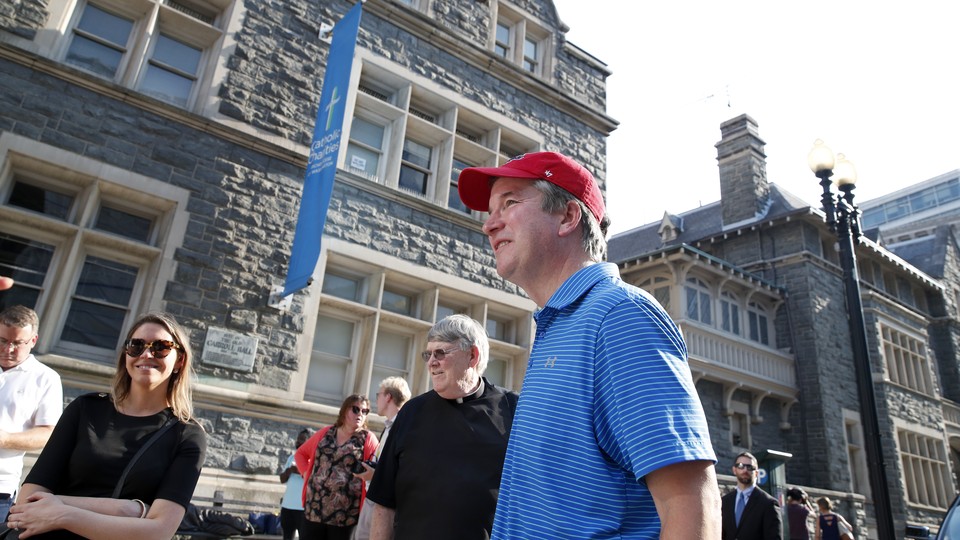 During his confirmation hearings in 2005, Chief Justice John Roberts told senators that he saw his job as a judge as a matter of calling balls and strikes. Brett Kavanaugh, whom President Trump has nominated to sit alongside Roberts on the Supreme Court, has apparently spent a great deal of time and money on observing literal balls and strikes being thrown.
According to financial disclosures, Kavanaugh had between $60,000 and $200,000 in debt, spread across three credit cards and a loan. (Federal rules require individuals to disclose ranges of debts, rather than specific figures, so the actual numbers are unknown.) As The Washington Post first reported, the White House has an explanation for the debts: Kavanaugh spent big on tickets to see the Washington Nationals, a team he's known to back.
Raj Shah, a White House spokesman leading the communications push for Kavanaugh's nomination, said that Kavanaugh had purchased Nats season tickets and playoff seats for himself and a handful of friends. Each credit card had between $15,000 and $50,000 of debt, as did the personal loan. By the time of his 2017 disclosure, the debts were gone, and Shah said that Kavanaugh's only current debt is a home mortgage.
The eye-popping figures—tens of thousands on baseball tickets!—not only show how pricey America's pastime has become. They also spotlight Kavanaugh's own financial situation and the bruising contours of a high-stakes confirmation fight, and they raise the question of how he paid the debt off so quickly.
The more important, and curious, question is not how Kavanaugh accrued the debts attributed to the baseball tickets, but how he paid them down. It's strange to imagine that a man of comparatively modest means would put tens of thousands of dollars on credit cards to buy baseball tickets, but even stranger that they would have been paid off so fast. The White House says that Kavanaugh's friends reimbursed him for the tickets, and that he no longer buys them. The fact remains that Kavanaugh suddenly cleared at least $60,000 and as much as $200,000 in mysterious debt over one year—sums large enough that senators might well want to know who the sources of the payments were.
It would be challenging, though not impossible, to accrue so much in ticket debt in such a short time. Full-season tickets—meaning all 81 Nationals home games—can run into the thousands of dollars for a single seat. (How Kavanaugh, whose current job as a judge on the D.C. Circuit Court of Appeals is highly demanding, would manage to find time to attend many baseball games—to say nothing of a full, 81-game home schedule—is another mystery.) At the most expensive price level, that could translate to around $35,000 per annum for a single seat, though most tickets are much less expensive. A renewing season-ticket holder at the most expensive price point would pay roughly $9,000 per year.
These numbers could put a dent in Kavanaugh's salary. His disclosures show that if confirmed, he would have the smallest net worth of any justice. Getting the gig would probably inflate his assets. As a judge on the D.C. Circuit, he makes $220,600 a year, which would bump up to $255,300 on the Supreme Court. He might benefit in other ways, too: Justice Sonia Sotomayor scored a book advance of more than $1 million after joining the Court.
These salaries are high by national standards (nearly seven times the median national personal income), but not by the standards of the rarefied circles in which Kavanaugh travels, as his poverty relative to the sitting justices suggests. Many high-powered lawyers pass through the revolving door between the private and public sectors—working for a time in government to earn prestige and make political connections, then spending time at white-shoe law firms to make huge salaries. Kavanaugh went from law school to clerking for federal judges (including Justice Anthony Kennedy, who he is nominated to replace), and then joined Independent Counsel Ken Starr's investigation of the Clinton administration. From there he briefly went to work at the firm of Kirkland and Ellis, but didn't spend much time there before joining the George W. Bush White House. After filling several jobs there, he went directly to the appeals court.
It's a good bet that many of the people in Kavanaugh's social circles, including in the tony Maryland suburb of Chevy Chase, are better off than he is, and Kavanaugh might feel pressure to spend beyond his means to keep up with his peers. Kavanaugh reported similar figures—$60,000 to $200,000 in debt, on three credit cards and a loan—in 2006, then paid that down over the course of the next few years.
As the Supreme Court becomes more directly implicated in partisan politics, the new model of a nominee has become a relatively young jurist—someone who will serve on the Court for decades, and someone who has relatively little paper trail that might trip him or her up during the confirmation process. The case of Kavanaugh's debts shows how challenging it is for even a cautious, ambitious lawyer like him to avoid potentially damaging scrutiny.
How serious the debt problem could be will depend on how willing to accept the baseball story senators are, whether new and conflicting information emerges, and what other opposition research on Kavanaugh emerges. Ahead of Trump's choice on a nominee, Senate Majority Leader Mitch McConnell telegraphed to the White House that Kavanaugh's paper trail, stretching through the Bush administration and many court opinions, might make him harder to confirm than some other, less experienced candidates.
But Trump decided to hand the metaphorical ball to Kavanaugh. Now the president, Republicans, and the judge himself have to hope that he's a better in clutch, must-win situations than the infamously playoff-hapless baseball team he supports.