Muzzling the Talking Heads of the 'Deep State'
President Trump wants to revoke the security clearances of former top FBI and CIA officials who he feels spend too much time on television criticizing him.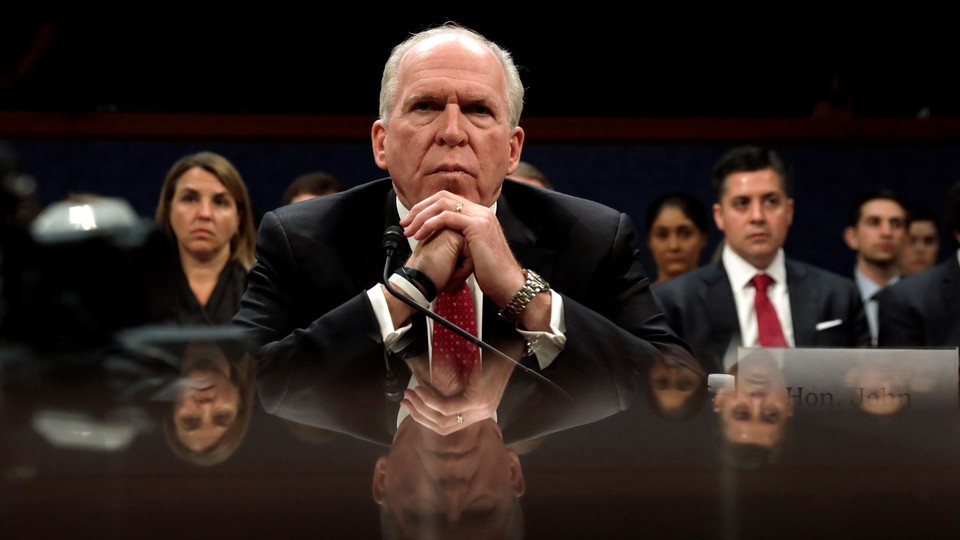 The concept of a "deep state" anti-Trump conspiracy among intelligence and law-enforcement officials has been a long-running theme of the Trump administration and the conservative media, repeated nearly nightly on Fox News' opinion programs. On Monday, the White House acted on that impulse, threatening to revoke the security clearances of several former intelligence and law-enforcement officials who have been critical of the president.
White House Press Secretary Sarah Sanders said that the president wanted to take away the clearances of former CIA Director John Brennan, former Director of National Intelligence James Clapper, former NSA and CIA director Michael Hayden, former National-Security Adviser Susan Rice, former deputy FBI Director Andrew McCabe, and former FBI Director James Comey. The threat was the White House's latest salvo in its long-running conflict with the intelligence community and law-enforcement officials who Trump has accused of cooking up false Russia-related accusations in order to delegitimize his election victory and presidency.
"Not only is the president looking to take away Brennan's security clearance, he's also looking into the clearances of Comey, Clapper, Hayden, Rice, and McCabe," White House Press Secretary Sarah Sanders said during the press briefing—only the third such briefing in the month of July. "The president is exploring the mechanisms to remove security clearances because they politicized and in some cases monetized their public service and security clearances." She accused the former officials of making "baseless" accusations about Trump's connections with Russia.
Senator Rand Paul of Kentucky had tweeted on Monday that he was going to ask Trump to revoke Brennan's security clearance: "Is John Brennan monetizing his security clearance? Is John Brennan making millions of dollars divulging secrets to the mainstream media with his attacks on @realDonaldTrump?" Paul tweeted. "Today I will meet with the President and I will ask him to revoke John Brennan's security clearance."
Brennan has been a vociferous critic of Trump and recently accused him of treason for his press conference with Russian President Vladimir Putin, in which Trump sided with Russia over his own intelligence agencies' verdict on Russian interference in the election. Brennan is now an NBC News and MSNBC contributor.
Trump and his allies have continuously cast Special Counsel Robert Mueller's investigation into Russian election interference as a politically motivated effort to take him down; the president has repeatedly tried to discredit the probe by characterizing it as a "witch hunt." "The president doesn't like the fact that people are politicizing agencies and departments that are specifically meant to not be political," Sanders said. And the specific idea of revoking the former officials' security clearances has also bubbled up around the fringes; the former White House official Sebastian Gorka, for example, called on Trump to revoke the clearances of Clapper, Comey, Brennan, and Hillary Clinton in a Fox News appearance in May.
It's unclear on what grounds the White House could try to take away the former officials' clearances. It's also unclear how much preparation they did before making this announcement. McCabe's spokesperson Melissa Schwartz, for example, tweeted that McCabe no longer has a clearance. "Andrew McCabe's security clearance was deactivated when he was terminated, according to what we were told was FBI policy," she wrote on Twitter. "You would think the White House would check with the FBI before trying to throw shiny objects to the press corps…" Hayden told The Atlantic that although he occasionally gets called back in to the agencies to offer his perspective on something, he doesn't attend classified briefings. "Won't have any impact on what I say or write," Hayden said. He added that the president "has absolute authority" to revoke clearances.
The White House's injection of this issue into the news cycle also seems bound to raise a renewed round of questions about problems the president's son-in-law, Jared Kushner, has had with his security clearance. Kushner's clearance was downgraded in February before being restored in May. But it also ensures that Trump's performance in Helsinki—which was widely criticized and for which Trump had to perform grudging damage control—may finally be superseded by something else in the headlines.