Mueller Just Uncovered a Core Russian Conspiracy
The special counsel's latest indictment reaches back to his investigation's origin story: the hacking of the 2016 election.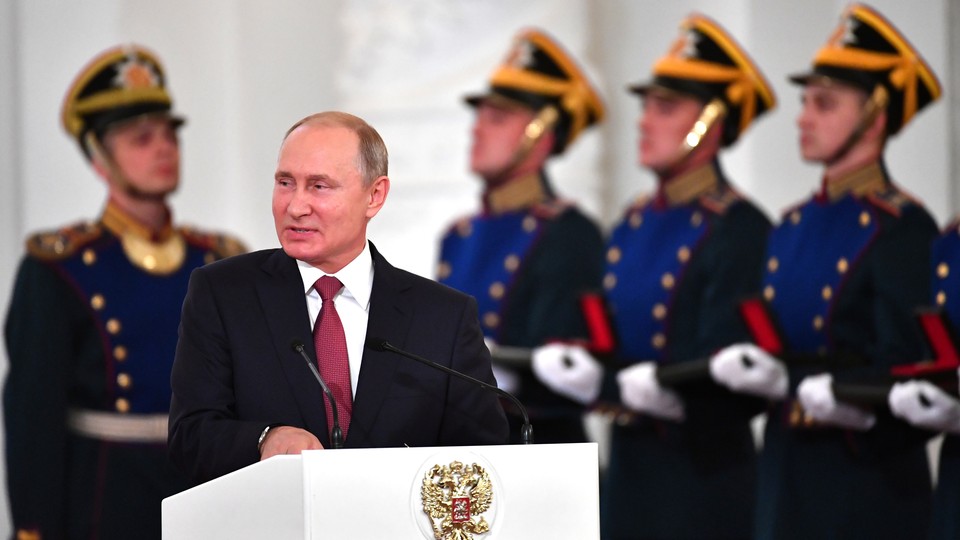 A grand jury in Washington, D.C., on Friday indicted 12 Russian intelligence officers, charging them with hacking intended to interfere with the 2016 presidential election.
The indictment, sought by Special Counsel Robert Mueller, charge the defendants with hacking into computers and email systems of the Democratic National Committee, the Democratic Congressional Campaign Committee, and Hillary Clinton campaign chair John Podesta. The hackers also allegedly broke into computer systems of an unidentified state board of elections, stealing personal information for 500,000 voters.
Friday's indictment is important because the hacking of the DNC was the origin story for the investigation into Russian interference in the 2016 election. The DNC announced in June 2016 that its computer networks had been infiltrated, and security experts quickly concluded that Russia was behind the break-in. Further investigation by multiple American intelligence committees reached the same conclusion. Since then, there have been new allegations and revelations about Russian interference, ranging from the "troll farm" that was the target of Mueller indictments earlier this year to allegations of coordination and collusion between Russians and Donald Trump's presidential campaign.
President Trump has repeatedly derided Mueller's investigation as a "witch hunt," even as it produces indictments, guilty pleas, and a pile of new, detailed information about how Russian interfered. The hacks are an especially important part of this case: Unlike claims of collusion or obstruction of justice, the hacking clearly constituted a crime, and there was a clear culprit. As a result, the fact that Mueller hadn't charged anyone in connection with the crime until now had become conspicuous.
That curious silence ended on Friday. The defendants are charged with conspiracy against the United States, identity theft, and money laundering.
"The object of the conspiracy was to hack into the computers of U.S. persons and entities involved in the 2016 U.S. presidential election, steal documents from those computers, and stage releases of the stolen documents to interfere with the 2016 U.S. presidential election," the indictment states.
The indictment lays out in more detail than previously known how the hacking worked. While the federal government released an intelligence document explaining its conclusions, it offered little hard evidence. Mueller marshals more detailed forensic evidence, recording specific actions, down to searches run and files deleted.
According to Mueller, the GRU, Russia's main foreign-intelligence agency, conducted the operation with the intention of interfering with the election. One unit was charged with hacking, while another had responsibility for spreading what was known.
The hacking unit used two methods. The first was spearphishing—sending emails intended to trick users into divulging user names and passwords. This was already known to be the method by which hackers got into Podesta's email. The second was to hack into computer networks, installing malware that allowed them to spy on users, capture keystrokes, take screenshots, and steal files. In addition to the Democratic targets, the Russians allegedly tinkered with hacking state boards of election. Various reports have speculated on whether the Russians did, in fact, break into state election functions, and the indictment provides an answer.
To get the documents out, the second GRU unit created two front personas. One, called DCLeaks, released an early tranche of Podesta emails. The second, Guccifer 2.0, took his name from an earlier Romanian hacker, who became famous for releasing pictures of former President George W. Bush's paintings. Though they pretended to be Americans and a Romanian, respectively, both DCLeaks and Guccifer 2.0 were Russian intelligence, Mueller charges. To cover up their tracks, they set up a network outside Russia, paid for with cryptocurrencies.
The indictment states that the GRU officials corresponded with several Americans. For example, in August, Guccifer 2.0 "wrote to a person who was in regular contact with senior members of the presidential campaign of Donald J. Trump, 'thank u for writing back … do u find anyting [sic] interesting in the docs i posted?'" Previous investigations have already revealed that that individual was Roger Stone, the sometime Trump adviser and former business partner of Trump campaign chairman Paul Manafort.
The indictment also says that the GRU used an outside organization to help disseminate the documents. Though it is not named, the details indicate it is WikiLeaks. WikiLeaks founder Julian Assange has insisted that his organization's source for documents was not the Russian state.
The indictment also says that in August 2016, an unnamed U.S. congressional campaign requested stolen documents from Guccifer 2.0. The hackers provided that information.
"There's no allegation in this indictment that the Americans knew they were corresponding with Russian intelligence officers," Deputy Attorney General Rod Rosenstein said during a press conference in Washington on Friday.
Yet there's evidence in the indictment to suggest that collusion between the Trump campaign was happening not through back channels, but out in the open—whether the Trump campaign was aware or not. On July 27, 2016, Trump publicly called on Russia to find and release emails from Hillary Clinton, less than two months after Donald Trump Jr., Jared Kushner, and Manafort met with Russians at Trump Tower in the hopes of receiving damaging information about Clinton. Trump Jr. was also told in an email that Russian President Vladimir Putin supported his father's bid for the presidency.
While Trump never got his wish, that was allegedly not for want of trying by the hackers, whom Mueller says tried to get at the emails:
On or about July 27, 2016, the Conspirators attempted after hours to spearphish for the first time email accounts at a domain hosted by a third-party provider and used by Clinton's personal office. At or around the same time, they also targeted seventy-six email addresses at the domain for the Clinton Campaign.
Rosenstein was careful to delineate what the indictment does and doesn't say.
"There's no allegation in this indictment that any American citizen committed a crime," he said. "There's no allegation that the conspiracy changed the vote count or affected any election result."
Those are carefully worded statements, though. Just because the indictment doesn't present evidence doesn't mean that crimes were not committed, nor that election results were not affected. Even if no votes were changed, as appears to be the case, the goal of interference like this is to change voters' opinions. It's difficult to isolate the effect that any given factor had on the election, but there was heavy coverage of the hacked emails during the campaign, which reinforced negative impressions about Clinton.
Rosenstein said that the case would be transferred from Mueller's team to the Justice Department's national-security division. That may be, in part, an acknowledgment that there's little chance any of the defendants will see an American trial, since Russia won't extradite them. The indictment will, however, restrict their travel outside Russia.
Mueller's investigation had been comparatively quiet for some time, other than dueling with Manafort's lawyers, including a revocation of bail due to allegations of witness-tampering. It's expected that at some point soon, Mueller will go silent until after the November midterm elections, rather than risk being seen as interfering in politics.
Rosenstein announced the indictment at the same time that Trump was in the United Kingdom, meeting with Queen Elizabeth. Rosenstein said he had briefed Trump on the coming indictment and that he was aware. Rudy Giuliani, a Trump lawyer, applauded the indictment, despite saying just hours earlier that the entire Mueller probe was corrupt and should be dissolved.
Trump, who is scheduled to meet with Putin Monday, said once again on Friday morning that Mueller's investigation was a witch hunt. In this case, however, Mueller has brought indictments in a case where a crime was clearly committed, and he has presented evidence of Russian involvement. That's unlikely to stop Trump from making spurious claims about Mueller, but with each new piece of evidence the special counsel uncovers, the president's protests hold less water.