Is a Blue Wave on Its Way?
None of this summer's electoral trends is etched in stone. But there is turbulence even among the president's voters.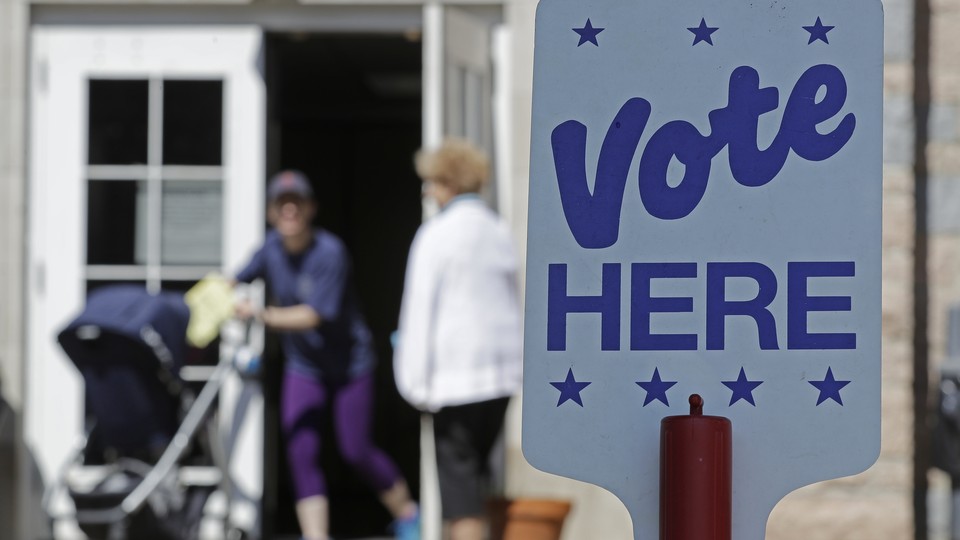 In a tweet earlier this week, President Donald Trump inadvertently suggested that he's jittery about the midterm elections. He seems so unnerved that he's prepared to pre-spin a blue wave as the rigged handiwork of Russia. "Russia will be fighting very hard to have an impact on the upcoming Election," the president said. "Based on the fact that no President has been tougher on Russia than me, they will be pushing very hard for the Democrats."
The implication is that if the Democrats capture the House or Senate, it would happen only with underhanded foreign assistance. But the truth—as gleaned from the statistical tea leaves, among other evidence—is that the Democrats seem poised to win back a share of power solely on the basis of the following factors: grassroots enthusiasm, the blue-tilted mood of independent voters, solid fundraising, and a softening of Trump love even within his base. None of these summer trends is etched in stone. But the Senate Republican leader Mitch McConnell may have been right back in April when he said, "We know the wind is going to be in our face. We don't know whether it's going to be a Category 3, 4, or 5."
Category 5—something similar to the storm of 2010, when Republicans took the House, picking up 63 seats—is probably not in play. Democrats are constrained by the national House map; most of the districts were drawn by GOP state legislatures to enhance Republican voting strength and disperse those who habitually vote Democratic. According to Kyle Kondik, the managing editor of Larry J. Sabato's Crystal Ball, a nonpartisan politics newsletter that handicaps races, "the median House district is about four percentage points to the right of the nation." That alone could save Republicans from a tsunami in November.
Nevertheless, Democrats need to flip only 23 House seats in order to take the speaker's gavel and capture the committees that can provide a check on the president. And for the first time this year, Sabato's typically cautious shop is tilting the House midterms toward the Democrats. It has also flagged 16 Republican-held seats, all formerly deemed safe for the GOP, as increasingly feasible Democratic pickups. (And those are separate from the 24 vulnerable Republican seats in districts that favored Hillary Clinton in 2016.)
Americans will soon know the fate of one of the 16, Ohio's 12th district, thanks to the special congressional election on tap for August 7. On paper, it should be a GOP slam dunk: The seat is being vacated by a Republican incumbent, and the district, which includes the Columbus suburbs and nearby rural preserves, has been GOP turf for 88 of the last 98 years. Plus, Trump in 2016 won the district by 11 points. Yet Kondik has moved the race from "Leans Republican" to "Toss-up," warning that the GOP's "PA-18 nightmare certainly has a chance to repeat itself."
"PA-18" refers to the March special election in southwest Pennsylvania in which a Rust Belt–style district that Trump won flipped from red to blue, courtesy of the Democrat Conor Lamb's upset victory. Most of the factors that buoyed Lamb are threatening the GOP in Ohio-12, and perhaps beyond.
Lamb benefited from an unusually large pro-Democratic turnout, which fits the electoral pattern since Trump took office. Polls generally show that voters tilting blue are more enthusiastic about the midterms than their red counterparts, and the vote tallies bear this out. Earlier this month, Fox News said that 9 percent more Democrats than Republicans are stoked about the midterms; last month, CNN reported that the margin was seven points. According to the number crunchers at The New York Times, Democratic turnout for the party's 2018 House primaries has far outstripped turnout for the 2014 primaries. This year, it was higher in 123 congressional districts. By contrast, Republican turnout relative to 2014 increased in only 19 districts.
This bottom-up Democratic energy has arguably been most evident in the elections to fill state legislative vacancies. These races often stay under the radar, given the overwhelming media focus on Washington, D.C., but it's noteworthy that since Trump took the oath, 44 state legislative seats have flipped from red to blue. (At last check, the number of seats that have flipped from blue to red: five.) Most significant is where the Democratic Party has triumphed. It's not surprising that Democrats have picked up seats in stronghold states like New York and New Jersey. What's worrisome for Republicans is that reliably red seats have gone Democratic in states like Wisconsin, Georgia, Oklahoma, Kansas, Kentucky, Florida, and Missouri. As one Kansas Republican strategist told The Kansas City Star last month, after a Democrat captured a normally Republican state Senate seat by 19 points, every "suburban Republican should be petrified."
Complicating the GOP's task is the sour mood among self-identified independents. The latest NBC News–Wall Street Journal poll, conducted jointly by Democratic and Republican pollsters, reports that independents are abandoning Trump en masse. Only 36 percent like his job performance, a seven-point drop in the last month. In June, they favored the Democrats to control Congress by seven points; by late July, that number had grown to 20 points.
This could be significant, because independents (whether true independents or voters who've adopted the term after bailing on the major parties) could compose as much as 30 percent of the midterm electorate. When Democrats won the House in 2006, taking 31 seats, independents driven heavily by hostility to the Iraq War voted blue by a margin of 18 points. When Republicans rode the Barack Obama backlash to victory in 2010, independents swung their way by 18 points. And they buttressed the GOP again in 2014, by a margin of 12 points. Today, if they're truly as fed up with Trump as the stats suggest, they could further fuel an accountability comeback in Washington.
Trump needs his base to blunt the blue enthusiasm and foil the independents, but there is even restiveness on his winning turf, the Rust Belt. A newly released NBC/Marist poll says that in Michigan, voters now prefer a Democratic Congress by nine points, and in Wisconsin, they prefer the Democrats by eight points. The GOP also has problems in nearby Iowa (which Trump also won) because the president's tariff wars appear to be sowing unease among locals who depend on open trade. Kondik points out that the price of soybeans has dropped 20 percent—one reason why he's moved two House GOP districts closer to the Democrats.
Meanwhile, that NBC/Marist poll dovetails with a new Quinnipiac survey that says overall support for Trump among white voters without college degrees has dropped eight points in the last month. This survey was conducted after the president's meeting with Russian President Vladimir Putin in Helsinki, and it's striking that even within that core Trump cohort, a plurality (44 percent) now believes that Russia has "something" on Trump.
It's unknowable whether, or to what extent, Trump has been briefed about the potential for a bad November—and regardless, he often seems inclined to discount what he's told. In a speech on Tuesday, during a discussion of tariffs, he advised Americans that "what you are seeing and what you are reading is not what's happening." When it comes to the midterms though, everything they're seeing and reading suggests a blue wave could indeed happen.