Michael Cohen's Astonishing Claim About the Trump Tower Meeting
If Donald Trump's former fixer is right—that the president knew his staff planned to meet with Russians—it'd be a dramatic development on at least two fronts of Robert Mueller's investigation.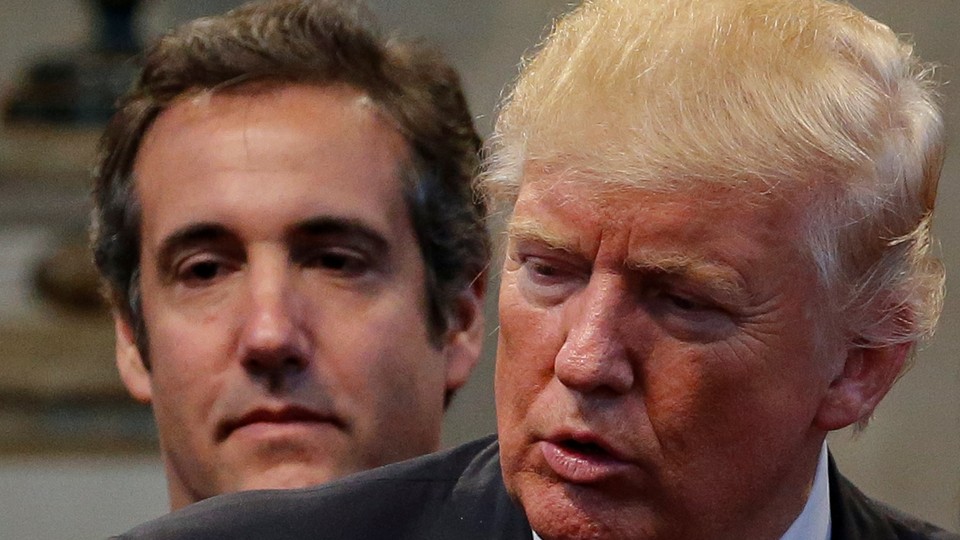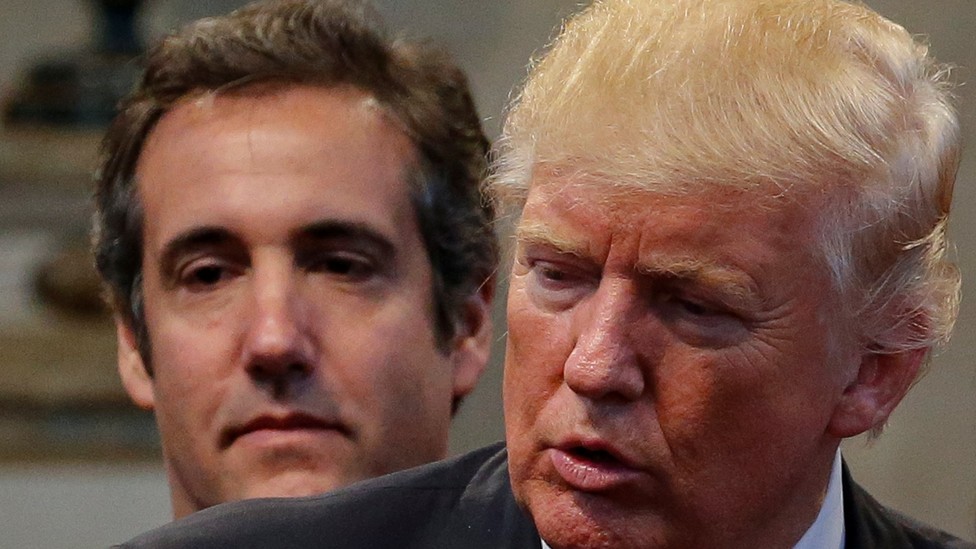 Michael Cohen is reportedly ready to tell prosecutors that Donald Trump was aware of a June 2016 meeting between top campaign officials and Russians at Trump Tower before it occurred. It's the sort of development that, if true, could upend what the public knows about the Trump administration, Russian involvement in the 2016 campaign, and allegations of obstruction of justice against the president.
If true.
At issue is the June 9 meeting at Trump Tower, during which Donald Trump Jr.; Jared Kushner, the president's son-in-law and now a senior adviser at the White House; and Paul Manafort, then Trump's campaign chairman and now jailed facing charges of money laundering and conspiracy, met with Natalia Veselnitskaya, a Russian lawyer who they expected to provide damaging information about Hillary Clinton.
The new reporting about Cohen is hazy. CNN first reported that Cohen says he was with Trump when the then-candidate learned that the meeting would occur, and that Cohen is willing to tell Special Counsel Robert Mueller that. CNN says that Cohen has no material evidence similar to the recording his lawyer recently released in which he speaks with Trump about payments to a woman with whom Trump allegedly had an affair, but that he says several other people were present when Trump heard about the meeting. NBC News soon matched that reporting. Both outlets cited knowledgeable sources, but Lanny Davis, a lawyer for Cohen, said that his side had not leaked the claim. It's not immediately clear who else might be aware of Cohen's threat.
Rudy Giuliani, the president's lawyer and lead spokesman in legal matters, promptly and furiously denied that Trump was aware of the meeting, calling Cohen a liar. At the moment, there's no public evidence to adjudicate the dispute. There is, however, a pattern that is uncomfortable for the president. On two separate but related matters that converge with this new allegation, the president and his team have been caught repeatedly lying. First, the White House in July 2017 offered false stories about the Trump Tower meeting, only to have to promptly admit they were incorrect. Second, the Trump team repeatedly insisted that the president was unaware of payments to Karen McDougal and Stormy Daniels, two women who allege they had affairs with him. But a tape released by Cohen shows Trump was aware of the plan to buy McDougal's story and suffocate it, while Trump acknowledged reimbursing Cohen after his payment to Daniels.
If if is true that Trump was aware of the meeting, and that Cohen is willing to testify, it would be a dramatic development. Trump and his son have both denied that the father was aware of the meeting at the time. The White House said in July 2017, when the meeting was first reported, that the president had only recently learned about it. Trump Jr. told the Senate Judiciary Committee the same thing in September 2017. Although he was not under oath, lying during that testimony would still be a criminal offense.
"He wasn't aware of it," Trump Jr. said of his father. "And, frankly, by the time anyone was aware of it, which was summer of this year, as I stated earlier, I wouldn't have wanted to get him involved in it because it had nothing to do with him."
Some other observers have also speculated Trump must have known about the meeting—most prominently Steve Bannon, who joined the Trump campaign later in the summer of 2016 and then served as White House chief strategist. Speaking to the reporter Michael Wolff, Bannon said that there was "zero" chance the candidate didn't know about the meeting. But no one has come forward with specific knowledge that the father knew of the meeting.
Testimony that Trump Sr. was aware of the meeting would also further illuminate allegations of collusion between the Trump campaign and Russia. There is extensive evidence of contacts between Trump aides and Russians, much of it surreptitious. As I wrote in July 2017, the Trump Tower meeting doesn't prove there was collusion per se, but the circumstances show a willingness by top campaign officials to collude with Russia. Before the meeting, Trump Jr. received emails indicating that the Russian with whom he was meeting had dirt to offer, and also stating that the Kremlin backed his father's candidacy. If Trump Sr. was also aware of the meeting, it would appear to extend the willingness to collude to the candidate himself.
Finally, an allegation that Trump was aware of the meeting might strengthen the allegations of obstruction of justice against the president. A particular focus will be Trump Jr.'s initial statement about the meeting, which turned out to be false, and which the president dictated from Air Force One while returning from Europe. Mueller has long been said to be interested in the circumstances of that statement, which denied that the meeting had dealt with campaign issues at all.
Speaking Thursday night, Giuliani blasted the Cohen story.
"He's been lying all week, he's been lying for years," Giuliani said on CNN. "I don't see how he's got any credibility."
It is true that Cohen has been less than honest in the past. But if repeated lies are the standard by which the public should decide who to believe, the president is in trouble. On the Trump Tower meeting and on issues involving Cohen, it has been the Trump side that has been repeatedly caught misleading.
In the first days of the story, Trump Jr. offered a dizzying series of reversals about what happened. When the Trump Tower meeting was first publicly revealed by The New York Times in 2017, Trump Jr. issued the statement that his father helped dictate. "We primarily discussed a program about the adoption of Russian children that was active and popular with American families years ago and was since ended by the Russian government, but it was not a campaign issue at the time and there was no follow up," the statement said. He also said he was unaware of the name of the person with whom he was meeting.
This was quickly proven to be false, as three advisers told the Times that Trump Jr. knew that his contact was supposed to have damaging information. So Trump Jr. offered a new account, saying he had hoped to receive damaging information, but that Veselnitskaya had been unable to deliver. Finally, again prompted by Times reporting, Trump Jr. acknowledged that he had been told the meeting was part of an effort by the Kremlin to assist his father's campaign. Trump Jr. also released his emails about the meeting.
The story of Trump's alleged affair with McDougal, a former Playboy model, has unfolded at a slower speed, but with the same basic pattern: Denials by the president and his aides have repeatedly been debunked. The story of the affair first broke in the closing days of the presidential campaign, and in indirect fashion: The Wall Street Journal reported that the National Enquirer had purchased the rights to the story from McDougal for $150,000, then sat on it, in a tabloid maneuver called "catch and kill," which is designed to stifle a story.
"We have no knowledge of any of this," the then–campaign spokeswoman Hope Hicks said at the time, adding that the story was "totally untrue." More recently, after the existence of a tape made by Cohen was revealed, Giuliani insisted that it would be "exculpatory" for his client.
In fact, the tape captured Trump and Cohen discussing a $150,000 payment to "David," presumably the National Enquirer publisher David Pecker, a friend and ally of the president's. While there's been a lively debate about what precisely Trump says near the end of the tape about cash, and about whether the tape proves any violations of campaign-finance law, the bigger point is simple: The president's aides had lied, saying he did not know about the payment when in fact he had.
Trump has also denied any knowledge of the $130,000 payment that Cohen arranged for Daniels. When the payment was first revealed, Cohen said that neither Trump nor the Trump Organization had been aware of it. In April, the president denied any knowledge. Then in May, Giuliani said that Trump had repaid Cohen as part of a general retainer. Trump then contradicted Giuliani and said he hadn't gotten his facts straight. Finally, Trump's 2018 financial disclosure acknowledged making a payment to Cohen.
In each of these cases, the Trump team has met fresh allegations with furious, flat denials; in each case, those denials have turned out to be false. Giuliani is not wrong to say that Cohen is an unreliable narrator, though he's been right more often than wrong recently. It is also possible that this will be the rare turn in both the Trump Tower and Cohen stories in which the White House's denials stand up to scrutiny. But past experience makes accepting Giuliani's denials at face value a sucker's gamble.