The Red-State Democrats' Many Paths to 'No'
Conventional wisdom holds that the four vulnerable senators are screwed if they vote against Brett Kavanaugh. But there's a counter-case to be made.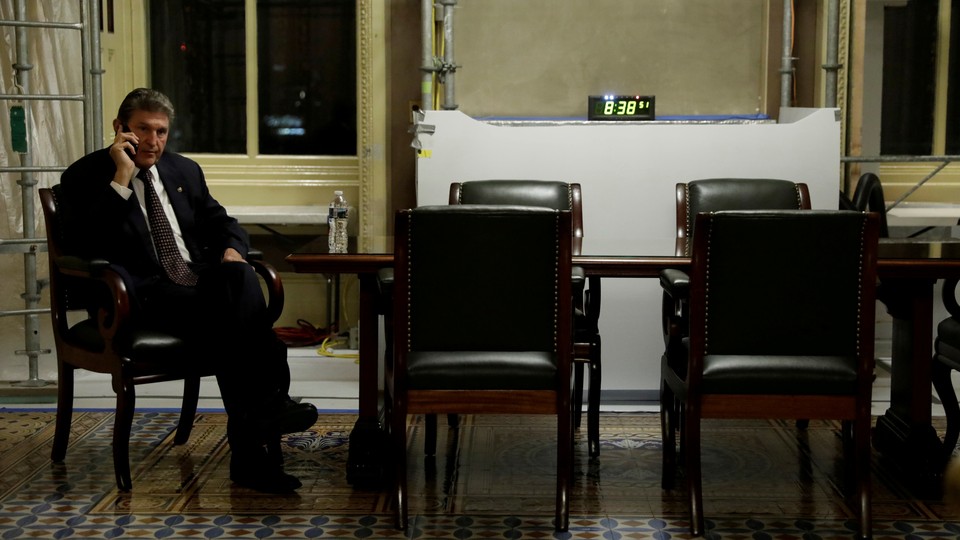 Conventional wisdom decrees that red-state Democratic senators running for reelection are politically screwed, regardless of how they vote on Supreme Court nominee Brett Kavanaugh. If they signal thumbs-up, they'll infuriate the party's progressive base and dampen the Democratic turnout they'll badly need. Thumbs-down, they'll make it easier for Republicans to attack them as Trump-hating obstructionists in states the president won by double digits in 2016.
So goes the argument, as articulated by Democratic commentators like Ed Kilgore in New York magazine ("It's a classic damned if you do, damned if you don't situation"), and, more predictably, by Republicans like Senator Lindsey Graham ("This is a nightmare for red-state Democrats"). The conventional solution for those Democrats presumably living that nightmare—Heidi Heitkamp of North Dakota, Joe Donnelly of Indiana, Joe Manchin of West Virginia, and Claire McCaskill of Missouri—is that they should inoculate themselves at home by propelling Kavanaugh to the high court.
But there's a countervailing view—in judicial parlance, a dissenting opinion—that these senators should eschew political calculations and seize the historic moment, that they should unite with the rest of the Democratic caucus and take a stand for principles that are currently under unprecedented attack. And by doing so, perhaps they can still benefit politically, by galvanizing grassroots Democrats to show up in strength for the midterm elections—something they failed to do in the red waves of 2010 and 2014.
In the words of Adam Jentleson, who served former Senate Democratic leader Harry Reid as deputy chief of staff, "Now, with everything progressives have fought for at stake if the Supreme Court holds a conservative majority for a generation, lawmakers from states that voted for Trump have to understand that this is one of those fights that defines what it means to be a Democrat. From concerns about the Affordable Care Act and a woman's right to her own reproductive freedom, to Kavanaugh's past writing that the president should not be able to be prosecuted, Kavanaugh has provided all Democrats with plenty of paths to get to 'no.'"
Pro-Trump groups have wasted no time launching ad wars against the red-state Democrats, in the hopes of facilitating a quick surrender. If they can squeeze those vulnerable incumbents to vote "yes" on Kavanaugh, it will ease the pressure on Republicans Susan Collins and Lisa Murkowski, both of whom support reproductive rights. One nonprofit, America First Policies, has already posted ads demanding that Heitkamp, Donnelly, and Manchin break ranks for Kavanaugh (an initial $150,000 outlay, for a campaign reportedly expected to hit seven figures). And McCaskill's Missouri challenger, Josh Hawley, is on the air demanding that McCaskill decide "whether she is going to stand with Chuck Schumer" against Kavanaugh. Schumer, the Senate Democratic leader, wants a united opposition, but yesterday Manchin sent this message back to his leader: "Kiss my you-know-what."
Nevertheless, there is a case for unity—one that meshes principle with pragmatism—particularly on two fronts.
Reproductive rights, and health care generally, are issues that play well for Democrats. Kavanaugh is a likely threat to those rights, and to the future of Obamacare (which is currently being challenged anew in a federal lawsuit filed by 20 Republican attorneys general). Kavanaugh would not have been vetted by the conservative Federalist Society if he was deemed a progressive sympathizer.
Fighting a court nominee requires that the stakes be framed as relevant to the average voter's life. And Democratic candidates nationwide are arguably on strong turf if they oppose Kavanaugh on health care. An NBC-Wall Street Journal poll, released last month, conducted by a Republican pollster working with a Democratic counterpart, reported that health care is the top-ranked issue in the 2018 midterms—and that, among those voters who rank it highest, 67 percent want the Democrats to run Congress. (Only 21 percent want the Republicans in charge.) Among all registered voters, only 39 percent said they were "enthusiastic" or "comfortable" with a candidate who favors Obamacare repeal.
On abortion specifically, the Democratic position—warning that Kavanaugh could cast the vote that kills Roe v. Wade—would have solidly mainstream support. According to a Kaiser Family Foundation poll released two weeks ago, 68 percent of women, 73 percent of Independents, and 74 percent of reproductive-age women said they don't want Roe overturned. Kavanaugh did promise, during his 2006 federal Circuit Court confirmation hearing, that he "would follow Roe v. Wade faithfully and fully," but the current Republican-majority Court has already shown its willingness to overturn legal precedent—notably, in the campaign-finance ruling Citizens United, and last month, by nullifying decades of labor law when it ruled against public unions in Janus v. AFSCME.
One wild card is the far-flung Mueller investigation. Most polls show that the relentless Trump-GOP attacks have dampened public support for the special counsel, although his conduct is still viewed more favorably than Trump's. But if Mueller releases a report on Trump-Russia connections and potential obstruction of justice, as many anticipate he may do in late summer or early autumn, Kavanaugh's opinions about special-counsel probes could become stronger fodder for Democratic opposition.
It's conceivable that the Mueller probe could wind up in the justices' laps on some crucial point of law—and it's Kavanaugh's position that chief executives, while in office, should be exempt from all criminal and civil investigations. In a 2009 law-review article, Kavanaugh wrote: "Even the lesser burdens of a criminal investigation—including preparing for questioning by criminal investigators—are time-consuming and distracting. Like civil suits, criminal investigations take the President's focus away from his or her responsibilities to the people. And a President who is concerned about an ongoing criminal investigation is almost inevitably going to do a worse job as President." (He felt otherwise in the late 1990s, when he worked for special counsel Kenneth Starr, investigating President Clinton's veracity and sexual behavior.)
So it seems plausible that these vulnerable red-state Democratic senators could well be on solid ground if they were to unite with the rest of their caucus and ask Kavanaugh whether he believes that presidents should be above the law. According to the Democrats who are calling for unity, that alone is the seminal issue of this era. Midterm elections are driven by base enthusiasm, and grassroots Democrats are stoked to turn out this fall (as recent primary and special-election turnouts have demonstrated). The red-state incumbents are likely to lose in November if they kill that enthusiasm by waving the white flag. Even if they wave it, Trump and the Republicans will keep attacking them anyway. The argument for united engagement is that it's better to gain voter respect than cave to a bully.
Paul Begala, the ex-Clinton adviser and current Democratic commentator, who's arguing for united engagement, said this week: "If you don't stand for something, you'll fall for anything." Referencing the red-state Democrats, he could just as easily have quoted Kris Kristofferson's famous lyrics: "Freedom's just another word for nothing left to lose."