The Only Republican Opposing Brett Kavanaugh
Representative Justin Amash is the sole member of Congress who's come out against the Supreme Court nominee, citing his record on privacy. Can he get Senator Rand Paul to join him?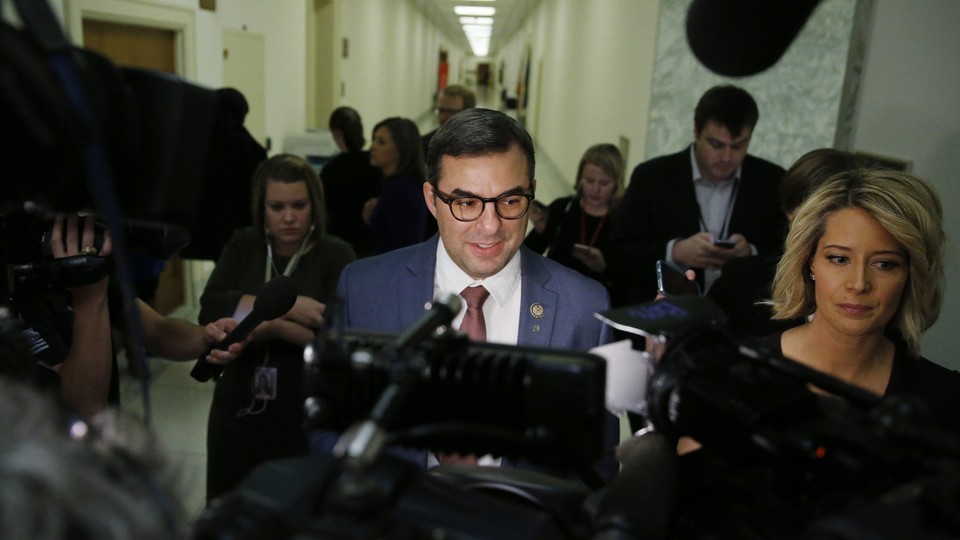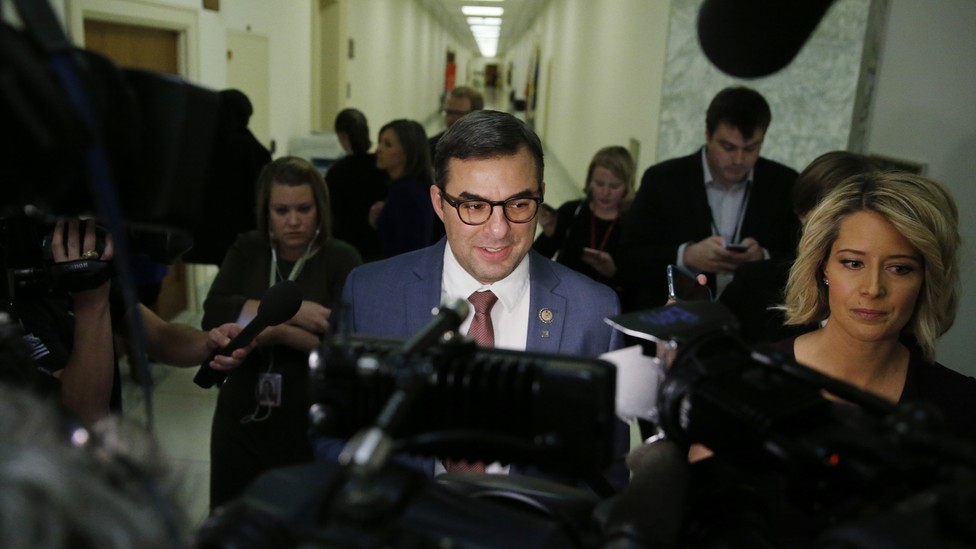 As a member of the House, Representative Justin Amash does not have a vote on Judge Brett Kavanaugh's nomination to the Supreme Court. But that hasn't stopped him from waging what is, so far, a lonely Republican campaign to defeat President Trump's pick to replace Justice Anthony Kennedy.
Amash, a fourth-term Michigan lawmaker who founded the congressional Liberty Caucus, immediately denounced Kavanaugh last week as "a disappointing pick," and he's kept up his criticism of a nominee he views as too deferential to executive authority and hostile to the Fourth Amendment's protections "against unreasonable searches and seizures."
"Privacy advocates must fight," Amash tweeted on Sunday. "There are many potential nominees with a conservative record on abortion, guns, and regulations. The only question is will the Senate confirm one who is really bad on the #4thAmendment, when so much is at stake in upcoming digital privacy battles."
Amash has taken issue with Kavanaugh's rulings in support of National Security Agency spying programs. The lawmaker's willingness to oppose Trump and the Republican leadership in Congress is not new; Amash regularly votes against GOP bills in the House, and unlike most in his party, he's willing to entertain the possibility of impeaching Trump if the president were to pardon himself in the Russia investigation.
But Amash's campaign against Kavanaugh is noteworthy for its isolation: Out of 287 elected Republicans in Congress, he appears to be the only one to vocally oppose the president's nominee. Kennedy's retirement and a quickly leaked list of finalists to replace him spawned a two-week debate on the right over Kavanaugh and three other contenders, Judges Amy Comey Barrett, Raymond Kethledge, and Thomas Hardiman.
Conservatives like Senator Ted Cruz of Texas and activist Erick Erickson questioned whether Kavanaugh would end up disappointing them on the high court, pulling for Barrett instead. They cited rulings in which he narrowly—rather than broadly—ruled against the Affordable Care Act and abortion rights. Once Trump announced his pick, however, the party overwhelmingly fell in line behind Kavanaugh, leaving Amash to oppose him on his own. "By any measure, Judge Kavanaugh is one of the most respected federal judges in the country," Cruz said. "He has over 300 published opinions, with a strong record of defending the Second Amendment, safeguarding the separation of powers, reining in the unchecked power of federal agencies, and preserving our precious religious liberties."
Party unity is especially key to this process, because unless cancer-stricken Senator John McCain of Arizona makes an unexpected return to Washington in the coming weeks, a single Republican defection would doom Kavanaugh's nomination. Democrats have targeted Senators Susan Collins of Maine and Lisa Murkowski of Alaska because of their support for abortion rights, and while they have not vowed to support Kavanaugh, they have made positive initial comments about his qualifications.
They are not expected to oppose him on Fourth Amendment grounds, however. Amash's challenge, then, will be to persuade either of his two main Senate allies in the privacy fight, Rand Paul of Kentucky or Mike Lee of Utah, to take up the cause. (Amash was unavailable for an interview for this story, his office said.)
Paul has already signaled his vote may be up for grabs, telling Fox News he is "concerned about Kavanaugh." Like Amash, he compared the judge unfavorably to Justice Neil Gorsuch, the president's pick to take the late Justice Antonin Scalia's seat on the Supreme Court.
"I am worried, though, and somewhat disappointed that perhaps Kavanaugh will cancel out Gorsuch's vote on the Fourth Amendment," Paul said Sunday. The Kentucky senator cited Kavanaugh's concurrence in a 2015 case upholding the constitutionality of the NSA's warrantless collection of telephone metadata. "In my view," Kavanaugh wrote, "the government's metadata collection program is entirely consistent with the Fourth Amendment."
He added that the "critical national security need" demonstrated by the government "outweighs the impact on privacy occasioned by the program."
Paul, who has tried to filibuster legislation reauthorizing the NSA spying programs, said on Fox, "I disagree completely.
"There are 10 amendments listed in the Bill of Rights," he continued, "and so the Fourth Amendment is one of them. So we're already down one. Let's see how he does on the other nine." Paul said he would have "a frank discussion" with Kavanaugh about privacy rights when he met with him.
Lee, who was briefly considered for the Court seat himself, doesn't seem as rich a target as Paul. He has praised Kavanaugh and said he looked forward to "hopefully voting to confirm him" in the fall. Asked whether the senator shared Amash's concerns about the judge's record on the Fourth Amendment, Lee spokesman Conn Carroll told me: "Senator Lee is still reviewing Judge Kavanaugh's 4th amendment decisions and will have an opinion on them in time for Judge Kavanaugh's confirmation hearing."
Then again, Paul might not be gettable for Amash either. Paul voted against Trump's nominee to lead the CIA, Gina Haspel, over her involvement in the Bush-era torture program. But he has also threatened to oppose Trump policies or nominees and then reversed himself, most notably when he voted in favor of CIA Director Mike Pompeo's elevation to secretary of state after criticizing the pick for weeks.
In Kavanaugh's case, Paul has said he is merely undecided—not opposed. And given how close he has tried to stay to Trump on other issues, he seems inclined to support the president's second nominee to the Supreme Court. Without his vote, Amash's uphill fight against Kavanaugh would become yet more solitary—and more futile.