Jeff Flake Hints at the T-Word
The retiring Arizona senator criticizes President Trump like no other Republican. On Thursday, he accused the commander in chief of "giving aid and comfort to an enemy of democracy."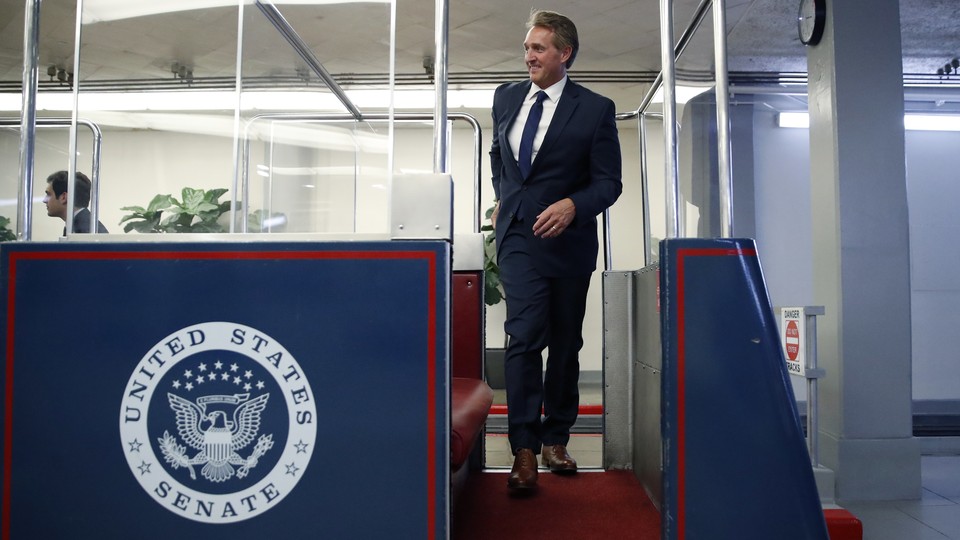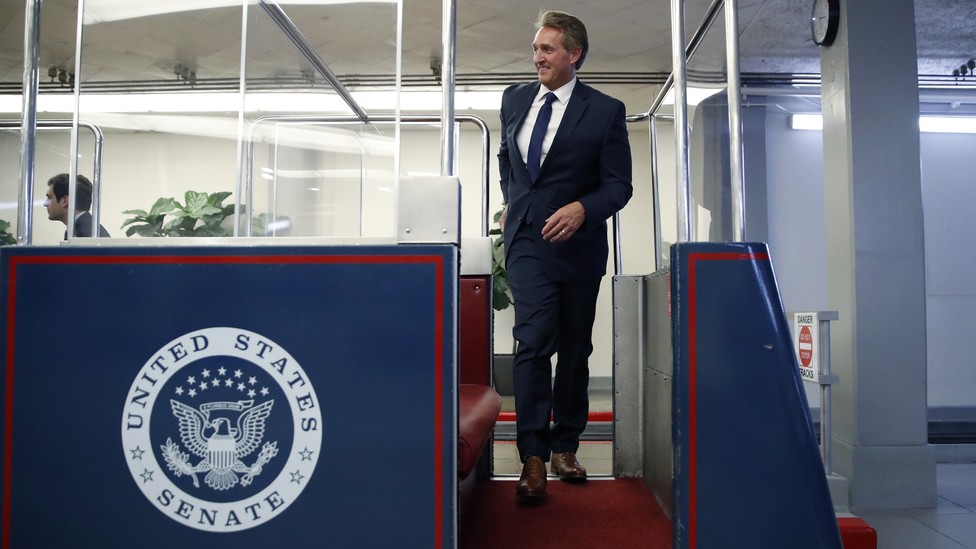 Eighteen months into Donald Trump's tumultuous tenure in the White House, and days into a ferocious public backlash against Trump's meeting with Vladimir Putin in Helsinki, Jeff Flake stands alone among the president's Republican critics in the Senate.
Bob Corker, who once likened Trump's White House to an "adult day-care center," vacillates between defiance and deference. Ben Sasse keeps his occasional barbs confined mostly to Twitter. The president's vanquished GOP rivals—Marco Rubio, Ted Cruz, Rand Paul, and Lindsey Graham—have, apart from the occasional spat, returned to the fold. Susan Collins and Lisa Murkowski revolted on health care, but they backed Trump on taxes and judges, and their public criticism is more restrained. John McCain, Trump's chief tormenter in 2017, now lashes the president only from afar, his rhetorical reach limited by a twilight fight with brain cancer.
Flake, however, calls out the president in an entirely different tone than his fellow GOP skeptics. He has given voice to concerns about Trump's aptitude and motives that most Republicans will whisper only in private.
The Arizona senator's outspoken turn against the president began in a moment of political freedom: Flake announced last October that he would not seek reelection this fall and did so with a broadside on the Senate floor against what he called "the daily sundering of our country." He is the exception that proves the rule in Republican politics—a senator who escalated his fight against the president only after liberating himself from its inevitable electoral consequences.
While Flake has largely voted with Trump on major policy issues since that time, his criticism of the president has continued in that vein. But in the days since Trump stood alongside Putin and appeared to side with the Russian president over America's own intelligence community, his critique has taken on a new level of urgency. The retiring Republican is now characterizing the president in language that even some Democrats dare not use.
On Thursday, Flake leveled his harshest attack yet on Trump, describing his press conference with Putin in Helsinki as "truly an Orwellian moment," in which the president "failed to summon reality in the face of a despot in defense of your country." Flake raised the question of what he called "the dark mystery" surrounding Trump—a reference to suggestions that Putin may have compromising information on the president that is now having a tangible impact on U.S. foreign policy.
"The findings of our intelligence community on the matter of Russian aggression are not matters of opinion, no matter how powerful and strong Putin's denial," Flake said. "To reject these findings, and to reject the excruciating specific indictment against 12 named Russian operatives in deference to the word of a KGB apparatchik is an act of will on the part of the president."
"That choice," he continued, "now leaves us contemplating the dark mystery: Why did he do that? What would compel our president to do such a thing? Those are questions that urgently beg for an answer, and it is our job to find that answer."
Flake then went even further, invoking the constitutional definition of treason and coming ever so close to accusing a president in his own party of being a traitor to the country.
"What isn't a mystery is that by choosing to reject object reality in Helsinki," he said, "the president let down the free world by giving aid and comfort to an enemy of democracy. In so doing, he dimmed the light of freedom ever so slightly in our country."
The immediate context for Flake's speech was a bipartisan resolution that he and Senator Chris Coons of Delaware had drafted to reaffirm the Senate's support for the U.S. intelligence community's findings on Russian interference and for Special Counsel Robert Mueller's ongoing investigation. They were seeking unanimous consent for a quick vote Thursday afternoon, but they met opposition from Republican Senators Rand Paul of Kentucky, who derided the move as an example of "Trump derangement syndrome," and John Cornyn of Texas, who mocked it as "purely symbolic."
"The Senate needs to speak here," Flake said. "Passing this resolution will let our constituents, the administration, our allies, and our adversaries know that here in the Senate we do not entertain the deceit of dictators.The truth is, Russia interfered in our elections in 2016 and these efforts continue."
The Senate did take up a resolution urging Trump not to accede to Putin's request for Russian officials to interview the financier Bill Browder and the former U.S. ambassador to Russia Michael McFaul. And Senate Majority Leader Mitch McConnell said the chamber should hold hearings on a broader package of sanctions against Russia.
Only McCain, who called Trump's Helsinki meeting "one of the most disgraceful performances by an American president in memory," has come close to matching Flake's criticism. But even Arizona's senior senator has not questioned the motive behind Trump's acquiescence to Putin. McCain and Flake are linked not only by state, but also by their political circumstance: Neither will face the voters again, and so neither must contend with a Republican base that is resolutely behind the president. The only other GOP senator with the same freedom is Corker, the Foreign Relations Committee chairman who, after a rapprochement this spring with the president, has lately renewed his criticism of Trump's policies toward trade, NATO, and Russia.
As my colleague David Graham reported Thursday morning, most other Republicans in the Senate, after initially voicing dismay at Trump's performance, quickly accepted his Wednesday clarification that he misspoke alongside Putin. Flake did not. He made no mention of the president's clean-up attempt, and he implicitly called out those who used it as an excuse to move on. "This is not a moment for spin, deflection, justification, circling the wagons, forgetting, moving on to the next news cycle, or for more of Orwell's doublespeak," he said. "No, when the American government offers an onslaught on unreality, it puts the whole world at risk."
Flake's willingness to confront Trump rhetorically has heartened some Democrats but frustrated many others. They see a senator who takes comfort in speaking but refuses to act, too reluctant to use the source of power he'll relinquish next year—his vote. Flake has threatened to hold up legislation and nominations in the past. But he has folded easily, first when he supported the Republican tax bill in December in exchange for an immigration commitment that never materialized, and more recently when he held up judicial nominations only to relent in exchange for a nonbinding vote on trade.
"We need more from Republicans now," Senator Bernie Sanders of Vermont said shortly before Flake spoke on the floor. "It is time for the Senate to rein in the president's dangerous behavior." He warned that without concrete action, "all of their fine-sounding words of concern become meaningless."
Democrats and GOP defectors outside the Senate have urged Flake to withhold his vote on Trump's Supreme Court nominee, Judge Brett Kavanaugh, or even switch parties to deprive Republicans of their narrow Senate majority for the remainder of the year. Flake laughed off the suggestion that he should defect to the Democrats, reminding a Politico reporter who asked him about it that he literally wrote a book on how conservative he is last year.
On Thursday afternoon, Flake readily acknowledged that his resolution would do nothing to rein in Trump. "Yes, it's symbolic," he said. "And symbolism is important."
His argument all along has been that a president's words matter, that tone matters. And as Flake makes his sharp-tongued but largely rhetorical stands against Trump, he's betting, with dubious chance at success, that his own words can matter, too.