How Russia Persecutes Its Dissidents Using U.S. Courts
Russia's requests to Interpol for Red Notices—the closest instrument to an international arrest warrant—against Kremlin opponents are being met with increasing deference by the Department of Homeland Security.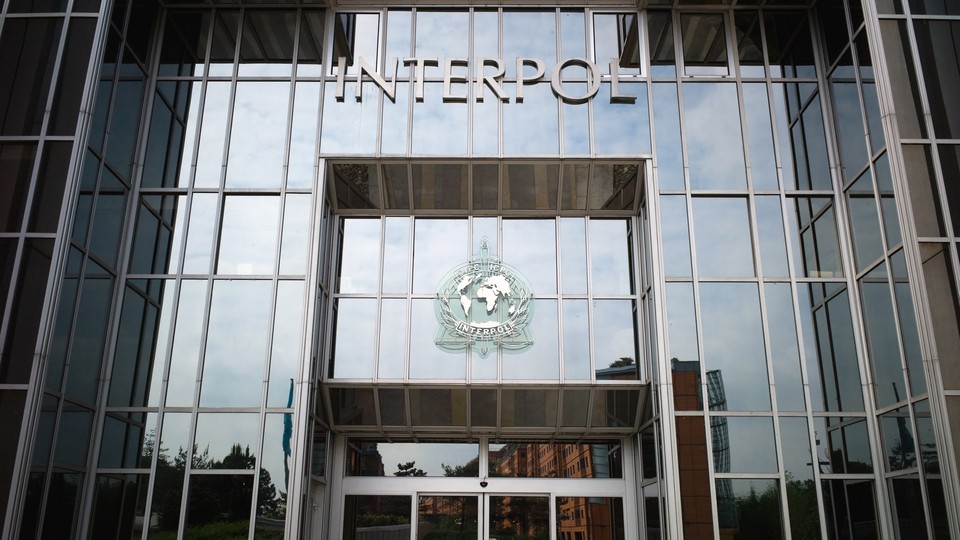 Updated at 11:30 a.m. ET.
A little more than six years ago, Sasha was on his way to a meeting of Russia's pro-democracy Yabloko Party in the tiny Russian republic of Kalmykia when he was pulled into an unmarked black car by two plainclothes police officers. He was interrogated for three days about his prior activity with the party, his lawyer told me, and his captors demanded that he sign a confession that mentioned something about a kidnapping. But they wouldn't tell him what his crime was.
After seven months in prison, Sasha—whose full name is being withheld by The Atlantic at his lawyer's request—pleaded guilty without knowing why. In court weeks later, Russian prosecutors revealed the substantive case against him for the first time: Sasha, along with two others, had been accused and convicted of kidnapping someone, holding him in an apartment, and beating him repeatedly with a hammer. Sasha maintains that he never learned who the alleged victim was—no photo was ever submitted into the criminal record. But he served a brief prison sentence and was released on probation in December 2012, at which point he fled to the United States on  a B-2 tourist visa and applied for asylum at the end of 2013.
In October 2017, Sasha and his wife were driving to work in Atlanta when they were pulled over by Immigration and Customs Enforcement officers. They told Sasha that the International Criminal Police Organization, or Interpol, had issued a Red Notice at Russia's behest, alerting authorities that he had violated the terms of his probation by traveling to the U.S. years earlier.
Much attention has been paid to Russia's interference in the 2016 presidential election, and the fear of a repeat in the upcoming midterms. Less examined, however, has been Russia's abuse of Interpol and the American court system to persecute the Kremlin's rivals in the United States—a problem that the Atlantic Council described in a recent report as another form of "interference" by Russia. Russia's requests to Interpol to issue Red Notices—the closest instrument to an international arrest warrant in use today—against Kremlin opponents are being met with increasing deference by the Department of Homeland Security, according to immigration attorneys and experts in transnational crime and corruption with whom I spoke.
Interpol cannot compel any member country to arrest an individual who is the subject of a Red Notice, according to its guidelines, and "the United States does not consider a Red Notice alone to be a sufficient basis for the arrest of a subject because it does not meet the requirements for arrest under the 4th Amendment to the Constitution," according to the Justice Department. But the Department of Homeland Security and U.S. immigration courts are effectively facilitating "backdoor extraditions," as one immigration attorney said, in their reliance on Red Notices as a basis for detention and, ultimately, removal.
Brendan Raedy, a spokesman for ICE, told me that it is the agency's "responsibility to carefully vet any alleged Russian criminal violator that has come to the United States, and make the very best and most educated determination of whether the individual is indeed a criminal: Do they present an ongoing threat, are they fleeing criminal prosecution, or have they lied about their criminal activity in order to gain entry to the United States?" Raedy noted that ICE has attaché offices who vet "criminal/fugitive leads to ensure that the individual in question is a true criminal, and not simply a political target of those in power."
"Only after completing this process and determining which individuals are clearly the targets of legitimate criminal investigations do we then prioritize which of these criminals to pursue for either criminal investigation or deportation," Raedy said. LaTonya Turner, Interpol Washington's communications chief, declined to comment.
But Michelle Estlund, a criminal defense attorney who focuses on Interpol defense work, told me, "There is a disconnect between our decision to not have an extradition treaty with Russia and the decision to allow Russia to circumvent the extradition process using Red Notices. The effect is that we are removing people to countries that we would not normally extradite to."
Sasha was initially detained on the basis of overstaying his visa, according to court records. DHS ultimately argued that he was not eligible for asylum because he had been convicted of "a particularly serious crime" in Russia—one that Sasha and his lawyer had argued was politically motivated, as criminal charges in Russia so often are. Despite an immigration judge's finding that Sasha "testified credibly" with regard to his fears of political persecution, the court denied his request for asylum and ordered him "removed to Russia" in early June. He is still in detention, and his lawyer, Danielle Claffey, is fighting the decision.
"It was the worst asylum denial I have ever seen in the 10 years I have been doing this," Claffey told me. Louise Shelley, the founder and director of the Terrorism, Transnational Crime, and Corruption Center at George Mason University who testified in the case as an expert witness, called the decision "a travesty."
"For all the years that I studied and worked with Russian experts within the law enforcement apparatus and the human rights community, Kalmykia was known as one of the locales with the most abusive of the legal systems," Shelley wrote in her expert testimony for Sasha's case. "It was particularly harsh on members of the Yabloko party that represented a political opposition and a voice of integrity in Russian politics … The liberal Yabloko party of which [Sasha] is a member has reported multiple cases of intimidation, threat and use of physical force, fabrication of criminal cases against its members, and even the outright murders of their activists."
Two other Russian nationals currently being detained in the U.S. on the basis of a Red Notice argue that DHS and the immigration courts have relied exclusively on Russian charges—which they contend are politically motivated—to keep them detained and deny them bond hearings.
Alexey Kharis, the head of the construction company ZAO Rosdorsnabzhenie, based in the Russian port city of Vladivostok, fled to the U.S. from Russia in 2013 and applied for asylum after the Kremlin seized his private assets and bankrupted his company in a practice known as corporate raiding. This has been "the norm in Russia since the beginning of Putin's reign," according to the Atlantic Council. Then, in 2015, Russian authorities accused Kharis and his business partner, Igor Borbot, of massive fraud and put out a Red Notice for their arrests.
Kharis' B-2 tourist visa was revoked in March 2017 because of the Red Notice: Homeland Security's U.S. Citizenship and Immigration Services determined that there was "reason to believe," based on the Russian accusations against him, that Kharis had committed money laundering, according to a copy of the decision letter that I obtained. Still hoping for asylum,  he traveled to the DHS asylum office in August 2017 to receive a formal decision. He was immediately detained by ICE because he had overstayed his visa, according to court records. He has been held at the West County Detention Facility in Richmond, California, ever since.
"ICE can technically detain anyone in proceedings," said an immigration lawyer who requested anonymity because he was not authorized to speak with reporters. "However, it's extremely unusual for them to do so in the case of a mere visa overstay."
Under Donald Trump's administration, ICE has been cracking down on visa overstays. Meanwhile, the Justice Department  and DHS have relied on Red Notices to "bulk out their list of so-called criminals to arrest and remove" since at least June 2015, according to Ted Bromund, an expert witness in the Kharis case who works at the Heritage Foundation. "Some of these individuals are indeed criminals, and fully deserve to be deported," Bromund told me. "But as the abuse of Interpol by Russia and other nations has increased, DHS and DOJ have more and more put themselves in the position of doing Vladimir Putin's dirty work for him by using his abusive Red Notices as the basis for arresting dissidents and businessmen who fled to the U.S. after they fell foul of Putin's regime."
In Kharis's case, DHS used the Interpol Red Notice requested by Russia and a letter from the Federal Security Service of the Russian Federation to argue that Kharis is an "international fugitive" who presents a serious flight risk. In other words, court filings show that DHS placed significant weight on the Red Notice, despite Russia being "the single most significant abuser of the Interpol system," Bromund said.
"A Red Notice has no independent evidentiary or probative value," Bromund wrote in his testimony. "The fact that there was, as of June 4, 2015, a Red Notice on Mr. Kharis proves only that the Russian Federation filled out the appropriate Interpol form." In its brief on appeal to keep Kharis detained, DHS claimed that "the validity of the arrest warrant is supported by both an INTERPOL Red Notice and a letter from the Russian government," according to the court filing. But Interpol "makes no independent effort to assess the validity of an arrest warrant," Bromund noted. "All it requires is a statement that a valid arrest warrant exists."
Borbot, Kharis's former business partner, speaking to me from a detention center in New Jersey, told me his last bond hearing was more than two years ago. Like Kharis, Borbot had fled to the U.S., where he was arrested in 2016 for overstaying his visa and kept in detention because of the Red Notice. "I've shared a cell with people who were charged with things like assault, or were arrested on weapons charges, who got bond hearings. I've never committed a crime in the U.S., and even in Russia it was just a preliminary investigation," he said. "I was never convicted of anything." In early May, after submitting materials to a New York immigration court challenging the merits of his Red Notice and requesting a bond hearing, Borbot was told that the court was "unable to adjudicate" the criminal charges he faced in Russia, "and it would be inappropriate for the court to attempt to do so." The immigration judge added that the court was "unable to make a finding as to the validity of the respondent's INTERPOL notice."
Borbot's Russian attorney traveled to the United States to testify in his immigration case in 2016, but Russian investigators compelled him—and, subsequently, Kharis's attorney in Russia—to sign a declaration prohibiting them from disclosing the details of the Russian investigation to any third party under the threat of criminal prosecution, according to Kharis's Interpol attorney, Yuriy Nemets.
Russia's courts are not known for their transparency or rule of law. Accusations of corruption and bribery are rampant, and fraud, tax evasion, money laundering, and even murder are common charges leveled against political dissidents like Sasha and wealthy business owners like Kharis and Borbot, who have been subjected to corporate raiding.
Perhaps the best-known examples of this phenomenon since Putin came to power are the Russian opposition leader Aleksey Navalny; Mikhail Khodorkovsky, the CEO of Yukos, the Russian oil giant; and Bill Browder, the co-founder of Hermitage Capital Management—one of those Putin asked be returned to Russia for questioning during his July 16 summit with Trump in Helinski.
In 2013 and 2014, Navalny was convicted of embezzlement and money laundering in trials widely perceived as attempts to silence him and dampen his political ambitions. Navalny appealed the embezzlement conviction, and the European Court of Human Rights later declared that his right to a fair hearing had been violated. But as he was gearing up for a presidential bid against Putin in 2016, Russia's supreme court subjected Navalny to a retrial. He was again found guilty, putting his presidential bid in jeopardy because candidates cannot have felony convictions. In October, Europe's top human-rights court ruled that Navalny's conviction for money laundering in 2014 had been "arbitrary and manifestly unreasonable," and ordered Russia to pay him compensation.
Khodorkovsky, the oil tycoon who was once one of the richest men in Russia, was arrested in 2003 and charged with fraud and money laundering aftre a televised meeting with Putin in which he accused high-level Kremlin officials of corruption. The case was widely denounced as politically motivated, and, after nearly a decade in prison, Amnesty International declared him a prisoner of conscience. In 2015, just two days after calling a revolution in Russia "inevitable and necessary," Khodorkovsky was charged in absentia with involvement in two murders.
Pavel Ivlev, a Russian lawyer who advised Yukos and Khodorkovsky and fled to the U.S. as a refugee in 2005, wrote in expert testimony for Kharis  that the case brought against him in Russia was "not different from the politically motivated cases against those who have challenged the Russian ruling elite and its interests in the past."
Browder, a London-based financier, was charged by Russia in absentia with crimes such as tax evasion and murder after his lawyer, Sergei Magnitsky, blew the whistle on a tax-fraud scheme implicating the Kremlin. Magnitsky was subsequently arrested and put in prison, where he died after what Browder says were months of torture. Browder had been the largest portfolio investor in Russia during the early 2000s before he fell out of favor with the Kremlin over his criticism of Russia's lax corporate-governing standards.
Interpol is not blind to the rising number of politically motivated requests it receives, not only from Russia but also from Turkey, Venezuela, and other countries with little respect for the rule of law. Interpol has repeatedly rejected Russian requests to issue a Red Notice for Browder, deeming them politically motivated. But that hasn't stopped Russia from issuing less formal "diffusion" notices, which resulted in Browder's brief detention in Madrid in May.
"For the U.S. government and the courts to effectively honor Red Notices through the backdoor is really a terrible injustice that needs to be fixed," Browder told me in an interview on Monday.
Michael McFaul, the former U.S. ambassador to Russia whose return was also requested by Putin in Helsinki,  said after the summit that he wants Trump "to state emphatically that this would be outrageous behavior to go after us—and to do it proactively, now, so that we don't have to be litigating this when I'm, you know, sitting in Kiev or Lisbon or somewhere and I get a Red Notice."
In essence, Russia has figured out how to use Interpol and U.S. immigration courts to go after Kremlin rivals. But it doesn't end there. Anders Aslund, a resident senior fellow at the Atlantic Council who worked as an economic adviser to the Russian government from 1991 to 1994, believes Russia's efforts to target its rivals abroad goes well beyond Red Notices and to the heart of the U.S. judicial system. "In recent years, Kremlin proxies have exploited U.S. courts by pursuing superficially legitimate lawsuits," Aslund wrote in a recent report, in order to perpetrate "global harassment campaigns against the Kremlin's enemies" and "enrich themselves through bad faith claims made possible by the Russian state's abuse of disfavored individuals and their businesses."
One such case involving the U.S. federal courts, he and other legal experts say, stands out: In August 2015, the Central Bank of Russia revoked the operating license of the privately owned Probusinessbank, seized its assets, and forced it into bankruptcy. Although the central bank had deemed Probusinessbank financially sound just two months before it was seized, the Russian Deposit Insurance Agency (DIA) was appointed as Probusinessbank's temporary administrator—and immediately began dividing up its assets to Kremlin-friendly institutions such as B&N Bank.
Probusinessbank's co-owners, Sergey Leontiev and Alexander Zheleznyak, fled to the U.S. in 2015 after the bank was raided, but the DIA filed two applications for judicial assistance from the Southern District of New York to obtain discovery on them. Leontiev moved to quash the subpoenas, arguing that they had been orchestrated by two sanctioned Russian oligarchs close to the Kremlin, but the court denied his motion. While acknowledging its concern "about the legitimacy of these requests," which was "heightened by the involvement of two sanctioned individuals," the court reiterated that "the only issue before the district court is discovery; the underlying litigation rests before a foreign tribunal."
Estlund, the attorney who focuses on Interpol defense work, said, "The problem is that our courts act like, and think, that they are operating on the same type of playing field as the Russians. But they're not—the system there is completely different from here. And when the courts are properly responding to what appears to be a legally authorized request for assistance with discovery, often what they're doing is assisting with an extremely corrupt court proceeding."
A lawyer who has been following this phenomenon closely, and who requested anonymity because he was not authorized to speak with the press, put it this way: "The Russians have figured out how to weaponize this. We have this tremendous system of justice here which isn't equipped to address nonjudicial questions, like 'Is this litigant seeking to abuse our entire judicial system?'"