How Kavanaugh's Last Confirmation Hearing Could Haunt Him
Two Democrats feel that the Supreme Court nominee misled them about his awareness of terror-detainee policy during the Bush administration.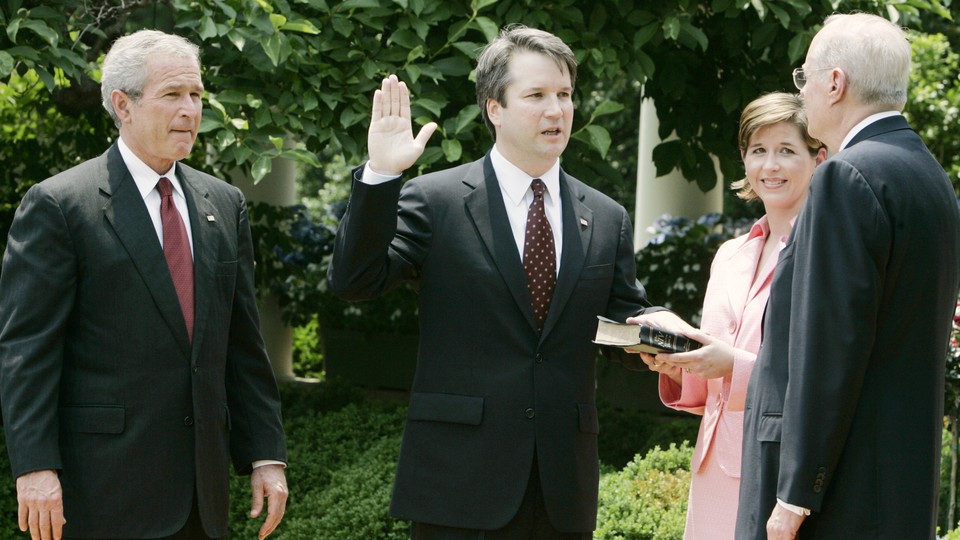 The last time Brett Kavanaugh appeared before the Senate Judiciary Committee, in May 2006, the country was slowly learning about some of the extraordinary steps the George W. Bush administration had taken as part of its anti-terrorism efforts—from warrantless wiretapping to torture of detainees.
Kavanaugh had spent five years in the White House, and was nominated for a lifetime appointment on the D.C. Circuit Court of Appeals. Democratic senators wanted to know what he knew about those controversial programs. The answers that Kavanaugh gave could complicate Senate approval of his nomination to the Supreme Court.
Although Kavanaugh is a favorite for confirmation, Republicans hold a razor-thin margin in the Senate. Before Trump nominated Kavanaugh, Senate Majority Leader Mitch McConnell warned that he might be tough to confirm because of his long written record, ripe for critics to pick over. Although Kavanaugh's views on Roe v. Wade have received the most attention so far, but Bush-administration policy on detainees could be another bruising topic. The Judiciary Committee will review an enormous set of documents from the Bush White House that could settle accusations from Democratic senators that Kavanaugh misled them about his role in detainee policy during his prior appearance. The issue offers another example of how the abuses and overreaches of the Bush era continue to haunt those involved.
Following the September 11 attacks, government officials wrote and approved memos justifying interrogation techniques for terror suspects that ran afoul of U.S. and international laws against torture. The Bush administration also secretly authorized warrantless surveillance of U.S. citizens under the top-secret Terrorist Surveillance Program. Bush attorneys argued that both approaches were legal under the president's "inherent" authority as commander in chief, and the limits of executive authority are among the most important legal issues the high court deals with. Legal scholars have already focused on Kavanaugh's vision of executive power as unusually expansive.
After working on Bush's legal team during the 2000 election, Kavanaugh joined the White House, where he worked first in the White House counsel's office and then as the staff secretary, a crucial gatekeeper role. In 2003, Bush nominated him to the powerful D.C. Circuit court, but his nomination stalled. Three years later, Kavanaugh got another chance. During his confirmation hearings, Democratic Senators Patrick Leahy and Richard Durbin quizzed Kavanaugh on what he knew about administration decisions regarding the war on terror, and especially on the treatment of detainees. Senators were feeling burned, because they had in 2003 confirmed Jay Bybee, a former Bush Justice Department official, to a lifetime judgeship only to learn later of his role in the authorship of the so-called torture memos justifying coercive interrogation of individuals in U.S. custody.
During the 2006 hearing, Durbin asked Kavanaugh about the judicial nomination of William Haynes, who had also been involved in detainee decisions as the general counsel at the Pentagon. (Haynes was never confirmed.) "At the time of the nomination, what did you know about Mr. Haynes's role in crafting the administration's detention and interrogation policies?" Durbin asked.
"Senator, I did not, I was not involved and am not involved in the questions about the rules governing detention of combatants or—and so I do not have the involvement with that," Kavanaugh replied.
Leahy asked Kavanaugh about the warrantless wiretapping program, which Kavanaugh repeatedly said he'd learned of from news reports. Leahy also asked about the harsh treatment of detainees.
Leahy: What about the documents relating to the administration's policies and practice on torture; did you see anything about that, or did you first hear about that when you read about it in the paper?

Kavanaugh: I think with respect to the legal justifications or the policies relating to the treatment of detainees, I was not aware of any issues on that or the legal memos that subsequently came out until the summer, sometime in 2004 when there started to be news reports on that. This was not part of my docket, either in the Counsel's Office or as Staff Secretary.
Kavanaugh was confirmed later that May. But the following summer, news reports cast some doubt on his answers during the hearing. In a Pulitzer Prize–winning story on June 25, 2007, then–Washington Post reporters Barton Gellman and Jo Becker said Kavanaugh had argued to other Bush officials that Justice Anthony Kennedy, for whom he had clerked, would likely not accept the idea of indefinite detention of U.S. citizens without lawyers.
The following day, NPR added more detail: "In fact, in 2002, Kavanaugh and a group of top White House lawyers discussed whether the Supreme Court would uphold the Bush administration's decision to deny lawyers to American enemy combatants. Kavanaugh advised the group that the Supreme Court's swing voter, Justice Anthony Kennedy, would probably reject the president's assertion that the men were not entitled to counsel."
Durbin told NPR he felt "perilously close to being lied to" by the nominee, adding, "I will just say that he might have decided that he could split the difference here and give me an answer in the negative. But he had to know he was misleading me and the committee and the people who were following this controversial nomination." He also sent a letter to Kavanaugh asking about the apparent discrepancy:
I request that you provide the Senate Judiciary Committee with an explanation for this apparent contradiction. In addition, I request that you disqualify yourself in all pending and subsequent cases involving detainees and enemy combatants. Your lack of candor at your nomination hearing suggests you cannot approach these cases with impartiality and an open mind.
Leahy, meanwhile, sent a letter to Attorney General Alberto Gonzales asking him to investigate whether Kavanaugh had lied. "False testimony by any witness is troubling and undermines the Senate's ability to fulfill its constitutional duties on behalf of the American people," Leahy wrote. "But my concern is heightened because the subject matter of the possibly false testimony was highly controversial and played a critical role in many Senators' consideration of Mr. Kavanaugh's appointment to one of the courts most involved in reviewing those very same detention policies."
In March 2008, the Justice Department wrote back to Leahy, saying the public-integrity section had "reviewed this matter and determined there was not sufficient basis to initiate a criminal investigation." (In a strange coincidence, the person who signed the letter was Brian Benczkowski, who was last week confirmed to lead the DOJ's criminal division despite controversy over his representation of a Russian bank.) Kavanaugh continued to sit on judicial panels that considered detainee-related questions.
And nothing else happened. Although two senators were accusing a federal judge of some degree of lying, they had little remedy. Impeachment of federal judges is rare and usually reserved for the most obvious crimes, and the trick with lifetime appointments is that once senators vote, they don't usually get a chance to revisit old questions.
Until now. Kavanaugh's Supreme Court nomination means Durbin and Leahy, who are both still members of the Judiciary Committee, can reopen the matter. The day after Kavanaugh's nomination, Durbin tweeted his 2007 letter, saying, "I'm still waiting for an answer." Durbin declined an interview request, but during a committee hearing on Thursday, he mentioned the letter again. "He's going to get a chance to respond now, when he appears before this committee under oath, as to what he was trying to tell us, and what he actually did tell us when it came to this important issue," Durbin said. Leahy's office also declined an interview request. The White House declined to comment.
The key will likely be the documents that the Judiciary Committee receives pertaining to Kavanaugh, in what's expected to be the largest tranche of papers ever produced on any judicial nominee. Those papers could help clarify the 2002 meeting that the Post and NPR reported, as well as offer more indications of what Kavanaugh knew. Kavanaugh will likely tell senators that even if he consulted about Kennedy, he was not directly involved in crafting detainee policy. Democrats are likely to argue that Kavanaugh misled them, in that he suggested he wasn't aware of the policy discussions at all. Unhelpfully for Kavanaugh, the former Bush aide Karl Rove, who strongly supports the judge's nomination, told Neil Cavuto that as staff secretary, Kavanaugh was involved in almost all policy issues.
Assuming Durbin and Leahy do press Kavanaugh, he'll be only the latest public official to come under scrutiny for his role during the period of torture. But while plenty of officials have faced tough questions, few of them have actually seen their career halted. Haynes, the judicial nominee about whom Durbin asked Kavanaugh back in 2006, is a rare case of someone who was blocked.
Bybee remains on the federal bench. John Yoo, one of the authors of the Torture Memos, returned to his prestigious teaching post at the University of California, Berkeley's law school. John Brennan, who served in the Bush CIA, had hopes to become CIA director during the Obama administration, but initially withdrew from the running over liberal criticism of his role in torture. In the end, that was just a delay: He was nominated and confirmed to run the CIA during Obama's second term. During her confirmation hearings this spring, Gina Haspel, the current CIA director, faced tough questions over her administration of a CIA "black site" where torture occurred during the Bush era. In the end, however, she was confirmed, too, by a 54–45 vote.
If those cases offer any predictions, Kavanaugh will face some withering questions during his Senate hearings, but he still has a good chance at jumping from the Senate hot seat to the Supreme Court bench.