ICE Is Pressuring Separated Parents to Choose Deportation
Immigrants and lawyers say the agency is trying to "coerce or confuse" detainees into thinking deportation is the only way to get their kids back.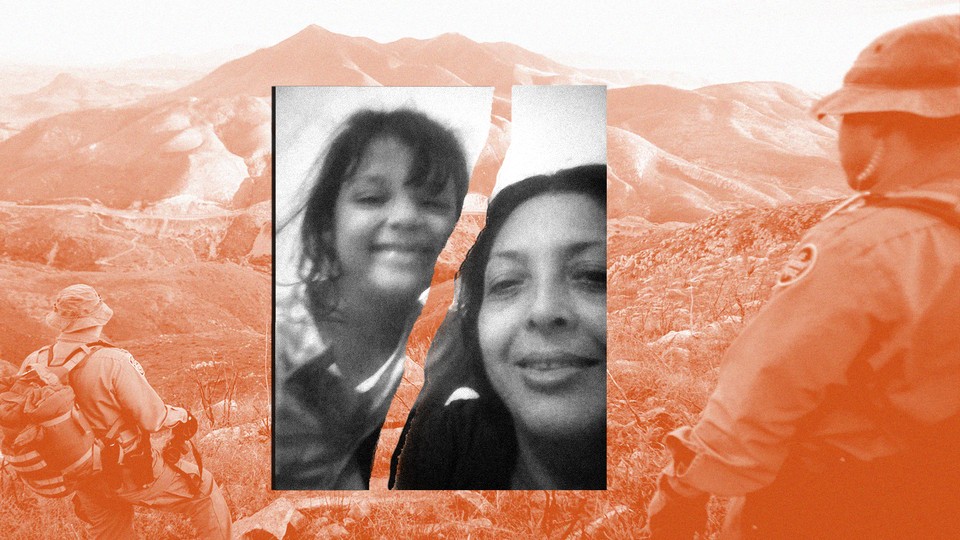 Updated on July 6, 2018 at 12:03 p.m.
Los Fresnos, Texas—Lilian is getting desperate. Locked inside the sprawling Port Isabel Service Processing Center, she has not seen her 5-year-old daughter in more than two weeks, and now deportation officers are offering a deal: Drop your asylum claim and agree to be deported, they say, and we'll let you see your daughter again.
On June 12, Lilian and her daughter, Victoria, spent the night in a chilly Border Patrol processing center after they crossed the border near Laredo, Texas. Two days later, because of the Trump administration's "zero tolerance" policy, agents took Lilian to a federal court, where she was convicted of illegal entry. Though she was sentenced to time served for the misdemeanor, by the time she was finished, a far more severe punishment was in motion.
While Lilian was in court, agents placed the 5-year-old Victoria in immigration proceedings of her own, and shipped her to a federal shelter near Miami. Now, inside the Port Isabel detention center, Lilian says agents have assured her that if she abandons her asylum claim and agrees to deportation, she will see her daughter as soon as she boards her flight to Honduras. But for Lilian, worse than the agony of separation is the fear that Immigration and Customs Enforcement will renege on its promise and instead deport her alone. "I don't believe them," she told me, and she has already rebuffed the agents twice. Her fear of permanent separation is not unfounded: John Sandweg, a former acting director of ICE, told my colleague Priscilla Alvarez that permanent separation is a real possibility.
Federal officials face a court-ordered deadline to reunite parents with their children. In late June, a judge in California ruled that all children, a group including Victoria, must be returned to their parents by late July. Department of Health and Human Services Secretary Alex Azar said Thursday that the agency would comply with the court order, adding that it is using DNA testing to expedite family reunification. On Friday, however, the Justice Department asked a federal judge to extend the deadlines.
This week, NBC News reported that immigration agents have begun asking separated parents to sign a paper called the "Separated Parent's Removal Form." The form presents a stark choice: be reunited with your child upon deportation, or be deported without your child and let them stay in the United States to fight their immigration case on their own. The form has been criticized for having incomplete Spanish translations, and the most crucial line of the form—"I am requesting to reunite with my child(ren) for the purpose of repatriation to my country of citizenship"—is only in English. The form "only applies to parents with a final order [of removal] and who are part of a specific class action suit. The form has absolutely nothing to do with those who have pending asylum claims," Jennifer Elzea, an ICE spokesperson, wrote in an email.
But ICE's claims are "misleading," said Sirine Shebaya, a D.C.-based immigration attorney with the civil rights group Muslim Advocates who recently met with Port Isabel detainees. Technically speaking, Shebaya explained, everyone who has crossed the border illegally has a final order of removal that is only vacated later if their asylum claim is successful. So ICE's statement "does not narrow down the pool in any meaningful way, and does not make it any less coercive," Shebaya said.
Gracie Willis, an attorney at the Southern Poverty Law Center, told me ICE's claims contradict what she's seeing at the agency's Folkston Processing Center, where she's representing at least four asylum-seeking detainees who have been asked to sign the form. Bridget Cambria, a Pennsylvania-based immigration lawyer, is representing four detainees scattered across Texas, New Mexico, and Arizona who have been asked to agree to deportation. A group of immigration lawyers who have interviewed more than 200 detainees at the Port Isabel detention center, where Lilian is, told me at least seven parents have been pressured to self-deport, though it is not clear if officers presented them with the Separated Parent's Removal Form.
In any case, Shebaya said, "reunification under the court order should be entirely separate from the question of removal." But ICE is "tying the two together."
After about a week in detention, Lilian took the first step toward asylum, participating in a screening that's known as the "credible-fear interview." In it, a federal officer probes the immigrant's story to determine whether that person has a credible fear of persecution or torture back home—enough to justify protection by the U.S. In a setback, Lilian failed the interview, though it does not mean her claim is over. Willis, of the Southern Poverty Law Center, explained that Lilian is "entitled to a review in front of [an] immigration judge" at this stage in the process. But, she said, "if your access to asylum is uncertain, and someone is saying, 'Sign here and you'll see your kid'… it's confusing, it's misleading." Shebaya argued that ICE is trying to "coerce or confuse" separated parents into thinking deportation is the only way to get their kid back, "when really all the parents have a right to be reunified under the court order."
Lilian told me that after she failed the credible-fear interview, an officer approached her and said, "Here is the deportation form you agreed to."
"I didn't want it, and I'm not signing it," Lilian replied. "He was upset that I wouldn't sign," she said, recalling that the agent explained "until I'm on that plane, I won't be able to see my daughter."
So far, Lilian has spoken to her daughter twice from jail. Where Victoria was once bubbly and talkative about "everything she did, all her games," Lilian can now barely pry out one-word answers from her daughter. Is she in school? Has she made friends? "Yes," Victoria tells her mom from government custody.
Over the scratchy jail phone line, Lilian sounded distant and tearful. She says she fled domestic violence in Honduras after police, and even a restraining order from the court, failed to keep her abusive partner away. But she said the separation from Victoria has been so traumatic she's reconsidering her decision to flee. "I want to be with you," Victoria said over the phone.
But on one point Lilian has not wavered. "Until I get my daughter," she said, "I'm not going."