This Isn't Dianne Feinstein's Democratic Party
The longtime senator from California is likely to win reelection. But the state's liberal, antiestablishment wing is already winning the future.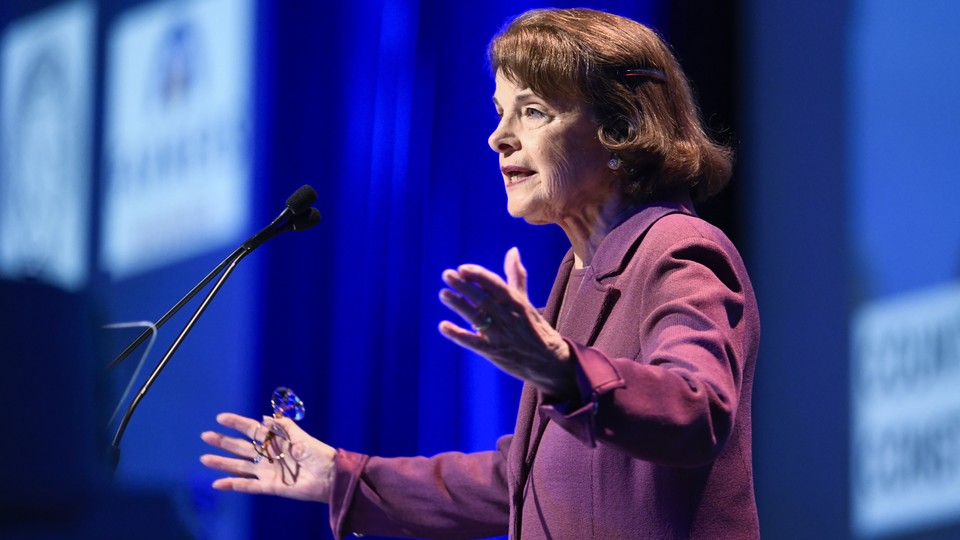 LOS ANGELES—If any proof were still needed that California is ground zero of the "Resistance"—not just to Donald Trump, but to establishment politics as usual—it came crashing along this week when the executive committee of the state Democratic Party endorsed Kevin de León, the comparatively obscure former leader of the state Senate, over Dianne Feinstein, the iconic 25-year incumbent, for the U.S. Senate.
Never mind that Feinstein crushed de León in the state's "jungle primary" last month, winning 2.9 million votes to his 804,000 in a system that sends the top two finishers to the general election, regardless of party affiliation. Never mind that the activist membership of the party committee and de León's labor-union base do not reflect the broader Democratic electorate, or that Feinstein remains the prohibitive favorite to win in the fall. The state party's liberal, antiestablishment wing is already winning the future.
"This is Kevin de León's Democratic Party," says Dan Schnur, a veteran political strategist who has worked for Republicans from John McCain to former Governor Pete Wilson, but now considers himself an independent. "The only question is how much longer Dianne Feinstein is allowed to remain part of it."
Over the past 20 years, California has become such a reliably blue territory that not a single Republican holds statewide office. And just as Arnold Schwarzenegger's sui generis ascendancy a decade ago obscured the Republican Party's inherent political and demographic weakness in the state, Jerry Brown's successful tour of duty in Sacramento has suppressed, or at least papered over, the underlying internal divisions in the state Democratic Party—divisions that have come sharply to the fore since Bernie Sanders's insurgent presidential campaign and Hillary Clinton's defeat in 2016.
Brown is leaving office this year at age 80, at the top of his game, with the patina of his 1970s reputation as a quirky nonconformist still intact (and still endearing to liberals). But his progressive streak is leavened by his pragmatic "canoe theory" of politics: paddle a little to the left, then a little to the right—an approach that has enabled him to work cooperatively with Republicans to tame the state's budget woes and spark its renewed economic growth.
"Brown's ascendancy has had the effect of keeping things from coming to the surface that might have come to the surface otherwise," says Raphael Sonenshein, the director of the Pat Brown Institute for Public Affairs at California State University, Los Angeles. "It's pretty extraordinary what he's been able to build off of in the last eight years, and it was very hard for him to do his first time around," when he served two terms as governor in the 1970s and early '80s. Back then, "he was seen in the vanguard of resistance to establishment politicians. He's somewhat post-ideological in a state and a country that is becoming far more ideological," Sonenshein says. "He's a Democrat who's been able to say either, 'No,' or 'Hold on,' to the Democratic base when he felt it was called for, and yet has not suffered cataclysmic political damage."
Feinstein has not been so fortunate. Last year, she sparked a firestorm of criticism—and inspired de León's challenge—when she called for "some patience" in hoping that Trump might grow more effective in the presidency. The brand of pragmatic centrism—pro-capital punishment, pro-cooperation with business and agriculture—that helped elect her in 1992 is no longer so much in sync with an increasingly younger, more diverse electorate. Just as Sanders's insurgency moved Clinton to embrace arguably the most liberal Democratic platform ever, de León's candidacy has already moved Feinstein on the issues: She now portrays herself as the best-qualified guardian to review Trump's picks for the Supreme Court, and she says she no longer supports the death penalty.
The party leadership's endorsement of de León was not altogether unexpected. At the state convention in February, he won 54 percent of the vote, just a bit shy of the 60 percent needed to win the party's backing in the primary. Last weekend, he received 217 votes from the executive committee, or 65 percent of the 333 votes cast. (Feinstein's forces acknowledged that she would not win the endorsement, but had hoped to block him from gaining it.)
Still, Feinstein beat de León by 30 percentage points in the June primary, winning every congressional district in the state, plus de León's own state Senate district. She has the backing of Brown, Barack Obama, her fellow Senator Kamala Harris, and Lieutenant Governor Gavin Newsom, who is running to succeed Brown. She turned 85 last month, but has shown remarkable resiliency. She has a war chest of some $7 million, compared with less than $1 million for de Leon. And the latest USC Dornsife/Los Angeles Times poll, released last month, showed her with double the support of de León among registered voters, 36 percent to 18 percent. (Almost 50 percent of respondents were still undecided, however.)
"The best thing she has in her favor is inertia," says Jack Pitney, a politics professor at Claremont McKenna College and a former Republican congressional-policy analyst. "She's been there. It's still possible she could blow it, if she somehow does really poorly on the campaign trail, or if she has a debate and she does catastrophically badly. But barring some ghastly mistake, I think she's probably safe."
The strains among California Democrats have assumed fresh importance because the state is newly relevant in national politics, after years in which its lopsided Democratic registration and late-in-the-season presidential primary relegated it to the status of a campaign-finance ATM for both parties. California's voters accounted for Hillary Clinton's margin of victory in the 2016 popular vote, a reality that Trump has not forgotten in pursuing an agenda that effectively punishes the state—from his tax bill to environmental and immigration policies. If the Democrats retake the House in the coming midterms, districts where the party is newly competitive here will play a crucial role in the margin of victory.
All of which is to say that the Feinstein-de León contest will have implications for future elections that go well beyond their own personal competition this year.
"When you have a one-party state—we're basically the mirror image of Washington—there are still divisions within that party, and they become all the more apparent," says Sherry Bebitch Jeffe, a public-policy communications professor at the University of Southern California and a longtime student of state politics. "And I really do believe that the progressive wing of the party was emboldened and energized by what they saw happen, in both the positive and negative sense, in 2016, with first the rise of Bernie Sanders and then the victory of Trump. We are the fulcrum of the Resistance movement, and quite frankly that's because of Trump, and it's not a fantasy. Every decision the man has made in office has had some kind of negative impact on California."
For the first time in years, California politicians are exploring the possibility of presidential candidacies, including Harris and Mayor Eric Garcetti of Los Angeles. The Sanders wing of the party is perhaps stronger than ever here in the aftermath of Clinton's defeat—a reality that any of the party's more centrist 2020 contenders will have to face. They're all watching the Feinstein race with intense interest.
Twenty years ago, Feinstein, who cherished her years as mayor of San Francisco and has often said she has an executive temperament, toyed with a run for governor. But she ultimately decided to stay in the Senate, despite polls showing her as the favorite candidate of her party and the likely victor in the general election. After her decision, I asked her if it was true—as had been widely reported at the time—that then-President Bill Clinton had urged her to run. "Oh," she replied, "I don't want to get into my private conversations with the pres… '' before interrupting herself: "Well! Of course he did! I'm the front-runner." So she was, and so she is. But the competition is gaining.