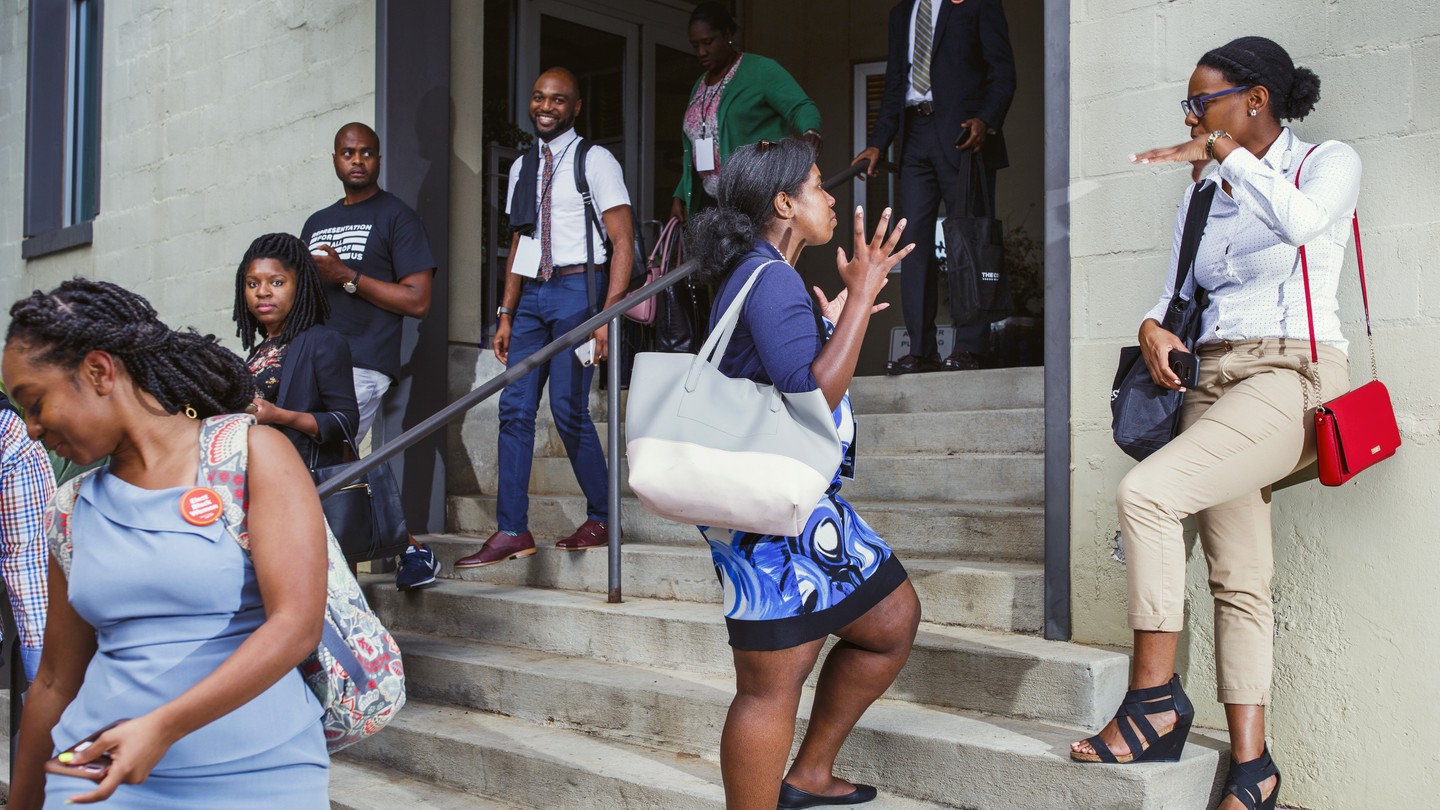 How to Win Elections in a System 'Not Set Up for Us'
The Collective PAC's Black Campaign School is backed by—and a challenge to—the Democratic establishment. It's trying to increase representation in a country where 90 percent of all elected officials are white.
ATLANTA—It was midway through a sticky Georgia Saturday, and Jessica Byrd was dispelling myths about the way black women are supposed to run for office in 2018.
About 120 candidates, operatives, and candidates of the future—both men and women—sat on green plastic chairs inside a building that normally houses an environmental nonprofit in east Atlanta. This was the second annual Black Campaign School, and these were its students—all aspirants in a fledgling project to increase black representation in a country where 90 percent of all elected public officials are white.
The three-day training program was backed by the major Democratic campaign committees and allied groups like Planned Parenthood and EMILY's List. But it was also, in some ways, a challenge to them. The school offered a forum where up-and-coming black politicians could share their common struggles of trying to advance in a political system that, as one candidate put it, "was not designed with us in mind."
"What this space does," Byrd told me during a break in the sessions, "is it allows us to get very real and very transparent around the decision points they're going to face as they're out on the campaign trail. And those decision points aren't just about the math or the strategy. It's also about all of the historical and cultural things that have kept black people from political power."
A few hours earlier, Byrd was handling a question on a hot topic among several of the woman attendees: hair. An effervescent 31-year-old, Byrd brought to bear a decade-plus of campaign experience across 43 states.
"I remember hearing," began a woman seated near the window, "this was years ago—you can't change your hair while you're running. 'Don't go back and forth between having straight hair and natural hair.'"
"I just really want to have a conversation about that," she continued. "Because black women change their hair all the time. Why do I have to look any differently because I'm running?"
Byrd often paused before answering inquiries from her class, clutching her handheld microphone close to her chest as she searched for the right response to what were frequently complicated questions of political strategy.
This was not one of those tough questions.
"No, that's bullshit," she replied quickly, breaking her self-imposed rule against cursing. The class laughed, and a few clapped. "We have got to fight respectability," Byrd went on. "We're never going to build the things we want to build if everyone has to look like a carbon copy, like each other."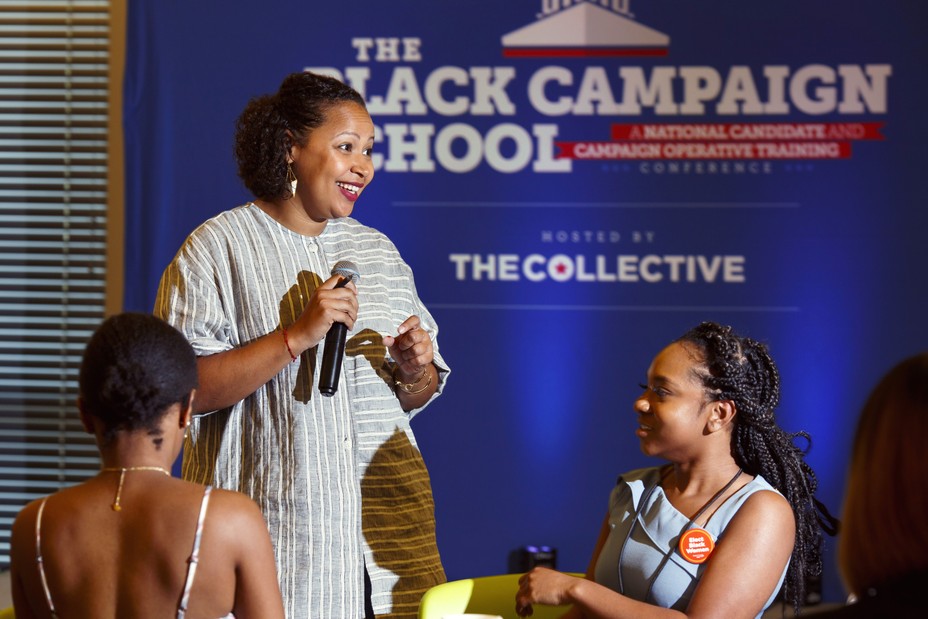 Byrd has never run for office herself—yet. She might someday, she told me. But she had plenty of personal stories to share about her experiences in politics—from her upbringing as the daughter of a poll worker in Columbus, Ohio, to getting her start on Capitol Hill and working on the Barack Obama presidential campaigns, to finally starting her own political-consulting firm. Her title is "founder and chief doer" of that firm, Three Point Strategies, and she both advises campaigns and runs candidate-training programs, like the Black Campaign School.
"I was told I needed to play golf. I was told for years not to get tattoos," Byrd told the students. "By other black women."
She recalled the African American congresswoman who told her she was "too nice for politics," that she should be a social worker instead. "I've been social workin' all over this country!" she laughed, as the class joined in and cheered.
Byrd then turned serious for a minute.
"Y'all, it's fake," she said, referring to the received wisdom she was now telling them to ignore. "We made it up. It's fake."
"It doesn't mean that our folks, especially our elders, our community leaders who believe these things, are wrong," Byrd continued. "It means that it is a new day. It is 2018. Everything has been building to the point where we get to rewrite what we want it to be."
That is also, in large measure, the point of the Black Campaign School and the organization behind it, the Collective PAC. Quentin James and his wife, Stefanie Brown James, created the progressive political-action committee in 2016 as a vehicle to build black power in the post-Obama era. The PAC is one of four affiliated groups known as The Collective that recruit, train, and fund black candidates up and down the ballot. The group initially backed five candidates for Congress that year; four of them won, including Senator Kamala Harris of California and Representative Lisa Blunt Rochester, who became both the first woman and the first African American to represent Delaware in Washington. D.C.
It was Rochester's experience as a first-time congressional candidate, Quentin James told me, that led to the idea for a campaign school. Despite having deep experience in government and politics in the state, she—like other black candidates—struggled to raise money and draw awareness to her campaign. "It was the kicking-off point to say we want to bring folks together on the local, state, and federal level to share and learn, build a community, and hopefully help folks win," James said in an interview. "We wanted to figure out how to not just pass learning, but raise money and work with the media and tell stories because this stuff is important and no one else has been doing it."
If anything, the politics of the last two years has driven home the value of a campaign school for black candidates. The election of Donald Trump has arguably done as much or more to inspire what James called "a reawakening of black political consciousness" than the election and reelection of the nation's first black president. But it has not made running while black any easier. Trump's embrace of the culture war, along with the racially loaded and overtly racist rhetoric used by the president and his supporters, has filtered throughout the political ecosystem. Whether it's NFL stars or Representative Maxine Waters of California, Trump habitually picks fights with prominent African Americans and characterizes them as radical. Last week, he described Georgia's Stacey Abrams, the nation's first African American woman nominee for governor in either party, as "a crime loving" Democrat.
There are plenty of candidate-training programs across the country. EMILY's List and Emerge America have held them for women politicians for years; others are run by progressive and conservative groups, and by the major parties themselves. The Black Campaign School featured sessions on all the basics: fund-raising, messaging, opposition research, and dealing with the media. The assembled students came from 27 states and included candidates as young as 23 and as old as 76. Byrd and other facilitators advised them on how to create a campaign plan ("Write. It. Down."), the importance of having a "kitchen cabinet" of trusted advisers ("no more than seven"), and the opportunities and perils of social media ("Don't spend two hours crafting the 'perfect' tweet").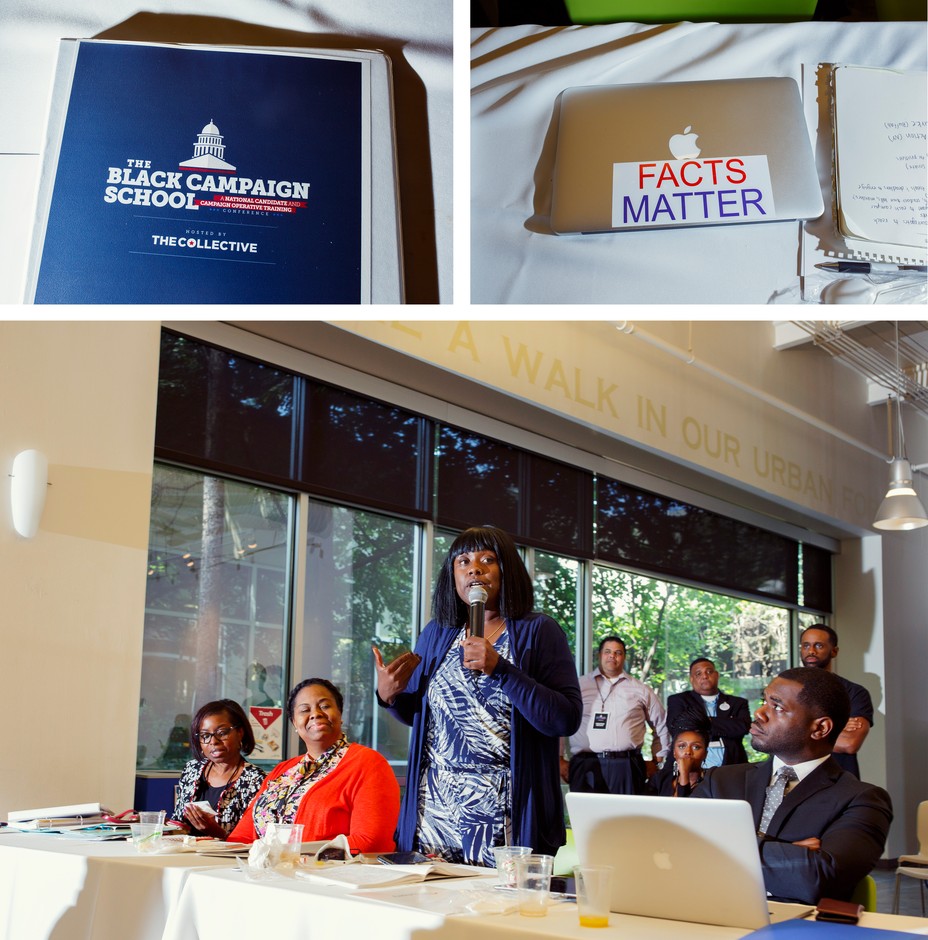 In addition to the nuts and bolts of campaigning, however, the three-day program also provided a place to talk frankly about the challenges particular to black candidates. "There are a lot of complex ways in which we reach out to voters, [ways] in which we are presented and portrayed in the media, the way that people receive our stories versus candidates that have traditionally held power," Byrd told me. "So a lot of the strategy is similar—you have to raise money, you have to have a good message, you have to talk to every voter possible—but what's complex is really thinking about how you do that as a person who hasn't traditionally been holding power where you live."
Students asked Byrd how to handle an opponent who was trashing them on local radio and accusing them of race-baiting; how to navigate the sensitive politics of challenging a black Democratic incumbent; and, yes, how to respond to criticism of their clothes, hair, or way of speaking. She talked about when and whether progressive black candidates should back off positions they might have taken earlier in their lives—calling for the abolition of prisons was the example she used—that could be considered too extreme in an electoral campaign.
Fund-raising came up again and again, since young black politicians are less likely to have access to deep-pocketed donor networks and are more likely to face skepticism about their electoral viability—even when their academic and political credentials exceed those of their opponents. And when black candidates do raise significant amounts of money, they report facing more questions over the source of their campaign funds.
"We are more deeply scrutinized than anyone else about our money," Byrd told the class. "Our leaders, some of them are in jail.
"You've got to get this money part right, y'all," she added.
Quentin James is not exactly anti-establishment. The 30-year-old grew up in Greenville, South Carolina—the same hometown, he proudly noted, as the Reverend Jesse Jackson. He got his start in politics working for Barack Obama's 2008 campaign, when, as a 19-year-old, he was hired as an organizer in South Carolina. James dropped out of Furman University to join the campaign full-time, moving to Ohio after Obama won the primary. "My parents were like, 'You're fucking crazy. How dare you turn down a scholarship?'" James told me.
A decade later, however, James had worked for several years at the Sierra Club, served on the national board of the NAACP, and started both his own firm and the Collective PAC. He says his parents have come around. "You have great intuition!" he quips when I ask what they tell him now. In the run-up to 2016, James led outreach to black voters for the Ready for Hillary PAC, the organization that helped lay the groundwork for Hillary Clinton's presidential campaign.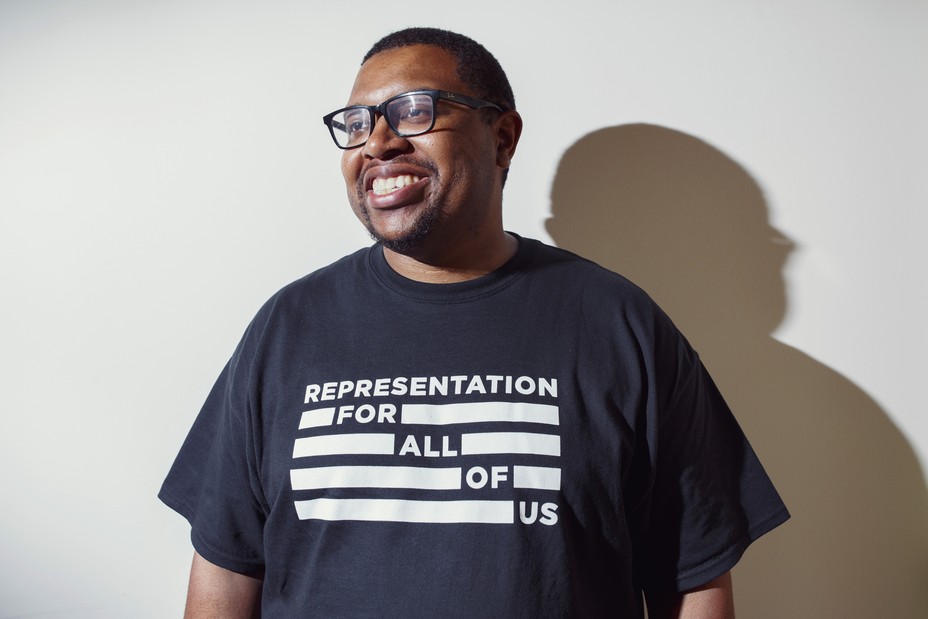 These days, the Collective PAC exists somewhere on, or just off, the edge of the Democratic establishment. For the duration of the campaign boot camp in Atlanta, a panel displaying the school's sponsors stood at the front of the makeshift classroom, highlighting its ties to the party hierarchy. Among them were both the Democratic Party's official House and Senate campaign arms, Clinton's post-campaign political organization, Planned Parenthood Action Fund, the nation's largest union of public-sector employees, and EMILY's List.
At the same time, a running theme of the weekend was how the Democratic Party itself often is one of the institutions standing in the way of black candidates. The evening before the school began, many of the organizers and participants attended a fundraiser in downtown Atlanta where Tom Perez, the chairman of the Democratic National Committee, apologized to black donors and voters for taking the party's "most loyal constituency" for granted. And both panelists and students at the campaign school described instances in which party committees either didn't invest in their campaigns or actively dissuaded them from running.
"The system is not set up for us," said Will Jawando, who will almost certainly become a member of the Montgomery County Council in Maryland after winning a crowded Democratic primary this year. "We are forcing ourselves into a system that was not designed with us in mind."
Jawando, 35, was speaking on a panel with two others who had recently run in close races. He introduced himself by describing his background as the son of an African father and a white mother from Kansas. "And if the story sounds familiar," he said, "I also have a wife named Michelle." He narrowly missed out on the Democratic nomination for the Maryland House of Delegates in 2014 and then ran for former Representative Chris Van Hollen's U.S. House seat when Van Hollen vacated it to run for the Senate. That contest became the most expensive House race in the country's history, with one candidate spending $14 million of his own money. The big spender didn't win, but he "blew the race up," Jawando said. He told the students that after losing his first two campaigns, he stayed active and visible in his community, which allowed him to win the third time.
"People thought I was elected. They didn't know I wasn't elected, because they saw me," Jawando said. "Run and win, but if you don't, keep acting like you've won and stay engaged."
Appearing alongside Jawando were Greg Edwards, who lost a Democratic primary for an open Pennsylvania House seat in May, and Tishaura Jones, the St. Louis city treasurer who last year came within 900 votes of becoming the Democratic nominee for mayor.
The panel illustrated how the drive to boost black candidates is not occurring in a vacuum, and how the Democratic Party's push to increase diversity across racial, ethnic, and gender lines can sometimes lead to conflict among constituencies fighting for more representation.
In his race for the competitive Allentown-area seat vacated by Republican Representative Charlie Dent, Edwards won endorsements from Senator Bernie Sanders of Vermont, the Collective PAC, and the Progressive Change Campaign Committee. He also out-raised his Democratic primary opponents. But EMILY's List spent heavily on behalf of Susan Wild, a white woman, and, he said, the DCCC at one point asked him to withdraw from the race, telling him it didn't think he could raise enough money to win the general election. According to Edwards, the campaign committee cited an internal poll that had him at 11 percent; he eventually won nearly 26 percent, finishing third and just 3,500 votes behind Wild.
"I was fighting a lot of stereotypes within the Democratic Party. Not the Republican Party. The Democratic Party," Edwards said. In words of advice to the current and aspiring candidates, he added: "Don't underestimate the power of institutional oppression to reward white mediocrity." (Edwards has endorsed Wild for the seat; the DCCC, which remained publicly neutral in the primary, told me the committee never asked Edwards to withdraw.)
The panel was held a couple hours after EMILY's List hosted a working lunch for black women students at the campaign school. The group also led a session on fund-raising the next day. "Sorry," Edwards said at one point, half-jokingly, acknowledging that he was blaming his loss in part on one of the sponsors of the school.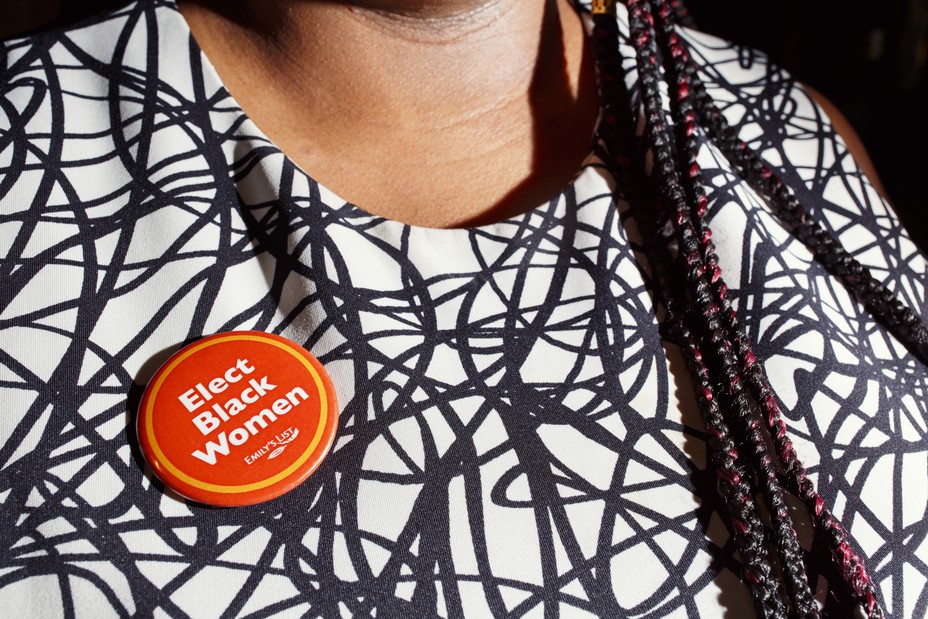 All three candidates on the panel advised the students that while they should expect more, and even unfair, scrutiny, they should embrace their identity without apology. Qualified black candidates, Jawando said, sometimes shy away from affirmatively citing their race as important, from making the argument that diverse representation matters across all levels of government. "Speak truth to our Democratic establishment," Jawando said. "We cannot be afraid to say that 90 percent of our elected officials are white, and this has an impact on our communities."
That message is especially effective, he said, in progressive communities where white liberals are also advocating for diversity in elected offices. "If you're in a progressive place especially, use that white guilt," Jawando told the students, drawing laughter and approving nods. "People who are really progressive, they'll think about that.
"I've had people say to me, 'I can't vote for another white man,'" he continued. "I say, 'That's good.'"
When I asked James about the Collective PAC's relationship with the Democratic establishment, he acknowledged the group "toes this line really closely."
"We know that we have to work in partnership with institutions, whether they be establishment or 'Resistance,' or whatever they are, to accomplish our goals," he told me. "Our goal is for our nation to see equal representation for black people in elected office in every level."
The DCCC and its Senate counterpart have "very different missions" from the Collective PAC, James said. "Our partners fundamentally agree with our mission, and we respect that and we're thankful and grateful for that. However, there are going to be situations where we are just on different sides of the fight."
For their part, those establishment institutions have publicly embraced the Collective PAC as a healthy part of their broader political movement and a constructive vehicle to pressure social change. "It's critical that you keep doing this," said Missayr Boker, the campaign director for the Democratic Senatorial Campaign Committee, during one session on Saturday. "Keep supporting the Collective PAC if you want to see more candidates look like you, and you want to see those candidates win."
Yet to the frustration of the Collective PAC and other progressive groups, those same committees still wind up endorsing candidates that they view as safer bets, often rewarding experience and incumbency over the desire for new blood or more reflective representation.
That tension is playing out in Democratic-held states and districts where outside groups have become more aggressive in backing challengers to long-serving incumbents. In next month's Massachusetts primary, for example, the Collective PAC is endorsing Ayanna Pressley, the Boston city councilwoman running against Representative Michael Capuano, a 20-year House veteran.
"He's done great work, been a great congressman," James said. "But if you ask me, should the first black woman city councilperson in Boston's history step up and serve in Congress to represent a very diverse district? My answer's going to be, 'Yeah.' And many Democrats' answers are, 'No, wait your turn. Sit your ass down. We're not going to support you.'"
Of the 120 or so students at the Black Campaign School, only about 15 to 20 were current candidates. The rest were campaign staffers, political operatives, and people who were mulling, or actively gearing up for, races in 2019 or 2020. The program's timing in the middle of the midterm-election season likely made it difficult for some hopefuls to attend.
Two congressional candidates who did attend were Francys Johnson, the Democratic nominee taking on GOP Representative Rick Allen in Georgia's 12th district, and Brandon Brown, a Democrat who beat four white primary competitors in the South Carolina district being vacated by GOP Representative Trey Gowdy. Neither race is yet on the radar of the national party committees as potential Democratic pickups, but both Johnson and Brown are hoping that appeals to faith—Johnson is a pastor—and economic opportunity will attract voters who traditionally back white Republicans.
"You hear phrases like, It's not your time. You hear questions like, Can you win? And you have to overcome those hurdles," Brown told me. He said he sees an opening to attract voters hurt by Trump's tariffs in a district where the major employer, BMW, supports 10,000 jobs and $35 million in local economic activity. "Until we, as a party, stop taking for granted areas and start saying, 'Hey, we're going to be everywhere,' we're going to continue to see losing elections," Brown said.
The doubts that Brown and other candidates at the school recalled hearing are not necessarily unique to people of color. The reason that the DCCC and other major Democratic groups—outside of the Collective PAC—have yet to invest in Brown's or Johnson's campaigns likely has nothing to do with their race. They are running in districts that are considered safely Republican both by the parties and independent political forecasters. And even in a strongly Democratic year, the DCCC chooses to spend money only in several dozen of the 435 seats nationwide.
But the goal of the campaign school, and the Collective PAC's empowerment project more broadly, is both to provide support where establishment organizations won't, and to convince those same groups that black candidates are worth investing in, especially in states and districts where Democrats previously assumed they couldn't win.
Toward the end of the three-day program, I sat down with Byrd and asked her whether, after eight years of Barack Obama in the White House and a year and a half of Donald Trump, it is easier or harder for black candidates to run and win in politics.
As she replied, it became clear the answer wasn't one or the other. "I think the political climate has absolutely changed in a way that has made the soil more rich for the type of nontraditional organizing that we always have known to be true," Byrd began.
She then returned to a theme of the weekend—that black candidates were trying to advance within a system, and a party, that too often doubts their abilities and leaves them to fend for themselves. "We are still having to win to prove that we're not a risk," Byrd lamented, "that what we're doing is possible and viable and resonating with people."