Steve Bannon's British Sideshow
The former White House chief strategist has reemerged as an unofficial surrogate for Donald Trump during the president's visit to the U.K. What's in it for him?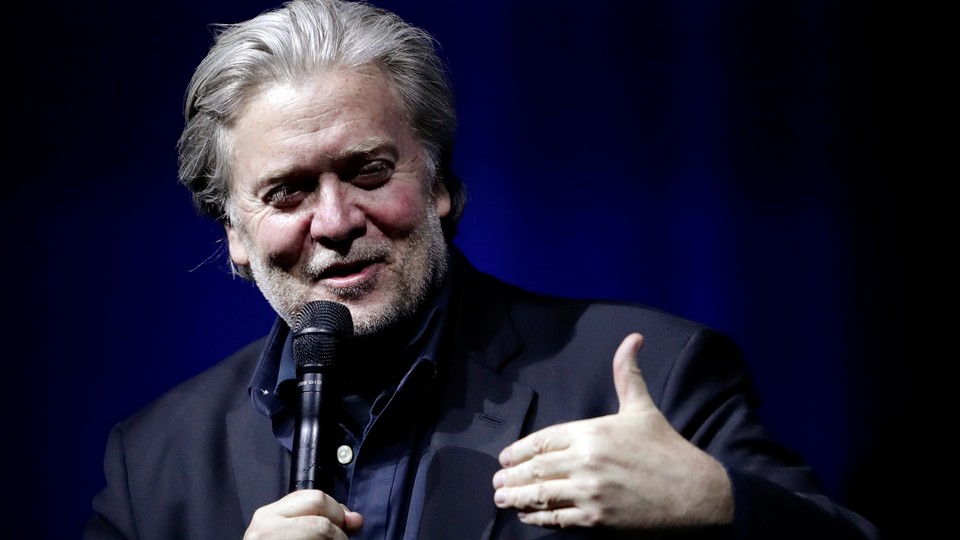 When President Trump made his first visit abroad last year, Steve Bannon was still at the heart of everything.
A year later, Bannon is no longer by the president's side as Trump visits the United Kingdom, after a precipitous political fall from grace earlier this year. But he's still shown up on the edges of the trip, camping out in the U.K. and supporting Trump through media appearances as an unofficial surrogate.
As the president struggles through a hurricane of negative coverage and protests in Britain, Bannon turning up as a support act and surrounding himself with Trump-friendly actors could be interpreted on some level as a strategic play: to show his former boss he's still useful, still loyal, and still the man who can flip a narrative—and maybe even flip out of office all the pesky European allies who irritate Trump so.
Bannon is "the best surrogate the president has," said a former White House official who spoke on the condition of anonymity in order to speak freely. And Bannon may stand to benefit from the president's compulsive TV-watching, the source said: "The more Steve goes on TV and the president sees him doing a great job defending him, the more likely we will see a detente and even an eventual reunion between the two."
Bannon isn't being shy about his movements in the United Kingdom. "I'm here to be a surrogate on British media," Bannon told Politico, and as recently as Friday morning he appeared on Piers Morgan's "Good Morning Britain." This week, Bannon has also been taking meetings in a hotel room in London with key figures in the European and British right, including his ally Nigel Farage, the former United Kingdom Independence Party leader, and Louis Aliot, a top official in France's Front National and partner of its leader, Marine Le Pen.
"This is a moment where the White House communications operation for one reason or another needs bolstering, and that's why I'm happy Steve's here doing it in my country," said Raheem Kassam, the former editor of Breitbart London and a close adviser to Bannon. "Steve recognizes that we're in an inflection point in history and in politics right now, and as somebody who's been working on this movement for 10 years, [he] wants to help in any way possible on the front lines delivering the message wherever it is in the world the message needs delivering. And right now that's in the U.K. and in Europe on the whole, in addition to the work he does in D.C., New York, and in America."
There's something almost poignant about Bannon offering himself up as a surrogate after he fell out of Trump's good graces following incendiary comments he made to the journalist Michael Wolff in the book Fire and Fury. Bannon had already been out of the White House for months, but the feud with Trump cost him his relationship with the president and his perch leading Breitbart News. It also scuttled his plans to lead a "season of war" insurgency against the Republican establishment in the midterms. Bannon has spent the last few months lying low in the U.S. while bolstering his connections abroad, meeting with European populist politicians who either want to be their own country's Trump or want to be allies of the U.S. president.
Setting up his own sideshow to Trump's visit in London is part of this effort to buttress his reputation as a leader in what he sees as a global populist movement. But it may also be a sign that he's starting to reinsert himself into public view in Trump-related matters. In his most prominent conservative-media hit in months, Bannon appeared on Sean Hannity's Fox News show earlier this week, broadcasting live with Hannity from London. During the interview, he defended Trump's actions at the NATO summit, where the president shocked U.S. allies by bashing Germany and berating the alliance's members for not boosting their contributions to mutual defense. "Trump is a practical, pragmatic businessman and he's saying, 'If we're gonna make this alliance work, people have to step up and participate,'" Bannon said.
"I think Steve is starting to pop his head up more, and that will only continue as we get closer to the midterms," said the former White House official. "His hibernation period is clearly over."
In frequent trips to Europe over the last several months, Bannon has plugged himself into the European and British right. The contacts he's made—he's met recently with Hungary's strongman leader Viktor Orban and the Italian leader Matteo Salvini, and he attended a right-wing newspaper's conference in Switzerland—are there if Trump wants to make use of them.
"I think he's very well connected with the small-c conservative movement," said Ben Harris-Quinney, the chairman of the conservative think tank the Bow Group, who has known Bannon for five years and met with him in London on Wednesday. This, Harris-Quinney said, has not changed despite Bannon's falling out of favor with Trump. "In terms of people who make up the conservative movement, they recognize that Bannon is not a Johnny-come-lately—he is someone who is committed to a global movement," he said.