After the Police Brutality Video Goes Viral
Three years after a pool-party video made McKinney, Texas, infamous, I returned to find suburbanites who feel threatened, a mayor and activists at odds, and socioeconomic divisions that persist.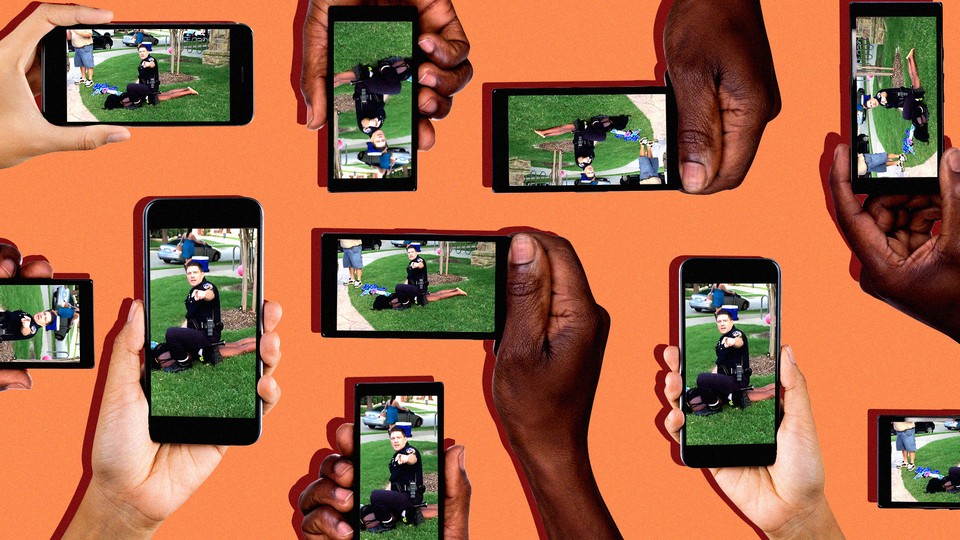 McKINNEY, Texas—When I approached a small house in the Craig Ranch neighborhood here on a steamy day in early June, an angry, white man stormed out. He only grew more irate throughout our conversation. Three years ago, he was getting death threats, he said: messages saying his daughter would be raped or his son hanged. Texas Rangers were opening suspicious packages on his lawn. Friends of his said they saw pictures of his kids with targets on their faces posted online. He didn't want it to happen again. He refused to give me his name, citing the fear of more threats, as did almost all the town residents I spoke with for this story.
I'm from McKinney, a Dallas suburb that a 2015 viral video made temporarily famous, because it showed a white police officer manhandling an unarmed black teenager in a swimsuit in front of a Craig Ranch neighborhood pool. Before I began knocking on doors, I was worried about how residents would react to my desire to revisit the ordeal. My fears were justified.
The man's wife emerged from the house too, then burst into tears when I began asking questions. The couple told me there is an organized movement by groups like Black Lives Matter and the hacker collective Anonymous to paint the community as racist. That couldn't be more wrong, the man said.
His wife went inside, weeping. "Stay strong!" the man yelled after her.
The events depicted in the McKinney video are reminiscent of similar episodes in the past few years, in which white people have called police on black people engaged in relatively minor infractions—or no infraction at all—as well as incidents in which encounters between people of color and police officers have deteriorated into violence. Last month, for example, a white woman was filmed calling the police on a black girl who was "illegally" selling water on a San Francisco sidewalk. In another case, in Oakland, a white woman called the police on two black men using a charcoal grill in a technically non-charcoal-grill-area of a park. A black student at Yale was awoken by police after another student called the campus cops on her for taking a nap in a common room. Many officers who use force excessively don't face consequences: A former South Carolina sheriff's deputy faced no charges in 2016 for grabbing a black student and dragging her across the floor.
The McKinney incident represents a common quandary in parsing these viral racial flashpoints: When does something hint at a broader societal problem, and when is it just the malicious action of one individual? What I found is that some people here see the incident as an isolated moment of police brutality that had nothing to do with race, while others see it as a symptom of a community riven by deep divides along racial and economic lines.
My parents moved to McKinney, which is about an hour north of Dallas, in the early 2000s in search of cheap real estate, good schools, and proximity to well-paying jobs. McKinney is the kind of place that aggressively believes in the American dream: "Faith is the postage stamp on our prayers!" proclaimed one of the many church signs near my parents' house on a recent weekend. That vision apparently resonated even with my jaded immigrant father.
We bought the biggest house we'd ever lived in for $139,000. Our neighborhood, like Craig Ranch, was on the west side of Highway 75, which bisects McKinney. The west has long been referred to as the "new" side, the "good" side, and sometimes the "white" side.
Builders have carved up the west side into sylvan subdivisions with names like Hidden Creek and Eldorado Lakes. The west-side neighborhoods are full of tidy lawns and brick homes. To combat the triple-digit heat that engulfs North Texas for much of the summer, they have swimming pools that are accessible only to residents.
On the east side, some homes are new or remodeled, but others are patched with plywood and corrugated metal. Eighty-six percent of the west side was white in 2009, when the city was forced to settle an affordable-housing lawsuit, compared with 49 percent of the east. The lawsuit claimed that all of the town's public housing and most of the landlords willing to take Section 8 vouchers were on the east side. The east side has vape-supply stores, payday lenders, and bail bondsmen. The west side has a store called Nothing Bundt Cakes.
In 2014, Money magazine named McKinney the No. 1 place to live in America, topping the article with a picture of mothers strolling around Towne Lake, the local park.
The following year brought "the incident," as it's known on Wikipedia. A summer-Friday teen party was, according to reports from conservative media, advertised on Twitter as a "Dime Piece Cookout," in a park across from a pool in Craig Ranch. The "dime piece" descriptor—slang for a woman who is a "perfect 10"—has, among some here, contributed to the sense that the teens were up to no good.
Tatyana Rhodes, the young woman who reportedly organized the party, and her mother, lived in Craig Ranch. (Rhodes did not respond to requests for comment.) It's not clear how many of the teens involved in the incident lived on the east side, but some of the attendees did not live in Craig Ranch. Residents told me that the partygoers played loud rap music with lewd lyrics.
Several teenagers said at the time that someone in the neighborhood told the group of mostly black kids to "go back to your Section 8 housing," and Rhodes said that she was slapped by an adult woman. (The woman later denied this.)
Before long, the teens roamed over to the nearby pool, which has a guarded gate and limits residents to a maximum of two guests—and absolutely no blowout parties. Finding themselves thus limited, the teens began hopping a fence to get to the pool. Several people called the police, first saying the teens were simply trespassing, then complaining that some were "throwing stuff at cars" and fighting.
When one of the police officers, Eric Casebolt, arrived at the scene, he detained several black boys and drew his gun on one man. He then wrestled a black girl to the ground, shoved her face into the grass, and sat on her back as she wailed for help.
An image of Casebolt pointing into a phone camera soon shot around the globe. A large white man atop a crying black girl: A more perfect snapshot of racial oppression would be hard to dream up. (Casebolt declined interview requests, as did Shashona Becton, the guardian of Dajerria Becton, the girl who was tackled by Casebolt.) The video was viewed more than 12 million times on YouTube. Katy Perry tweeted about it and Jon Stewart mocked it.
Casebolt resigned soon after, and a few weeks ago Dajerria Becton received $148,850 in a settlement. Now Craig Ranch residents just want the incident to go away, while some local activists intend to keep it—and the rifts it exposed—in the spotlight.
---
When I lived in McKinney 15 years ago, I encountered some of the kindest people I've ever met and some of the most prejudiced attitudes I've ever heard. In my yearbook, which had been graciously subsidized by my journalism teachers, a student wrote, "If you can ever make it on the ballot to run for president, I'll vote for you. Unless it's against Arnold Schwarzenegger, or a man." At a high-school job, a co-worker of mine liked to show me pictures of her family's cows, the black one of which was named the N-word. She served as a foster mom to several needy children.
Since then, McKinney has doubled in size, to 170,000 people, and the growing population has infused the town with new ideas. In 2014, my old high school had a lesbian homecoming queen. Hillary Clinton won 39 percent of the vote here in 2016, compared with the 24 percent Al Gore won in 2000. Like so many other booming towns, it contains both victories and sorrows. In the week I spent here recently, one McKinney boy won the National Spelling Bee and another shot himself to death in an empty high-school classroom. As Dominique Alexander, a leader of the Next Generation Action Network, a civil-rights group in the Dallas area, put it to me, "It's a beautiful city, but it has its pains."
In the aftermath of the incident, home values in the neighborhood dropped for a time. Craig Ranch residents felt that they were unfairly portrayed as racists living in an overwhelmingly white, affluent community. (According to census data, the median household income of the tract containing Craig Ranch is $105,000—higher than that of the county as a whole—and the tract is majority white.) Three days after the incident, Alexander and his group led a peaceful march through Craig Ranch, which some white residents interpreted as a sign that he was blaming them, rather than Casebolt alone. Several people I spoke with were incensed that activists were planning an upcoming pool party—at a public pool, this time—to mark the anniversary of the incident.
Most of the Craig Ranch residents who answered their doors either closed them when I introduced myself or politely declined to talk. "It's in the past; I don't want to reopen old wounds," one man said. Another called it a "nonstory." One couple gleefully told me that they'd gotten their house because all the other offers pulled out after the incident. One woman opened the door just to say that a real injustice had been done that day—to the police department.
Among those who did talk, the thinking seemed to be that Casebolt had lashed out at the kids not because they were black or poor but because the homeowners' association forbade what they were doing. "I'm not saying I condone what occurred," one Hispanic resident said. "But [Dajerria Becton] was told numerous times to leave the area. The teens were being disrespectful, and creating chaos when there didn't need to be chaos."
A man who identified himself only as Chris said that there was blame on both sides. "The cop overreacted, but the party was illegal," he said. "They provoked him, and he got provoked."
In the end, he said, "it made everyone look bad."
---
​​The incident was perhaps especially incendiary because it involved a swimming pool: Pools have historically been the sites of major feuds over race, income, and access. As my colleague Yoni Appelbaum wrote in the wake of the McKinney incident, in the early 20th century, public pools were plentiful—but segregated. As civil-rights activists pushed to desegregate them, many cities privatized the facilities rather than be forced to integrate them. Private and exclusive pools became more common; public ones, less so. "Suburbanites organized private club pools rather than fund public pools because club pools enabled them to control the class and racial composition of swimmers, whereas public pools did not," the historian Jeff Wiltse noted in his 2007 book, Contested Waters: A Social History of Swimming Pools in America.
Many of the homes on McKinney's east side were built before homeowners' associations began incorporating gated pools into their developments. People in McKinney who don't belong to homeowners' associations can use the city's public swimming pools. There are four, and rather than operating on homeowners'-association dues, they charge a fee for admission. The newest pool, at a facility called the Apex Center, features water slides and costs $10 a person for a day pass. (It's on the west side.) If Rhodes had wanted to host her party legally, she would have had to rent one of these pools. For up to 200 guests, the cost is $110 to $800 for two hours, depending on the pool.
"Craig Ranch is a multimillion-dollar development," said Henry Moore, a pastor at Saint Mark Baptist Church, an old black church on the east side, whom I spoke with one Sunday last month before services began. "On the east side, there is no Craig Ranch multimillion-dollar development. So there will be nicer things on the west side than there are on the east side."
When the socioeconomic divide in a town is so stark, the line between feeling unwanted because you're not from the neighborhood and feeling unwanted because of your race can start to blur. "Are you saying I'm not supposed to be here because I don't live here?" Moore continued, speculating on the mind-set of some of the teens that day. "But I was invited."
Those tensions might be exacerbated by residential segregation. The Inclusive Communities Project, a Dallas-based housing nonprofit, approached McKinney a decade ago to discuss building housing for lower-income families on the west side. It was only after McKinney settled a lawsuit with the Inclusive Communities Project that two low-income apartment complexes were built west of Highway 75, something west-side residents vocally opposed.
"I've seen what Section 8 housing does to property values, and I've also seen what Section 8 housing does to the schools," said one man during a city-council meeting in 2014. "Section 8 housing … brings with it the history of drugs, gangs, and lawlessness, and a lot of police activity," another man said. (Roslyn Miller, the director of the McKinney Housing Authority, said at the time that in her 10 years with the agency, there had been just one homicide in a public-housing or affordable-housing unit. How low-income housing is incorporated into a community is a factor, but such a program generally doesn't appear to affect crime rates or property values.)
Demetria McCain, the president of the Inclusive Communities Project, told me McKinney is not unique in resisting affordable housing. Income segregation has increased around the country in recent decades: Nationally, in 1970 just 15 percent of families lived in neighborhoods considered either "affluent" or "poor," but by 2007, 31 percent of families did. All around the Dallas area, homeowners' associations have prevented homeowners from renting to holders of affordable-housing vouchers, and they have questioned renters' right to use a homeowners'-association pool, McCain told me. She sent me a webpage from a council candidate in Wylie, which is not far from McKinney, who promised not to approve affordable-housing developments in the city. In a survey of 1,901 market-rate properties in Collin County, which contains McKinney, and neighboring counties last year, Inclusive Communities found that only 12 percent were willing to rent to families with a Housing Choice Voucher, which is part of a program aimed at the very poor. In McKinney, more than 90 percent of the properties refused to rent to voucher holders, according to the survey. In the greater Dallas area, the voucher recipients are predominantly black.
"I didn't expect the [pool-party] incident to create any big, positive change," McCain told me recently. "And I don't think it has."
Opening up west McKinney to lower-income families, who are often people of color, might improve racial relations in town, McCain offered. Usually, she noted, opposition to affordable housing dies down after the renters move in. "Maybe if we live together more," she said, "people who are afraid of us might get to know us as people."
---
"I'm not going to say the mayor is racist, but he is certainly singing the tune," Kim T. Cole, Dajerria Becton's lawyer, told The Dallas Morning News in May.
This was after Cole and Dominique Alexander, the activist, got into a heated exchange at a press conference with McKinney's mayor, a local builder named George Fuller. In an email to Alexander covered by the News, Fuller called Eric Casebolt "a reckless, overly stimulated, excessive force wielding cop," but also referred to "a verbally abusive, disobedient girl" at the pool party.
"For this mayor to come out today and say that this girl was verbally abusive to this officer as if this justifies his behavior is ridiculous," Cole said at the time.
Fuller, though, stuck by that description of Becton and the other teens in an interview in his office recently. "The officer used force that was not necessary in that situation. Absolutely," he told me. "But [police] were called not because there were black people in the pool. They came ... because there were people trespassing, destroying property, and smoking dope." (Fuller said the residents who called the police saw the teens smoking pot. The teens have denied that they were using drugs or alcohol, and neither the 911 calls from the pool itself nor the police reports make mention of drugs.)
A few weeks ago, Cole held a pool party at the Apex Center to mark the third anniversary of the incident, telling reporters that she wanted to give McKinney kids "the pool party they didn't have." According to the News, Becton and the other teens involved in the settlement did not attend.
"I'm not a fan of this anniversary celebration," Fuller told me. "What are we celebrating? Are we celebrating the trespassing of the pool? Are we celebrating the excessive force of a police officer? Are we celebrating the accusation of this racial bias and discrimination on McKinney, Texas, that was not the case?"
Fuller also said he thought the incident wasn't racial—and wasn't reflective of the city. Fuller, who is white and has an adopted black daughter, said he doesn't see much racial tension in the city. A black city-council member recently alleged that police treated him unfairly during a traffic stop, but after a review of body-cam footage, the council member said he had been partly at fault and apologized. Of course racial discrimination exists, Fuller said, but it exists in the world, not only in McKinney.
Fuller said the city has made progress on policing since the incident. The police department has body cameras now, and officers have been patrolling neighborhoods on the east side by bike and on foot in order to build rapport with the community. The police meet with community members at events like Tacos With Cops and Coffee With Cops.
The mayor is done engaging with Alexander, the activist, who Fuller says threatened him inappropriately during a council hearing. He and other critics of Alexander point out his checkered legal past. Alexander, to him, is a "fame junkie looking to stay relevant" and "a clown that belongs in the circus."
Alexander admits that he threatened to release information about council members' conflicts of interest to the media, but says he doesn't feel that was inappropriate. He told me that he has learned from his legal troubles, and he denied that he seeks fame.
He said the city hasn't done nearly enough to address residential segregation and discriminatory policing. He'd like to see even more community meetings, along with an equity study of McKinney. "Back in 2015, I made an oath that I will continue to fight to address this issue," he told me, "so that McKinney can live up to what it always brags about, which is that it's the best place to live in America."
---
Before I left McKinney, I went through the guarded gates of the pool from the video to talk with families as they watched their kids splash around.
"Why are you even here?" a white man in a baseball cap said when I introduced myself. He said he doesn't trust the media much and feels that these days, people are hated just for voting for Trump.
"The cop was rough with a girl, he was amped up, it was a ruckus—but that girl went from punk to victim," he said. He gazed out over the turquoise water, the fountains, the manicured park beyond. Black Lives Matter—a terrorist organization, in his view—was portraying the community in a bad light. Alexander, to him, was a "race baiter." "I work my ass off to get what I have, and we're gonna call you racist? That's a candy-ass argument," he muttered.
A white woman sitting nearby chimed in to say that if her son's school were predominantly black, she doubted her family would be accepted.
If unrest comes their way, the man in the baseball cap said, "there are citizens who are armed and are not gonna put up with that."
I walked around the pool toward another white couple playing with their kids in the water. They gave me fake names because they were worried about their jobs. "This is the most diverse neighborhood we've ever lived in," the man said, paddling away from me slowly. The incident says nothing about the neighborhood, he added.
On this, he, McCain, and almost everyone I talked with seemed to agree: The incident is not unique to McKinney. It could have happened anywhere.