85 Immigrants Sentenced Together Before One Judge
Mass trials are now the norm in McAllen, where the Trump administration's new policy on prosecuting illegal border crossing has strained the federal court system.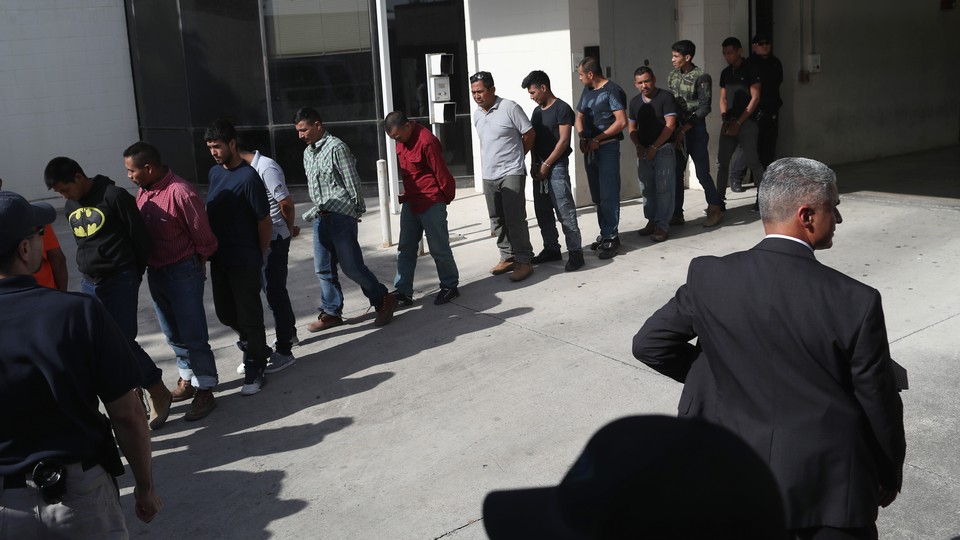 MCALLEN, Tex.—There wasn't a single empty seat among the six rows of wooden pews in Magistrate Judge J. Scott Hacker's courtroom on Monday afternoon.
The gallery was packed, its visitors jammed shoulder to shoulder, as if the public had crowded in to witness a momentous ruling or, perhaps, a celebrity trial. But the people who occupied these seats in the back of the courtroom were no mere observers—they were the defendants themselves. All 85 of them were immigrants charged with the same crime: illegal entry into the United States, a misdemeanor. Each of them, the government said, had waded, swam, or rafted across the Rio Grande and over the southern border in violation of the law.
White school buses transported the immigrants to the courthouse from a nearby detention facility and back after the hearing. They appeared to be wearing clothes they had on when they were detained two or three days before, though without belts or shoelaces. Many of them—though not all—were shackled with leg chains or handcuffs, or both. Azalea Aleman-Bendiks, the assistant public defender representing all 85 in Monday afternoon's hearing, told Hacker that 20 of them—just shy of one-quarter—had entered the country with children whose ages ranged from 20 months to 17 years.
"Your honor," Aleman-Bendiks said, "these parents have not been provided any information on the whereabouts of their children."
Hacker couldn't tell them where their kids were, either.
An influx of border crossers is nothing new for this growing city about an hour's drive from Texas's southeastern tip. The Rio Grande Valley was ground zero for the surge of unaccompanied minors from Central America who arrived in 2014, and the river that separates the U.S. from Mexico is a regular, if illegal, point of entry for immigrants seeking asylum or looking for economic opportunity, as well as those smuggling drugs.
But mass criminal hearings along the lines of what took place on Monday are a recent feature in McAllen. They occur twice daily on the 8th floor of the Bentsen Tower, an imposing glass building near the center of the city that houses the federal district court. The hearings are a direct result of the "zero tolerance" policy that Attorney General Jeff Sessions announced in April as part of the Trump administration's stepped-up enforcement of immigration laws and its efforts to deter migrants fleeing violence in Central America from coming to the U.S.
Previously, people caught crossing over the border illegally would be subject to deportation back to their home country, but not necessarily criminal prosecution. Typically, those with prior records or multiple deportation orders were more likely to face prosecution, and adults who entered the country with children were rarely charged. But on April 6, Sessions issued a new directive urging prosecutors to charge anyone who enters the country illegally—even those with families in tow or with clean records who were crossing the border for the first time. "To those who wish to challenge the Trump administration's commitment to public safety, national security, and the rule of law, I warn you," the attorney general said at the time, "illegally entering this country will not be rewarded, but will instead be met with the full prosecutorial powers of the Department of Justice."
It was that policy shift that led to the separation of children from their parents once the adults were taken into custody. The move has outraged Democrats, deeply concerned children's-health officials, and alarmed some Republicans. Former First Lady Laura Bush wrote a rare op-ed condemning the practice, which also drew a rebuke from the UN's high commissioner on human rights. And although President Trump has quizzically tried to place blame on Democrats and inaction by Congress, administration officials who spoke to reporters on the condition of anonymity late last week made clear that the family separations flowed directly from the new zero-tolerance enforcement policy—an explicit decision to expand prosecutions.
"We are no longer exempting an entire class of individuals who break the law," one administration official said on a press conference call, referring to parents who might expect leniency by crossing the border with their children. The official likened the old policy of releasing families to giving parents "a 'Get Out of Jail Free' card if they commit a crime with a child."
Yet in practice, families aren't merely being swept up under the new policy, lawyers in McAllen say—instead, adults who cross the border with children now seem to be priorities for prosecution. In May, Sessions announced the deployment of 35 additional prosecutors to border districts, where administration officials have acknowledged they still aren't able to charge 100 percent of the people caught crossing the river. On the conference call with reporters, they refused to discuss how they decide which people to prosecute and which are simply referred back to immigration courts for deportation proceedings.
But lawyers on the ground have noticed a pattern. "They are targeting people with children deliberately," Efrén Olivares, the racial- and economic-justice director for the Texas Civil Rights Project, told me outside the courthouse on Monday. "So even though they are not prosecuting everybody for the misdemeanor, they are prosecuting everyone with a child and therefore separating them indefinitely."
Olivares and other lawyers with the Civil Rights Project have been interviewing detained immigrants before their hearings as they try to build a case against the Trump administration's family-separation policy at the Inter-American Commission on Human Rights. They began in late May with five petitioners and now have more than 300, Olivares told me. In a six-week period between April 19 and May 31, 1,995 children had been separated from their detained family members, administration officials said. With dozens more separations occurring each day following new arrests at the border, that number is now well over 2,000.
Many of the immigrants Olivares has interviewed told him they initially tried to enter legally by seeking asylum through a point of entry on one of the bridges connecting the U.S. and Mexico over the Rio Grande. But when they were turned away, they crossed instead through the river and were caught.
He said that while many parents are separated from their children the day they are caught, some younger children are not taken away until just before their parents get on the bus to head to court. In those cases, whether they are reunited comes down to the chance of timing, Olivares said: If the Office of Refugee Resettlement has not come to pick up the children by the time the parent returns from the courthouse, they still may be processed together as a family unit. But if the child has already been taken to a shelter, the parents won't soon know where they are.
"Some of them do [know]," Olivares said. "Many of them—the majority of them—don't."
What's clear is that just as the flow of undocumented immigrants has overwhelmed the nation's immigration courts in recent years, the new zero-tolerance policy is straining the federal criminal courts near the border as well. Inside the courtroom on Monday, the 85 defendants each wore translation devices so they could understand—and answer—the judge's questions.
Hacker proceeded in rapid-fire fashion, going one by one down each row to confirm the identities of each individual immigrant. The questions were yes-or-no, but for the purposes of the court record, every time a defendant replied, "Sí," a translator for the court would call out, "Yes." (The translation was unnecessary when the answer was "No.")
First, Hacker asked each defendant to verify their "true and correct" name.
"Are you 18 years old?"
"Sí."
Are you from Nicaragua?
"Sí."
And so on, 85 times.
Not all of the defendants were in the U.S. for the first time. Some had crossed over the border multiple times before, and a few had lived in the country illegally for years before they were caught trying to return this past weekend.
But most in the courtroom on Monday were experiencing the American legal system for the first time, and Hacker gave them an overview of their rights as defendants. He asked several questions to ensure they were able to understand the proceeding. Were they under the influence of alcohol, drugs, or medicine? Had they been treated for mental-health issues or a brain injury? Did they understand the charge of illegal entry into the U.S.? Had anyone threatened them, or promised them benefits if they pleaded guilty? After each question, he dutifully went down the line, seeking a reply from each defendant. Time and again, all 85 answered the same way.
Hacker explained that they each had the right to a trial—"You do not have to plead guilty today"—and he warned them of the consequences of a guilty plea, not only now but for years to come. "If you are not a U.S. citizen, and it is my understanding that none of you are," he told the assembled defendants, "you could be deported and removed and sent back to your home country. You could be denied citizenship and admission to the U.S. in the future."
The immigrants, one by one, said they understood. This was not the first time they were hearing these warnings. The public defender's office, itself overwhelmed by the new policy in recent weeks, had met both individually and collectively with the defendants in preparation for the hearing. "Nothing I've said to you this afternoon should have been a surprise to you," Hacker told them.
The crime of illegal entry carries a maximum punishment of six months in jail, a $5,000 fine, and a $10 court fee. But federal judges along the southern border have been giving out minimum sentences to a majority of undocumented immigrants, particularly those with no criminal histories who were caught crossing illegally for the first or second time. To avoid spending weeks more in jail awaiting trial, all 85 defendants on Monday pleaded guilty, and most left with a sentence of time served (the two or three days they had been in jail) and the $10 fee.
After the guilty pleas were entered, Hacker gave each of the defendants an opportunity to speak before he sentenced them. The courtroom was quiet except for the jangling of leg chains and handcuffs. As the judge went down the line, Aliman-Bendiks asked for leniency on their behalf. She noted that many of them were seeking asylum, and she asked that they be given what's known as a "credible fear" hearing before being deported. And she told Hacker of every immigrant who had entered the country with children who were taken from them.
None of the defendants took the opportunity to personally ask the judge for leniency, or to explain their actions. But one woman rose to ask about her 5-year-old daughter. If I am deported, she asked the judge, what will happen to her?
Hacker has heard this question many times before. One of his colleagues, Magistrate Judge Peter Ormsby, said last week that he was considering an order against CBP's process of family separation, which could come as soon as this week.
But Hacker had no assurances to provide the defendants he was about to sentence. "Unfortunately, I'm not an immigration attorney," he said. "Hopefully, they have procedures in place that will marry you up with your daughter."
When another defendant soon asked about her children, Hacker let out a deep sigh. "Well," he said, "I have no authority in the immigration realm in this country."
A few minutes later, the hearing was over, and the last of these newly sentenced immigrants shuffled out of the courtroom and down to the waiting buses below.