Why Aren't Top Democrats Acknowledging the Black Women Running for Office?
Some candidates winning their primaries are frustrated that they still haven't heard from party leadership.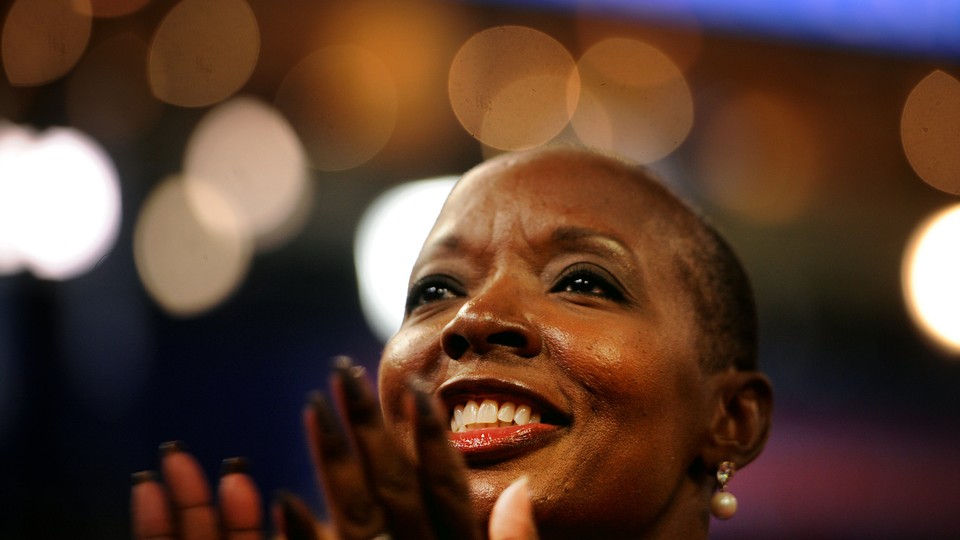 Jeannine Lee Lake decided to run for Congress after Donald Trump won the 2016 presidential election because she wanted to show her teenage daughter that she was willing to take a stand against Trump's pejorative comments about women and minorities. Lake, a 48-year-old black woman, said she ran for her daughter, and for her nieces and nephews.
"This president has disregarded us and placed us in a category that is beneath and inferior," she told The Atlantic in an interview. Lake is part of a movement of women candidates and people of color running for political office for the very first time, and on May 8, she beat five other Democrats in her primary bid for Indiana's 6th congressional district. But she noticed something strange: Lake won without ever hearing from party leadership. She's not alone.
Democratic leaders have repeatedly declared that African American women are "the backbone" of the party. But when some of those same women run and win their primary bids for Congress, they haven't had so much as a phone call from establishment leaders. In interviews with The Atlantic, five black women candidates who won their primaries said they still haven't heard from the Democratic Congressional Campaign Committee, the body that works to elect Democrats to the House. "It's the height of hypocrisy," Lake told me. "We bring millions of votes into these campaigns, and we're gettin' no love."
The DCCC tends to only support candidates who can show they have strong community support and enough funds to stay afloat on their own. "Every day we are working to empower candidates and their campaigns to compete and win across the largest House battlefield in over a decade," a DCCC aide told The Atlantic in a statement. "Ultimately, our job is to take back the House, and that requires identifying the most competitive districts and focusing our resources and time where they will go the furthest."
To be fair, the Democrats are facing a Republican party that is almost unrecognizable from even 2016: A candidate who has ties to multiple white-nationalist figures, Corey Stewart, won the GOP primary in Virginia on Tuesday, and on Thursday, RNC chair Ronna McDaniel suggested on Twitter that the party only has room for Republicans who embrace Trump's agenda. In this climate, the Democrats are trying to find a strategy that will help them win back the House. And right now, that strategy is to focus on battleground states and districts, and focus on offering an economic message: a strategy that inadvertently is leaving these black women out.
The women I spoke with are all running in heavily Republican districts where Democrats haven't won for several years, and in some cases, decades. Democrats in these places may be wondering why their party's national leaders aren't working harder to change that, especially after what was, to them, a shocking presidential election in 2016. But these areas aren't on the DCCC's "battlefield list," which contains 104 districts the campaign body is targeting in 2018. It's standard procedure in other words, for the DCCC not to reach out to the candidates who are running longshot campaigns.
But the political climate this year is far from standard for Democrats: There has been an influx of women and first-time candidates running for the House of Representatives, and 22 of them are non-incumbent black women. More than 600 African American women are running nationwide, according to this newly compiled database. New energy on the left has helped Democrats overall pull off surprising wins in places like Virginia, Pennsylvania, and Alabama. The Democrats have to figure out how to harness and direct that energy: They have to determine whether, and how much, to encourage newcomer candidates as part of a broader effort to mobilize black voters and rally their base. They also must decide whether they should be willing to take more of a chance on non-establishment candidates in a year when it seems like all bets are off. What they end up choosing to do could shape the future of the party—and chart a new political course for the country.
Ninety-four percent of black women voters chose Hillary Clinton in 2016, and Democrat Doug Jones's surprising Senate win against Roy Moore in Alabama in December was largely due to the organization and support of black women. The party has made some efforts in recent months to recognize this: In December, Democratic National Committee Chair Tom Perez called black women "the backbone of the Democratic Party." After party victories in Virginia and New Jersey, DNC Political and Organizing Director Amanda Brown Lierman touted the fact that 91 percent of black women voted for now-Governor Ralph Northam: "These women are the reason we won last night's elections," she said in a statement, "and they're the reason we'll win in 2018."
Yet the DCCC was already criticized earlier this year for not having a single African American candidate on its "Red to Blue" list, a program designed to give extra financial and organizational support to top Democrats running in districts currently held by Republicans. Since then, the organization has added three to the growing program, including Lauren Underwood, running in Illinois's 14th. Underwood is the only African American woman on the list—and the only one of 43 African American women House candidates to receive official DCCC backing, according to a recent Axios report. In the past week, I spoke with the other nine black women who are non-incumbent candidates, and who have won their primary races for Congress so far in 2018. Five said that the DCCC had not reached out to them at all to offer support, or even a congratulatory message. One candidate told me she received an email suggesting that the DCCC would "like to keep an eye" on her race. Two said the campaign arm had called to offer advice. One did not respond to my requests for comment.
The Democratic Party isn't necessarily excluding black women deliberately, but it does seem to employ strategies that are routinely made to support a certain type of candidate, in a certain type of place—and make others feel left out.
"I have yet to receive one red cent from the local, the state, or the national party," Lake told me. "I understand the formula, I just feel like it's a broken system. You can't take time and meet with the people running on your platform, spending their own money to promote Democratic ideals? The optics look bad." Lake, who is running against Greg Pence, the older brother of Vice President Mike Pence, is in for a difficult race: The district has an R+18 rating from the Cook Political Report, which means that in the previous two presidential elections, the district's results were 18 percentage points more Republican than the national average. But, Lake is confident she can win.
"I'm not your standard anything," she told me in another conversation on Facebook. "1) I'm a woman in a year where women are ticked off and are going to the polls in record numbers 2) I'm a black woman in a year where minority women are winning in places they've never run before."
Ohio Democrat Vanessa Enoch, who recently won in the state's 8th congressional district, said she called the DCCC for advice during her campaign, and they never returned her call. Enoch recently received an email from a staffer for Minnesota Representative Betty McCollum, the DCCC Vice Chair for the Midwest, offering to "keep an eye" on her race. The email was addressed "To Whom It May Concern." Enoch acknowledges that she is currently running in a heavily Republican district that hasn't elected a Democrat in decades. "But it is a bit frustrating because you're left out there to sink or swim," she told me. "I'm kind of on my own."
"We've been carrying the water forever. Now we deliver votes, but we don't get the backing of the party and others," said Denise "DD" Adams, who recently won her primary in North Carolina's 5th congressional district. The district is also heavily Republican, but Adams doesn't think that should matter. "Once the primary is over, why wouldn't you call and congratulate me? It would cost you nothing."
That isn't standard practice for the campaign arm, as former DCCC Chair and New York Representative Steve Israel told me in an interview. "The DCCC's sole mission is to win elections, and they make decisions on resource allocation, field staff, and other means of support based on one thing," he said, "and that is viability."
Of course, the party's picks are always subject to change. "Those candidates who don't see DCCC support now, my advice to them is keep your campaign going, because you may get an infusion of support as you get closer to the election," Israel said. But not all of them can wait that long. Lake, the Indiana candidate, told me she's considering quitting. She said she expected to get some support from the DCCC, and now she's struggling to afford the campaign with a son in college.
"Bottom line, Sis," Lake wrote to me. "I need some HELP!!!"