What Is Paul Manafort Doing?
Trump's former campaign manager is living dangerously by allegedly attempting to contact potential witnesses while under indictment.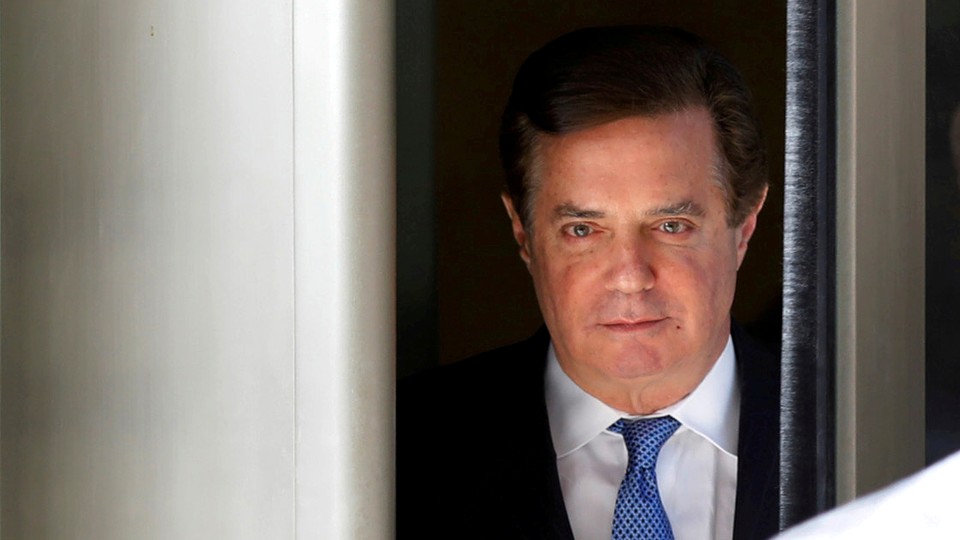 When the news broke that Paul Manafort, under indictment by Special Counsel Robert Mueller, repeatedly tried to contact witnesses in the case against him despite round-the-clock electronic surveillance, many asked the same question: What was he thinking?
"As counsel, you are repeatedly advising a client to steer clear of witness tampering," says Jacob Frenkel, a white-collar-criminal-defense attorney. "But the client has to listen. This will be the poster-child case that lawyers will use to highlight the risk of communicating with witnesses pretrial."
Manafort, who has been on house arrest since he was indicted last fall on charges including money laundering, bank fraud, and tax evasion, has played with fire before. In December, Mueller abruptly pulled out of a bail agreement he had reached with Manafort's legal team when one of his special agents, Brock Domin, discovered that Manafort had been helping to write an op-ed in violation of a gag order. In a court filing released on Monday, Mueller again recommended that Manafort's bail be revoked due to "witness tampering"—Manafort allegedly reached out to some of his former European associates in February to help them shape their stories. One witness flatly told the FBI that Manafort was trying to "suborn perjury," prosecutors said. Legal experts say that any effort to contact potential witnesses was ill-advised on Manafort's part—he must have known he was under electronic surveillance, especially in such a high-profile case, they say—making his actions even more puzzling.
Despite the risk of being jailed until trial, "this kind of behavior is surprisingly typical when high-powered individuals have their first encounter with the federal criminal-justice system," says Caroline Polisi, a criminal-defense attorney who handles federal and white-collar cases. "They can't get it through their heads that they are not above the law and that the government is constantly monitoring them. They also can't come to terms with the fact that they are no longer in control." Manafort was indicted as part of a wide-reaching inquiry into whether Donald Trump's campaign aided a Russian effort to swing the 2016 presidential election in Trump's favor, and whether the president attempted to obstruct that investigation.
"Sometimes, strong-willed clients want to take matters into their own hands," says Harry Sandick, a former assistant U.S. attorney for the Southern District of New York who now handles white-collar-criminal-defense cases. "The same types of errors in judgment that lead people to find themselves on the receiving end of an indictment also lead them to make bad judgments after they've been indicted in federal court."
A spokesman for Manafort, Jason Maloni, did not address Mueller's latest accusations directly. In a statement, Maloni reiterated that Manafort "is innocent and nothing about this latest allegation changes our defense. We will do our talking in court." Michael Caputo, a former Trump-campaign aide who has known Manafort for decades, told me he does "not believe Paul did what the [Office of the Special Counsel] alleges." Asked why not, Caputo said the allegations sounded "out of character for Paul" and accused the special counsel of making "false moves" against Manafort out of desperation. "It's getting late in the inquiry and with no proof of collusion, so I expect false moves," he said. Charlie Black, a political consultant who founded a lobbying firm with Manafort in 1980, says, "All the allegations against Paul surprise me. I pray that he is innocent."
One of the most significant takeaways from Mueller's Monday-night bombshell was that Manafort had a co-conspirator, easily identified (though not explicitly named) in the filings as the Russian Ukrainian operative Konstantin Kilimnik. Mueller described Kilimnik, in two previous court documents, as "Person A," Manafort's "longtime Russian colleague … assessed to have ties to a Russian intelligence service." Yet Manafort evidently stayed in touch with Kilimnik through April of this year, according to prosecutors.
Perhaps the biggest risk of trying to contact potential witnesses, according to legal experts, is of a defendant's bail being revoked. "Judges have no patience for witness tampering," Frenkel says. As such, Manafort may have cost himself not only his bail agreement but any of his remaining credibility with the judge overseeing his case, Amy Berman Jackson.
"I don't have a good explanation for his behavior, because it makes no sense, especially given the amount of scrutiny surrounding Manafort's communications and contacts while he awaits trial," says Jens David Ohlin, a professor of criminal law at Cornell Law School. "I suspect the judge will be angry about this development and will either revoke bail or will impose draconian restrictions on Manafort's movements or communications."
"The No. 1 rule of lawyering is don't piss off your judge before trial," Ohlin says, "unless you've already resigned yourself to losing at trial and intend to concentrate on your appeal." There is another wild card, however, Frenkel notes: a potential presidential pardon.
"It is impossible to know what is in somebody's mind who chooses not to follow the advice of their lawyer and acts in a way that is against their best interest," Frenkel says. "The wild card here in the Manafort analysis has always been whether he expects a pardon. Regardless, no capable lawyer would condone the conduct that has been described." Trump has mused about pardons in recent days—last week, he pardoned the conservative commentator Dinesh D'Souza and told aides that he was considering pardons for Martha Stewart (who was prosecuted by former FBI Director James Comey, now a witness in the Trump obstruction inquiry) and former Illinois Governor Rod Blagojevich, who was imprisoned for attempting to sell Barack Obama's former Senate seat. Trump tweeted on Monday that he could legally pardon himself.
The best option for Manafort's attorneys now, according to legal experts, is to try to convince them that Manafort was not trying to suborn perjury when he attempted to contact the witnesses. "The best line of defense is always that the nature of the communications has been misconstrued, and there has been no attempt to influence testimony," Frenkel says. Still, Caroline Polisi says, "federal prosecutors take witness tampering of this nature extremely seriously, and it is actually one of the most frequent reasons some of my clients get their bail revoked—they simply can't help themselves."