Trump's Effusive, Unsettling Flattery of Kim Jong Un
The U.S. president gushed with praise for North Korea's dictator, even as he ignored the country's human-rights abuses and scolded democratically elected allies.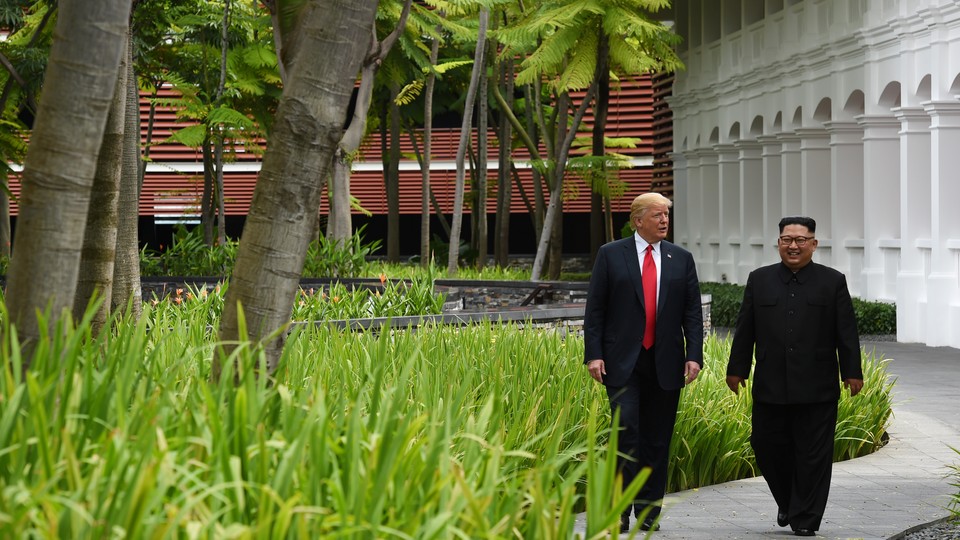 Monday evening, as Donald Trump and Kim Jong Un met in Singapore, ABC briefly preempted its popular show The Bachelorette to convey the important news. Some viewers were miffed, but they might have noticed some similarities between the two shows, from the pageantry to the semi-scripted, uncanny quasi-reality. And then there was President Trump himself, who, in his comments following his meetings with the North Korean supreme leader, sounded like a smitten contestant on the dating show.
It was an "honor" to meet Kim, Trump said. What surprised the American most about his counterpart? "Great personality and very smart—good combination," he said. "I learned that he's a very talented man. I also learned that he loves his country very much." He added that Kim was "a worthy negotiator … a very worthy, very smart negotiator." The president continued to gush during a press conference and in interviews.
Trump's flattery is noteworthy because he is much better known for vinegar than honey in his public statements. Yet his high praise for Kim stands together with his prior compliments for autocratic leaders around the globe, and in contrast to his sharp words for allies, especially democratic ones, over recent weeks—especially some harsh swipes at Canadian Prime Minister Justin Trudeau. Trump's overt indifference to the question of human rights also shocks the conscience, and together with the emerging consensus that Kim got the better of Trump at the negotiating table, it raises new questions about Trump's judgment and statesmanship.
Even by agreeing to the summit, the U.S. was engaged in a grand act of flattering North Korea, and regardless of how it turned out, it was going to be a huge propaganda win for Pyongyang. Still, the honeyed language Trump deployed was noteworthy for a president who has often seemed allergic to diplomacy. Even when standing with close American allies, the president has a tendency to veer off script and create incidents, a pattern that his defenders have attributed to his refusal to play by the stale, old-fashioned rules of traditional diplomatic protocol. In Singapore, however, Trump kept to his theme.
Whether that theme was wise or moral, however, is a different question. Even aside from the contents of the agreement that Trump and Kim signed—a vague, four-part declaration that seems to hold North Korea to very little—Trump chose to abandon the historic American focus on human rights in the brutally repressive totalitarian dictatorship. At the press conference after the summit, Trump shrugged.
"I believe it's a rough situation over there," he said. "It's rough in a lot of places, by the way, not just there."
This is false equivalence: While many countries abuse human rights, the scale and depth of the North Korean regime's brutality is extremely unusual, with up to 130,000 people in concentration camps. It is perhaps unsurprising that a president who boasted that he hadn't bothered to prepare for the summit didn't grasp this. Or perhaps it was a conscious decision. Pressed on North Korean abuses by Voice of America's Greta Van Susteren, Trump seemed to suggest that the country's history was meaningless, and he would judge it only on its recent behavior.
"Look, he's doing what he's seen done, if you look at it," Trump said. "But, I really have to go by today and by yesterday and by a couple of weeks ago because that's really when this whole thing started."
Trump also said that the death of Otto Warmbier, an American who was detained in North Korea but transferred home shortly before dying, helped to create the conditions for the summit. Warmbier's family has said that he was "systematically tortured and intentionally injured" by the Kim regime.
But the indifference to human-rights abuses also echoes some of Trump's prior statements—during the 2016 presidential campaign, for example, he said the U.S. had no right to lecture Turkey on human rights and declined to condemn Russia's brutality, telling Bill O'Reilly, "You got a lot of killers. What, you think our country's so innocent?"
Trump's choice of comparisons is telling. Despite documented abuses in countries like Turkey, Russia, the Philippines, and Saudi Arabia, he has found himself drawn to their leaders—generally outsize, swaggering autocrats with little concern for rule of law. Trump congratulated Erdogan on a controversial, anti-democratic referendum (declining to press the human-rights angle) and infamously disregarded staff advice warning, "DO NOT CONGRATULATE" Vladimir Putin on a rigged electoral win.
It is no surprise, then, that he'd be drawn to Kim, who fits with that group—yet with even less of a legitimate mandate, and with a far worse human-rights record. Yet none of Trump's remarks would have intimated that Kim is a hereditary ruler of an oppressive state.
"His country does love him," he said. "His people, you see the fervor. They have a great fervor. They're gonna put it together, and I think they're going to end up with a very strong country, and a country which has people—that they're so hard working, so industrious."
It is true that when a ruler has a history of ordering summary executions, his lackeys tend to emote great respect and work hard. Nonetheless, Trump said, "I do trust him, yeah. … He trusts me, I believe, I really do."
Amidst these comments, Trump also fell back into his old real-estate developer shtick. "They have great beaches," he said of North Korea. "You see that whenever they're exploding their cannons into the ocean. I said, 'Boy, look at the view. Wouldn't that make a great condo?'"
Trump's flattery for Kim would have been notable in any case, but it stands in sharp relief to his remarks about Trudeau. Immediately before flying to Singapore, Trump was in Canada for the G7 meeting, where he clashed with the leaders of America's closest allies over trade. The president had initially planned to sign a joint statement that emerged from the meeting, but changed his mind after hearing Trudeau criticize newly levied American tariffs and say he would stand up for Canada.
On Twitter, Trump blasted Trudeau for making "false statements" and called him "Very dishonest & weak." Another aide said that there is "a special place in hell" for the Canadian. Astonishingly, however, Trump continued to attack Trudeau during his post–Singapore-summit press conference, in the same breath that he praised Kim. "I actually like Justin, you know, I think he's good, I like him, but he shouldn't have done that," Trump said. "That was a mistake. That's going to cost him a lot of money."
Trudeau's sin, to recap, is retaliating against punitive and possibly illegal tariffs on his country, which he was democratically elected to lead. (Ironically, he, like Kim, leads a nation that his father also led.) Kim, on the other hand, is a repressive, unelected dictator who has menaced the world and particularly the U.S. with a nuclear-weapons program. In return, he received a glitzy summit and a shower of praise from Trump.
At one point during the summit, the two leaders went for a stroll on a breezeway. The North Korean turned to the American and remarked, "Many people in the world will think of this as a … form of fantasy." Certainly, Trump's flurry of flattery must have been a fantasy come true for Kim. If diplomatic summits ended with a rose ceremony like The Bachelorette, Kim would be headed back to Pyongyang with bloom in hand.